Ubuntu's convergence has made some serious strides in the past few days – having been made available with the OTA 11 software update on the original Ubuntu Touch powered Meizu Pro 5 via Aethercast i.e wirelessly, it is making its rounds boastfully to other smartphones powered by the open source mobile operating system.
We are getting it as fresh news that the aforementioned Convergence technology will be making its way to the OnePlus One and the Nexus 5 thanks to UBport's developer Marius Gripsgård for making it known to us via his Google Plus post.
The recent OTA-11 update brought about the Aethercast for wireless Convergence to the Meizu Pro 5 while leaving the older Ubuntu Touch smartphones behind. But worry not, the update will equally be pushed out to other devices running Ubuntu Touch officially in the nearer future.
It is, however, worth noting that the performance of Convergence is expected to suffer terribly on these older devices which includes the Bq Aquaris, and Meizu MX4 as they don't pack as much punch as the Meizu Pro 5.
Disregarding the odds, we hopefully will still be able to do the most basic stuffs like running a web browser with a few tabs opened, creating docs and using an email client.
Anything other than that like running GIMP and any other power hungry application would definitely be asking too much from the the smartphone's hardware.
Convergence via Aethercast on OnePlus One and Nexus 5
The OP1 and Nexus 5 are some of the devices receiving unofficial support from the UBports group and Marius is apparently working hard to bring this to fruition on the above-mentioned smartphones.
Quoting Gripsgård, "This build is based on the ubp-5.1 branch (android 5.1/cm12.1), and build is released on the ubports unstable channel "devel_rc-proposed" and will be released on the main channels once it's stable".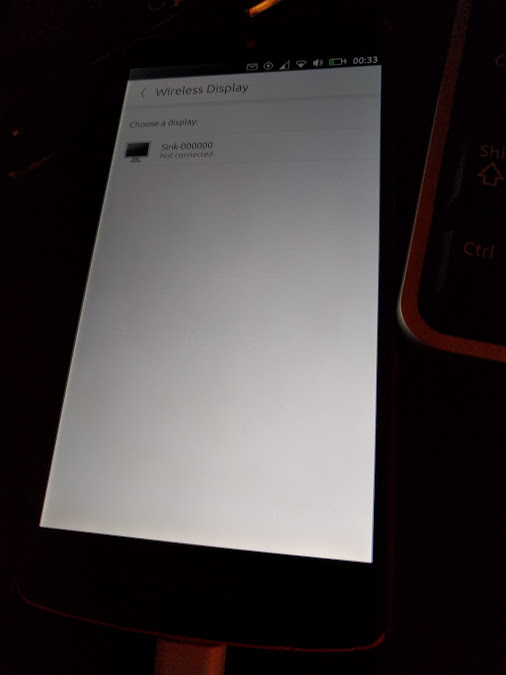 Currently, the build for the Nexus 5 can be downloaded and tested while that of the OP1 is underway (ready sometime next week). If you're feeling adventurous, you can go on ahead and downlad the respective image for you device and switch to the unstable branch by entering this link (http://system-image.ubports.com/) on your smartphone so as to help report and fix bugs.
Furthermore, Marius urges those of you that own a Microsoft Wireless Display Adapter to test the Aethercast feature using this app on the Google Play Store on your Android device.