Easy Ebook Viewer is a modern GTK Python Ebook Reader app with which you can easily read epub files.
It's relatively new to the Linux app scene and so is still in its early stages of development. It doesn't have that many features yet the most basic e-book viewing functions Ebook readers have.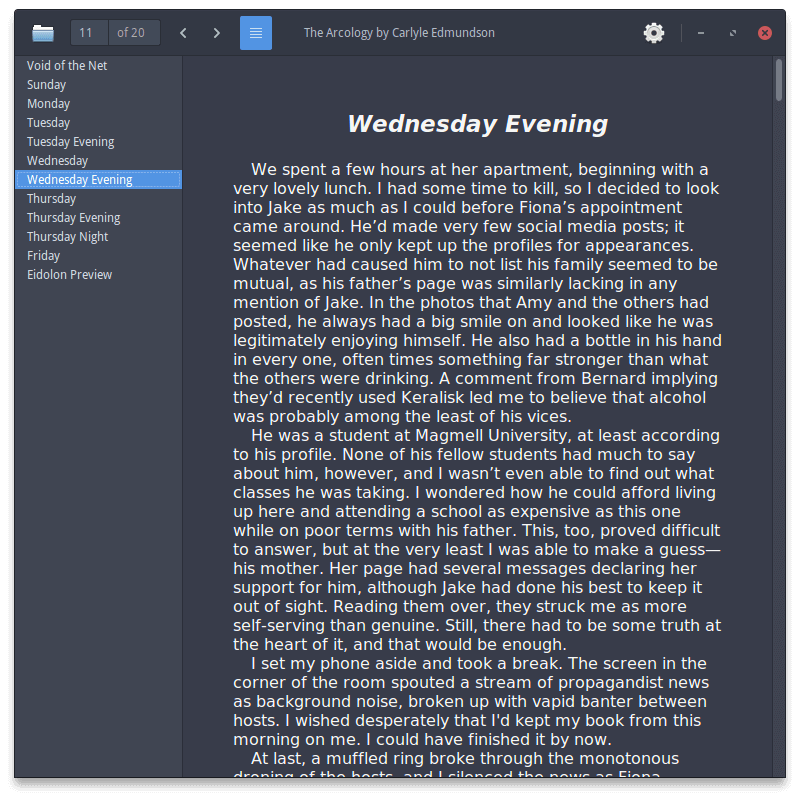 Features in Easy Ebook Viewer
FOSS – Easy Ebook Viewer is free to download and use and contribute to on GitHub.
Customization – switch between using a light or dark color scheme.
Open and read ePub files.
Basic chapter navigation.
History – keep track of last reading position.
Importing from other ebook file formats.
Chapter jumping.
Chapter index based navigation.
The developers are planning to add certain features to the app in the future releases. Some of them include native support for non-DRM mobi, HTML, content searching, and book metadata display. Hopefully, a standardized method of installation will be added.
The installation requirements are gir1.2-webkit-3.0, libwebkitgtk-3.0-0, gir1.2-gtk-3.0, python3-gi (PyGObject for Python 3, and you would have to clone the GitHub repo and built the project from there as shown..

$ sudo apt install gir1.2-webkit-3.0 libwebkitgtk-3.0-0 gir1.2-gtk-3.0 python3-gi
$ git clone https://github.com/michaldaniel/Ebook-Viewer.git
$ cd Ebook-Viewer/
$ sudo make install

I can already see someone commenting on how not-so-useful this project is to the rest of the Linux community given that there are already a good number of e-book readers that perform an excellent job.
Whether you like the idea of Easy Ebook Viewer or not, you have a choice to use it. Drop your opinion on the project in the comments section below.