In this ever-evolving realm of technology, artificial intelligence (AI) stays ahead of the curve with transformative impacts in multiple spheres. As AI-powered apps reshape industries from finance and marketing to healthcare, demand for Generative AI specialists is at its peak.
Recognizing this job demand, Google has shown amazing initiative by curating a series of free courses that will give aspiring AI enthusiasts the knowledge and skills they need to be successful in the field of generative AI.
The AI-focused courses are easy to get started because there is a video to view, followed by a quiz based on it, and a few courses also demand the submission of supplementary documentation.
Upon completion of the course, learners will earn a badge that will be displayed on their portal's skill profile page. Besides that, If a course has labs, you'll need a personal subscription or can unlock labs through campaign participation.
In addition, these AI-based courses are offered on the Google Cloud platform, which makes Google Cloud the third-largest cloud provider with a global market share of 10%, behind Amazon Web Services and Microsoft Azure.
In this article, we've handpicked a list of some free Google courses to master in AI, which will help you get started with your AI journey and keep up-to-date with your career.
1. Introduction to Generative AI
Generative artificial intelligence is a kind of AI that can produce text, images, music, movies, code, and more by mimicking and learning from vast amounts of data. This kind of machine learning uses deep neural networks to generate new data that shares characteristics with the training set.
Enrolling in this microlearning course will help you gain a better understanding of generative AI, including its functions and differences from traditional machine learning techniques.
Google Tools is another topic covered in this course that will help you create your own Generative AI applications. This course is estimated to take a turn-around of 45 minutes to complete, and a badge is awarded upon successful completion.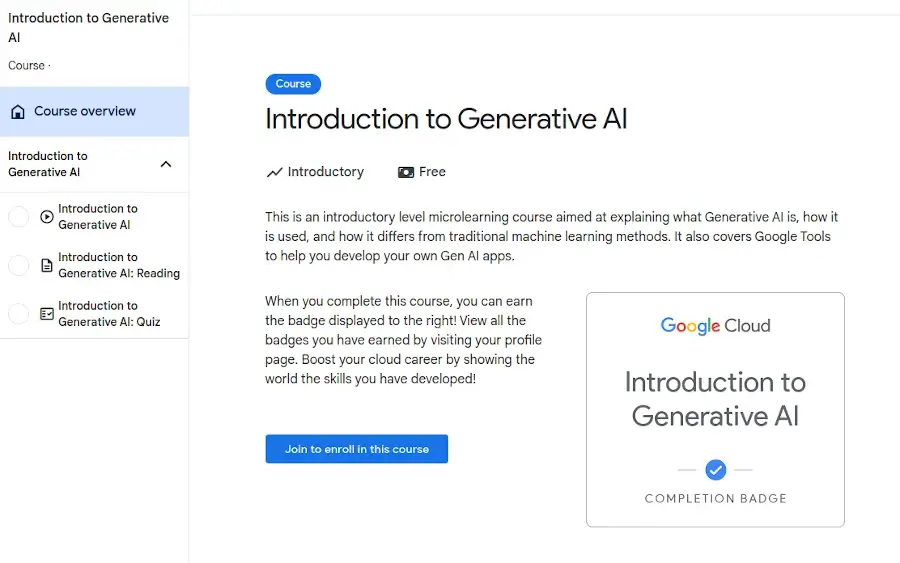 2. Introduction to Large Language Models
A large language model (LLM) is typically a form of artificial intelligence (AI) program that understands, summarizes, generates, and predicts new outcomes using deep learning techniques and extremely large data sets.
By enrolling in this course, you'll get a deep analysis of large language models (LLMs), their terms, and their user applications. It also dives into the concept of prompt engineering, which can help LLMs function better.
In addition, this course provides an option for Google technologies that can be tailored to build personalized Generative AI apps. The course is offered free of charge via Google Cloud Skills Boost.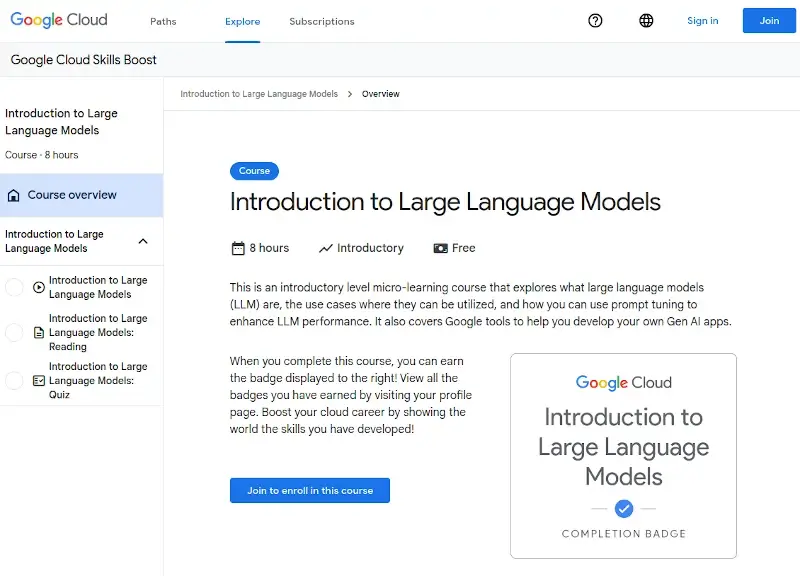 3. Introduction to Responsible AI
As the growth of artificial intelligence accelerates and becomes more widespread, it is essential to incorporate responsible AI practices into every workflow stage, from concept to launch.
Dimensions such as fairness, privacy, accountability, and safety are critical components of responsible AI and must be considered throughout the product lifecycle.
By enrolling in this course, you'll have practical hands-on what responsible AI is, why it's crucial, and how Google embodies responsible AI into its products. Besides that, this module introduces Google's seven AI concepts.
At the end of this course, you will obtain a badge as proof of your skills and competencies.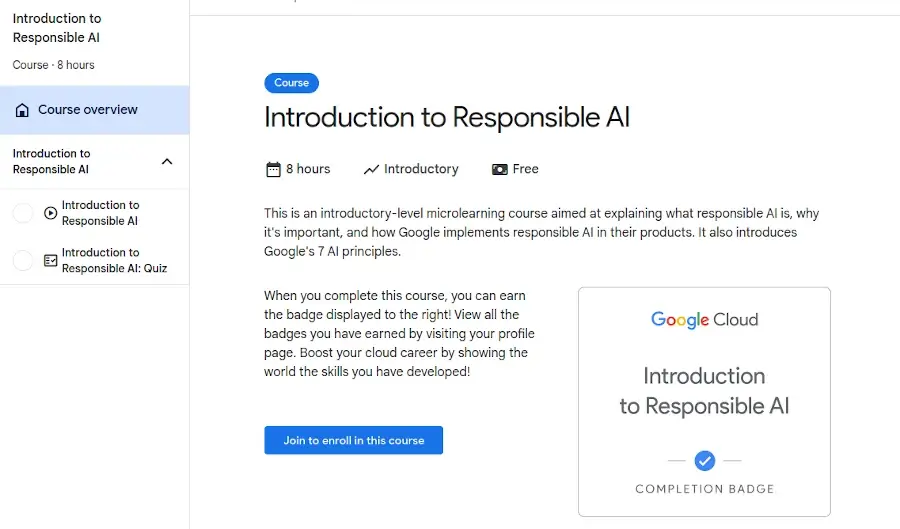 4. Generative AI Fundamentals
Generative AI tools such as ChatGPT, for example, have clearly reshaped the technology landscape and opened revolutionary cases such as generating codes, crafting original content, accelerating customer support, and others.
The technology's applications are also expanding on a regular basis. Organizations that effectively implement this disruptive technology will be market leaders in the future.
This free, on-demand course will help you get started with generative AI. In addition, this course will award a skill badge upon successful completion of Introduction to Responsible AI, Introduction to Generative AI, and Introduction to Large Language Models courses.
You will showcase your in-depth understanding of fundamental principles in generative AI by passing the final quiz.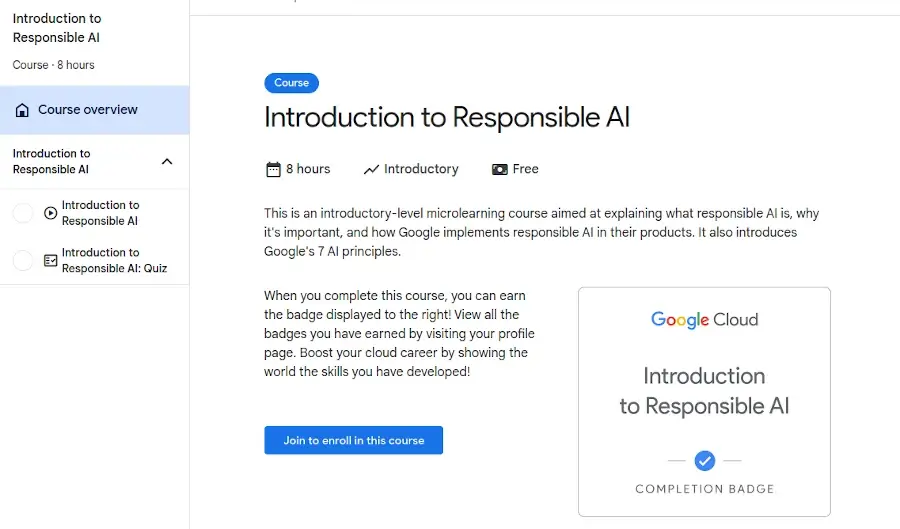 5. Introduction to Image Generation
Introduction to Image Generation course has been added to the list of in-demand courses and its goal is to teach you about all aspects of diffusion models, the core of image generation.
Diffusion models, inspired by thermodynamics have gained popularity in academic as well as industry circles in recent years and they are inspired by thermodynamics. You'll learn the building blocks of diffusion models as well as how to train and employ them in Vertex AI.
To be in line with this course, prior background knowledge of Python programming, ML, convolutional neural networks (CNNs), and others is needed.
In addition, Diffusion models are a base for many state-of-the-art picture-generating models and tools available on Google Cloud.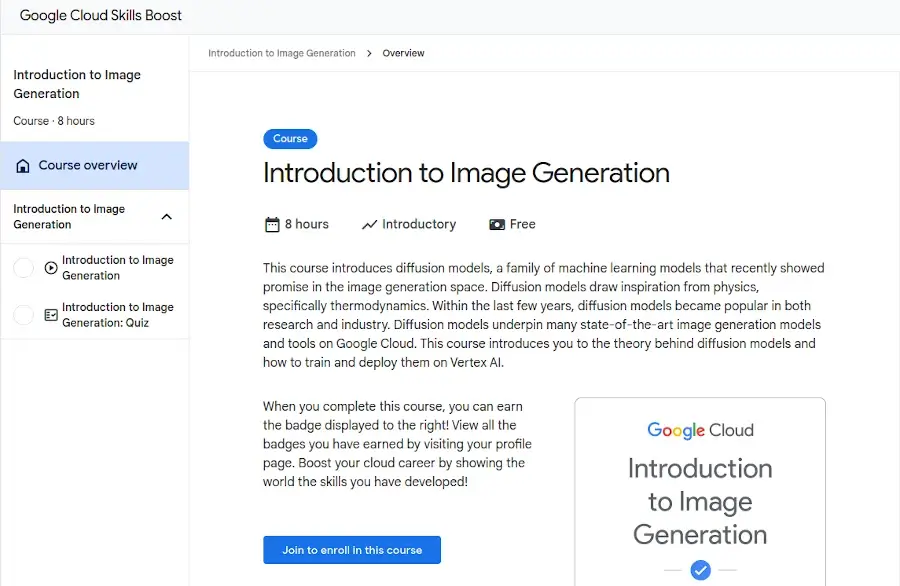 6. Encoder-Decoder Architecture
In Encoder-Decoder Architecture advanced course, the encoder-decoder architecture is introduced, a machine learning framework widely used for sequence-to-sequence tasks like text summarization, question answering, and machine translation.
To get the most out of this course, you need to have a solid foundation in Python basics as well as TensorFlow fundamentals.
In addition, you'll learn about the major components of this architecture, as well as how to train and deploy these models, and you'll develop a rudimentary Tensor Flow implementation of an encoder-decoder for creating poetry from scratch in the accompanying lab session.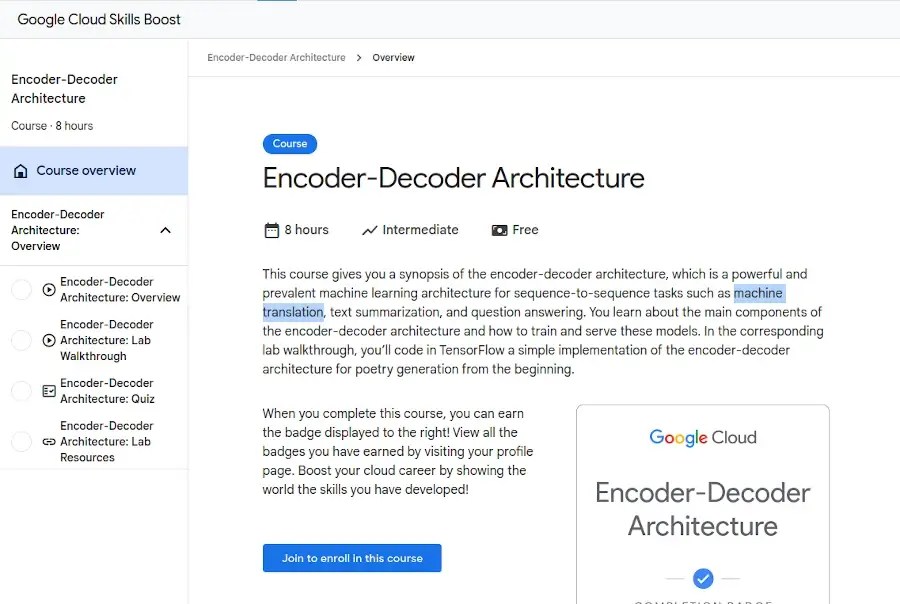 7. Attention Mechanism
Attention Mechanism course dives into deep learning attention processes and their user applications in improving the performance of various Machine Learning tasks. In addition, you'll explore the potential applications of Attention Mechanisms and how they can be used to enhance text summarization, machine translation, and other tasks.
The attention mechanism is a robust method that works by allowing neural networks to concentrate on specific regions of an input sequence. Besides that, it is imperative to have prior knowledge of NLP, computer vision, Python programming, and deep learning.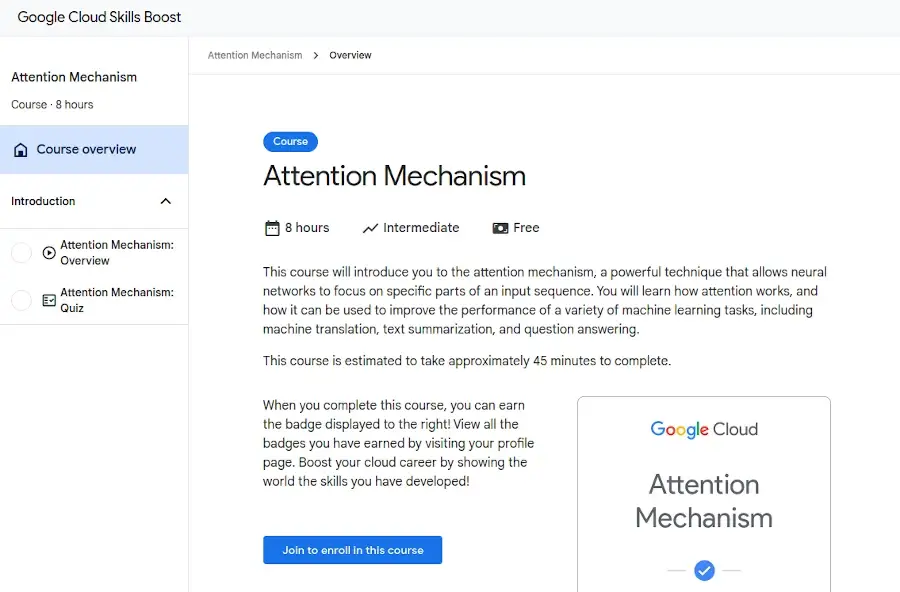 8. Transformer Models and BERT Model
The Transformer Models and BERT Model course lets you get started with the Transformer architecture's deployments, including the self-attention mechanism and its use in creating the BERT model.
You'll learn about the various tasks that BERT performs, including natural language inference, text classification, and others.
Prior knowledge of intermediate machine learning, word embeddings, attention processes, and Python and TensorFlow is recommended. This course is scheduled to take 45 minutes to complete.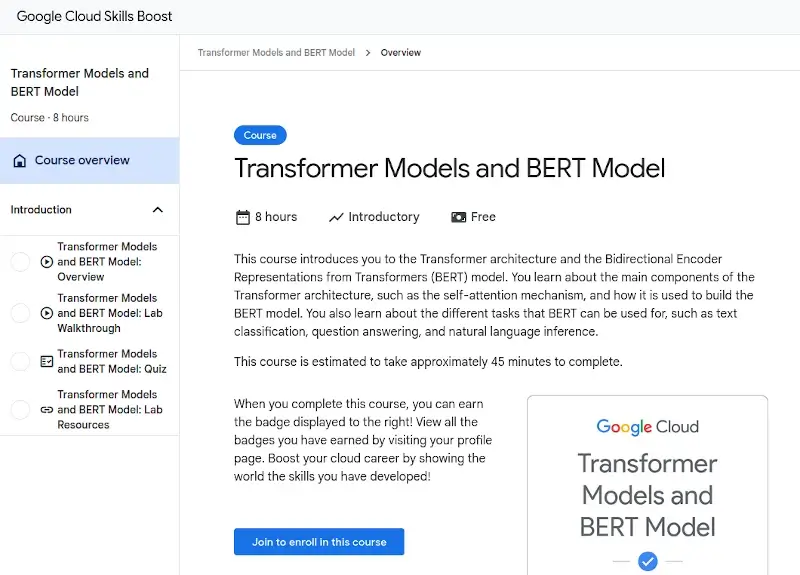 9. Create Image Captioning Models
Create Image Captioning Models course introduces you to how to leverage deep learning to build an image captioning model. In addition, the course covers the different components of an image captioning model, like the encoder and decoder, and teaches you how to train and assess your model's output.
Upon finishing this course, you can build your own models for image captioning and apply them to produce insightful captions for images. In addition, practical hands-on in computer vision, Python programming, ML, deep learning, and NLP is essential.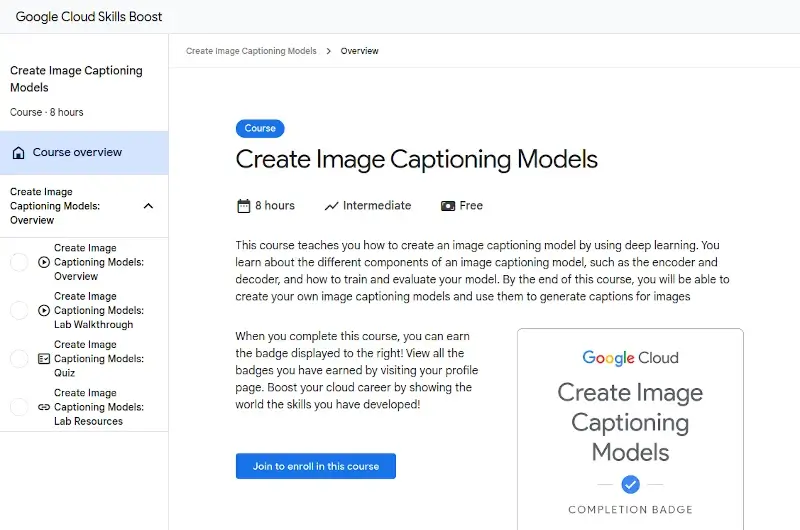 10. Introduction to Generative AI Studio
Introduction to Generative AI Studio course provides a comprehensive overview of Generative AI Studio, a product within the Vertex AI suite. Generative AI Studio enables you to develop and customize generative AI models for use in your applications.
Throughout this module, you will grasp a deep understanding of Generative AI Studio and explore its various features and options, and practical knowledge by following step-by-step product demonstrations. Finally, there will be a quiz to assess your understanding.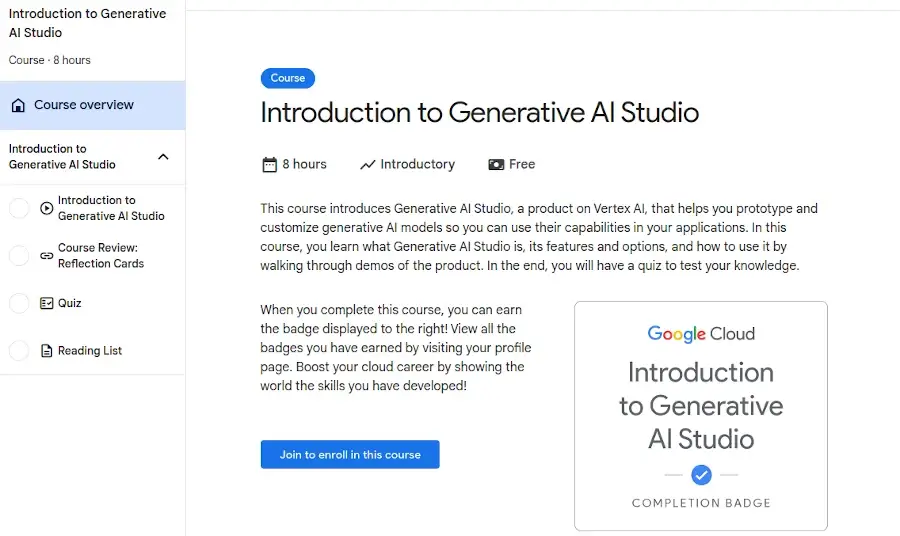 Frequently Asked Questions (FAQ's)
Here are the frequently asked questions about Free Google Courses to Master in AI.
1. Do you need a technical background to enroll in these courses?
Enrolling in these free Google courses does not require any technical knowledge. The courses have been created to be accessible to all learners, regardless of previous expertise or educational background.
2. What are the prerequisites for the free Google AI courses?
The prerequisites for each Google AI course differ depending on the course topic and complexity level.
For example, machine learning and AI courses do not require any prior experience with machine learning or artificial intelligence.
However, students should possess a basic comprehension of variables, function graphs, statistical means, linear equations, and others. Additionally, because the programming tasks are in Python, learners should be acquainted with the programming language.
In contrast, Google's course Introduction to Generative AI requires prior knowledge of deep learning, machine learning, natural language processing, and others.
3. What are the career prospects for people with AI skills?
People with AI skills have numerous job options, including machine learning engineering, data engineering, robotics engineering, and more. For those who are interested in the rapidly developing field of artificial intelligence, the outlook for jobs in this field is bright.
4. How long do the free Google AI courses take to complete?
The time frame of the free Google AI courses varies according to the course topic and difficulty level. Some courses have no set duration, while others take about 30 hours to finish, and others take up to 40 minutes.
5. Are the certificates recognized in the industry?
Yes, Google certificates are highly rated and recognized in various industries. They reflect a person's competency and understanding in a certain area or skill set linked to Google's products and services.
With the help of these credentials, you can increase your marketability to employers, learn new skills and knowledge, stay up to date on the latest trends, and validate your abilities and expertise for potential employers.
Conclusion
Enroll in one of Google's free generative AI classes to get started. Establish a strong foundation by starting with the beginner courses before moving on to more intricate courses.
To supplement your learning and experience, you can also locate internet resources such as tutorials, blogs, and code libraries.