We've covered several password managers over the years with popular names like RememBear, Buttercup, Pass, and Enpass, and I am happy about the positive feedback from readers over the years.
Today, I would like to introduce you to a strong password generator and security-centric manager application and it goes by the convenient name of Keeper.
Keeper is a top-rated freemium password manager designed to provide personal users, families, students, and businesses with a reliable application for generating strong passwords as well as storing them while ensuring protection from cyberthreats and password-related data breaches.
It features a beautiful modern user interface with a consistent 'look & feel' across all desktop and mobile phone platforms as well as on modern web browsers.
Keeper is free for personal users and it combines that with solution models for different types of users and they include Enterprise, Business, Family, Personal, and Student and each of them has different payment plans so that you can pick the most convenient one for you.
A free keeper account gets you a password manager & vault, dark web monitoring and protection from account takeover by hackers coupled with a free dark web scan, user reviews, and private messaging. The more professional solutions offer features such as a resource library, an enterprise guides, etc.
Key Features in Keeper
Freemium: free plan with different subscription models.
Built-in password generator.
Encrypted vault for passwords, credit card details, etc.
Autofill passwords
Available on Mac, Windows, Linux, iOS, Android, Chrome, Firefox, Edge, etc.
Automatic logging into websites and apps with face or fingerprint.
Automatica synchronization.
Identity & payment information for filling forms and making online payments.
Secure information sharing
Secure file storage
Emergency access
Custom fields
2-factor authentication
Private, hyper-secure messaging
Protection from the dark web
The business and enterprise versions of Keeper offer advanced features such as reporting tools and delegated administration and you can read more about them in detail on the website's pricing page.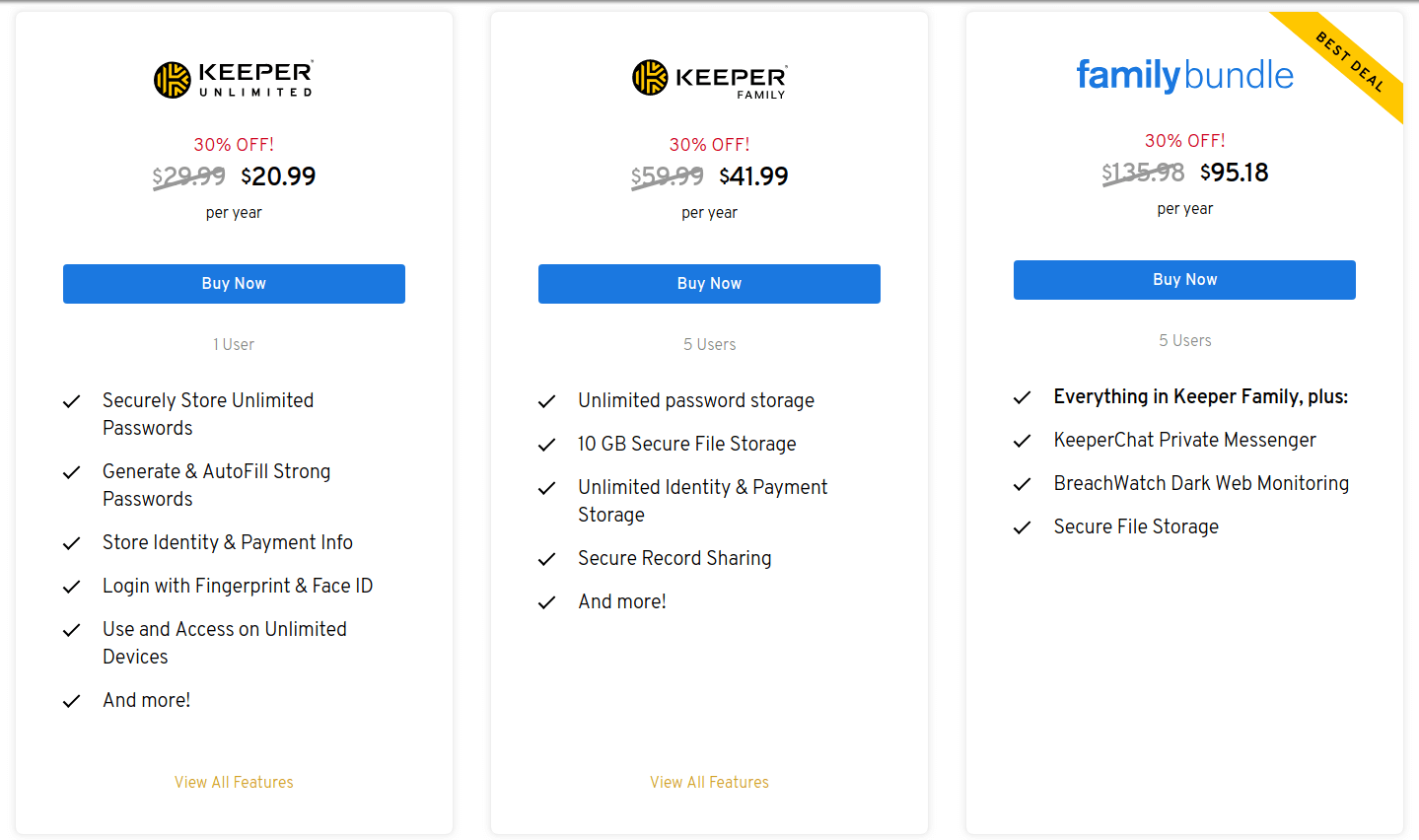 Keeper is currently running a bonanza that's offering a 30% discount for Keeper Unlimited, Family and Family Bundle! So if you're looking for an enterprise-ready password manager then hurry up and grab this one by choosing the most convenient plan for you.
[mks_button size="medium" title="Download Keeper for Free" style="squared" url="https://click.linksynergy.com/fs-bin/click?id=lzX4O/z0LLE&offerid=783662.42&type=3&subid=0&LSNSUBSITE=LSNSUBSITE" target="_blank" bg_color="#529b30″ txt_color="#FFFFFF" icon="fa-download" icon_type="fa" nofollow="1″]
In concluding, let me add that Keeper respects user privacy and thus uses a zero-knowledge security architecture. It's business customers also have 24/7 customer support coupled with tailored training from specialists. They can also configure the Keeper's roles with custom permissions that can be made to conform to their policies and organizational framework.
Are you familiar with Keeper? Or perhaps you use one of our recommendations in our list of 11 Best Linux Password Managers. Feel free to share your experience and suggestions with us in the comments section below.