I remember a good number of years ago when I used to learn the lyrics to music by playing back songs to write their lyrics down in a note book. it was usually a tedious task because I always had to rewind the track each time I stopped it in order to get the right words, tones, etc.
So you can imagine how much I could relate to an open-source developer picking up a project that will help audio transcribers worldwide. The project name is Parlatype.
Parlatype is a minimal GNOME audio player for manual speech transcription. It plays audio sources to transcribe them in your favorite text application.
It features a simple themeable GUI with a track timeline (with a waveform view) and clearly visible buttons and a playback speed tuner. It doesn't come with that many settings but then again, remember – it is a simple audio transcriber.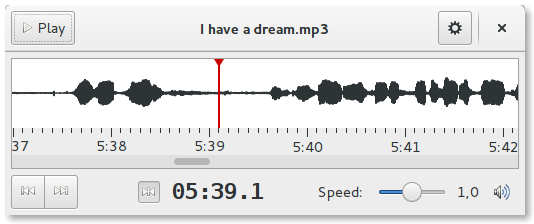 Features in Parlatype
FOSS – Parlatype is free and open-source.
Waveform – see visual representations of audio files.
Adjustable Speed – adjust the speed of audio playback to your taste.
LibreOffice Helpers – this is the recommended app to use with Parlatype because you can assign helpers (macros) to key bindings in order to perform tasks like insert or jump to timestamps.
Timestamps – set markers that you can easily jump to using keyboard shortcuts.
Wide Audio Base Support – play virtually any audio file as long as it supports GStreamer. This includes ogg, mp3, WAV, and many others.
Rewind on Pause – make Parlatype automatically go back a set interval each time you pause its playback.
Remember that Parlatype is a manual audio transcriber; it will not do the work for you. All it will do is speed up the process by allowing you to use key bindings, time stamps, e.t.c.
If you would like to know more about Parlatype's features and usage you can look up its online help page.
Parlatype is available for Ubuntu 16.04 LTS and later and you can add its repo to your Software Sources using the following commands:
$ sudo add-apt-repository ppa:gabor-karsay/parlatype
$ sudo apt-get update 
$ sudo apt install parlatype

Other Linux distributions, can install Parlatype from source tarball or git clone, installation instruction can be found on the github page at:
[mks_button size="medium" title="Install Parlatype in Linux" style="squared" url="https://github.com/gkarsay/parlatype" target="_blank" bg_color="#529b30″ txt_color="#FFFFFF" icon="fa-download" icon_type="fa" nofollow="1″]
To use just open the app and choose any audio file from your computer (it can be in any format that GStreamer supports, including mp3, WAV, and ogg).