Leif K-Brooks launched the free online chat platform Omegle in 2009, enabling users to have private conversations with random people. It allowed users to randomly pair with one another and converse one-on-one.
Omegle rapidly grew, attracting millions of users every day. A survey shows that in October 2023, Omegle garnered over 50 million visitors, according to SimilarWeb.
However, on November 9, 2023, the chat website announced its dissolution. The company stated that several intriguing factors led to the shutdown, including:
Misuse of the Platform: Omegle has been chastised for fostering child sexual abuse and other inappropriate content.
Omegle had no Profit-Motive: The company was having challenges generating revenue from advertising and other sources.
The emotional toll of running Omegle had become too much for the company's creator, Leif K-Brooks
After its shutdown, there are still other chat tool alternatives you can use to help you stay in the loop. These alternatives pack similar features to Omegle, such as the option to video and text chat with strangers randomly. In this article, we'll explore the best Omegle alternatives.
1. Tinychat – Live Video Chat Room
Tinychat is an online platform where users can communicate using instant messaging, voice chat, and video chat options. In addition, it provides users with the opportunity to build their virtual chat room on any topic or category, as well as instant opportunities for individuals to meet.
Besides that, Tinychat is a web-based platform that can be accessed using HTML5-compliant browsers or independent apps for Android or iOS. A maximum of 12 video and audio feeds can be displayed in the chat rooms at any given time.
Subscription plans are also available for upgrades, which let you unlock unlimited features such as high-quality videos and no ads. PeerStream, an American computer software company, owns Tinychat along with all of its services.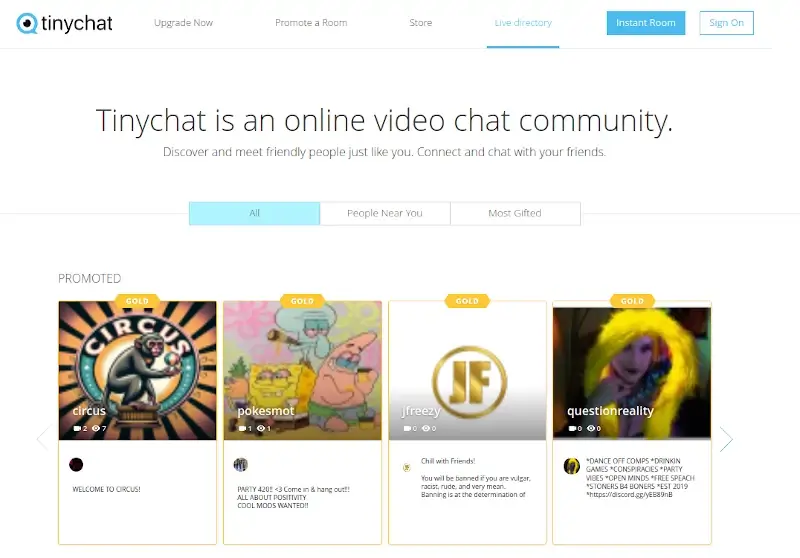 2. ChatHub – Free Random Video Chat
ChatHub is a platform that offers free random video chats that allow users to engage in conversation via talk, text, and communicate with random individuals from all around the world. It is a good substitute for Omegle because ChatHub is completely free of cost and has a lot of features.
Users can customize their experience by filtering partners based on language preferences, including options like Arabic, Spanish, and more.
Additionally, the platform permits the selection of specific countries to visit and offers a gender filter for communication tailored to either girls or boys
With features like anonymous video chats, swift connections, and a mobile-friendly interface, ChatHub ensures a seamless user experience.
Whether accessed on PCs or mobile devices, this chat website proves to be an effective tool for fostering connections, making it an exceptional online community to meet new people and forge friendships.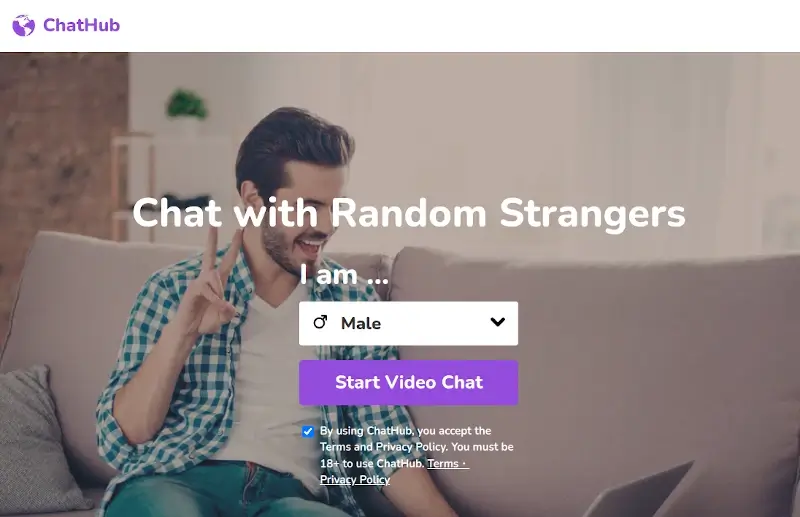 3. Chatroulette – Meet Strangers Worldwide
Chatroulette is a free, one-stop-shop chat platform that provides a unique experience by connecting users with random individuals from across the globe.
When you activate your camera, you will be randomly and anonymously linked to someone offering the option to continue the conversation or swiftly move on to the next encounter.
Additionally, this chat tool is fun to use and an engaging way to meet new connections and establish online friends. Any topic can be discussed with a random stranger, including movies, music, soccer, love, and more.
For those seeking to broaden their linguistic skills, a national filter is available, allowing users to connect with individuals from specific countries. Overall, Chatroulette offers an interactive and dynamic space for global communication and exploration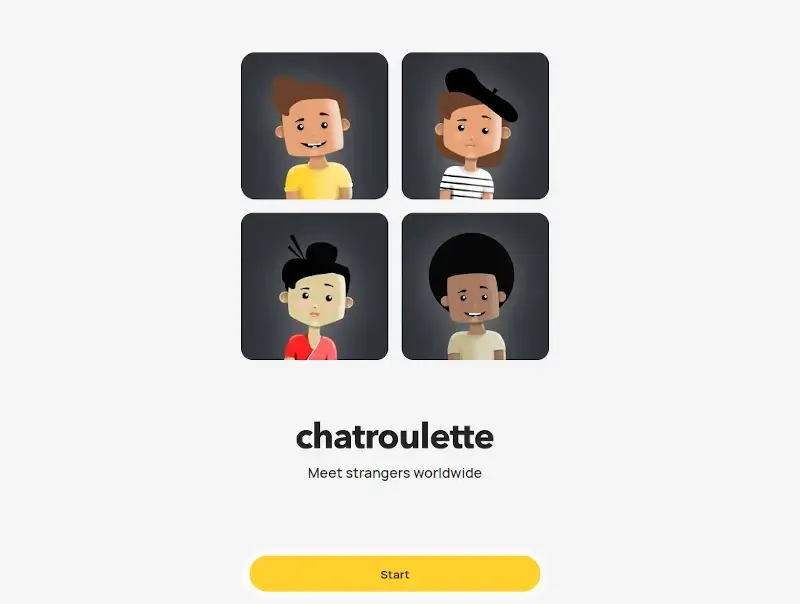 4. Bazoocam – International Video Chat
Bazoocam is a video chat platform that links you with random strangers from all around the world anonymously. This website is available to everyone for free, and you can begin interacting with other users from all over the world right now without having to register or establish an account.
You can begin by simply entering your nickname and creating a cool, engaging status. If you enjoy the website experience, you can create a free account and add other users as friends, allowing you to communicate with them when they are online.
Bazoocam is accessible in a variety of languages, such as French, Spanish, and others. In a case where you come across a user you don't like or don't want to speak with, simply press the Next button to go on to the next user. It also provides various activities for you to play with strangers if you become bored while conversing with them.
Tetris, Tac Toe, and other games are accessible on Bazoocam, allowing you to eliminate your boredom while also having fun with people from all around the globe.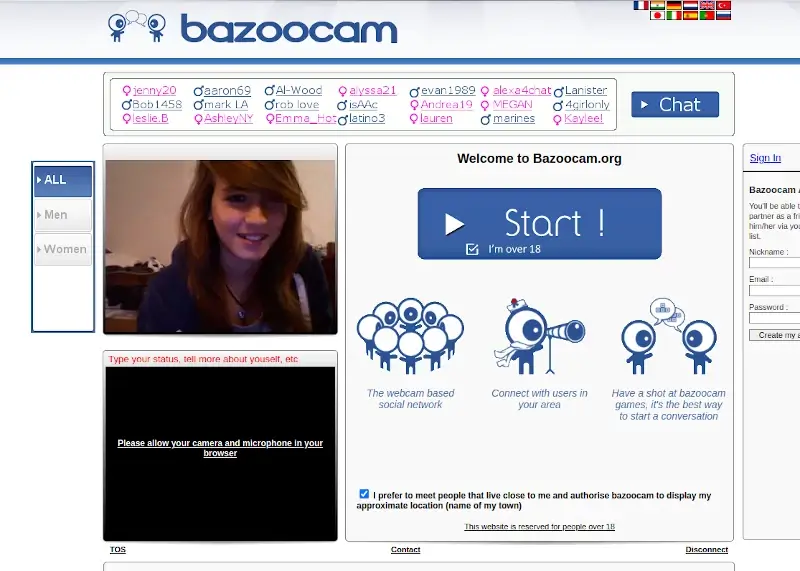 5. Shagle – Random Video Chat to Strangers
Shagle is a 100% private video chat service that connects you with random people from all around the globe. It debuted in March 2010 and immediately became one of the most popular web services. It is utilized by over 3 million people every month.
Shagle allows you to link with strangers anonymously. The website is free to use and can be accessed via PC or smartphone. You can make new acquaintances, communicate with intriguing people, and find love online by connecting with people from over 70 countries.
In addition, the site provides quick connections, a free video chat room, and a delay-free experience.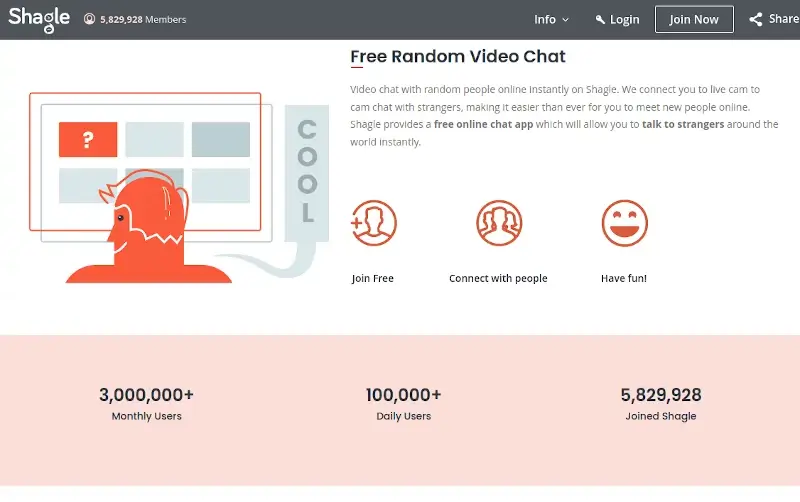 Conclusion
These alternatives to Omegle carry the potential for misuse, underscoring the importance of users exercising caution when interacting with strangers online.
Furthermore, it's crucial to be mindful of the established chat rules within these platforms, which explicitly prohibit behaviors such as displaying disrespect or rudeness during conversations and demeaning individuals based on their religion, color, or sexual orientation, among other stipulated prohibitions.
Maintaining a respectful and considerate demeanor in the chatroom is not only a shared responsibility but also essential for fostering a positive and inclusive online environment