We have published articles on a variety of topics, including browsing the internet anonymously and securely, free proxy servers for anonymous web browsing, and how to protect your privacy online. We are committed to providing our readers with the information they need to stay safe online.
But I know that not everyone wants to be a ghost online – there are security-conscious people who enjoy the thrills of using Facebook and other social media platforms. Today, my concentration is on Facebook.
One popular tool that provides anonymity and privacy is the Tor Browser, if in case you're not familiar with Tor, read on…
What is Tor Browser?
Tor Browser is an open-source web browser that enables its users to communicate freely and anonymously over the internet. It does this by bouncing all traffic that goes through it off its volunteer overlay network consisting of 7000+ relays.
Originally with the project name, The Onion Router, Tor has since come to become a household name among every privacy & anonymity-conscious Internet user and it is completely free to use.
Tor has a dedicated Firefox-based browser as well as platforms with dedicated Onion links which work within the Tor browser alone.
The following are the easy steps to browse Facebook in the Tor web browser.
Browse Facebook Anonymously with Tor Browser
Tor offers users a free multi-platform browsing application that is also available as a portable version that can run off of a flash drive. The first step to using the Tor network is installing Tor Browser and you can grab your device's version here.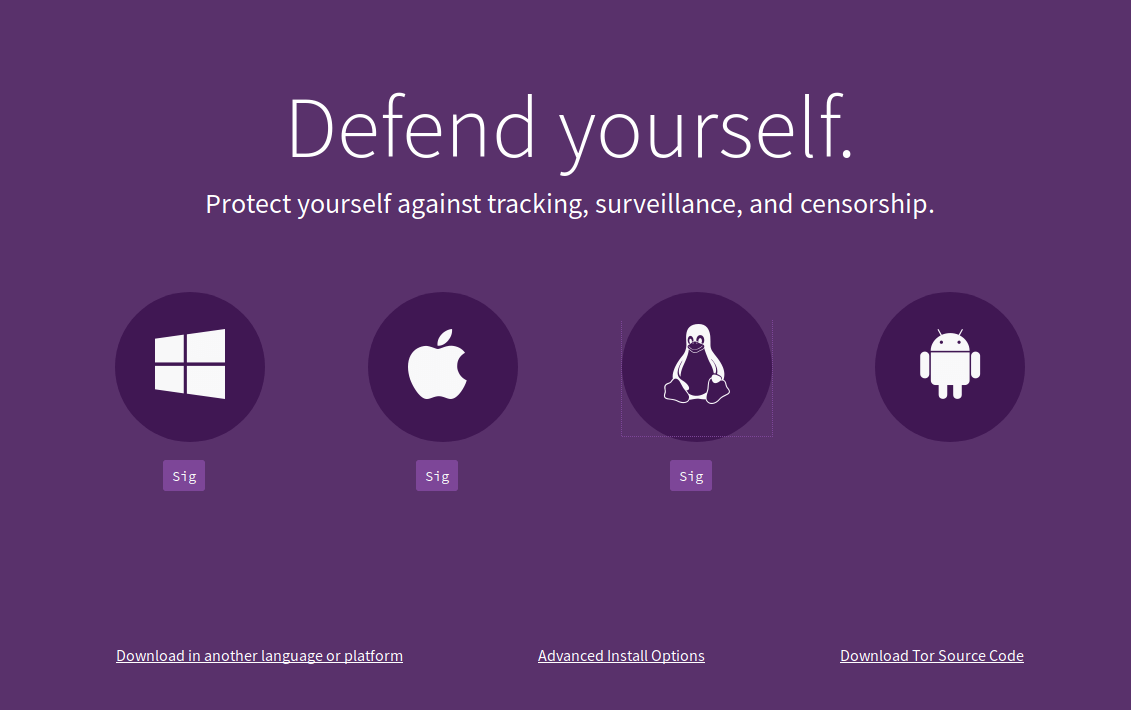 Once the Tor browser is installed, connect to the Tor network and install its recommended updates. They contain all the settings required to provide you with the best User Experience.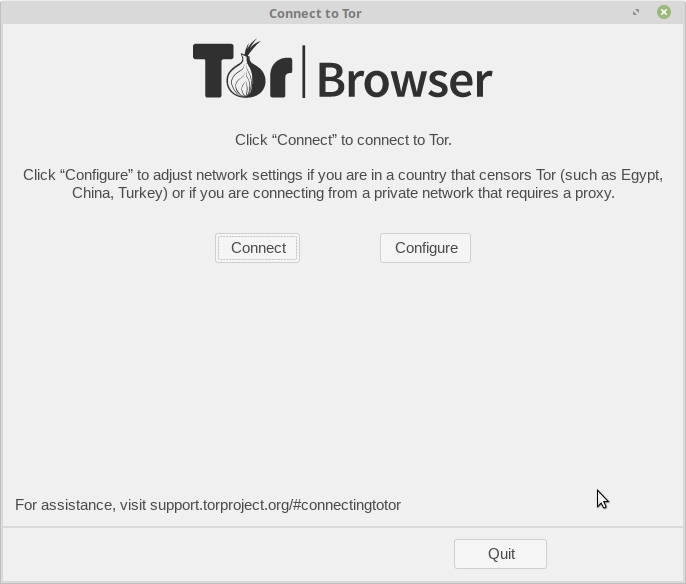 In the Tor Browser, you will notice that it comes with the NoScript add-on enabled by default. NoScript blocks JavaScript and other potentially harmful scripts, which can enhance your privacy and security. However, Facebook heavily relies on JavaScript for its functionality, so you'll need to temporarily allow it for Facebook.
To allow JavaScript on Facebook, click on the hamburger menu ("≡") at the top-right of the screen. Select "Add-ons", search for "NoScript" and click on the "Install" button to enable it.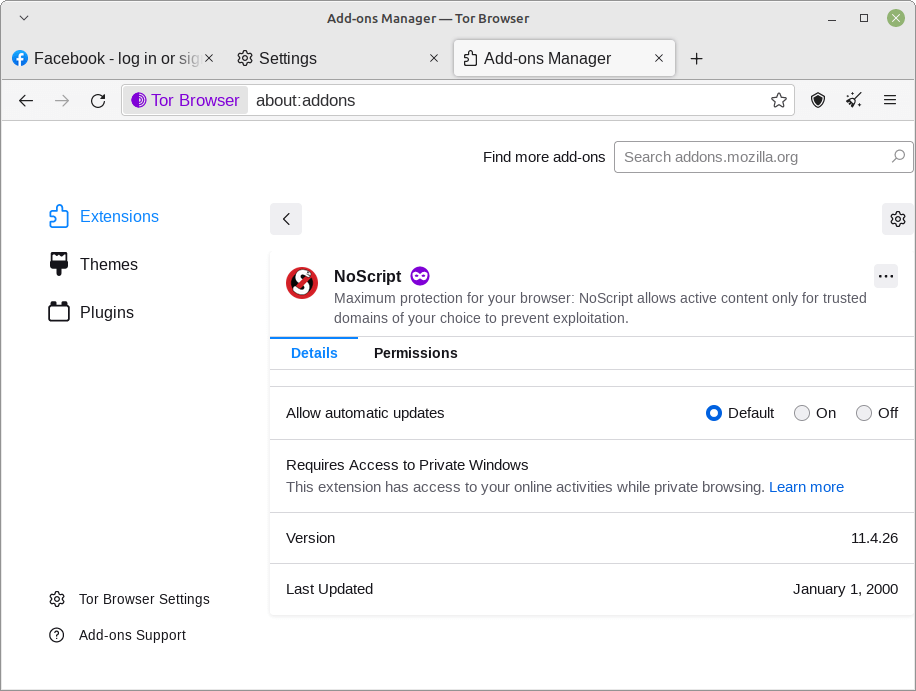 With JavaScript enabled, you can now access Facebook by typing "www.facebook.com" in the Tor Browser's address bar and pressing "Enter." It is crucial not to use any existing Facebook bookmarks or shortcuts, as they may leak your identity.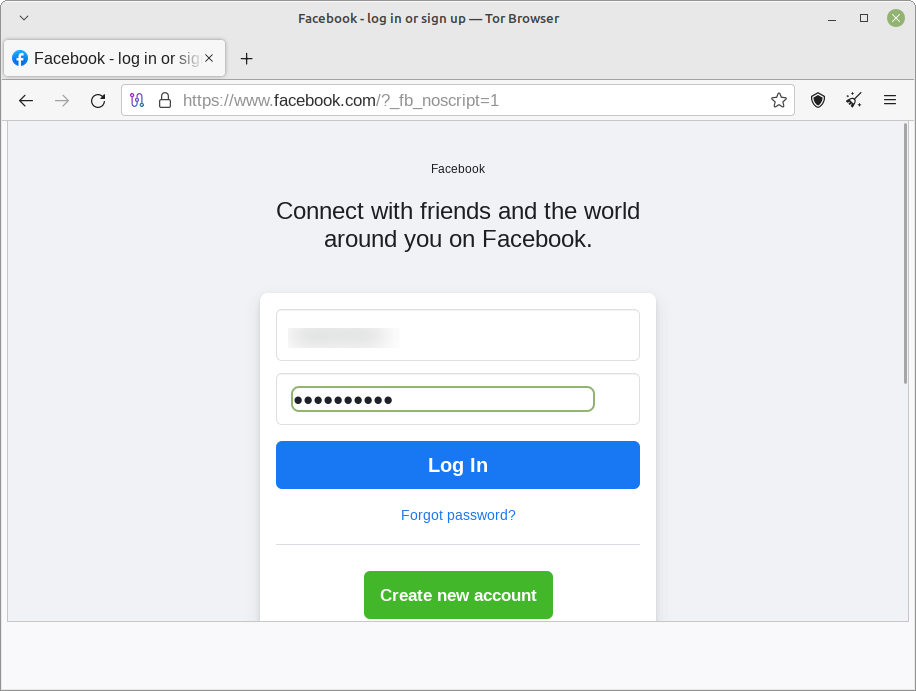 While browsing Facebook through Tor, it's essential to avoid sharing any personal information that could potentially reveal your identity. Refrain from logging in to other accounts linked to your real identity and avoid posting sensitive content that could be traced back to you.
Accept the Facts
Facebook has had a lot of privacy issues in the past and the company is still tackling major data issues so using it means you agree with its data privacy policies whether you read it completely or not.
Using Tor doesn't make you anonymous on Facebook because it can still track your activities on the platform when you're logged in.
With that being, should you use an extra layer of security? Most definitely. You can hide your IP address with a VPN to amplify Tor's anonymity and censor-dodging efforts.
In the meantime, feel free to share this with pals as you add your suggestions and share your thoughts in the section below.