Signal is a free beautiful, open-source, and secure multi-platform instant messaging application. It features a modern design with controls that are easy to use thanks to its familiar user interface that is consistent across the different platforms.
It employs state-of-the-art end-to-end encryption powered by its open-source 'Signal Protocol' which keeps user communication secure. While there are other instant messaging apps that employ end-to-end encryption, Signal is the only app that doesn't collect any form of user data thanks to its philosophy against ads, affiliate marketers, and trackers.
With Signal, you can send messages to people directly or in groups as well as make audio and voice calls, transfer documents, Gifs, encrypted stickers, and media files.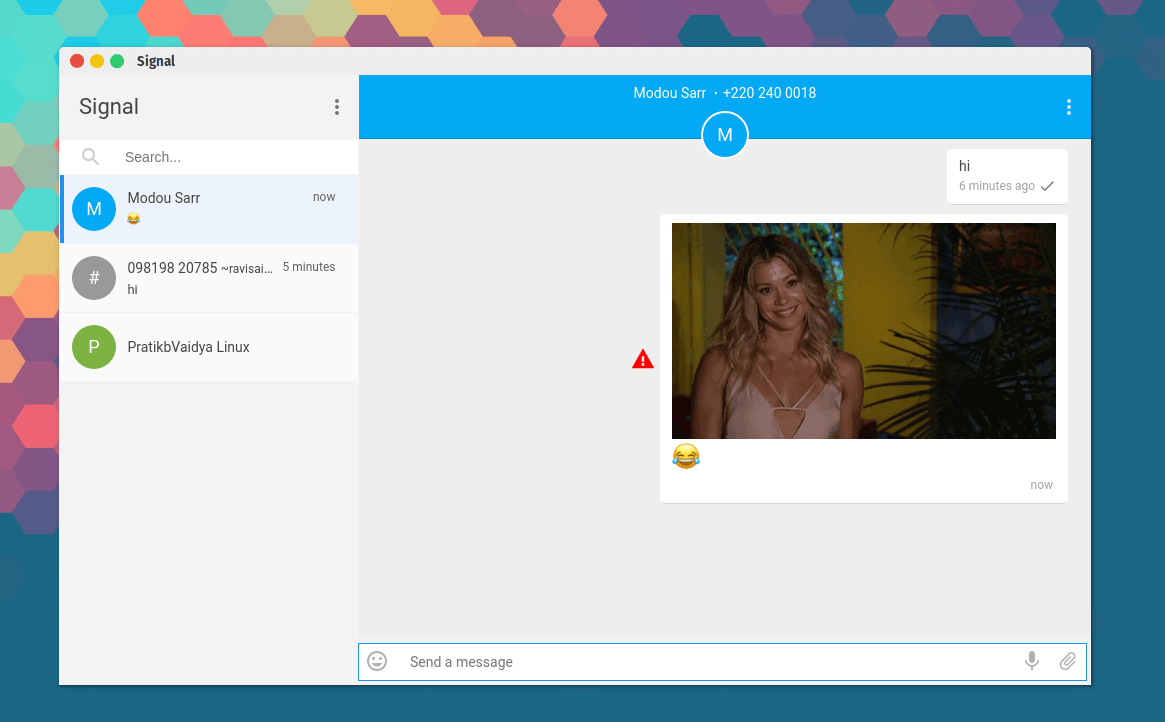 Features in Signal
Free and open-source software with code available on GitHub.
Available on Windows, Linux, Mac, Android, and iOS.
A minimalist UI design.
Modern end-to-end encryption (powered by the open-source Signal Protocol).
Send disappearing messages.
Create and join groups.
Send text, voice, and picture messages.
Share document files.
Audio and video calls.
Custom (encrypted) stickers.
Signal got its much-deserved fame after the latest WhatsApp privacy policy updates hit the Internet shores. While the guys at Facebook can't "see" the content that you send, WhatsApp uses telemetry algorithms in order to boost their advertising network.  While I am not speaking in favor or against this feature, I must point out that Signal is the privacy app of choice.
Another one of its cool features is the ability to keep your chat history clean by setting messages to disappear after a set time – a feature that not even WhatsApp has in 2021. Telegram does, but if for some reason you don't like Telegram, Signal is the perfect WhatsApp alternative for you.
Install Signal on Ubuntu
The Signal is available to install on Debian/Ubuntu-based distributions using the following commands.
# NOTE: These instructions only work for 64 bit Debian-based
# Linux distributions such as Ubuntu, Mint, etc.

# 1. Install our official public software signing key
$ wget -O- https://updates.signal.org/desktop/apt/keys.asc |\
$ sudo apt-key add -

# 2. Add our repository to your list of repositories
$ echo "deb [arch=amd64] https://updates.signal.org/desktop/apt xenial main" |\
$ sudo tee -a /etc/apt/sources.list.d/signal-xenial.list

# 3. Update your package database and install signal
$ sudo apt update && sudo apt install signal-desktop

Are you a veteran Signal user or a recent 'recruit'? It has become a lot better than it was when we first covered so you can rest assured that you're using a first-class app.
You're welcome to share your experiences with Signal and other instant messaging apps in the comments section below.