Microsoft just made available the latest release for their Skype client for Linux, version 1.13, and it comes with a brand new feature: the ability to send SMS text messages directly from your desktop among a few other major changes.
What's New in Skype for Linux Alpha 1.13?
Added support for authentication token revocation
Better crash reporting
Bugfixes and performance improvements
Enabled SMS sending – This is the highlight of this latest release. Users can now send SMS text messages right from within the Client app, allowing for a smoother user experience.
An updated Electron version to 1.4.7
Newly added support for remote escalation of the 1-1 call to group call
Install Skype for Linux Alpha 1.13 on Ubuntu 16.04 and Later
You can download the Skype for Linux Client directly from Microsoft's official repo via the command line.
First, you will need to have apt-transport-https installed. To be safe, just run the command below:
$ sudo apt install apt-transport-https -y
Next, download the Skype for Linux GPG key and import it into your Ubuntu system.
$ curl https://repo.skype.com/data/SKYPE-GPG-KEY | sudo apt-key add -
Run the following command to add Skype for Linux repository.
$ echo "deb https://repo.skype.com/deb stable main" | sudo tee /etc/apt/sources.list.d/skypeforlinux.list
Finally, update your local package index and install Skype for Linux.

$ sudo apt update
$ sudo apt install skypeforlinux -y
You can launch the Skype app from your preferred app launcher after the installation is complete.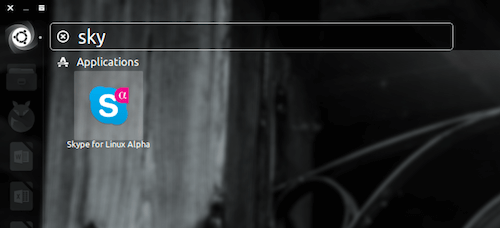 If you haven't been using the Skype for Linux client, are you finally ready to give it a try? I imagine that while many Linux users are happy with this development, some might not be.
Either way, feel free to let us know how you feel about the title in the comments section below.