TagSpaces is a cross-platform personal data manager that helps you to organize files on your workstation.
It features support for plugin extensibility, note-taking in HTML and MHTML, media file playing, smart tagging and searching, and web clipping using Chrome and Firefox browser extensions.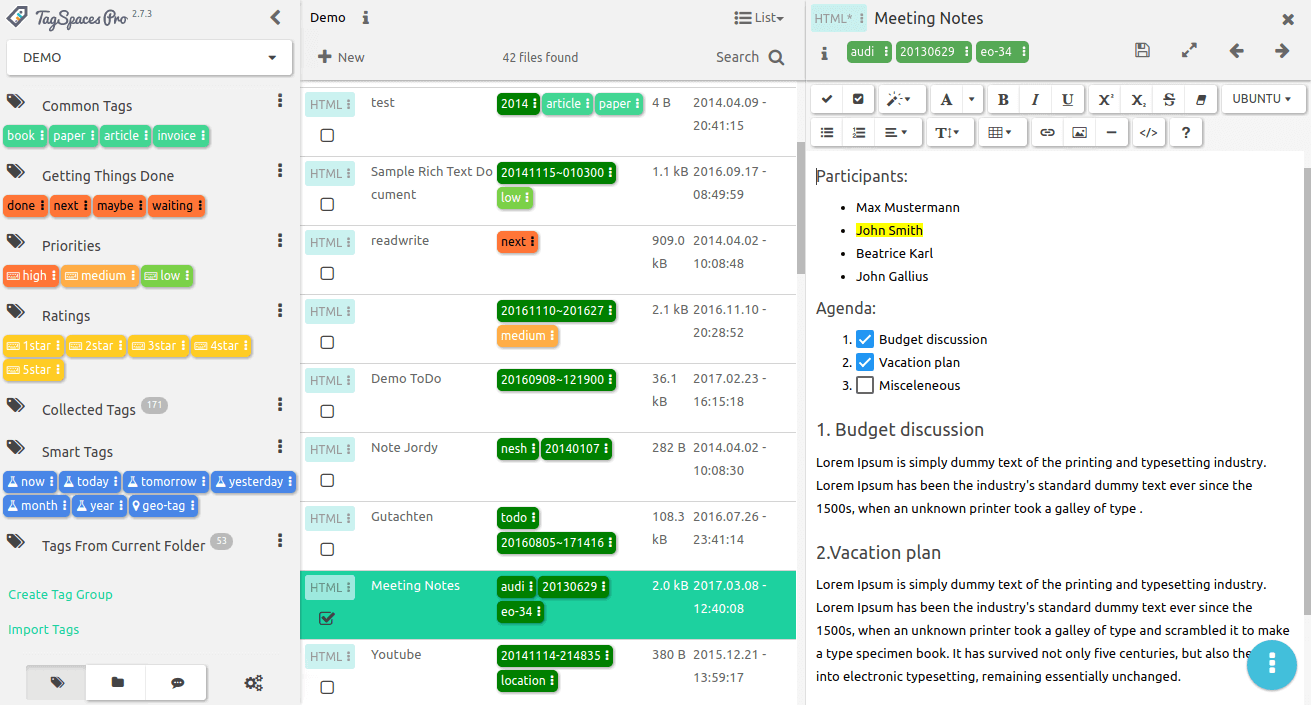 Features in TagSpaces
Beautiful and responsive User Interface.
Comprehensive documentation.
Create notes using plain text, MARKDOWN or HTML file formats.
Smart tagging feature for quick and accurate searches and filtering.
Dropbox integration for tag metadata.
Works like a tag-based file manager.
Organize your e-book library.
Save web content in HTML or MHTML format using Chrome and Firefox TagSpaces web clipper extension.
Create and organize To-Do lists like an offline wiki for project tracking.
Use as file manager to browse local files including digital photos.
Listen to local music and watch video content.
Open and edit PDF documents and MHTML files.
Project local music, photos, documents, and videos to your TV or audio system via Chromecast.
Plugin support to allow use extend its data management feature.
TagSpaces has a Community Edition, a Pro Edition and an Enterprise Edition (coming soon). Just like Evernote, the offline data manager app offers an excellent number of features for free (community) users and specialized features optimized for advanced users in the pro edition.
TagSpaces Community Edition will forever be available for free with unlimited free updates.
[mks_button size="medium" title="Download TagSpaces for Linux" style="squared" url="https://www.tagspaces.org/downloads/" target="_blank" rel="nofollow" bg_color="#3d7911″ txt_color="#fff" icon="fa-download" icon_type="fa" nofollow="1″]
On the surface, TagSpaces looks like just an excellent Evernote alternative, but let me go further to add that it does a more advanced job than Evernote.
In short, I don't think the Evernote team is moving in the direction of TagSpaces is because in as much as TagSpaces can somehow replace Evernote, but Evernote cannot replace TagSpaces – and that's fine; they are different applications. But I wouldn't be surprised if TagSpaces wins an award or two in the productivity section.
If you haven't tried TagSpaces then you should, and don't forget to return to share your experience with it in the comments section below.