Email Marketing is among the most significant strategies for recruiting clients and maintaining a customer base. According to Hubspot, over 70% of marketers use email as a major channel for content distribution, and 59% claim emailing to be their biggest source of ROI (Return on Investment).
On the surface, creating and managing email campaigns professional is far from a walk in the park especially when taking the technical skills required for building templates with XML/HTML.
When you delve deep, though, you'll realize that you don't have to build your email templates from scratch unless the project requires it. And sometimes, even bespoke projects can be taken care of using some of the coolest template builders available today.
With that been said, the challenge lies in choosing which template builder to use. Which template builders have design features modern enough to enable users to create what they want in an intuitive manner – drag, and drop, for example? Which ones have built-in analytics that shows the success of created templates? And which template builders help to save the most time because of their reusability, migration features, etc?
In today's article, my job is to present you with a rich list of the best email template builders you can use in your current project or the next one.
1. MailChimp
MailChimp is among the most popular email marketing services in the market today and that should come as no surprise – it is easy to learn and designed to get marketers up and running as quickly as possible.
Feature Highlights
100+ customizable email templates.
Custom landing page creation tools.
Over 100 customizable email templates.
Integration with 300+ third-party apps and marketing tools.
Advanced sharing options for social media.
24/7 customer service.
MailChimp's free plan offers users basic email templates, website creation, surveys, and marketing CRM. Access to all email templates, A/B testing, additional support, and custom branding cost $9.99 per month.
Above that, is $14.99 per month for a Standard plan which gives access to custom templates, audience insights, and retargeting ads. Advanced features such as multivariate testing and segmentation are included in any of the advanced plans with a Premium tier costing as high as $310 per month.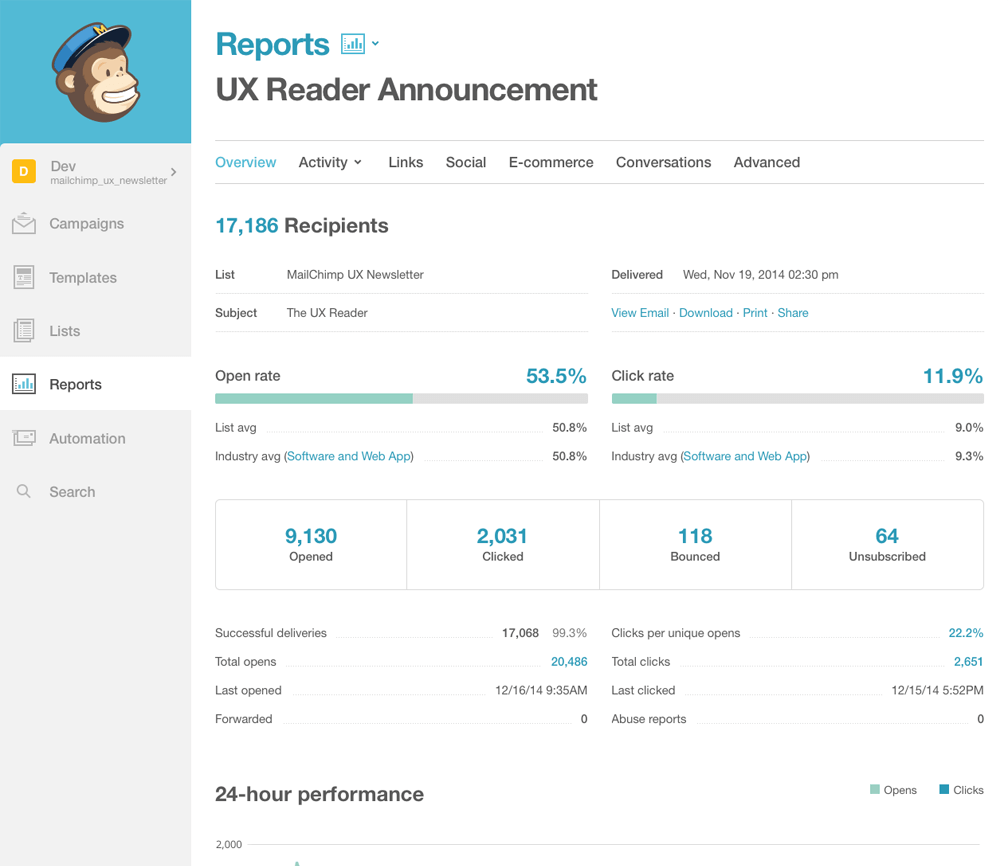 2. Hubspot
Hubspot allows you to create sleek, brand-consistent email campaigns using an easy-to-use drag-and-drop editor. You can choose to customize emails depending on specific customer details in order for a tailored experience. It also comes with built-in analytic tools as well as A/B split testing to enable you to continuously refine your strategy.
HubSpot's email template building tool is free to use and it is also bundled in the HubSpot Professional and Enterprise subscriptions.
Feature Highlights
Easy-to-use drag and drop campaign builder and template editor.
Tailor emails based on subscriber details e.g. lifecycle stage, list membership.
Over 100 customizable templates.
Advanced sharing options for social media.
24/7 customer service.
A/B testing.
Subscription plans are available.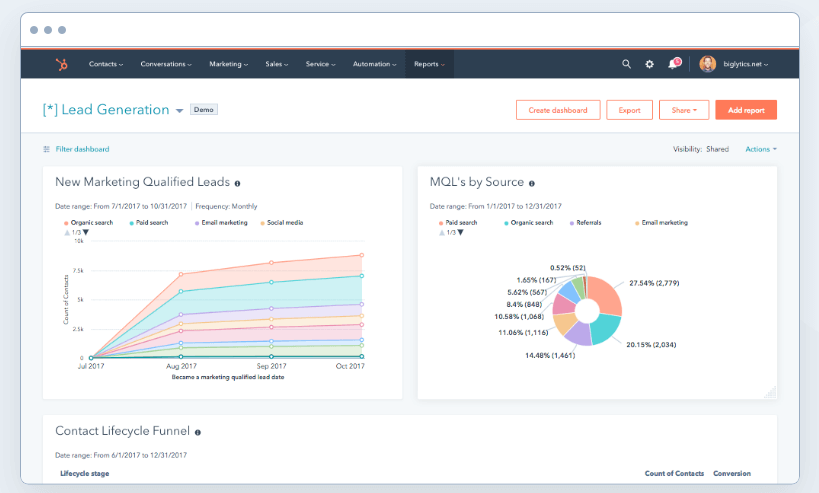 3. BEE Free
With BEE Free, you can design your email template from scratch using its page builder online without even signing up or choose from any of its 150 templates. It is free and includes useful design ideas and resources in its blog. If you want to, you can purchase any of its paid templates.
While BEE Free is free to use, it has 3 BEE Pro packages for freelancers, marketing teams, and agencies. The cheapest pro package costs $15 per month.
Feature Highlights
150 email templates + additional paid options.
Mobile-friendly designs.
Integration with several SaaS apps.
Subscription plans are available.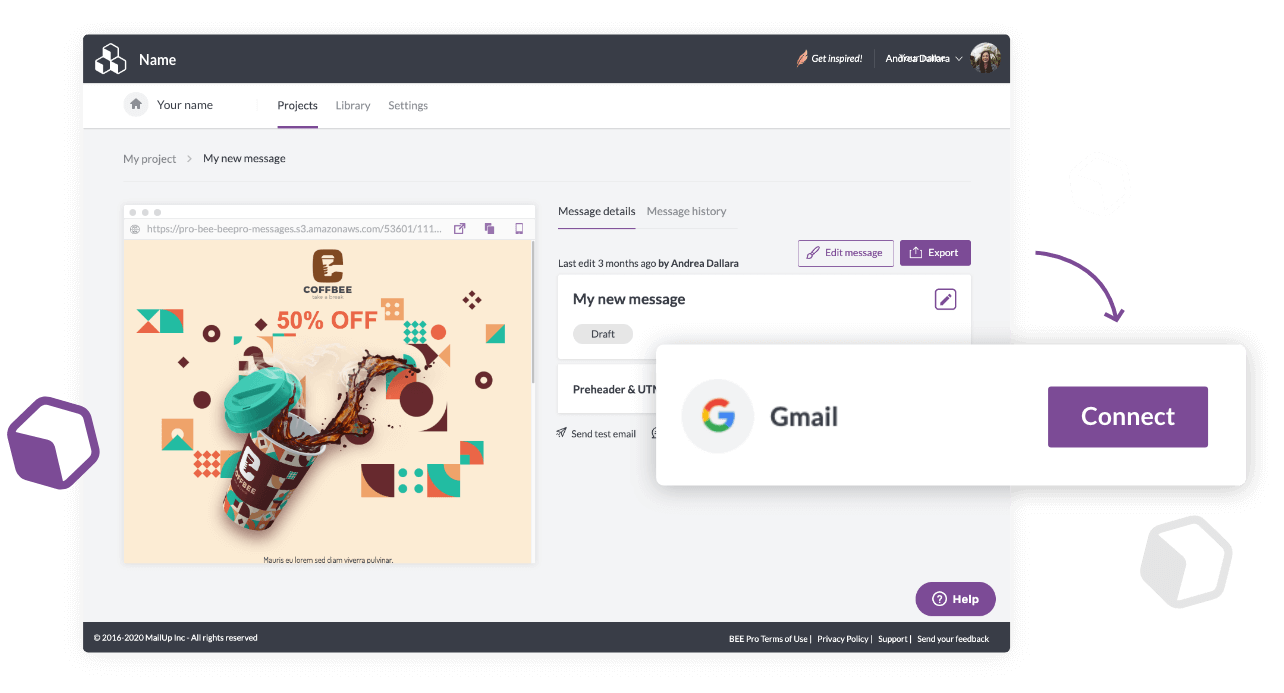 4. Mosaico
Mosaico is the first open-source email template builder on this list. While it doesn't have any designed templates that you can use, you have total control over the appearance of your marketing template.
So, if you want a simple template builder that is not only free but available for everyone to see its inner working, then Mosaico is the way to go. Mosaico is completely free and 100%. You can find its source code on GitHub.
Feature Highlights
Simple template builder.
Community support.
Virtually limitless flexibility with customization.
No paid/subscription plans.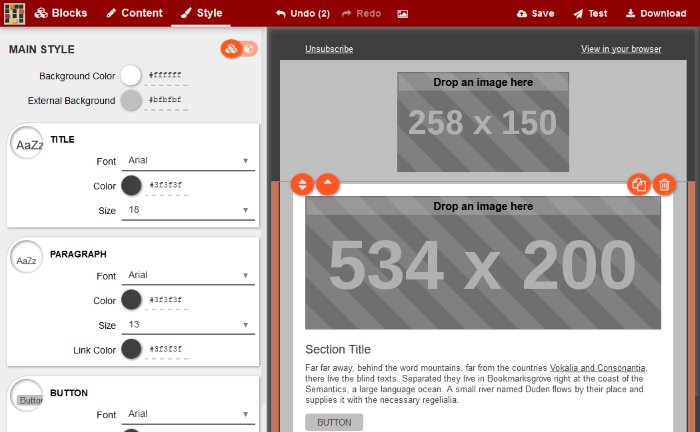 5. Email Monster
Email Monster is a free and simple email template builder with over 100 predesigned customizable templates. It features a Chrome extension that allows users to integrate it directly with Gmail. Email Monster is free with no subscription plans. It isn't open-source, though.
Unique Features
Free Chrome plugin for working in the browser.
No paid/subscription plans.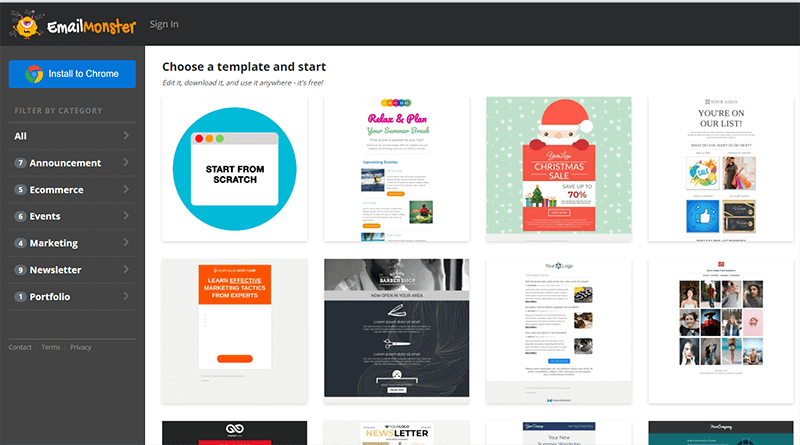 6. AWeber
AWeber is a simplistic email template builder aimed at small businesses. It comes with predesigned templates, email automation options, AWeber Smart Designer (for construing email templates), and a market place for designing and launching email campaigns.
AWeber's cost depends on the number of subscribers. It starts at $19 per month for up to 500 subscribers and then on request, $149 per month for 10,000 – 25,000 subscribers. It also allows you to choose your billing rate – quarterly or annually.
Feature Highlights
Drag and drop AMP carousel for adding AMP carousels to emails.
AI-based design for constructing and recommending emails.
Market place for template designs and campaign launches.
24/7 customer service.
Subscription plans are available.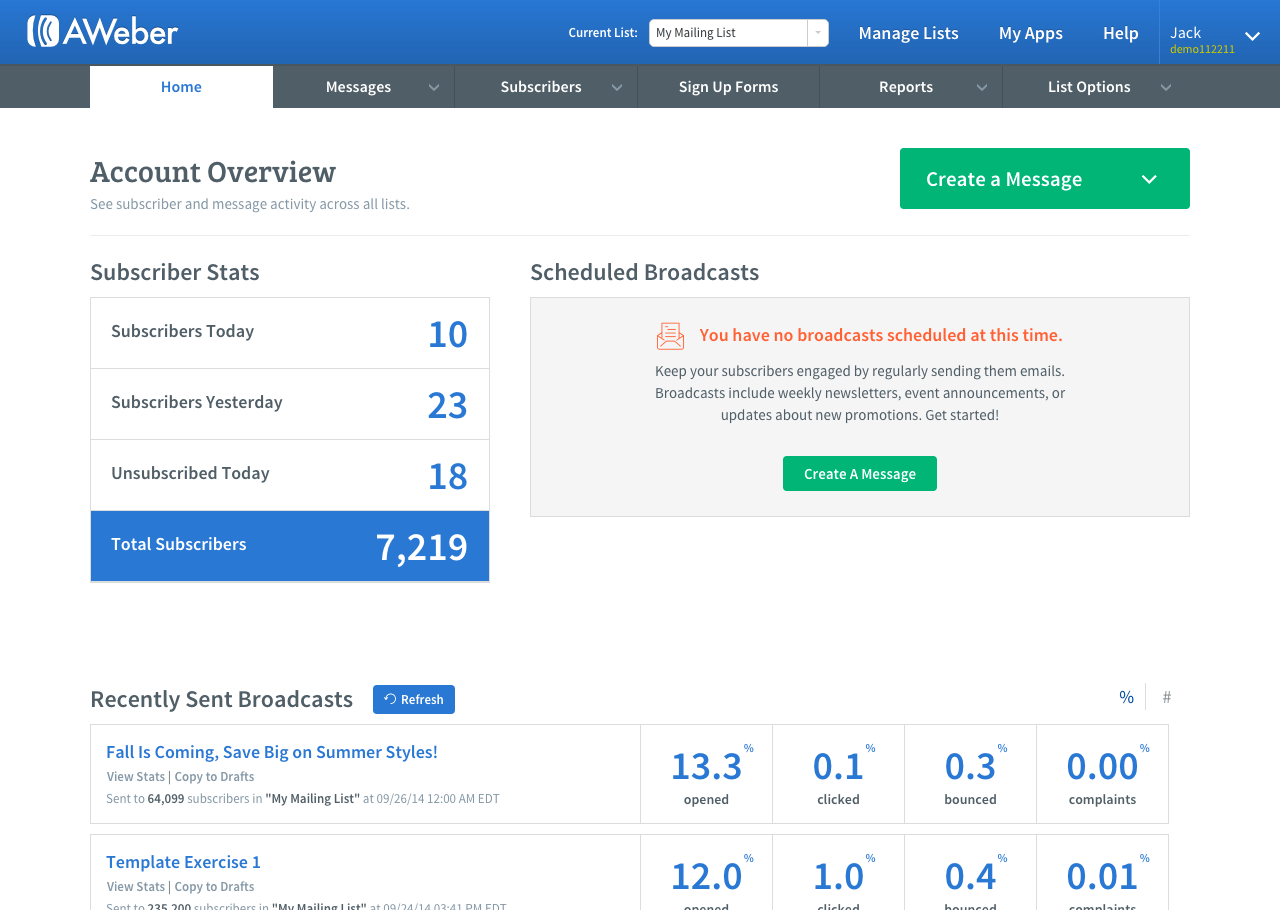 7. Unlayer
Unlayer is designed for SaaS companies as it allows users to build email templates from scratch which they can merge with tags and embeddable dynamic content that changes based on predefined conditions.
The basic plan is free and then charges $99, $199, and $399 for startups, businesses, and growing businesses respectively.
Feature Highlights
Embeddable dynamic content in emails.
Subscription plans are available.
Large-scale template management.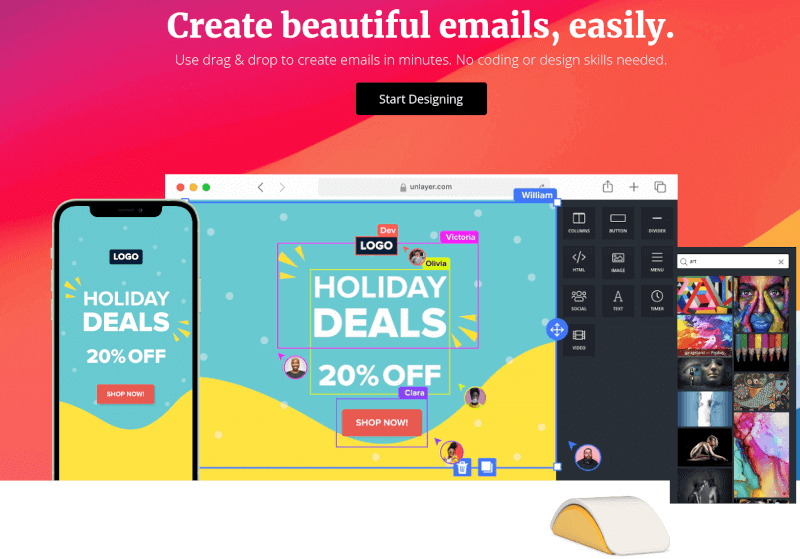 8. Campaign Monitor
Campaign Monitor focuses on email marketing and comes with at least 80 predesigned email templates with built-in support for unlimited questions in surveys and team collaboration options.
It is free for starters who need only the basic emailing features. It costs $9 per month for a basic plan, $29 per month for an unlimited plan, and $149 per month for the Premier plan.
Reliable template management.
Subscription plans depend on subscriber count.
Surveys with unlimited questions.
Supports team collaboration.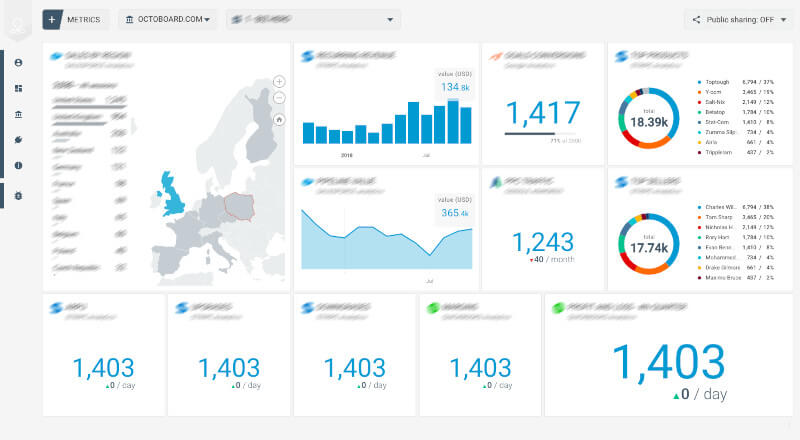 9. Chamaileon
Chamaileon is designed to enable teams to design email templates collaboratively with drag and drop – no coding required. It also features a built-in email campaign workflow to speed up email marketing. It has a free plan which works well for individual businesses. Extra features are available in the pro plans which cost $20, $40, and $200 per month for Premium, Pro, and Pro Team plans respectively.
Feature Highlights
Team collaboration even on the same templates.
Replicable settings for easily testing new designs.
Flexible account roles for different access levels.
Subscription plans: Premium, Pro, Pro Team.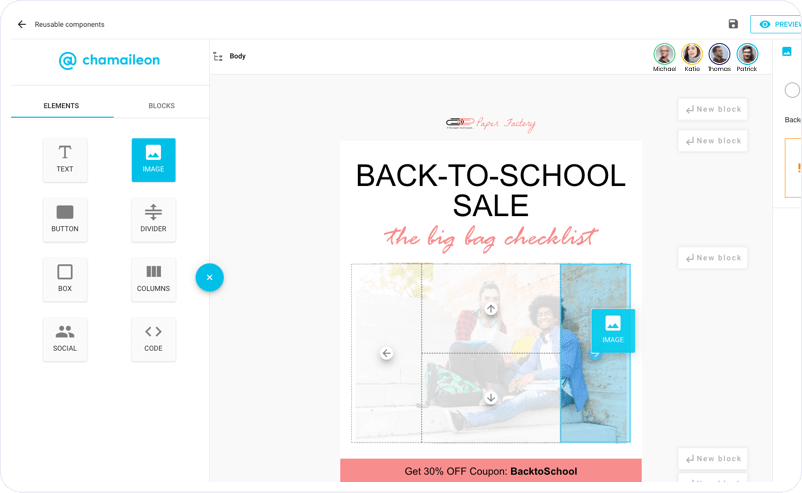 10. Designmodo
Designmodo has an email builder designed for teams working together to build responsive email marketing templates. On template completion, you can export it as HTML, or to any support email service provider like Mailchimp. Designmodo's Postcards are free for individuals with up to 10 modules after which the Business and Agency plans cost $15 and $25 per month respectively.
Feature Highlights
Modular stackable, customizable designs.
Unlimited exports.
Subscription plans are available.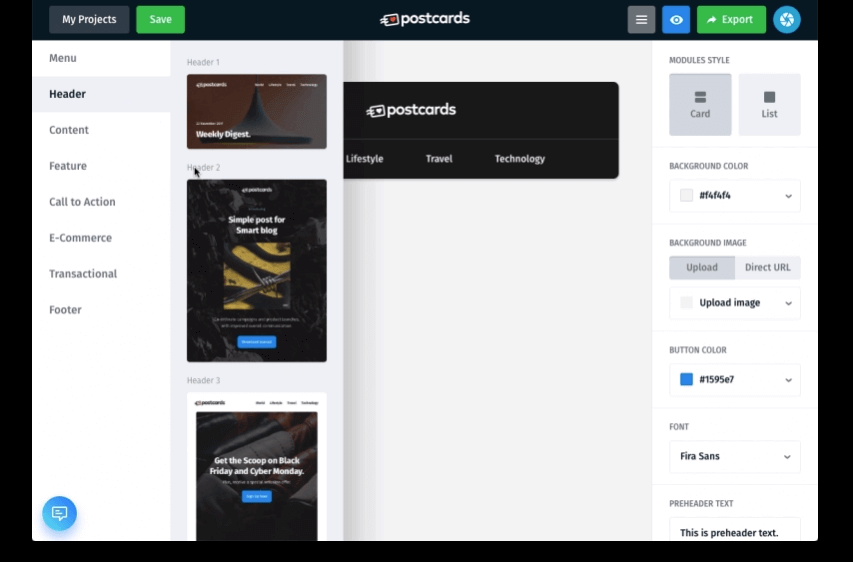 11. Stripo
Stripo is a simplistic email template builder with a responsive builder tool that requires no coding skills. It features built-in AMP support and a preview tool for testing completed designs in different device/screen and browser variants.
It has a free starter plan and then costs $125 (or $10.42 per month) for a Business plan and $400 (or $33.33 per month) for an Agency plan.
Feature Highlights
Supports creating image carousels and accordions using drag and drop AMP blocks.
Design preview/testing in over 70 screen sizes and environments.
Built-in support for integrating with ESPs and 3rd party tools.
Subscription plans: Business, Agency.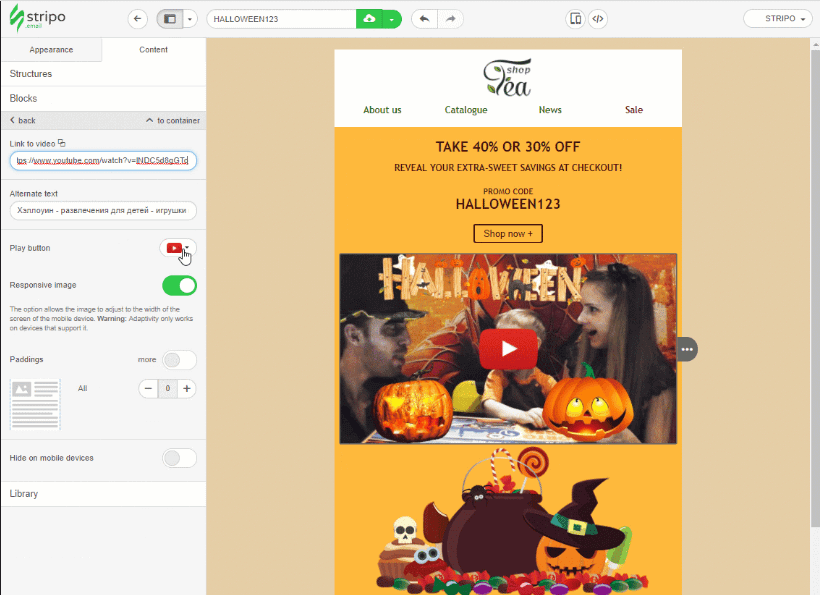 12. Taxi for Email
Taxi for Email is a simplistic email template creation platform designed to allow teams to build email marketing templates that are testable, replicable, and efficient. The pricing plan isn't publicly available so you'll have to contact them directly for that.
Feature Highlights
Collaborative tools for teams, access assignment, and user role options.
Robust testing of template designs in real-time.
Supports multiple languages.
Supports email segmentation.
Pricing available on request.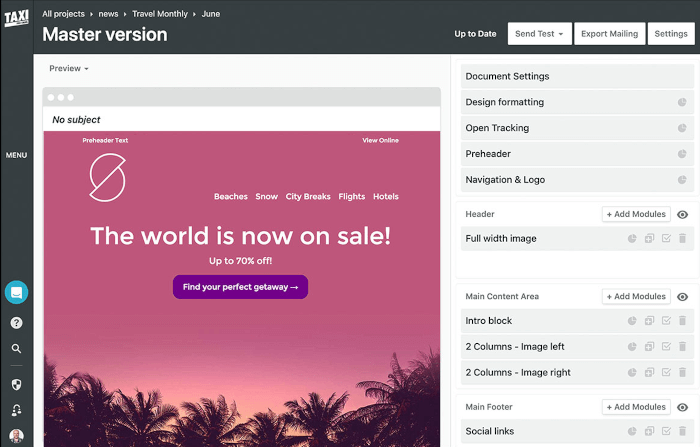 13. SendGrid
SendGrid provides straightforward functionality for designing email templates coupled with email functions such as password resets and shipping notifications that are automatic. It also features an open API for integrating with virtually anything.
SendGrid's basic version is free and then costs $14.95 per month for extra features and then $88.95 for advanced features in the Pro plan.
Feature Highlights
Responsive tools for email and signup form design.
Supports campaign automation.
Subscription plans are available.
Built-in support for APIs, Webhooks, and SMTP Relay.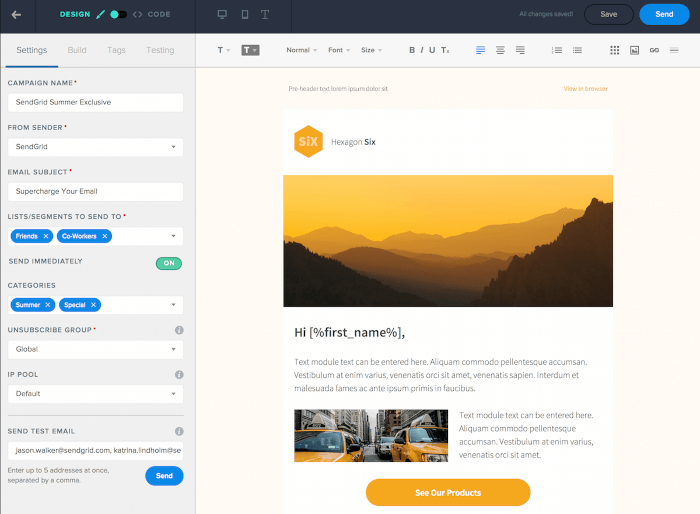 Well, folks, that wraps up my list of best email template builders for your email campaigns. I have probably included your favourite. And if not, feel free to add the suggestion for review in the comments section below.
Also, if you're interested in delving deeper into automated email marketing then check out our list of 10 Best Email Marketing Services for Your Business because it is a good place to start.