Instagram is more than just a mere social media page, with its immense popularity and dynamic functionalities, it has gained wide popularity in the field of marketing.
Where people used to just use it to interact and share photos/videos with their friends earlier, Instagram is one of the most sought-after tools for marketing now.
If you are one of those who use it solely for branding or marketing purposes, would know the importance of having a unique and catchy username to attract more audience.
Yes, it's true that we all fall short of some grasping usernames when we have to, but with some name-generating tools/apps, you are just a step away from having the most outstanding username for your brand.
These tools work by presenting you with several suitable usernames, out of which, you can select the one which complements your brand image the most.
So, brace yourself up as we explore these best name generators for Instagram to get the right username for your account.
1. Name-Generator.org.uk
The Name-Generator.org.uk was originally developed for creating usernames and not exactly for Instagram. This in-depth username generator asks for parameters like first, middle, and last name, gender, birth year, location, occupation, likings, etc. to generate a suitable username.
It also works by generating random usernames without asking you to input anything. Overall, it generates decent usernames but, some might be totally avoidable due to the complex alpha number combinations used.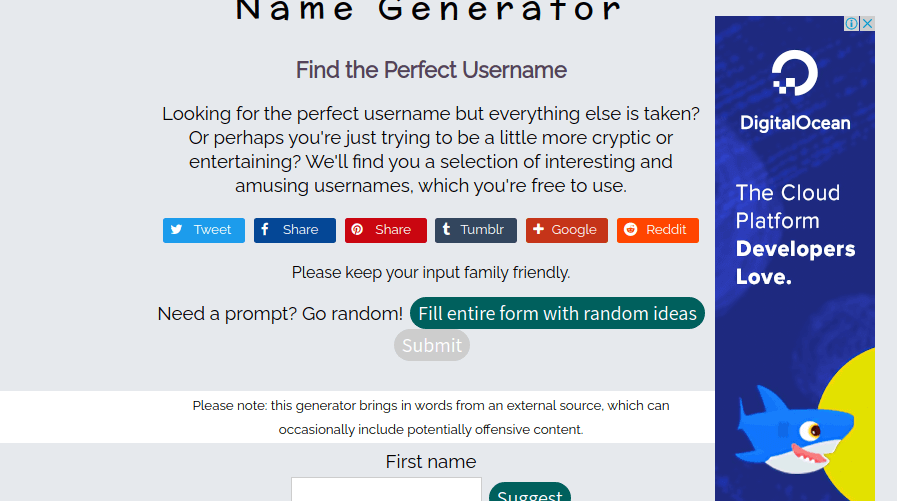 2. NordPass Username Generator
NordPass is basically a password management tool that has come up with a variation to generate suitable usernames. The names generated with this tool are less prone to hacking.
For generating a username, all you have to do is to input a word followed by setting parameters like name length, allow random characters, leetspeak, if you want to place a keyword towards the end, etc.
The best part about using this tool is that it allows you to check if the username is already being used on different apps and sites.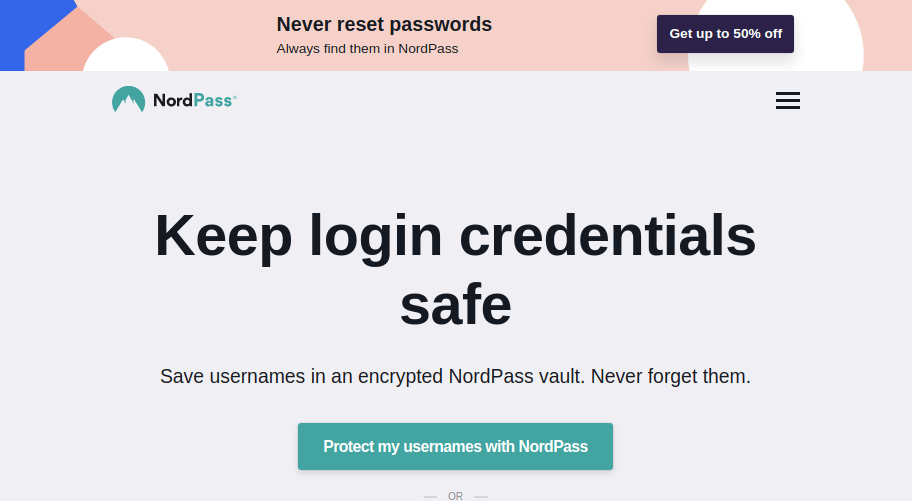 3. Lingojam
Lingojam is a random name-generating tool that actually creates a stylish version or fancy version of the word you enter. It doesn't generate unique names but a stylish version of what you type.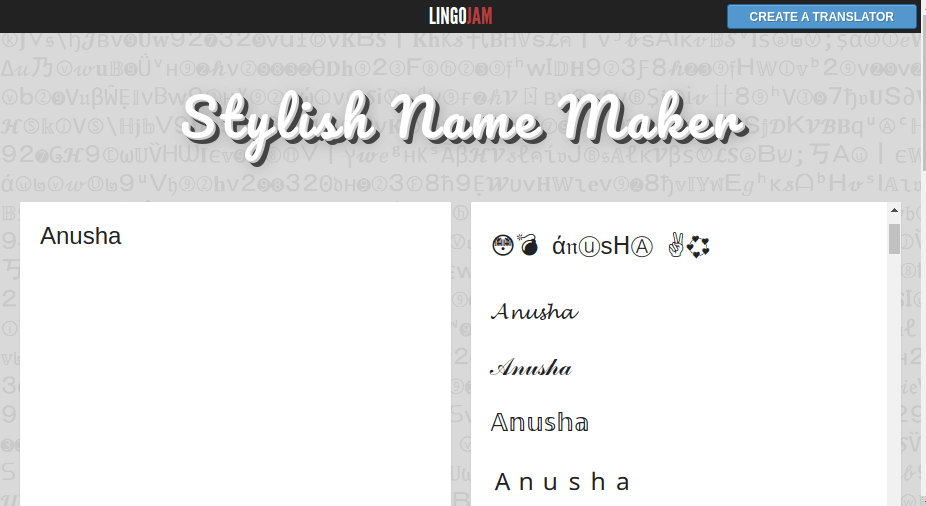 4. SpinXO
SpinXO name-generating tool works somewhat similarly to Name-Generator.org.uk by asking you to input different inputs like first name, middle name, last name, gender, hobbies, likings, letters, numbers, etc. to get you the best username. In case any of the usernames are not to your liking, you can hit the SPIN button and ask the tool to regenerate new names.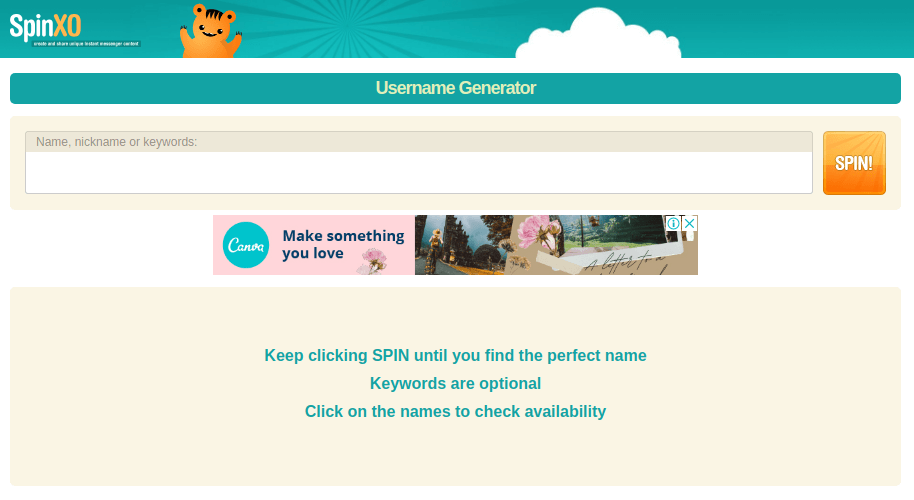 5. Instagram Business Name Generator
Instagram Business Name Generator is a simple and easy-to-use name generator for Instagram that requires you to input a keyword and hit on the generate button to present different names. You can also choose to enter the location as an option if you want.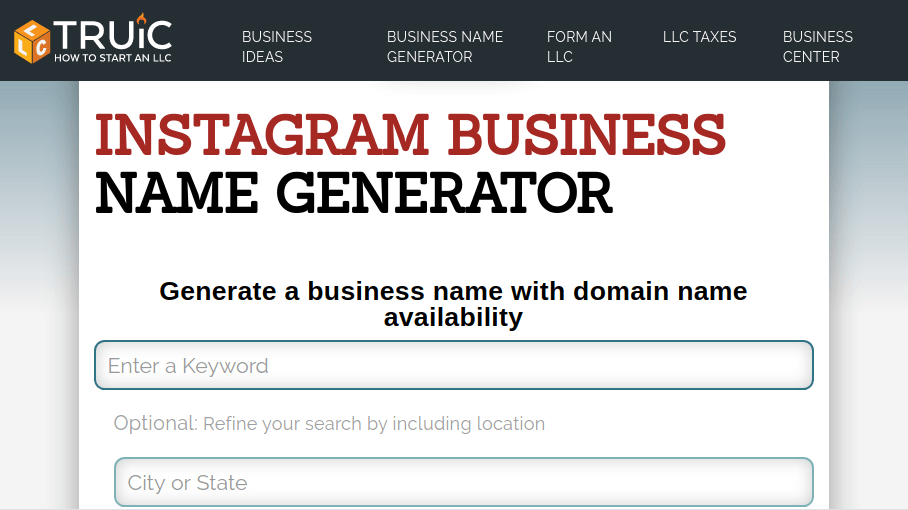 6. Jimpix
Jimpix is yet another easy and straightforward username generator that provides only a few options. This tool generates names on the basis of the word you enter and the category you select. With this tool, you can also choose if you want to "show bells and whistles", to generate a reverse order of the word you entered along with all other random combinations.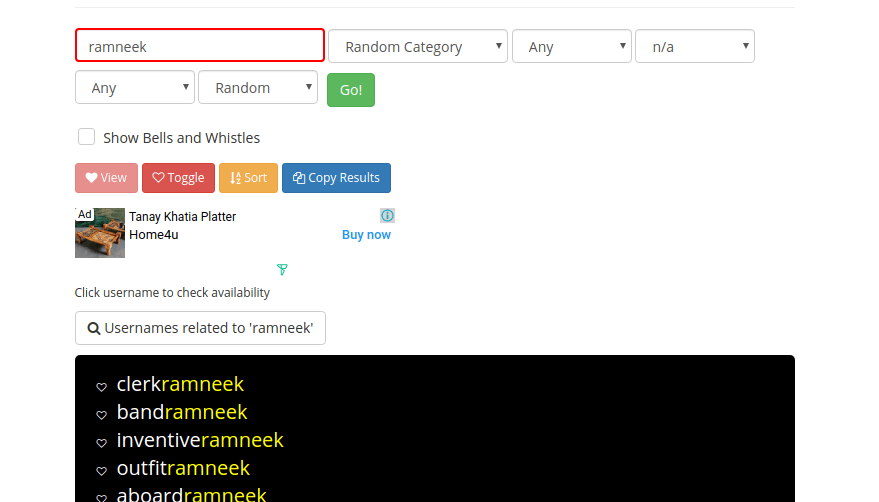 7. Names4Brands
With the Names4Brands username generator, you can create usernames based on three distinct words. In case, you select a Custom setting, you are allowed to enter two words with either its setting at the end along with a vowel or end with a character or vowel.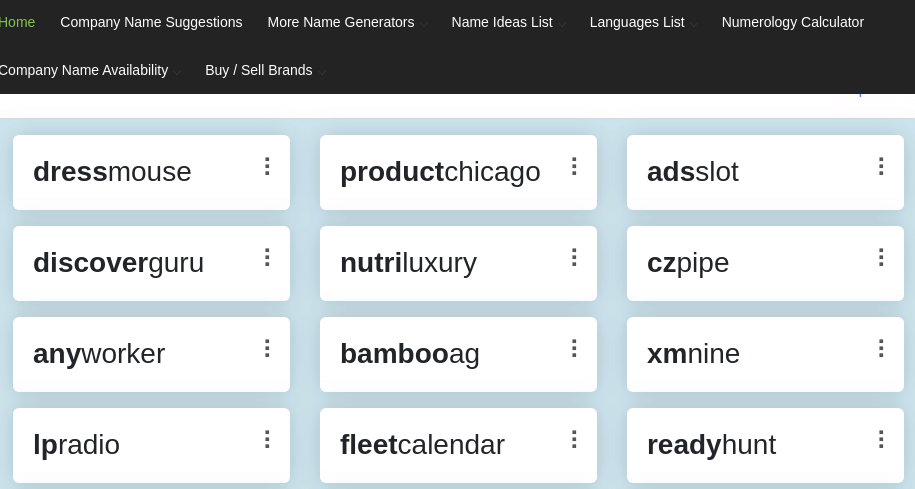 8. Nitreo
Nitreo username generator lets you generate names based on five categories as mentioned in the below screenshot.
These categories include
Prefix
Adjective category
Noun category
Add a custom prefix
Add a custom noun
After filling in these details, it will ask for your email address to generate suitable usernames.
Once after entering the email address, it will mention the generated username in the "your new username is" field, in front of @.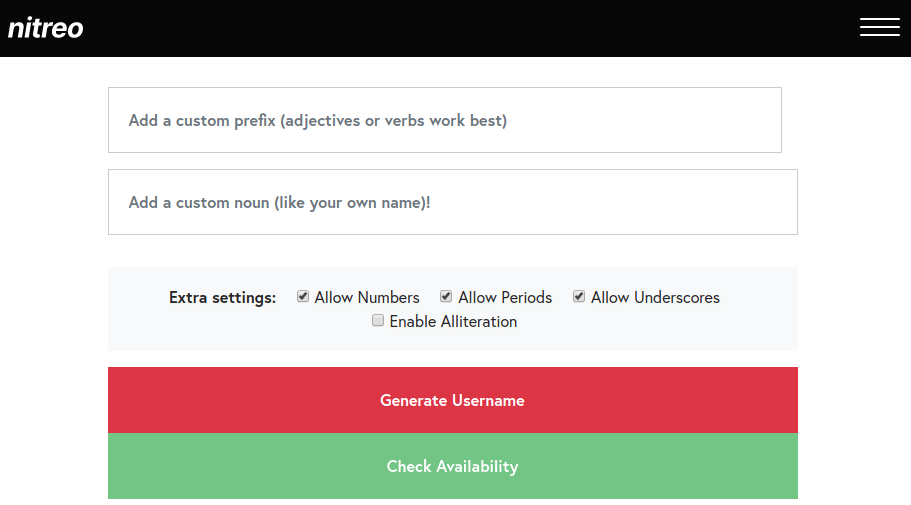 9. Nameboy
Nameboy name generator site is one of the oldest name-generating tools that give you new blog and domain names instantly. To generate a new username, all you have to do is to input a keyword and then press the submit button to reveal the names.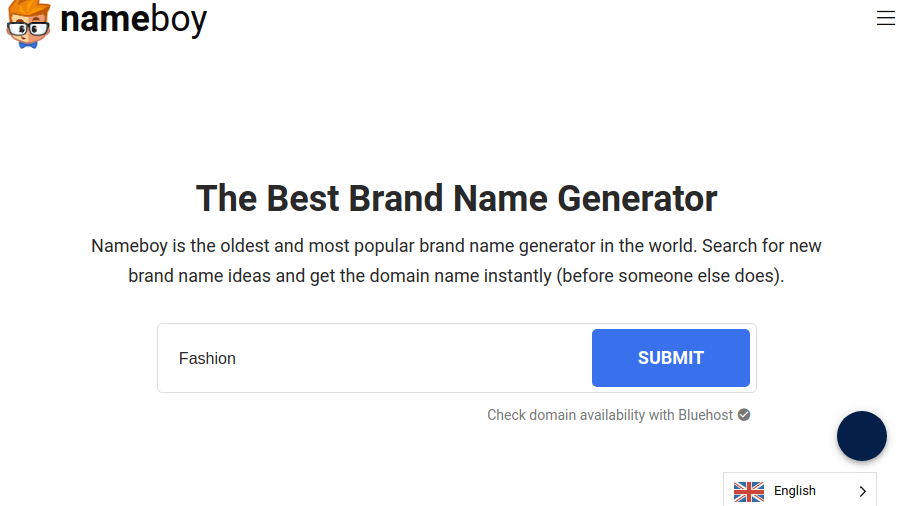 10. Sassy Captions
The Sassy Captions username generator tool is specially curated for Instagram! It works by asking you to enter the nickname to generate a username or random username as below.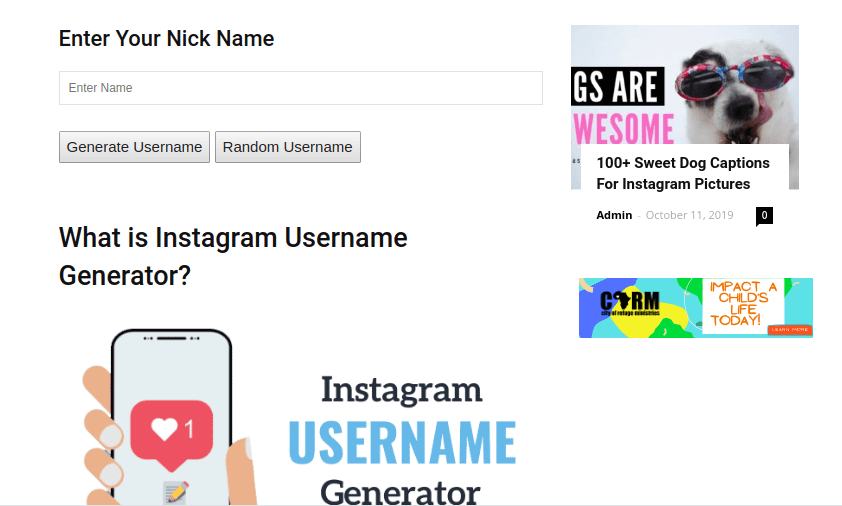 11. Username Generator.org
The Username Generator.org tools present you with a number of usernames for your Instagram. It works by entering any word that you prefer along with the length, which can be up to <=18.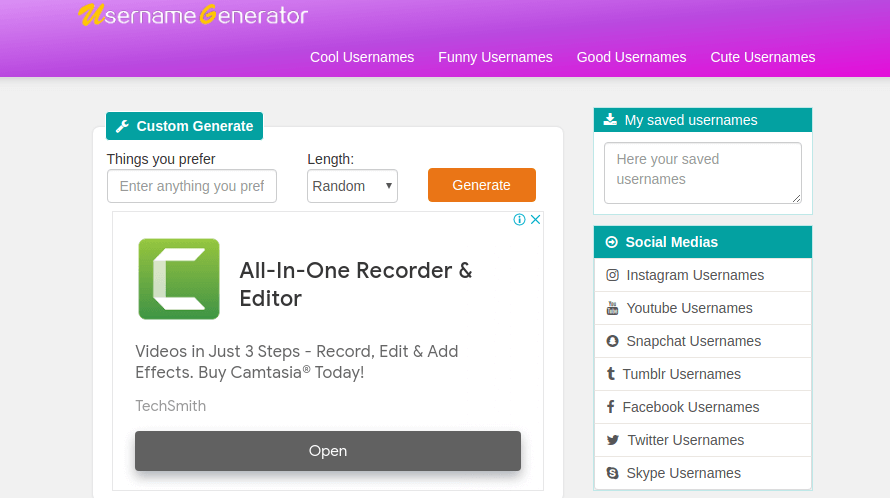 12. Namelix
Namelix is a free AI-powered naming tool that can help you come up with a unique, brandable, and memorable Instagram username. It generates a list of potential usernames based on the information given such as your name, interests, and goals.
Namelix offers a variety of features that make it a great option for generating Instagram usernames, including:
The ability to generate multiple usernames at once.
The capability to check the availability of usernames on multiple social media platforms.
Tailored suggestions based on your interests.
The option to save your favorite usernames.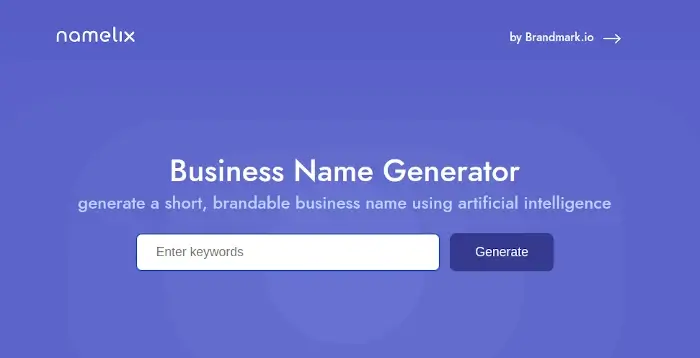 13. Namechk
Namechk offers a comprehensive username generator, specially designed to assist users in devising distinctive and imaginative usernames across various social media platforms, including Instagram.
Key features provided by Namechk include:
Username Generator: A username generator is a powerful tool that aids users in generating unparalleled and creative usernames tailored to their preferences and needs.
Username Suggestions: By entering a chosen username, users can avail themselves of a list of suggested usernames that closely align with the original input, facilitating even more options for consideration.
Username History: Namechk also grants users access to a convenient compilation of previously checked usernames, enabling efficient tracking and management of their search history.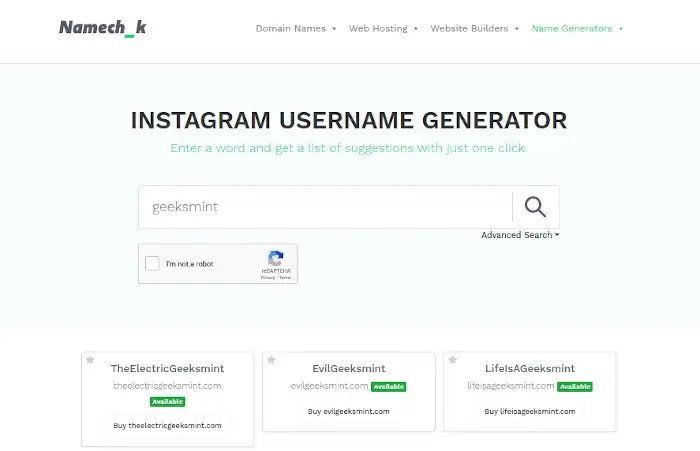 13. NameStation
NameStation is free to use, and it offers a variety of features that can help you find the perfect name for your business, product, or project. If you are struggling to come up with a name, NameStation is a great place to start.
Here are some of the benefits of using NameStation:
Free to use: It is a free-to-use website, so you can try it out without having to spend any money.
Variety of features: It offers a variety of features to help you find the perfect name, including a name generator, a name checker, and a naming contest.
Easy to use: It is easy to use, even if you are not familiar with naming conventions.
Helpful community: It has a user community Who are very helpful and offers advice and suggestions.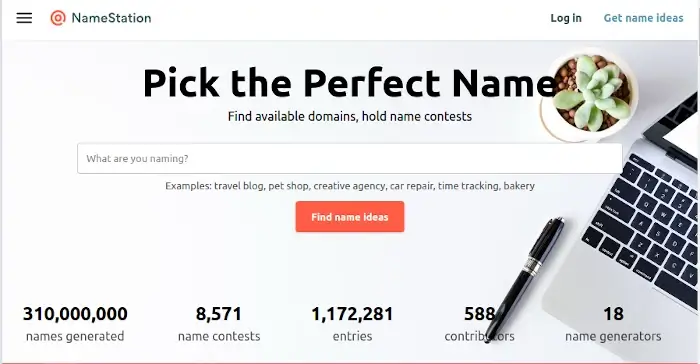 Conclusion
These were some of the most popular username generators for Instagram. We hope with these easy-to-use and straightforward tools, you will be able to find the most desirable username for your account!