Enhance your Instagram Posting capability with Instagram Scheduling Tools! These tools work by scheduling your posts while automatically posting them. They even provide hashtag analytics and suggestions corresponding to the posts.
These marketing tools suggest an optimal time to schedule your post so that your content stays constant and fresh! Furthermore, it helps in saving time while making publishing easy. These tools provide a similar color palette, captions, and filters to your photos to maintain consistency.
So if you want to know which are these free and benefitting Instagram Scheduling Tools, scroll down the page to know all about them!
1. Combin Scheduler
Suitable for small to midsize businesses, Combin Scheduler is the best platform for instant posting. This fully automated tool publishes posts from the desktop while letting you edit the image size. Compatible with Mac, Windows, and Ubuntu, it allows users to visually style the grid.
Some of the other benefits of this tool are
User and location tagging, account and hashtag suggestions, hashtag management, multiple stories uploads, and link-in-bio.
Its free plan can handle only one Instagram account, three posts, and 15 stories in a week.
Some features of the free plan include bulk image uploading and location tagging.
With the premium plan, get unlimited stories, location tagging, and posts.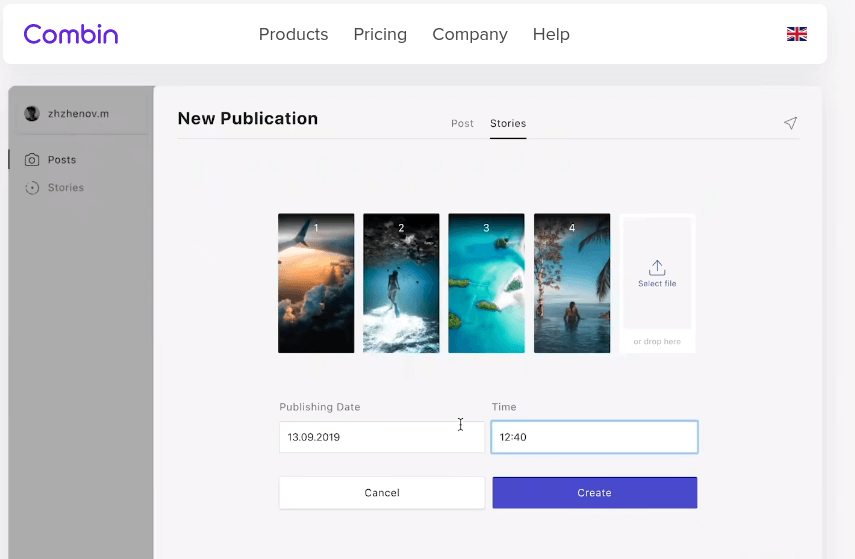 2. SEMrush Social Media Toolkit
SEMrush Social Media Toolkit makes a perfect choice for freelancers and startups. This highly capable tool lets you schedule your posts across five social platforms. Equipped with an in-built image editor, UTM builder, and link shortener, it sorts out the best performing content while benchmarking your performance on social media.
[ You might also like: 10 Best SEO Keywords Research Tools for Better Ranking ]
With Semrush, you can perform as below.
Automate posts, promotions, tracking, and analytics on social networks.
Analyze your social performance.
Plan and schedule posts for Twitter, Instagram, Facebook, etc.
Save drafts and posts for later use.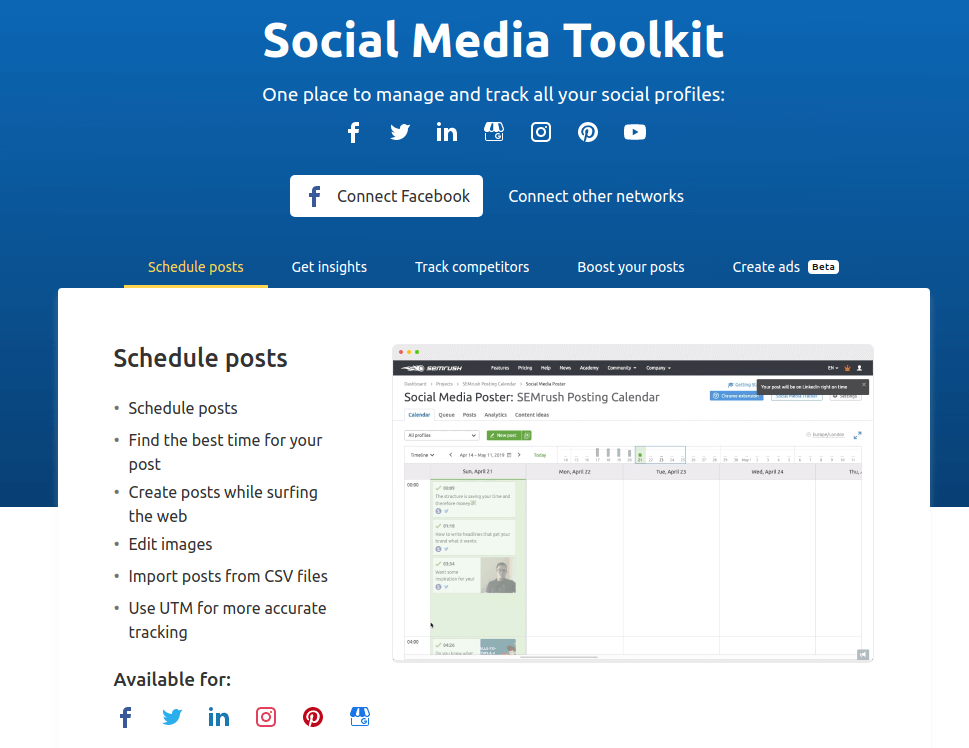 3. Tailwind
Tailwind is a great platform for small to large businesses and freelancers. It works by letting you plan the Instagram feed using nine preview grids so that you can easily schedule your Instagram posts for weeks to come.
Suitable for tablet, desktop, and mobile apps, it offers insights to dig deeper and learn quickly to monitor trends. Its drag and drop calendar schedules stories, videos, posts automatically while letting you select the date and time for posting.
Some of the features of Tailwind are as below.
It picks the time when the audience is most engaged.
It schedules posts, discovers content, monitors comments, tracks results, and analyzes trends.
Its hashtag finder suggests hashtags and makes it easy to drop already saved hashtags in your posts.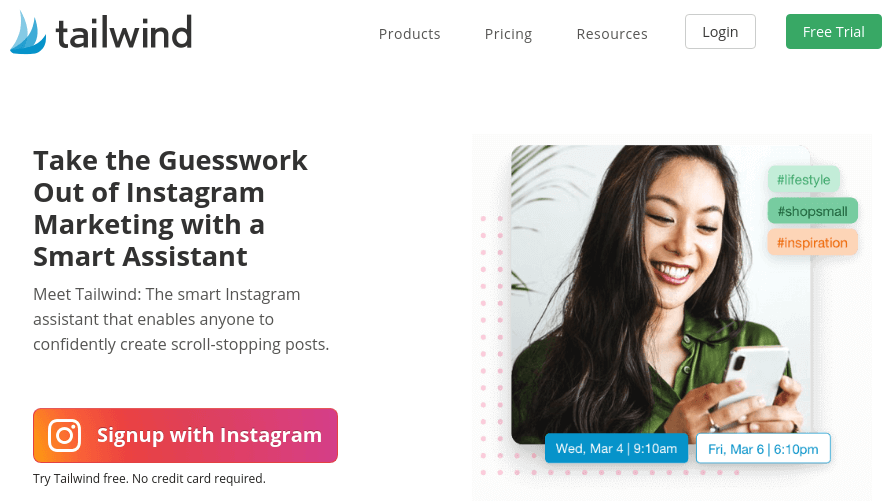 4. Onlypult
Onlypult is crafted to post on blogs, messengers, and social media platforms. It works by letting you upload pictures and videos and is featured to support teamwork. It lets you maintain multiple accounts using a single-window so that you don't have to switch users.
Some amazing benefits of using this tool are.
It houses features like hashtags, image and video editor, calendar, planner, etc.
It helps in scheduling posts and publishing them in real-time.
Its delegation feature provides SMM manager access to post content with no sharing of passwords.
It analyzes the best publishing time depending on the growth, volume, and followers.
It analyses the trending hashtags.
It creates landing pages and multiple links to increase sales and traffic.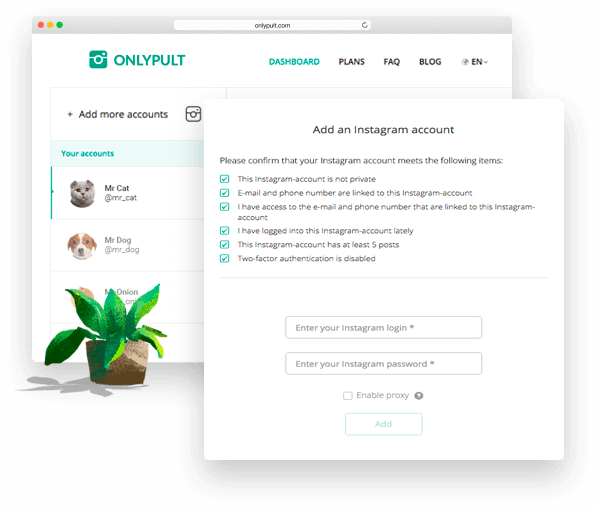 5. Sked Social
Sked Social is an Instagram scheduler that capable of scheduling posts, planning feeds, analyzing results, reposting, and scheduling stories automatically. With this app, you can effortlessly auto post and schedule Instagram stories.
Some other capabilities of this scheduling tool are.
It easily lets you collaborate with team members.
It works on multiple platforms such as Facebook, Instagram, Twitter, and LinkedIn.
It features a drag and drop grid planner, photo editor, and bulk uploading including hashtag manager.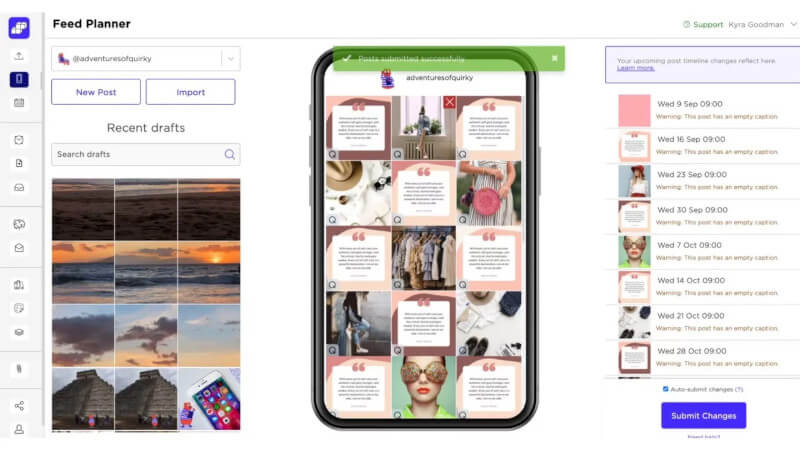 6. Later
Later is an Instagram scheduler cum social media platform is crafted for scheduling, analytics, stories, and user-generated content. It additionally supports scheduling videos and photos.
Some other features of this tool are given below.
It allows visual planning, analytics, and scheduling.
It lets you preview the post before posting.
It offers hashtag suggestions.
It provides a visual calendar.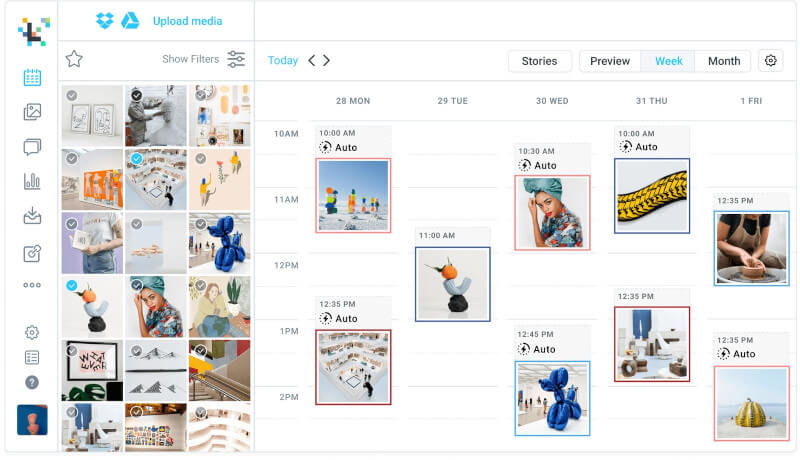 7. Buffer
Buffer, a social media management platform, which is capable of scheduling tags, posts, advanced reporting, analysis, recommendations, automation rules, and so on.
This Instagram scheduling platform works by establishing a publishing schedule for every social account to let you build your brand. It provides incredible content by drafting posts, coordinating team members, and stimulating social marketing campaigns.
Some more features of Buffer include as below.
It allows you to plan posts beforehand and receive notifications pertaining to them.
It lets the team collaborate so that you can work along with your team for approvals, drafting posts, and managing accounts.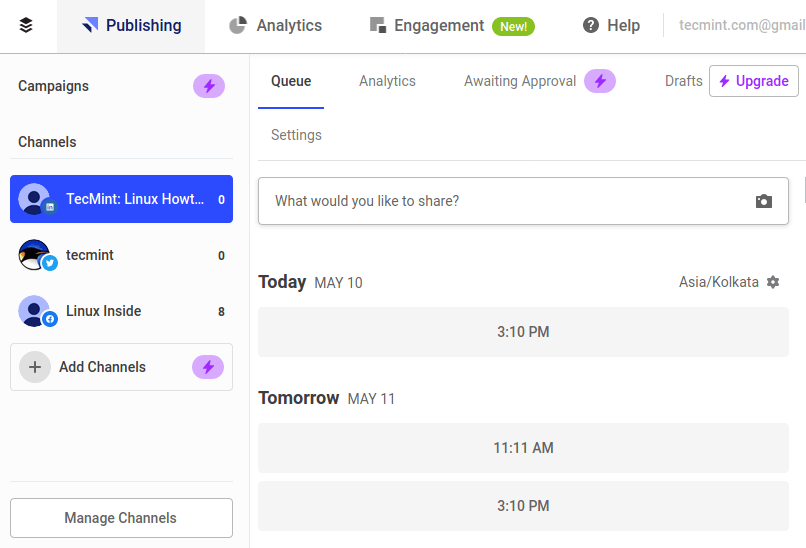 8. Sendible
Sendible is a social media management tool that builds a brand image on a social platform with features that offers planning, engagements, and collaborations, etc. to let you schedule individual, bulk, or queue posts.
It is also equipped with custom reporting and provides insights for engaging content by optimizing posting time and web traffic etc. This tool lets you send automatic reports to stakeholders, clients, and teammates on a daily, weekly, and monthly basis.
Some of its other features are.
It helps in organizing work by maintaining individual dashboards for clients.
It offers access to all the posts saved as drafts or posts pending approval using the scheduled view.
It lets you preview the post before posting so that you can set the right text length, personalize text, and more.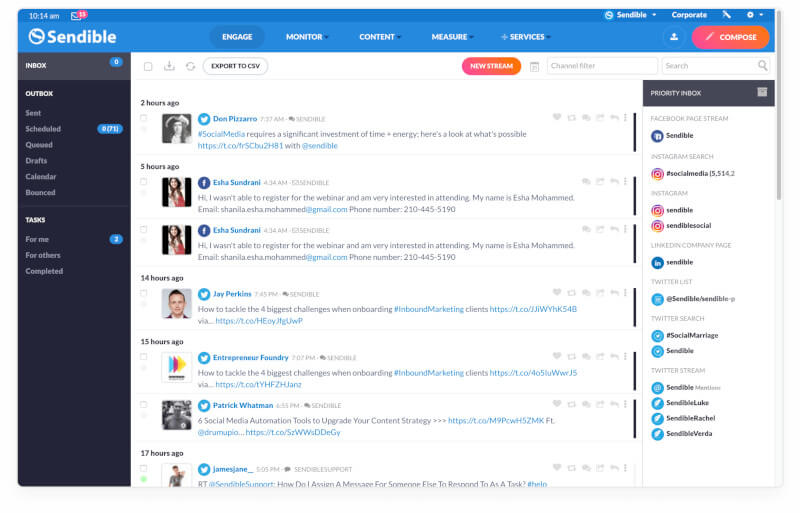 9. Hootsuite
Hootsuite makes the most appropriate choice for an auto-scheduling tool that keeps a 24*7 social presence and comes packed with the features like content creation, scheduling, monitoring, social analytics, etc.
Additionally, it is equipped with bulk scheduling that allows editing uploading, scheduling of social media posts in .csv,, etc.
Some additional capabilities of this tool include.
It offers a media-rich and interactive planner that allows users to see scheduled posts as previews, collaborates with team members, streamlines approvals, etc.
In the case of content creation, it lets you create search streams by location or hashtag.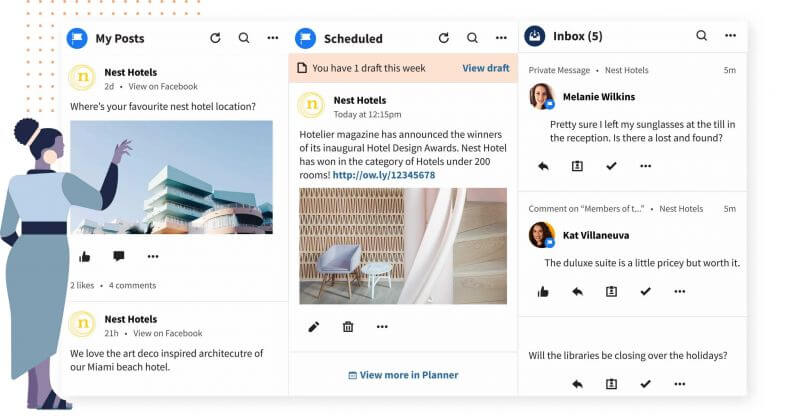 [ You might also like: Best Hootsuite Alternatives You Must Try ]
10. SproutSocial
SproutSocial is best for you! With this tool, you can publish, schedule, draft, and queue posts. It also allows users to organize, plan and deliver social content and campaigns using a cross-network scheduling process.
This tool is meant for profile monitoring, review management with monitoring of locations and keywords.
Some other features of this Instagram scheduler are.
It offers paid reposts for platforms like Twitter, Instagram, and Facebook.
It is equipped with message content tagging for both incoming and outgoing messages.
It allows conversation management for tracking campaign performance while personalizing, identifying, and reverting to incoming messages in no time.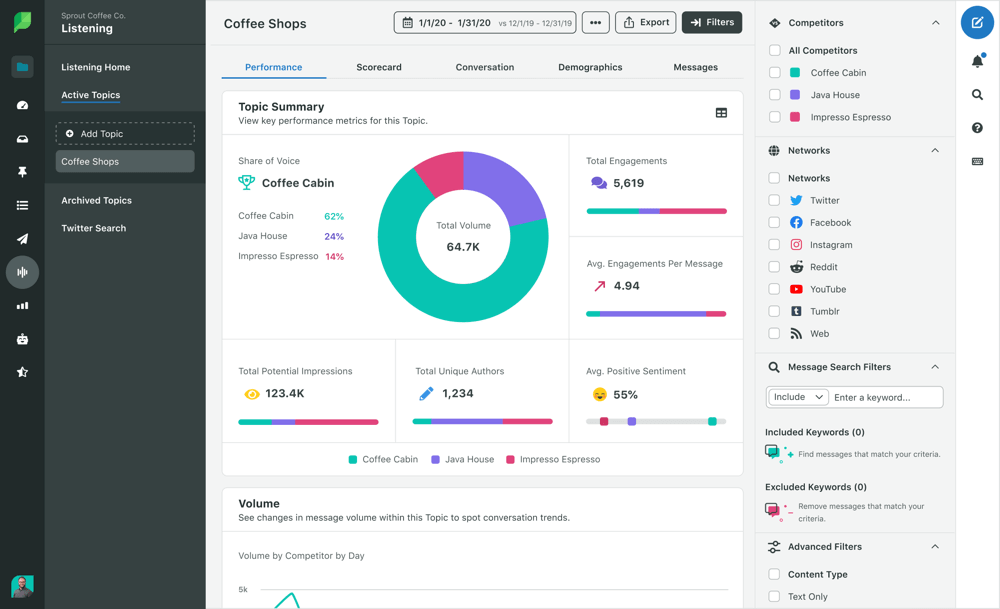 11. ViralTag
ViralTag is a marketing tool suitable for sharing visuals. Crafted for individuals, brands, and small businesses, it schedules posts optimally while being compatible with major social platforms like Facebook, Instagram, LinkedIn, Twitter, etc. With this tool, you can seamlessly plan your whole week and even a month.
Some of its alluring features are.
It is equipped with team workflows, UTM tracking, Google Analytics, and social analytics from 30 days to a year's history.
It can be straight away connected with Google Drive and Dropbox for the bulk data.
It makes it easy to customize a message and image dimensions for social networks while creating unique posts for each.
It features tools to create visual content.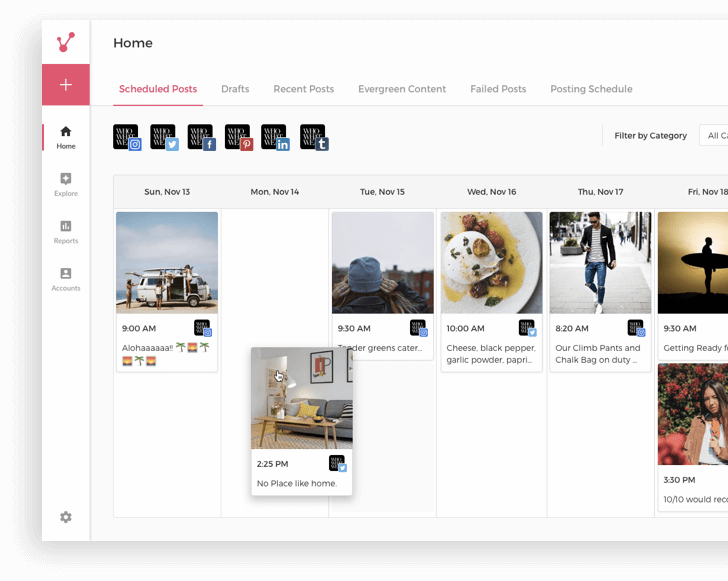 12. Iconosquare
Iconosquare is an insight and management tool that can help grow your presence on Facebook and Instagram with the ability to manage social media presence from a single platform with increased efficiency. It offers multi-profile management using a single dashboard so that you can add many social profiles corresponding to companies and brands.
Some of its additional features are listed below.
It publishes the content automatically.
It is featured with geolocation, best posting time, and user tagging.
It makes sure that the content is seen by the right people at the right time.
It releases reports in PDF and XLS.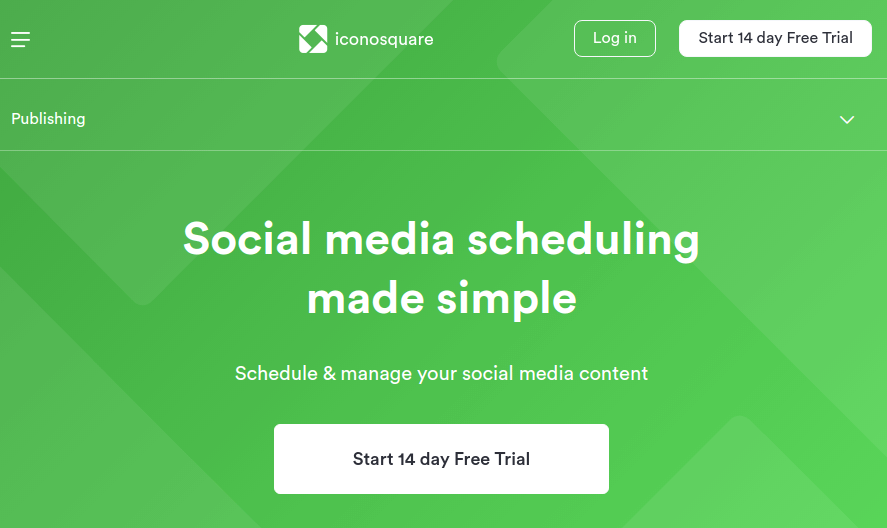 Conclusion
Tale your business or freelancing work a level up with these incredible and feature-loaded Instagram scheduler tools. We have shortlisted some of the best options for you based on the feedback and valuable reviews so that you don't miss out on trying the best.