There are over 100 different kinds of text editors available on Windows and macOS. There are some alternatives to Microsoft Office for Linux OS, but when it comes to finding a light minimalist text editor, Linux users do not have such a wide variety of choices.
Being a professional or an amateur writer, a student, a person who just needs to make some notes, there is always a need to write down some important stuff. For this purpose there's an app you can install on any of your machines and use for writing texts of any kind.
Write! App was developed with a distraction-free environment in mind, where users can focus only on what is important at any particular moment.
Write! has an uncluttered and simple working space where you can create articles, blog posts, books or technical notes and instructions. You can write texts of any kind, the app even guides you in the differences between writing a book or an email, and it has all the word processor features you need.
One of the most valuable features of this app is the ability to save the work to the Cloud storage, which can be easily accessible from any PC or platform.
This particularly is something many text editors lack because keeping switching between laptop and computer and carrying a pen drive full of documents is not convenient at all. With Write! you can access your documents anywhere without using extra devices.
Another unique feature is the Focus mode, which fades out all paragraphs except for the one you are currently working on to stay in the flow and focus.
This helps you to focus on the paragraph that you are currently editing rather than getting distracted by other paragraphs. To enable it, View > Enable Focus Mode.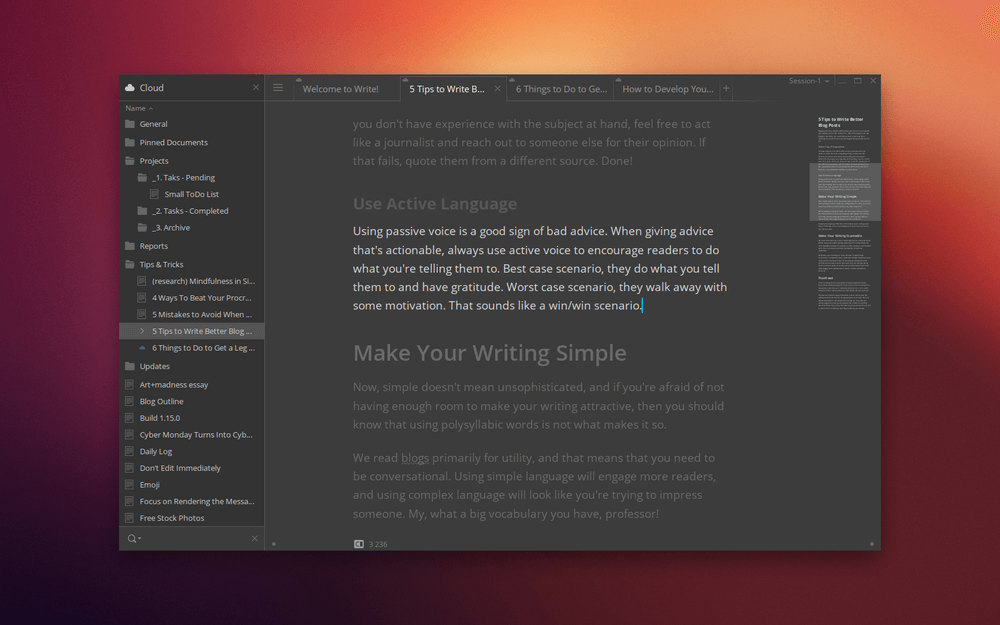 For many writers, it is usually hard to complete their daily goals or assignments on time for students, so you can now set your daily goals and track your productivity with Write!'s productivity counters.
Apart from markdown support, Write! also provides you with the options to checking Google, finding the information with Wikipedia and finding synonyms and antonyms using Thesaurus. You can also translate words to different languages at the same time by just doing right-click on the word and choosing the appropriate option.
While searching in settings, you can find a pretty cool feature, which enables "Typing Sound". Whenever you want to concentrate, put on your headphones and enable the typing sound, this sound provides with a calm atmosphere and helps to concentrate on the work only. This feature not only had the common, 'mechanical' option but also the 'typewriter' option, which some might find to be even better than the 'mechanical' one.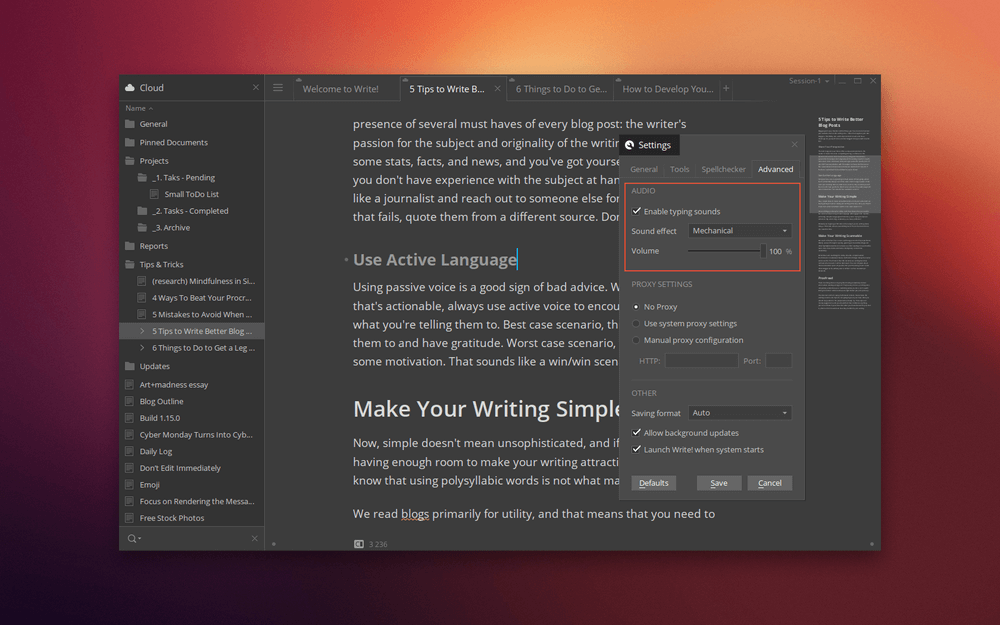 Write! also has the option of adding words to spellchecker dictionary by selecting a particular word and pressing Ctrl+F7, which is quite useful because sometimes it gets pretty annoying when you write something that is not in a dictionary like people's names, places, modern words and etc. and the words become underlined with red. This feature helps to avoid mistakes of one's "own" words and make the dictionary more personalized.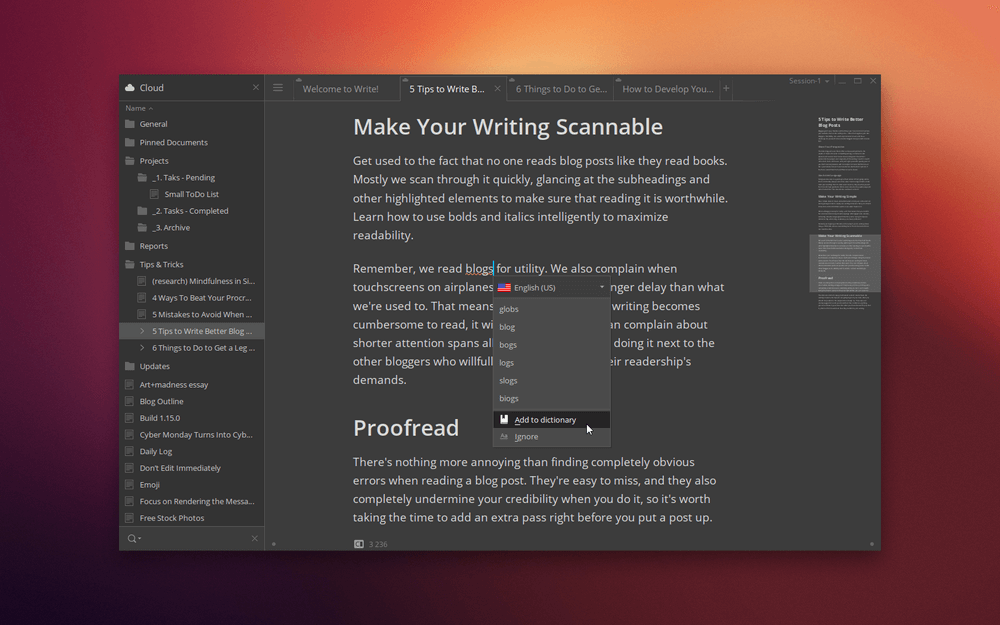 If you are bored of the common white background with black letters, Write! provides you with "Switch to Dark Theme" option to change the theme to black background with white letters. But, it's up to personal preferences.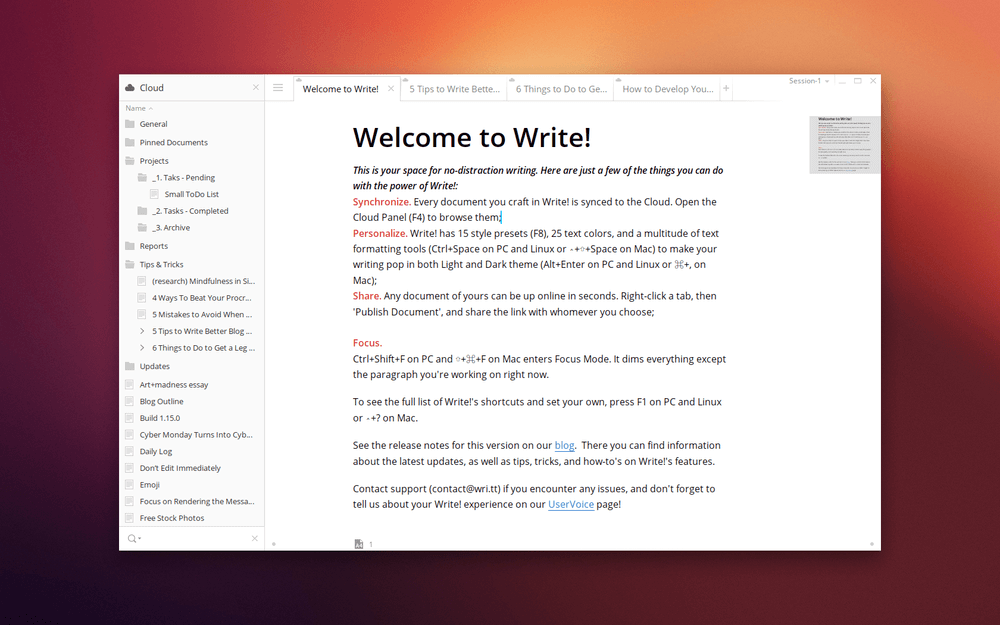 If you don't like to keep using a mouse to open settings, Write! is well-equipped with shortcut keys options to get you to a particular section in settings, which saves time, prevents you from distractions and becomes convenient. The shortcuts can be set up accordingly to user's needs. To replace or add some, press F1 and choose one or a few from the list of shortcuts.
Some people may like the additional Write!'s option to directly post their work on Facebook, Twitter, Google+, LinkedIn or Medium.
Importing and exporting your files is also easy and convenient with Write!, which becomes sometimes messy in big word processors. Also, it backs up your word for you automatically on the Cloud, so that you can access it easily from anywhere, and with unlimited Ctrl+Z feature change back the document to any destination, starting from the last changes to its creation.
Beside all features already mentioned, Write! has kinda unique feature of Cross-reference which allows you to link different Cloud documents within Write!. For example, while creating a document, you want to refer to another earlier created file.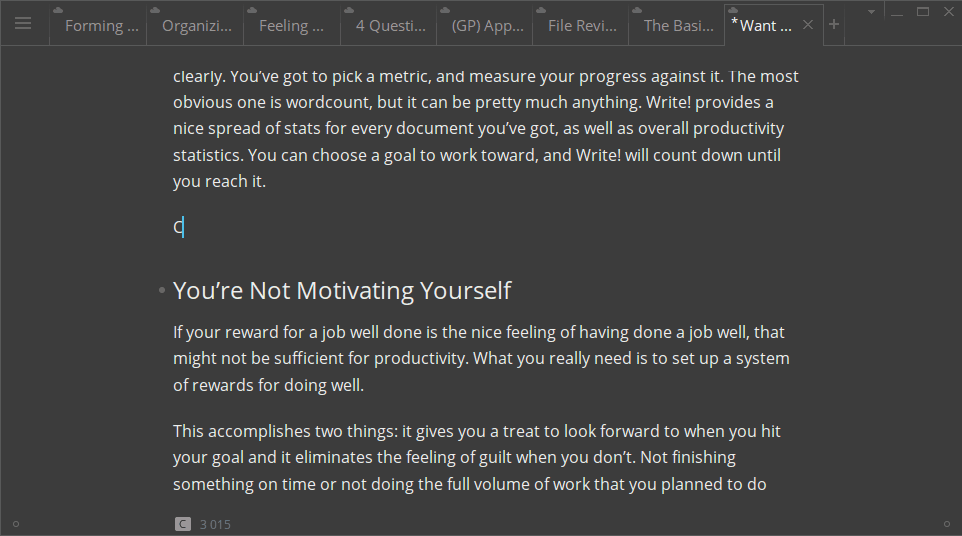 Write! is perfect when you are writing with a team – you can save the document on the tool and share the unique link to your collaborators, who can then make changes to the document on the fly.
And at last, using this app you never be alone, having any question, suggestion or comment, you can always share them with Write!'s support team. And stay tuned to weekly updates that might surprise you with new never-seen-before features and abilities.
This sponsored post is submitted by developer of the app, if you have any such product or tip do share with us here.