It is almost impossible to count the number of movies that are released every year. And that is even without taking into account the several TV shows, musicals, animations, documentaries, and other screen categories.
I, myself, being an on and off cinema fan, have watched so many movies I can't be bothered to remember their titles. But that's not important. What is important is the ability to keep track of every single movie I am interested in seeing online or at the cinema and Google has finally come to my rescue. And hopefully to yours as well.
Before now, I had to either jot down the titles of the movies I want to see and alongside their release date on paper or create reminders. While creating reminders has worked well so far, it requires extra work – i.e. finding the movies and then creating reminders for them.
Google has now made it possible to add results of the movies and TV shows that you search for right from your mobile browser. Exciting news, right? Here's how to go about it.
Creating a Favorite Movies Watchlist
Launch your mobile phone browser.
Use Google to search for the movie or TV show you want to see.
Scroll down to the knowledge panel where you will find the screenshots and trailers of your search result together with the 'Watch now', 'Watched it?', and 'Watchlist' options.
Movies that are still in theatres will have a "Get tickets" option and tapping it will switch you to the Showtimes tab.
Click on "Watchlist" to add store the movie in your Google account. Kind of like the "Watch later' option on YouTube. You can check the "Watched it?" box if you have already watched the movie.
The page at google.com/save is where all your bookmarked content with Google is stored and thus it is where your favourited movies will be too. Whenever you want to review your list, that's the link you need.
When you're done watching the movie removing it from the list is as easy as tapping on it as doing so will change its status to "Watched".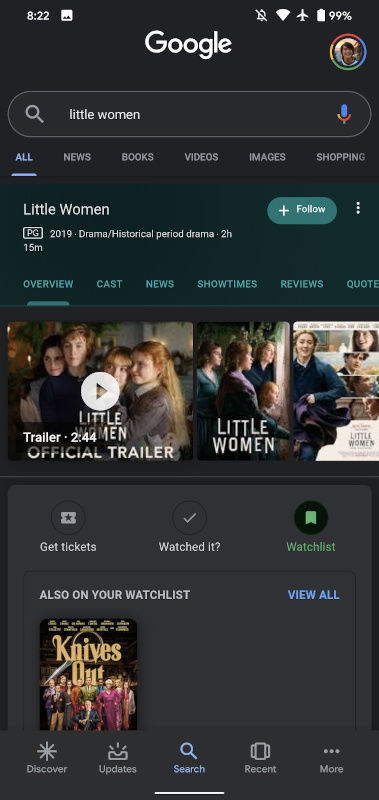 That's it! All the necessary information for your favorite TV pass-times in one place without the hassle of using separate documents. Although this feature is currently limited to mobile devices, I imagine it will come to PCs not too long from now.
A friend of mine predicts that this is Google's way to extend the 'Collections' feature to use as a universal bookmarking system for online content. We will see what the future holds.
Are you excited about this update? Feel free to share your thoughts with us in the comments section below.