The rise of remote work has opened up a world of possibilities for job seekers to find positions that provide competitive salaries while enabling them to work from the comfort of their own homes or from anywhere in the world.
If you're looking for remote jobs that pay USD salaries, there are several websites that can help you in your job search. These websites provide an extensive range of job listings in various industries, making it easier for you to find the perfect remote job.
Here are some of the best websites to find remote jobs that pay USD salaries:
1. TryRemotely
Remotely is a platform that specializes in connecting job seekers with multiple remote opportunities across diverse industries. As an accessible hub for remote job listings, it offers a user-friendly interface to search for jobs by category, company, and other criteria, custom job alerts, and email notifications.
In addition, TryRemotely supports an active community that offers valuable resources and insights for beginners who are just starting their remote work journey.
It also offers a premium membership that gives users access to additional features.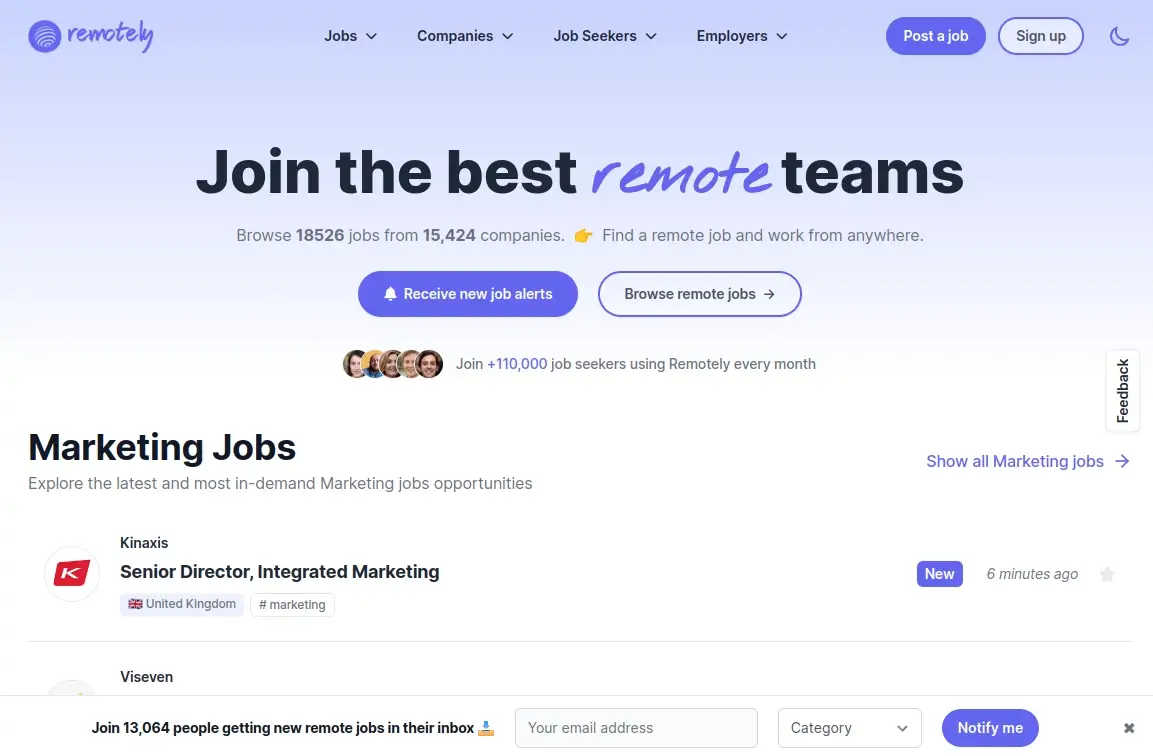 2. Remote Habits
Remote Habits stands out as a valuable resource for remote work enthusiasts. With an extensive collection of remote job listings, it also hunts through into the remote work lifestyle through in-depth interviews with professionals.
This platform offers numerous guides and tips for those keen on mastering the art of remote work, and it consistently updates its job postings to keep users informed.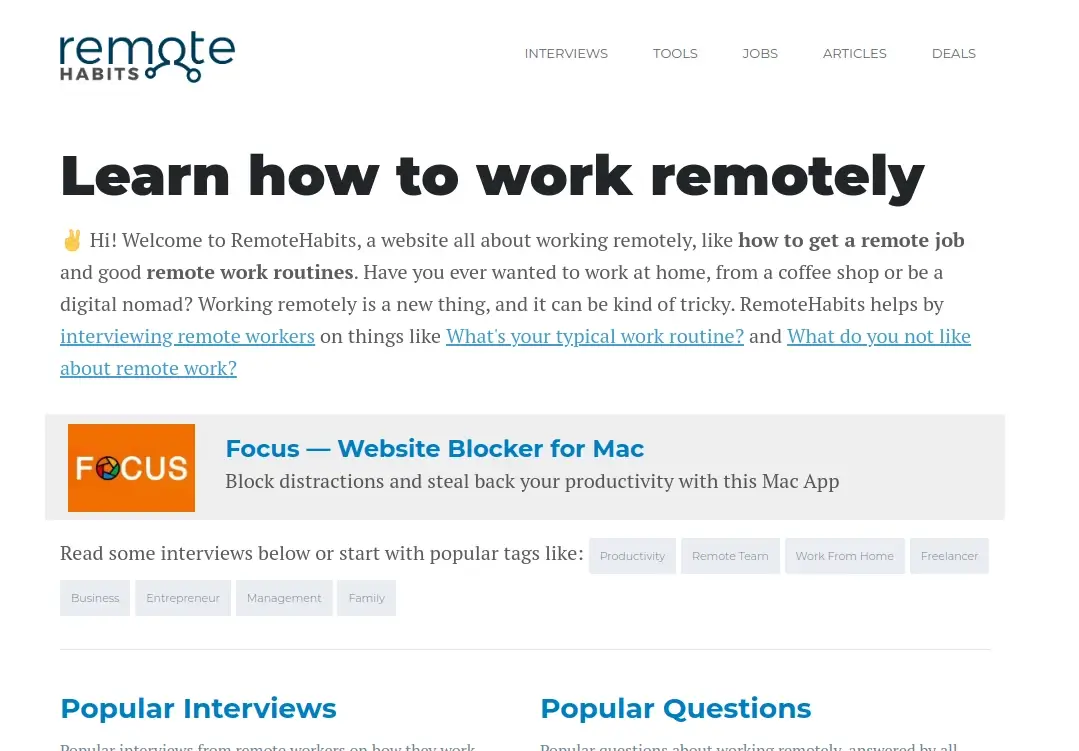 3. Pangian
Pangian distinguishes itself as a global platform that connects job seekers with remote opportunities from around the world. With a focus on worldwide job listings spanning diverse roles and industries, Pangian makes it easy to search for remote positions by location, job category, or company.
It also offers networking opportunities through its community and places a strong emphasis on remote-friendly companies, which makes it a prime choice for global job seekers.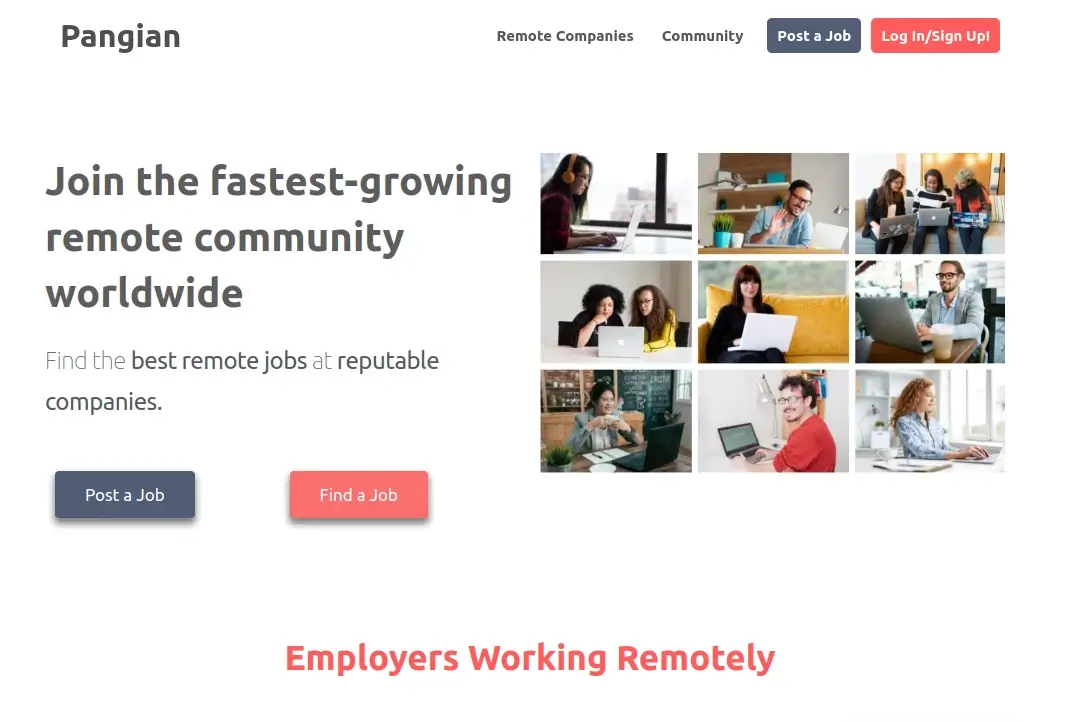 4. NoDesk
NoDesk is a minimalist job board that smooths out the process of the remote job search process. It features a careful list of quality remote job openings, which makes it an ideal choice for those who prefer an easy-to-use experience.
Nodesk lets you know about the positions from top remote companies and offers a clean, easy-to-navigate design. You can also receive daily email updates with new job listings.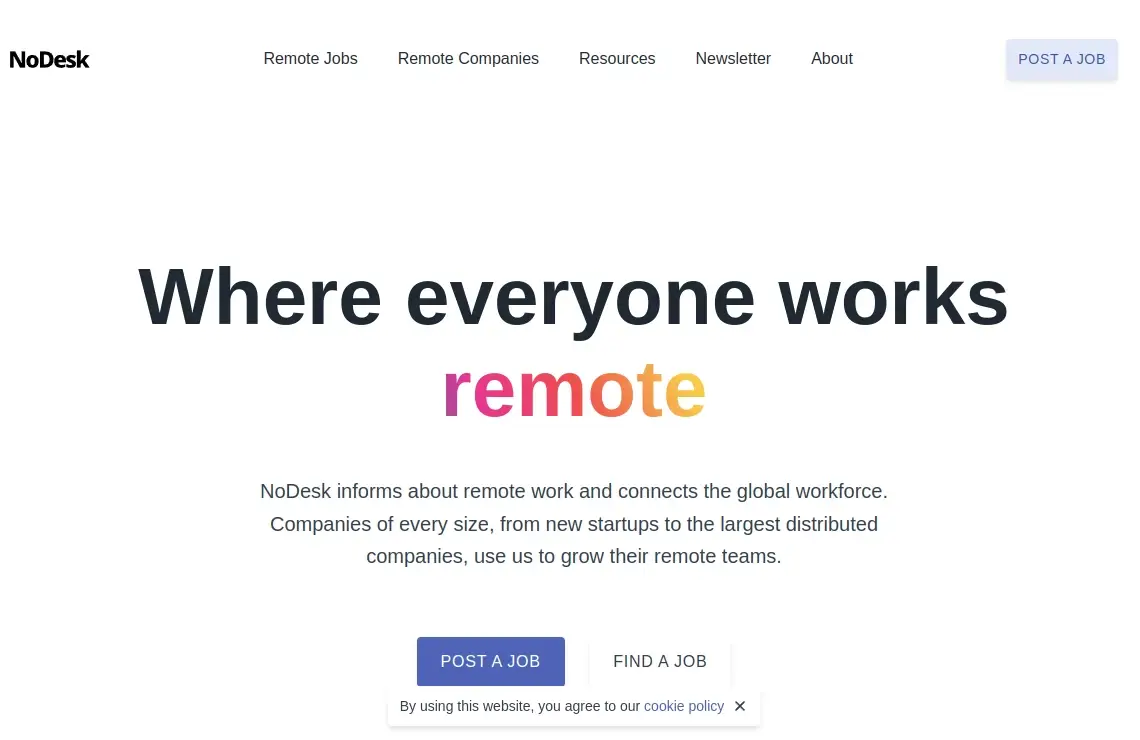 5. Remotive
Remotive is a dedicated platform for remote job seekers and remote companies, which makes it an ideal choice for those in search of remote positions with USD salaries.
This platform provides an extensive range of remote job listings across different industries. What sets Remotive apart is its commitment to not only job listings but also support for a thriving remote work community.
The platform offers valuable insights and resources for remote work, including blog posts, newsletters, and interviews with remote professionals.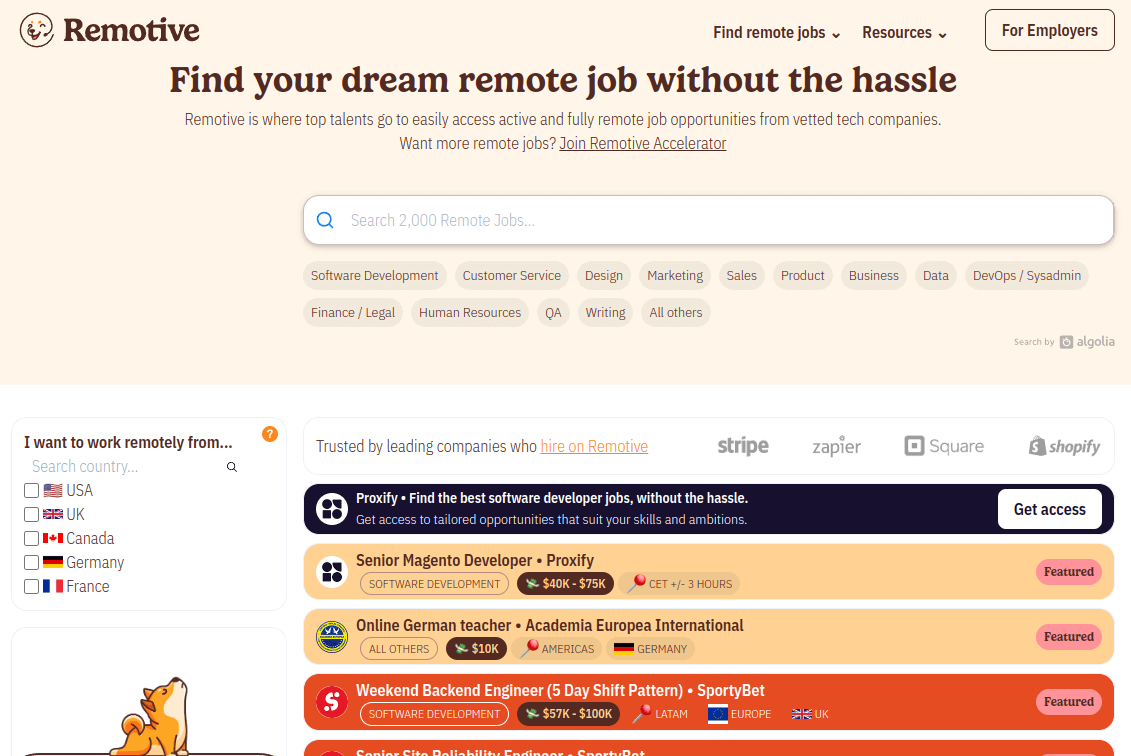 6. We Work Remotely
We Work Remotely is a reputable job board that is focused on remote and distributed work, which makes it an excellent choice for you if you want remote job opportunities with competitive salaries.
This platform features job listings from established tech companies to innovative startups, covering a wide range of domains from development to design and programming.
One of the standout features of We Work Remotely is its commitment to curating high-quality listings. The jobs posted here are thoroughly screened and filtered, which guarantees that job seekers encounter opportunities from reputable companies.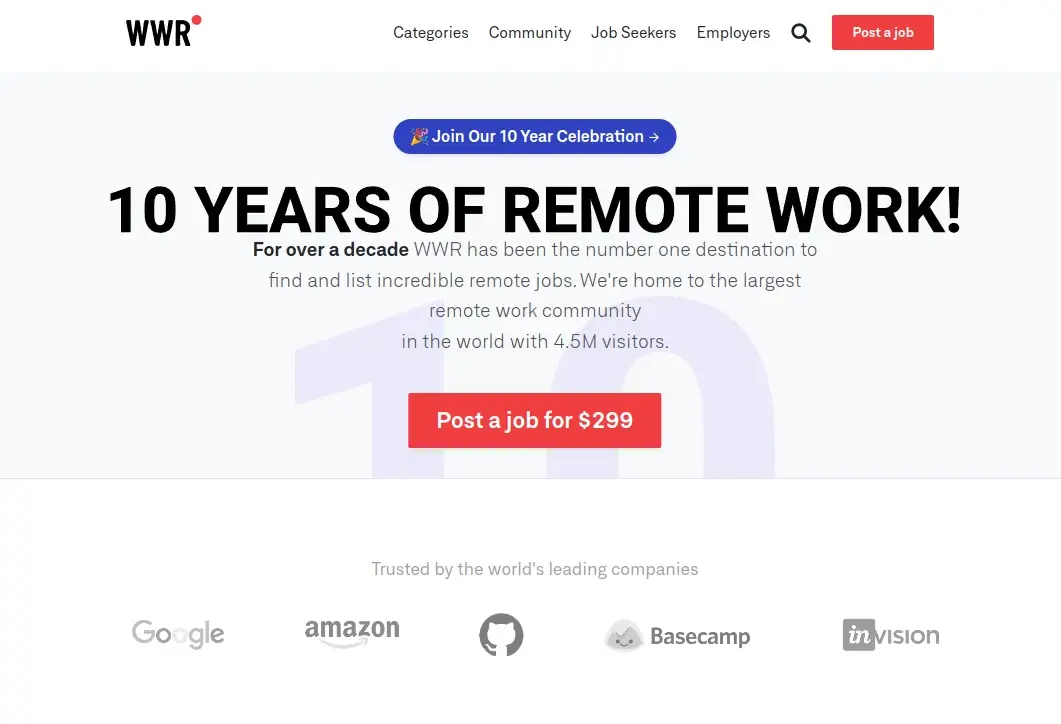 7. Remotely Jobs
Remotely Jobs is a user-friendly platform designed to connect professionals with remote job opportunities. It is considered an excellent choice for those who value straightforward job listings.
This platform is committed to helping job seekers discover relevant remote positions quickly and efficiently. It also stands out for its simple navigation and application process, which make sure that job seekers can effortlessly apply for the remote roles they desire.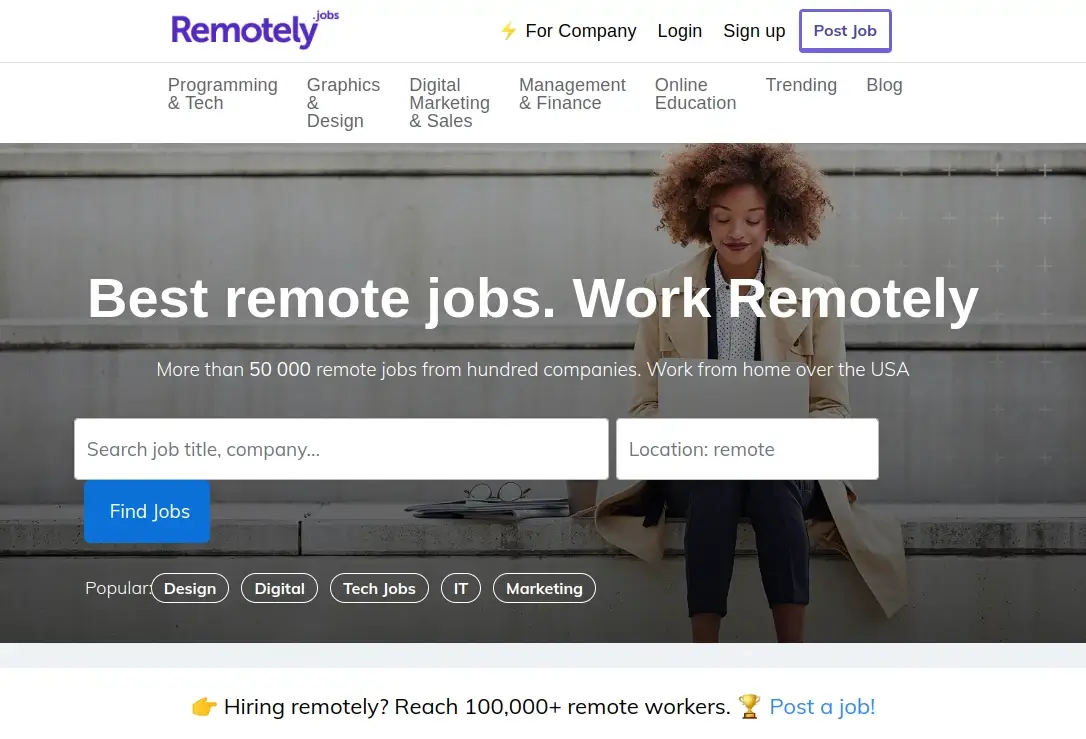 8. Remote
Remote is an extensive resource for remote work opportunities, offering a broad range of remote jobs across industries. It is known for not only listing remote jobs but also providing valuable insights into remote work policies and practices.
It maintains a database of remote-friendly companies, which gives job seekers the chance to explore potential employers. Additionally, the platform offers career advice and remote work tips.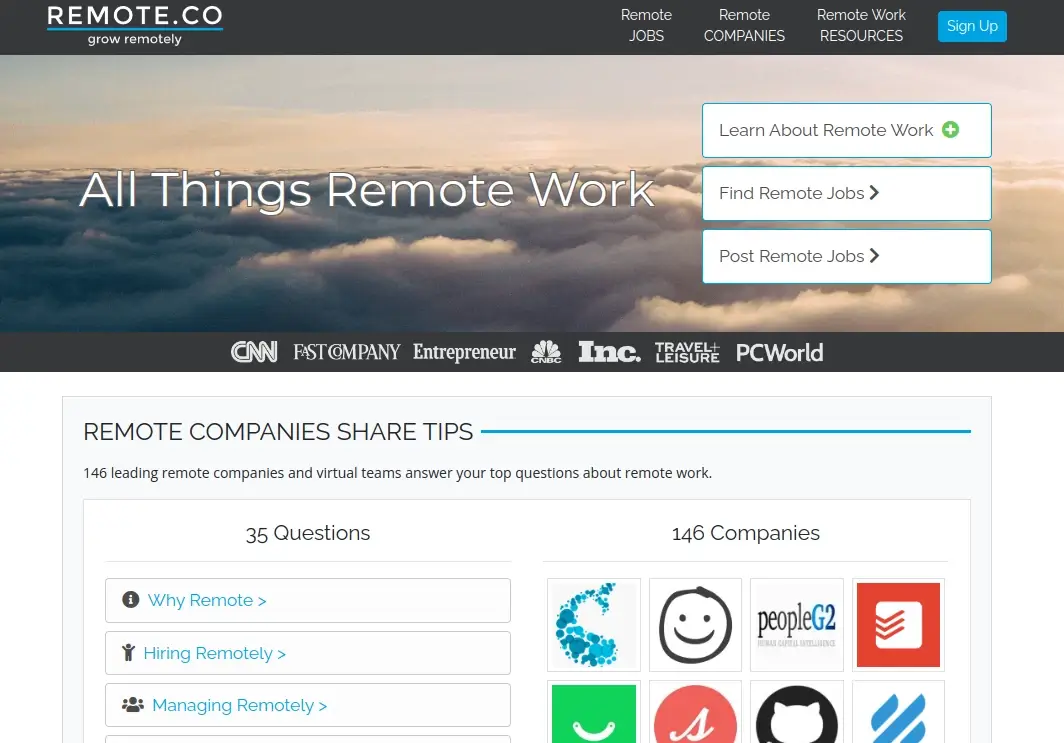 9. WAHJobQueen
WAHJobQueen is a specialized platform for those looking to find remote work with USD salaries. It offers a filtered list of remote job listings, and what sets it apart is its focus on roles specifically suitable for work-at-home job seekers.
It offers a user-friendly interface for efficient job searching and features a variety of job categories, making it a go-to option for those looking for remote work opportunities.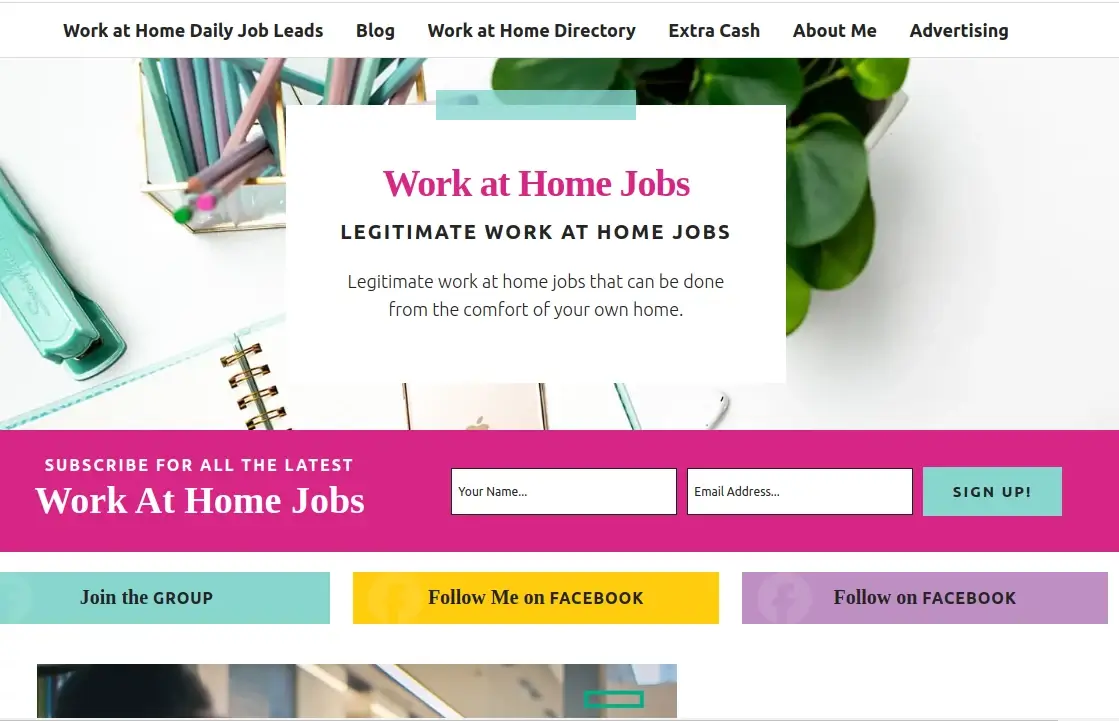 10. Remote4me
Remote4me is a dynamic platform designed to help job seekers find remote jobs with competitive USD salaries. It offers an extensive collection of remote positions from various industries and locations.
One of its fantastic features is the ability to customize your job search based on factors such as job category, location, and company preferences. This level of customization ensures that you find the remote opportunities that best align with your skills and goals.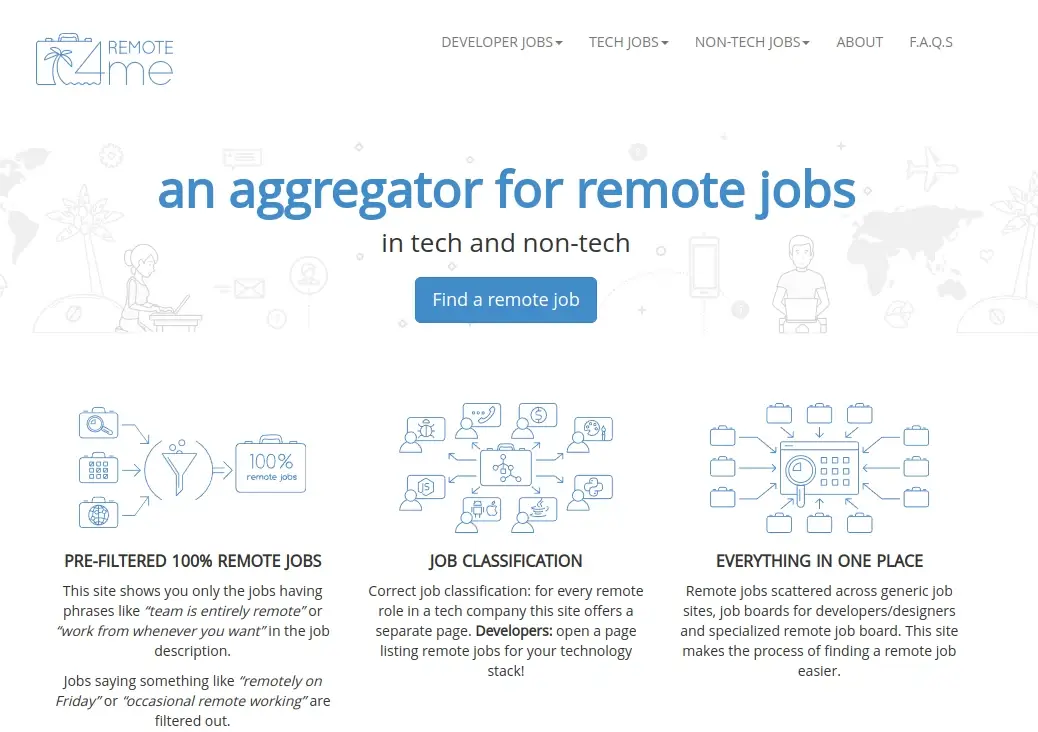 11. FlexJobs
FlexJobs is a well-established platform that excels in connecting job seekers with flexible and remote job opportunities. It is particularly suitable for those looking for remote positions in opportunities that offer flexibility in work hours and location.
One of its commendable features is the strict screening process for job listings, which ensures that job seekers encounter high-quality opportunities. This platform is a trusted resource for remote work enthusiasts.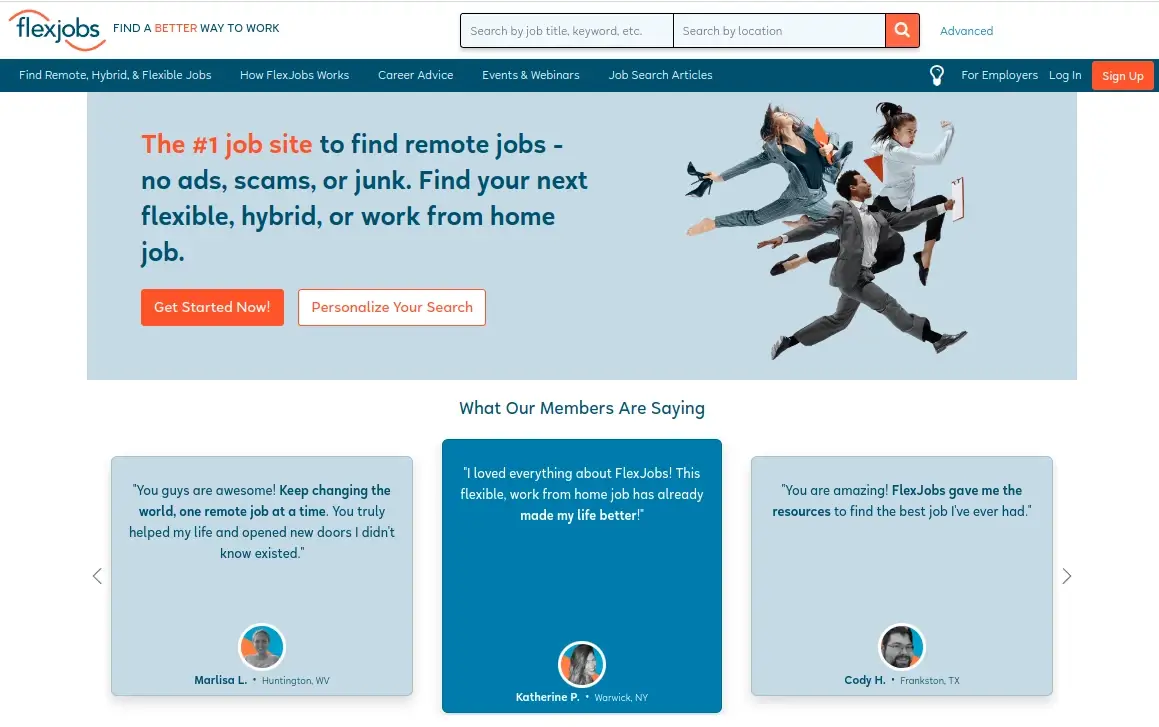 12. Working Nomads
Working Nomads is a dedicated platform that handles job seekers who have a passion for remote work and travel. It specializes in listing remote jobs that align with a digital nomad lifestyle, offering positions suitable for individuals who wish to work while exploring the world.
The platform features a list of remote job openings from various industries and locations. Job seekers can easily find positions that match their desired remote work and travel lifestyle.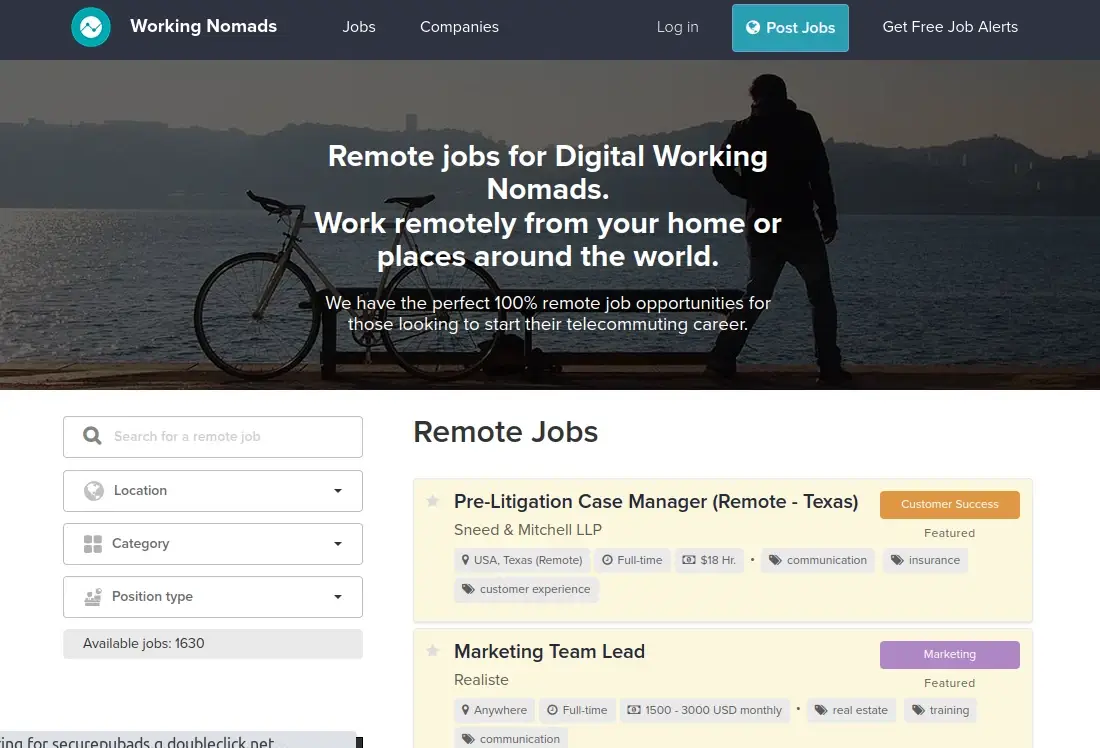 Conclusion
In 2023, landing a remote job with USD payments is about more than just about working from home. It's about opening doors to exciting opportunities. In this guide, we have introduced you to 12 amazing websites, each with its unique appeal and simple, straightforward features.
So, whether you dream of remote work or a better work-life balance, utilize these websites to help you on your journey.