Creating a backup of all your data on your phone is essential as you never know what may happen to the electronic devices. Certainly, you may not want to fall prey to data loss therefore, backing up your phone now and then makes sense.
Well, the market is flooded with backup apps for Android devices, offering easy and dynamic data recovery practices in just a few easy steps. However, it gets extremely daunting to opt for the best app to backup your Android device.
To make this task easy for you, we have narrowed down the list of top 10 Android backup apps, which you must check out to save your phone from the data loss!
1. Alpha Backup Pro
Alpha Backup Pro is an Android backup app that works by copying APK files to the internal storage or cloud storage of your device. It lets you share APK, app version, installation date, and package name.
This app comes with an auto-backup option along with an option to uninstall and material design. The app is not as efficient as standard root-only backup apps however, it makes an incredible choice for non-root users. Besides, it's available free of cost and is pretty easy to use.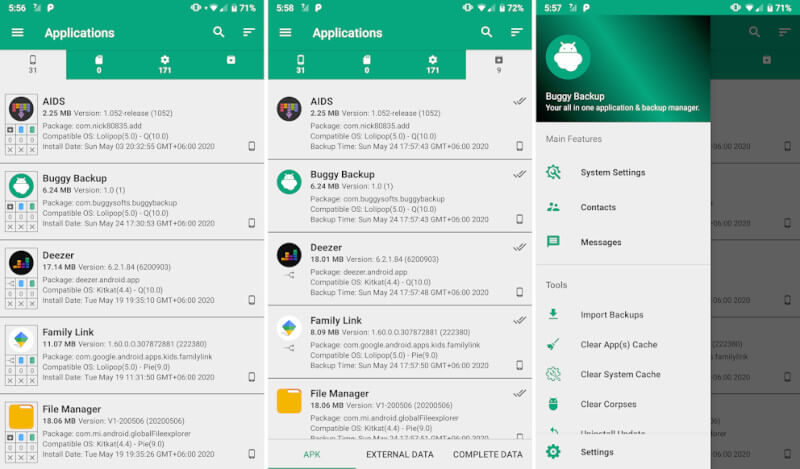 2. Autosync by MetaCtrl
From the house of MetaCtrol, Autosync is the best choice to backup your Android phone. It is crafted for Google Drive, Box, Dropbox, MEGA, and OneDrive and automatically lets you create a backup. In case you upload anything on Drive, the Auto Sync feature for Google Drive will automatically link it to your device and vice versa to allow two-way syncing.
This app functions by letting the user select the intervals, file types they want to place on the cloud, etc. while including Tasker Support. Some of the unique features of this app's premium version include its suitability for files above 10MB of size and allows password setting, no ads with multiple folders syncing support, and some other support options.
However, the premium version comes with various tiers such as paying $1.99 to eliminate ads,$4.99 to get support for large files/folders, and $9.99 to get all that you want! Furthermore, these versions are to be downloaded separately depending on the services you want to access.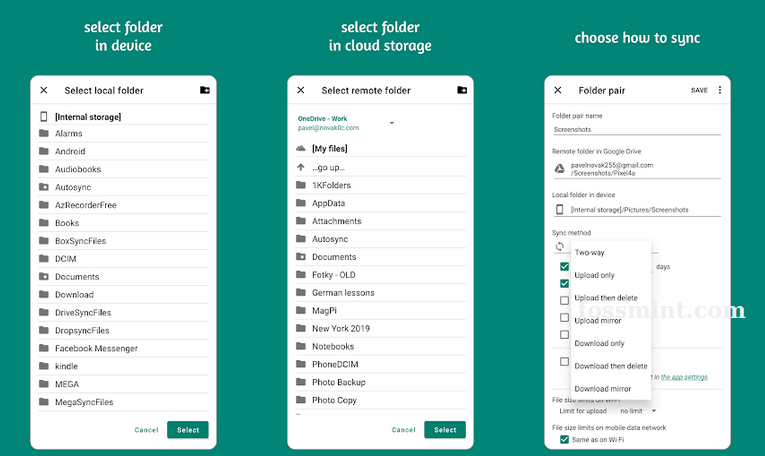 3. G Cloud Backup
G Cloud Backup is suitable for only device backups. It works by creating an auto-backup or manual backup of all your data like call logs, photos, music, videos, contacts, etc. Interestingly, it is capable of backing up the settings of your device as well.
With the auto-backup option, you can create a backup of your device while it's charging or connected to the Wifi. This service additionally provides an extra 1GB of free space to let you earn more. Besides, you can pay a nominal charge of $3.99 to access endless storage.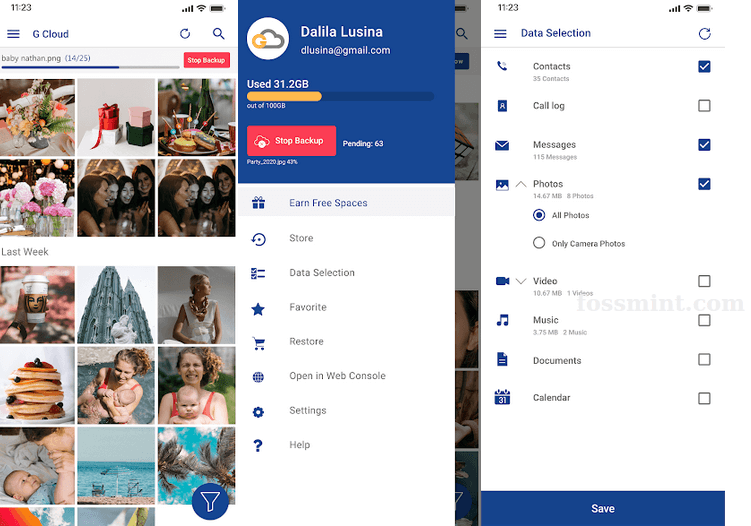 4. Backup Your Mobile
If you prefer an easy-peasy and simple way to backup your Android device, Backup your Mobile is what you need! This free to use and minimalist app is capable of creating a backup of your device's settings, call logs, messages, etc. It possesses a user-centric interface and finishes the backup process in hardly any time.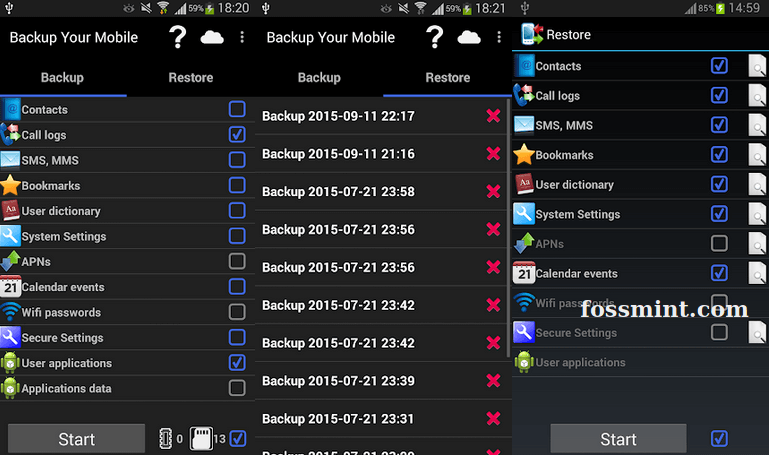 5. Google Photos
The most trustworthy, Google Photos is yet another easy-to-use Android backup app to backup all your photos. It creates an auto data backup while restoring the images from your mobile device to Google Drive. This lightweight app will require Google Drive space, w.e.f June 2021.
And it comes with some additional functionalities to let you view and remove photos from your device, and in case they have been backed up already, this app will automatically sort them into the albums, making it all simplified for you. The app provides the first 15 GB free and the subscription charges vary for anything beyond that.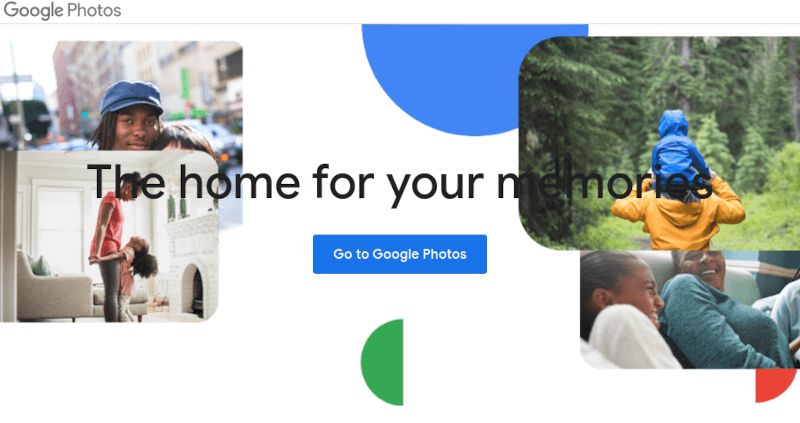 [ You might also like: 8 Best Google Photos Alternatives ]
6. Resilio Sync
Resilio Sync is one of the most appreciated options when it comes to cloud storage. This easy-to-use app lets you save all your backed-up data on your computer or laptop. Though, it takes a bit more time to set up as it is required to connect your phone to your computer or laptop to perform syncing. Apart from this, it works similarly to any other cloud app out there. As you create a data backup, it appears on your computer device to let you use it anytime you want.
Furthermore, these files are secured with an added layer of security, making it a sought-after app for firms possessing private data or information. If you need to use this app for basic data backup operation, you can opt for its free version. But if you wish to perform more, then the pro version is what you must opt for!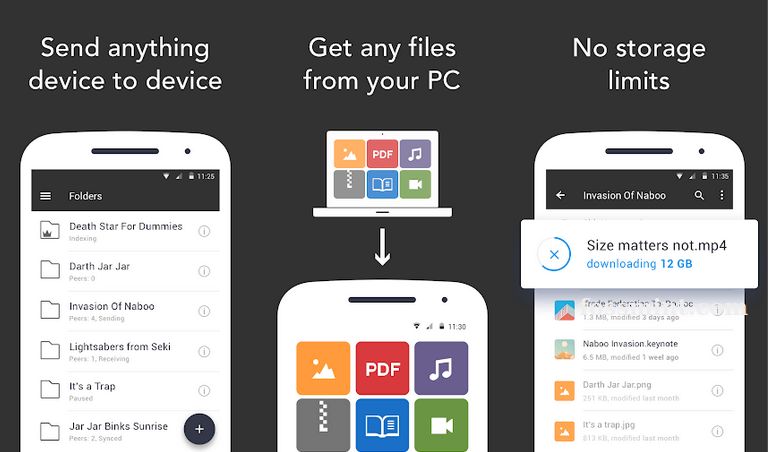 7. Migrate
If you are a root user, Migrate will work for you. This handy app is crafted to backup anything you want. It features app data, apps, permissions, messages, contacts, call logs, default keyboard options, and lots more! It creates a flash Zip file of all your backed up data which is then flashed on your new ROM followed by which the ZIP is flashed by this app.
Eventually, the data backup process gets completed when the ROM starts to boot. This app is pretty simple to use and can be availed at no cost at all.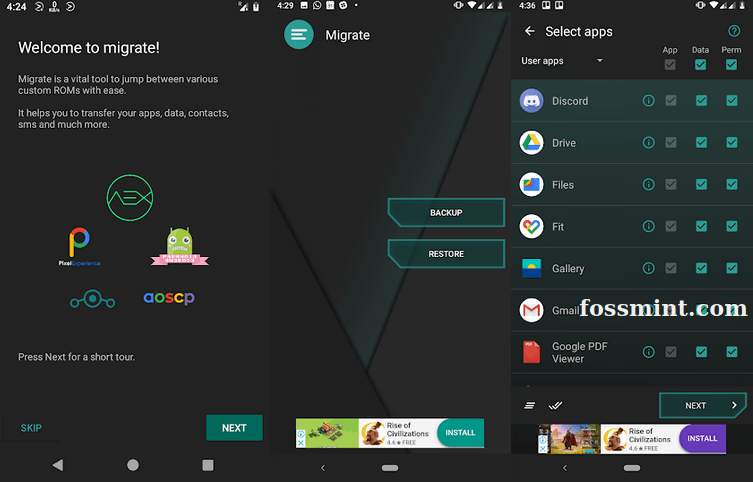 8. Swift Backup
Swift Backup a new bee in the market of backup apps is designed for both rooted and non-rooted Android devices. The non-rooted version of this app features backup services for apps, call logs, messages, wallpaper, etc. Whereas, its rooted version works by adding data, permissions, and wifi configurations.
The app is based out of cloud service and supports platforms like Nextcloud, Google Drive, Dropbox, NAS, WebDAV, and ownCloud. With its premium version, you can backup even the launcher icon shortcut. However, the only crux is, its user interface requires some learning efforts.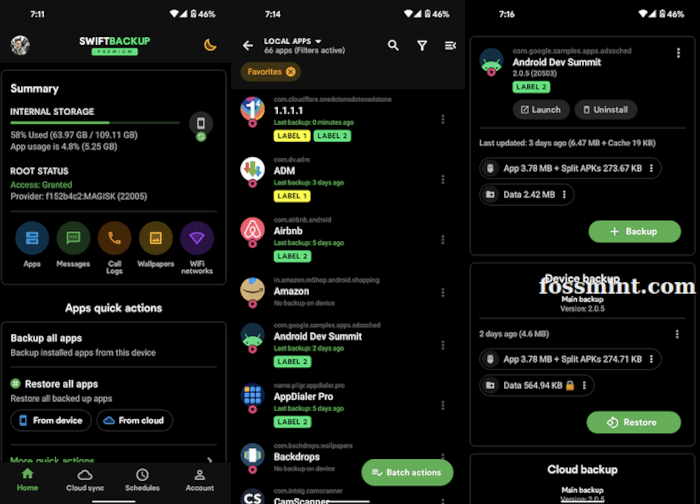 9. Solid Explorer
Though Solid Explorer is a file browser app, it includes a data backup feature as well. Compatible with multiple cloud services and micro SD cards allows the users to create a data backup of their Android device at a single interface. It lets you choose the backup file and then let them be backed up either on cloud storage or SD card. This app supports FTP servers and other types of self-style backup for data.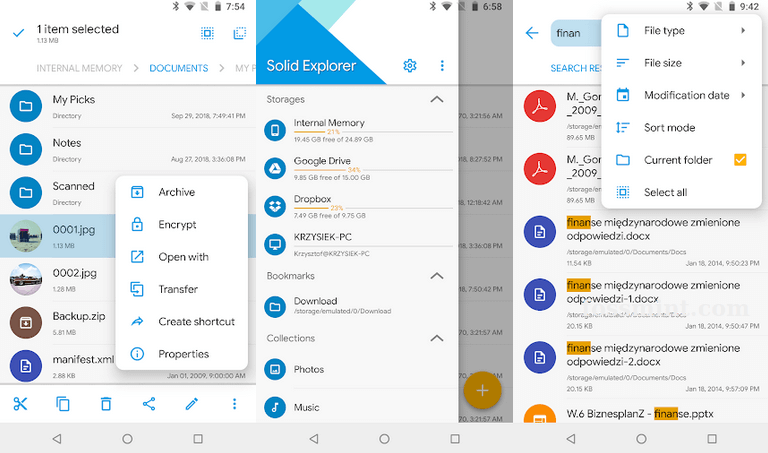 10. Titanium
Titanium is another data backup choice from your Android device for root users. It is flooded with umpteen numbers features and delivers frequent updates to perform exclusively. Not exactly for non-root users, it lets you backup applications including data apps, backup cloud storage, and much more.
The basic version of this app is free whereas, the Pro version can be downloaded at $5.99. To add more, its Pro version is immense in features and acquires single-click batch storage, syncing options, and lots more!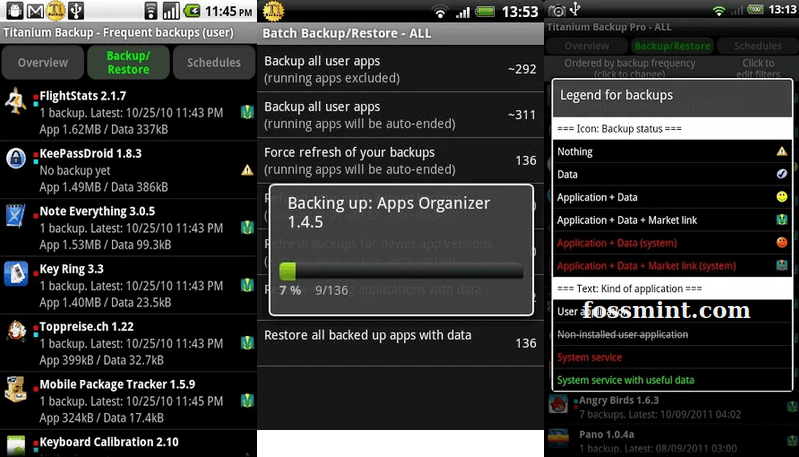 Conclusion
You don't have to wait for all your data to vanish due to some reason and then install a suitable data backup app for your Android device. Certain data if not retrieved in time, can even lead to permanent data loss.
So, wait no more and quickly get your Android device a simple yet performance-packed backup app!