Having a VPN (Virtual Private Network) is a necessary tool for those who use portable devices such as smartphones users to hide their location and internet activities. Well, there are scores of reasons to privatize your doings over the internet.
VPN maintains all the traffic via an encrypted secure tunnel to ensure data security by adding a layer of protection while you connect with WiFi. It protects your data from ISP or internet service providers who might try to intrude on your activities using the connected network.
Besides VPN provides access to the websites that might be supported in your location, this is helpful especially when you want to stream any video services while traveling in countries or locations which don't support these websites.
Instead of downloading any standalone app to route your traffic via a secure channel, you can use a built-in VPN browser extension to continue with activities.

1. Opera
Opera is a free built-in VPN browser that requires no account or profile creation to start with. Just launch Opera and navigate to Settings to activate VPN. The best part about using Opera is that there are no restrictions on the bandwidth and it contains no interrupting ads as well.
Its VPN can be used in normal or private mode, based on what you like. Besides, it is quite easy to use and gives the option to choose your virtual location in Europe, America, or Asia.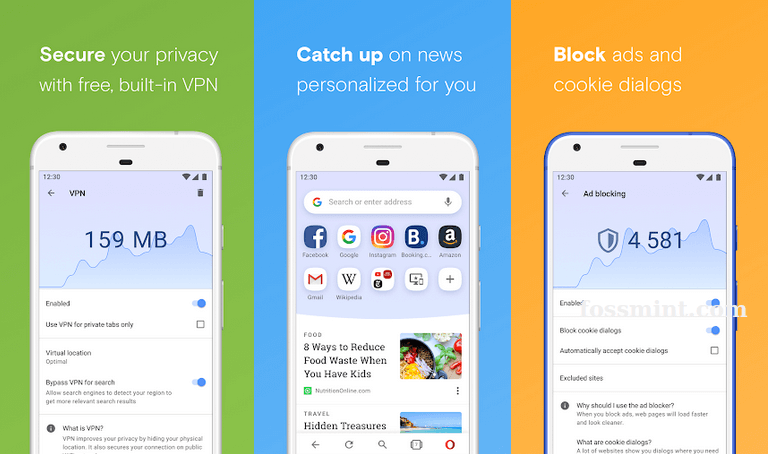 2. Tenta Private VPN Browser
Tenta is a mobile-based browser having a highly secure approach. This browser comes with an in-built VPN, which can be used for free, however, with some limitations.
Its paid version lets you unlock locations and it can be used widely across your device, instead of just using it with the browser.
There are many VPN servers established across India, the US, UK, Japan, Spain, Brazil, etc. and its free version lets you use one of the servers without any bandwidth limitation. To launch the VPN, click on the Tenta icon and select VPN browsing.
This browser provides many additional features such as locking the browser using a PIN, screenshot restrictions, no tracking support, and DNS customizations. Additionally, you can delete your browsing data while exiting.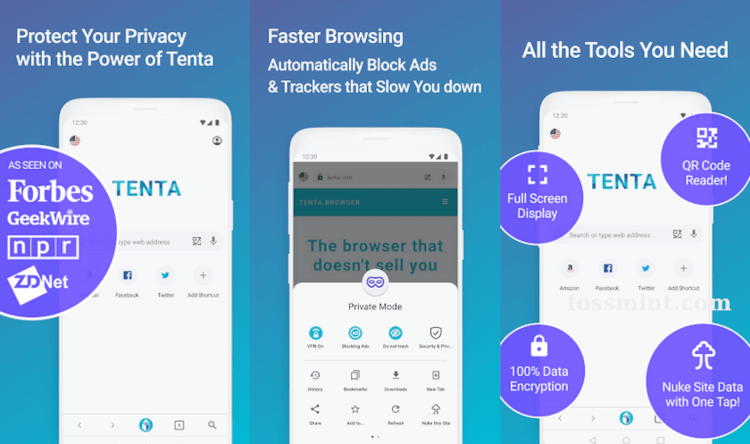 3. Aloha Browser
Aloha is another choice for an incredible built-in VPN browser that features a hidden IP address to avoid tracking, unlimited traffic, DNS leak prevention, and no activity log-keeping. This browser has more than 10 VPN servers located in Europe, Asia, Africa, and America.
But, with its free version, you don't get to choose a specific location. Plus, it comes with a phone-wide VPN including an auto-start feature with the paid plan.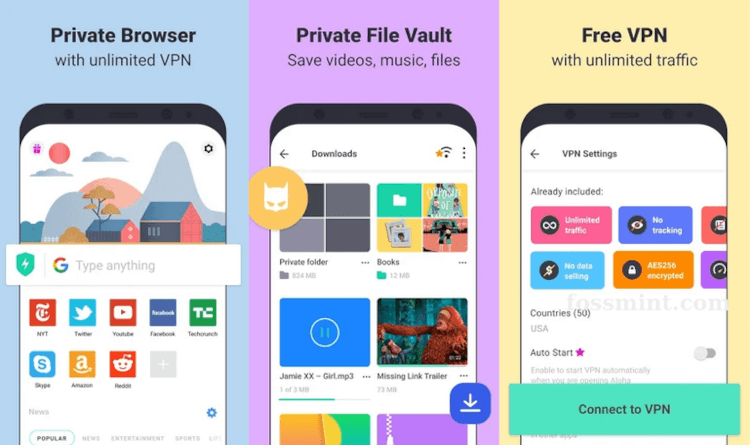 4. Tor Browser
Tor Browser is not exactly a VPN service provider however, it has an objectivity that lets you use the VPN. Tor uses a unique way to protect your identity, it routes traffic using an open-source Tor network via a multi-layered encryption approach.
Its main features include online data identity protection, block tracking, and accessing censored or unsupported websites in your area that are restricted by your ISP. This browser can be used for free on Android devices without any bandwidth limitations.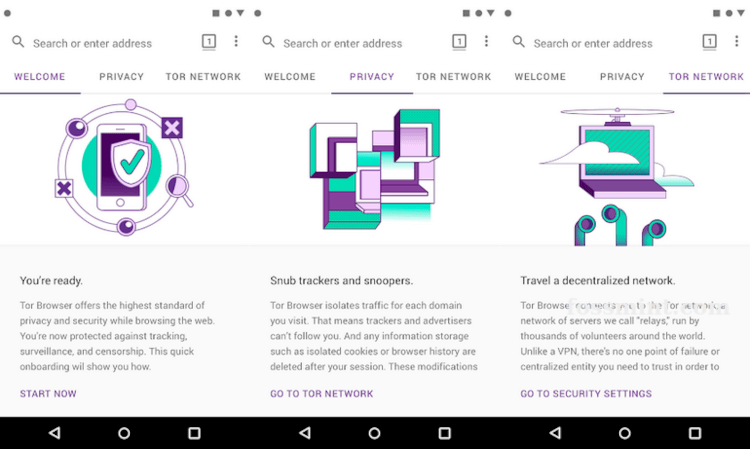 5. Epic Privacy Browser
Epic Privacy Browser needs to be downloaded as an extension to use its built-in VPN. This VPN lets you choose a proxy server established in countries such as the US, UK, Canada, Singapore, India, Netherlands, Germany, and France while offering endless bandwidth.
It has a no-log policy and lets you download an extension from Epic's extension store by selecting Mobile Extensions for the home page. But, there are a few distinctions between its VPNs and proxies; however, they both have a common role of IP address masking to maintain your privacy.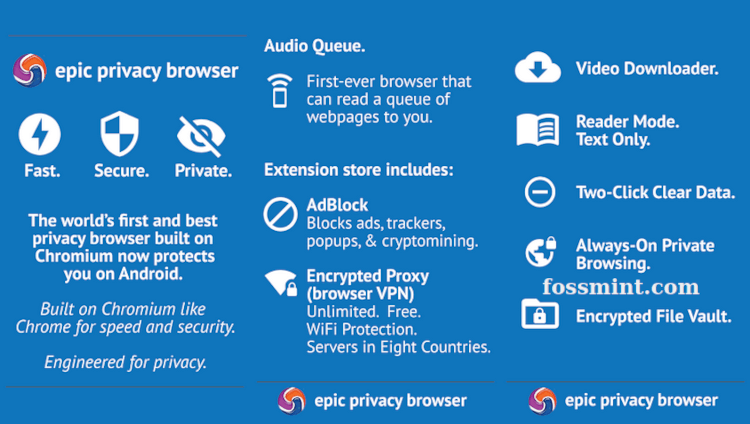 6. Psiphon Pro VPN Browser
Psiphon Pro is a free and open-source VPN browser that can be used to bypass censorship and access blocked websites. It is not as fast as some of the other browsers on this list, but it is a good option if you need to access blocked content.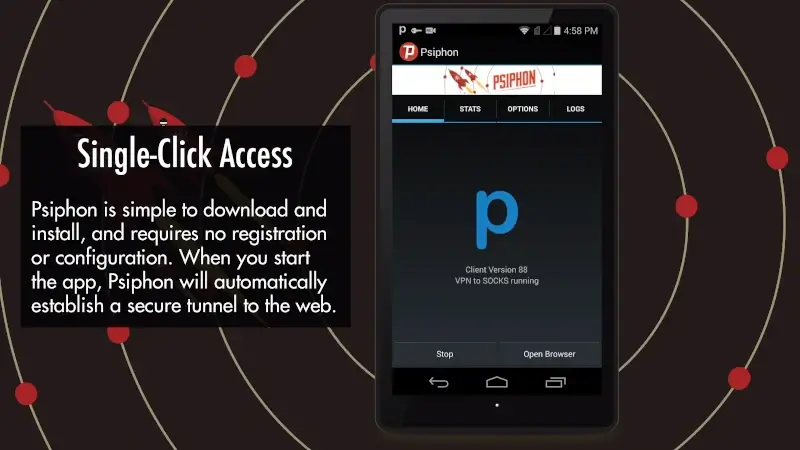 7. AVG Browser
AVG is developed by a security software company. This built-in VPN browser features servers in more than 30 locations including capabilities like multiple privacy browsing modes and device-wide support.
However, not all its features are free, you need to pay in order to use some. Otherwise, this browser is quite simple and user-friendly, and you can activate the VPN by installing its app and selecting VPN Browsing, that's it!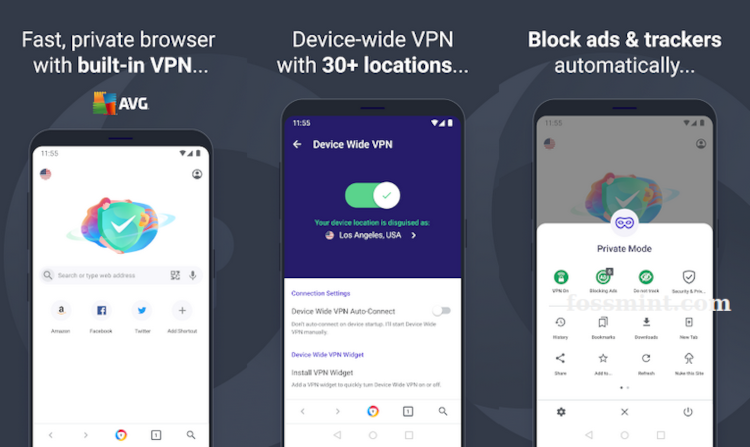 8. Avast Secure Browser
Avast Secure Browser is another good option for a browser with a built-in VPN that offers a secure VPN connection with military-grade encryption.
You can also choose to block ads and trackers with this browser.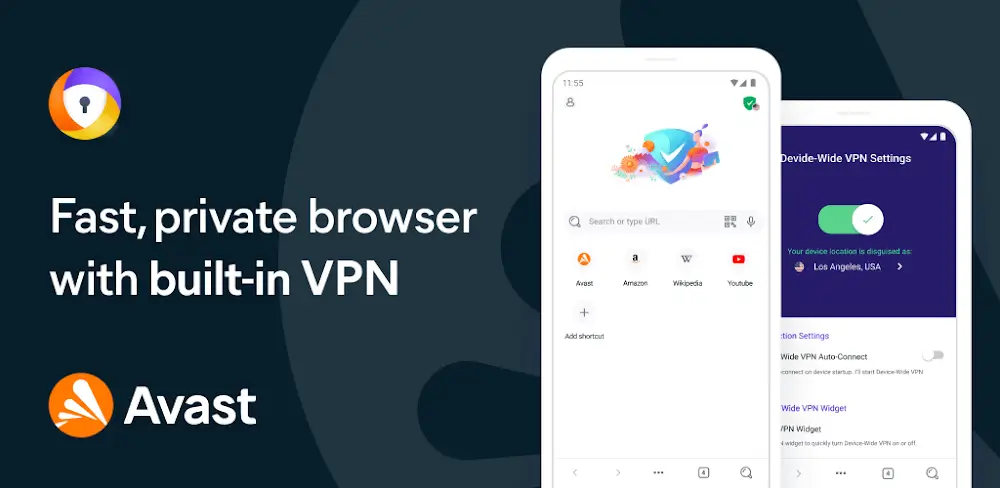 Conclusion
Whatever your reason for using VPN services, you can select any of the above browsers to meet your needs. These handy browsers are easy to use and let you use the internet privately without disclosing your identity.