GoDaddy is one of the world's largest domain registrar on the Internet with at least 77 million domain names under its belt. It is used by millions of customers whose trust the company has gained by offering reliable services. This includes the ability for website developers and managers to access all the tools they require in the GoDaddy package.
Read Also: Best Web Hosting Companies for Linux
That being said, GoDaddy is not perfect and several readers have, for one reason or the other, asked me for competent a competent alternative. Today, I bring you a list of the best GoDaddy alternatives for your website domain name, hosting, and site management plans.
1. Hostinger
Hostinger is a cheap web hosting platform crafted for easy website management and it is trusted by 29 million users for its speed, security, reliability, and technical support.
Its features include a modern cPanel from which you can initiate and manage administrative tasks, 24/7 customer support, improved security and performance by virtue of its relationship with Cloudflare, unlimited email accounts, user freebies, and selected server locations.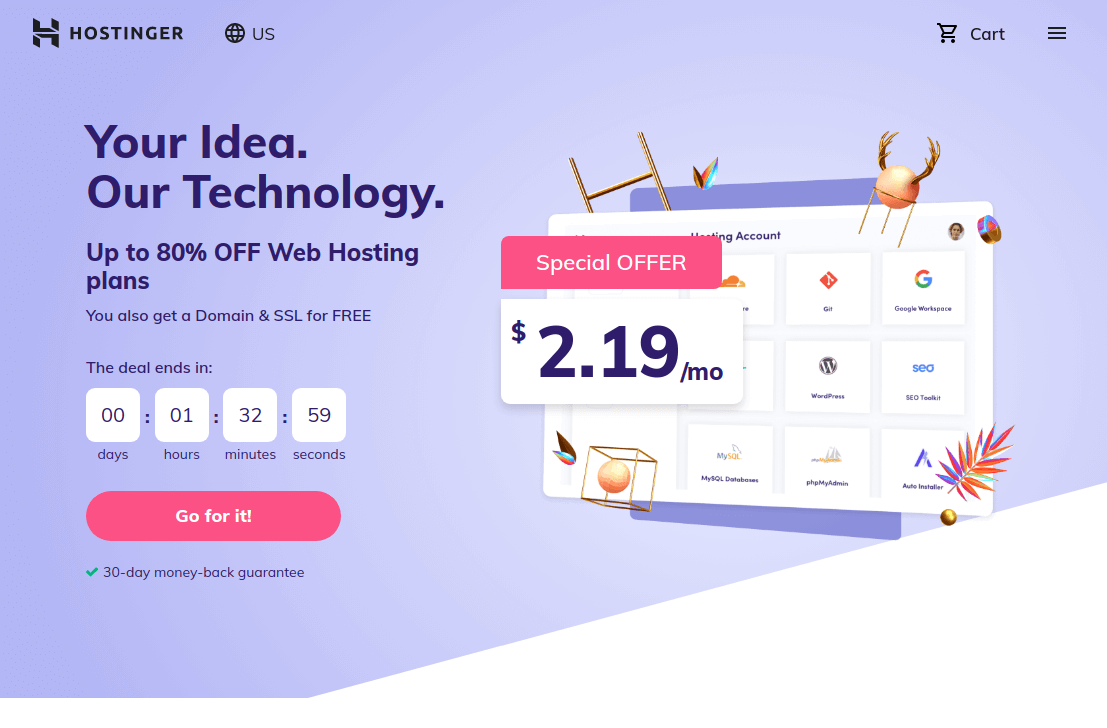 2. Bluehost
BlueHost is a popular domain name, web hosting, and blog service company trusted by thousands of businesses. It offers subscription packages suitable for different business types ranging from a personal blog or portfolio website to large e-commerce and agency websites.
One of BlueHost's strongest suit is their 24/7 availability which allows users to receive help anytime including via telephone call. Others are their incredible uptime, fast loading speeds, and modern cPanel.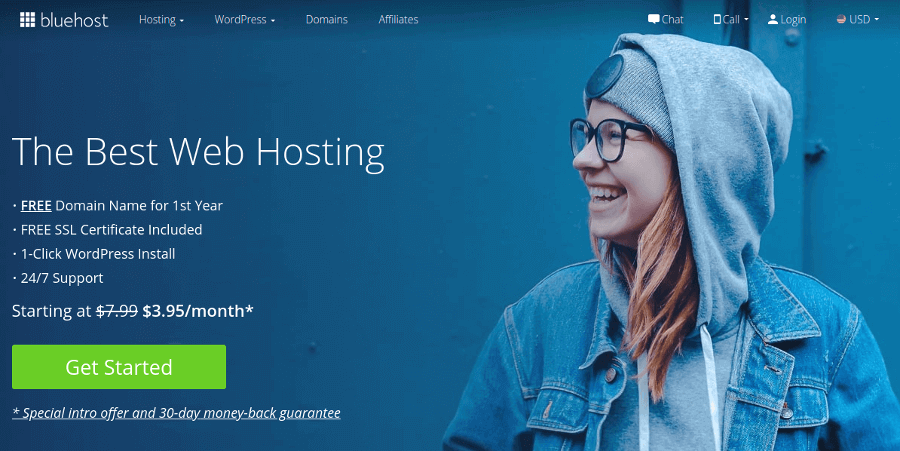 3. NameCheap
NameCheap is a popular domain name registrar and hosting company that has been in existence since 2001. It contains no hidden fees nor absurd renewal bills, comes with a free WHOIS domain privacy – a feature for which GoDaddy charges.
NameCheap also offers free domain transfers, a 30-day money-back guarantee, as well as a free SSL certificate for a year upon registration.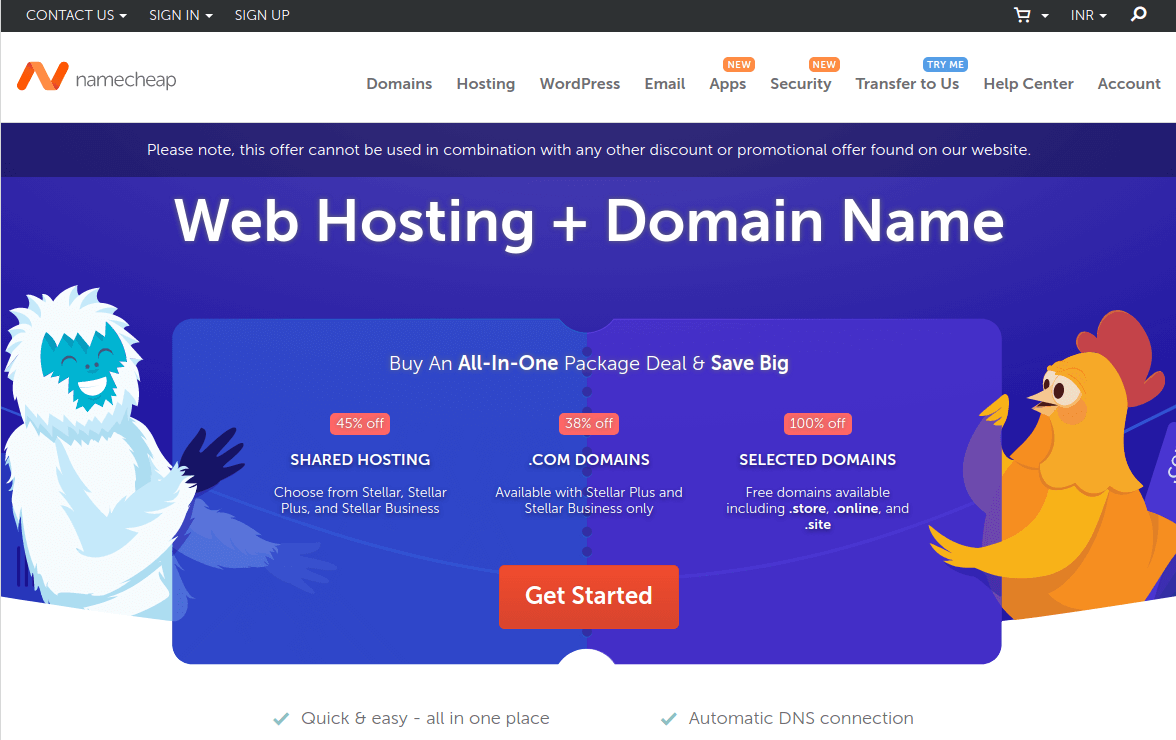 4. HostGator
HostGator is a comparatively cheap domain name and hosting service that offers a convenient scalable web hosting package with a free domain among other goodies. Its features include outstanding uptime, unlimited disk space, unlimited bandwidth, free transfer services, hosting plan flexibility, etc.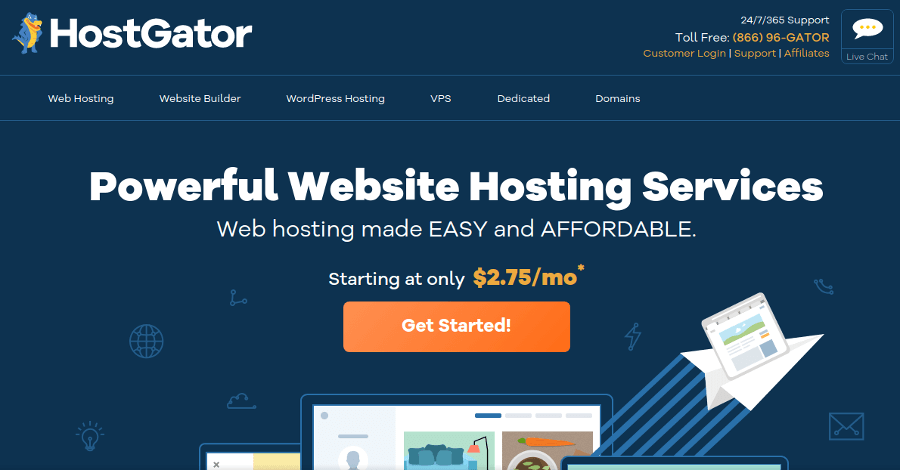 5. SiteGround
Siteground is a critically acclaimed web hosting company that has been in operation since 2004. It prides itself with providing all the services that its 2 million customers require to fulfil their web development and hosting plans. This includes fast and secure web hosting for different business classes, website builder, reliable documentation, migration support, and 24/7 customer support.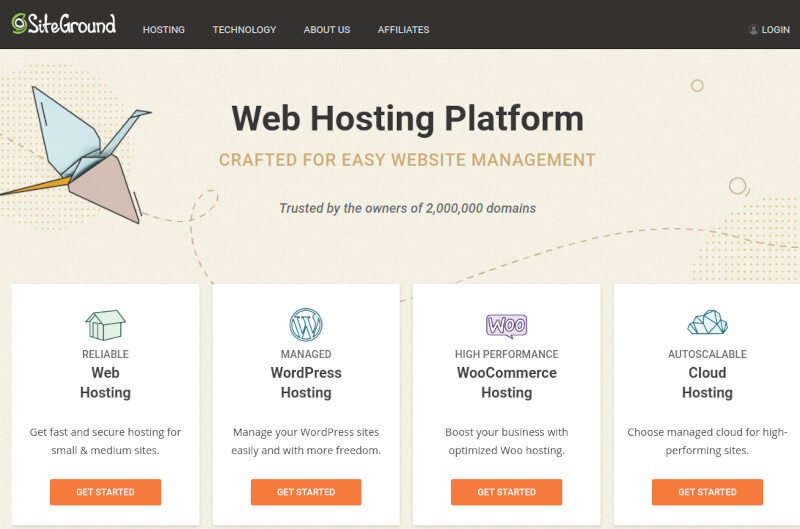 6. DreamHost
DreamHost is a full-featured web hosting company that aims to make sure that its customers' websites are fast, secure, search engine-friendly, and always up. It offers a beautiful UI and an easy-to-understand workflow coupled with 24/7 support, a 1-click installer, unlimited custom email accounts, automated backups, free SSL certificate, etc.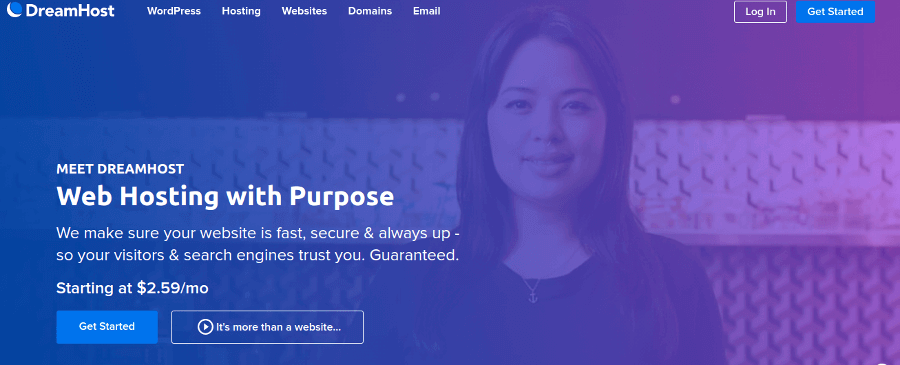 7. WP Engine
WP Engine is a WordPress-centric hosting service for personal and professional users around the world. It features amazing customer support, enterprise-class web options, 1-click WordPress installation, 36 premium themes created by StudioPress, and its servers are optimized for WordPress websites.
WP Engine also takes care of user backups and updates and offers developer tools, lead referrals, co-marketing opportunities, etc. to agencies,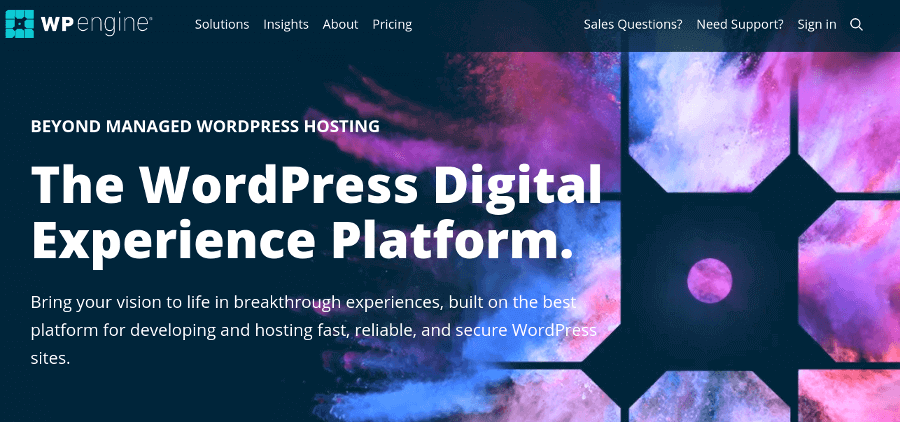 8. Domain.com
Domain.com aims to provide every user with the perfect domain name for their business especially as users can take advantage of its domain name generator for finding the most suitable name for their business.
It also offers shared, dedicated, and VPS hosting services that come with a website builder, G Suite, SSL Certificates, and Domain Privacy, among other goodies.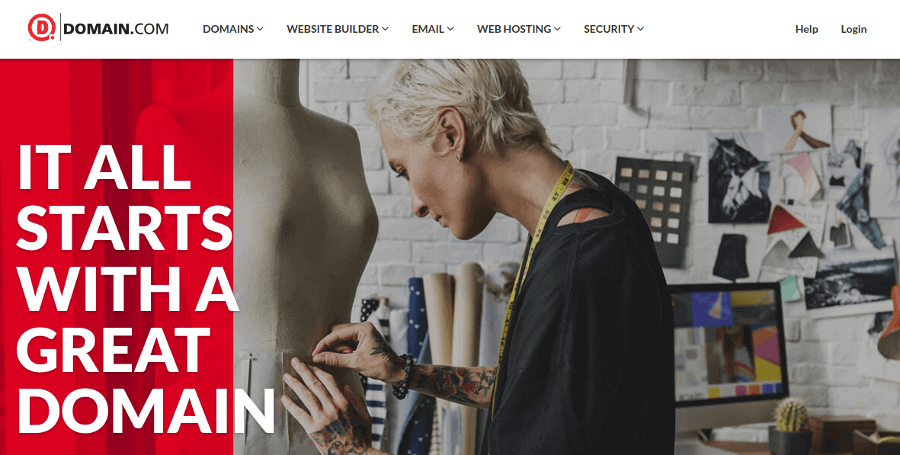 9. Hover
Hover is the resultant of 3 domain registers merging to form an all-in-one domain registration and management platform – perhaps that explains its rather pricey subscription plans. Its prices are transparent, it is easy to use, prioritizes data protection and integrates excellently with other apps.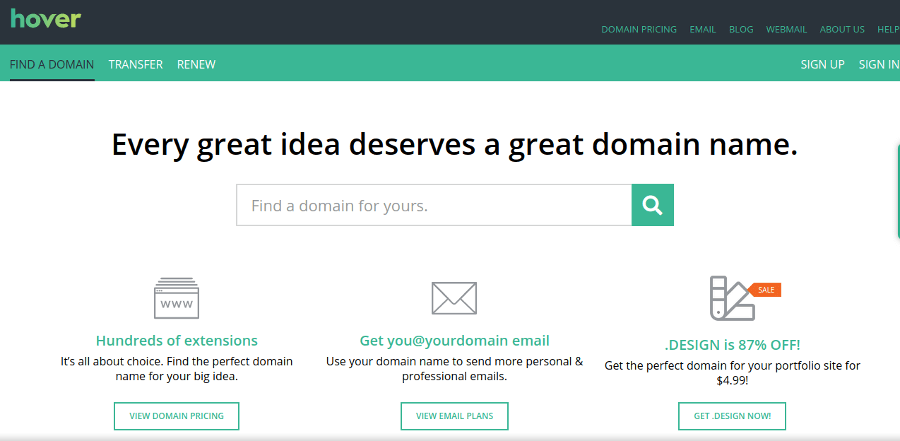 10. Constant Contact Website Builder
Constant Contact Website Builder is a robust AI-powered website builder that gives users the ability to build beautiful responsive websites quickly and efficiently without the hassle of dealing with domain registration and/or redirection details.
It is well integrated with the popular free image platform, Unsplash, for inserting stunning pictures directly into your website while aiming to maximize your marketing efforts.
Its features also include customizable layouts, a free SSL certificate, search engine optimization, fast load times, visual effects, expert support, mobile optimization, etc.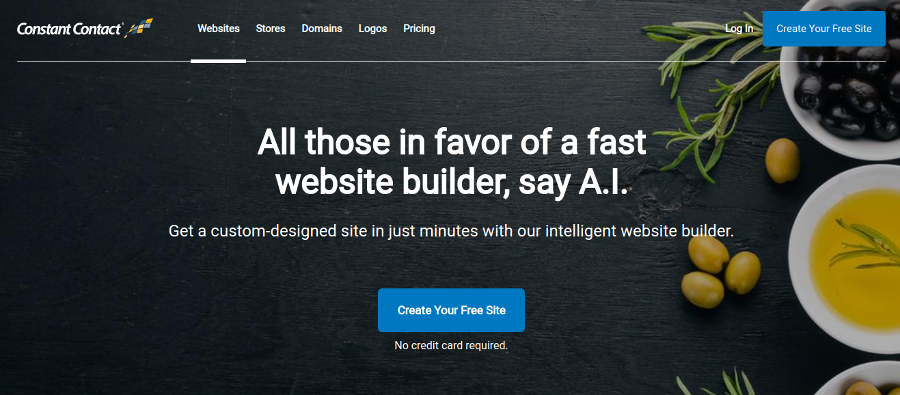 11. Dynadot.com
Dynadot is a domain name registrar and web hosting company that makes it easy for clients to build and manage beautiful websites with business-appropriate domain names for relatively affordable prices.
The features that it offers to users include advanced domain management, cheap .com domain names, a free website builder, optimized cloud services for e-commerce stores, a transparent domain auction market, etc.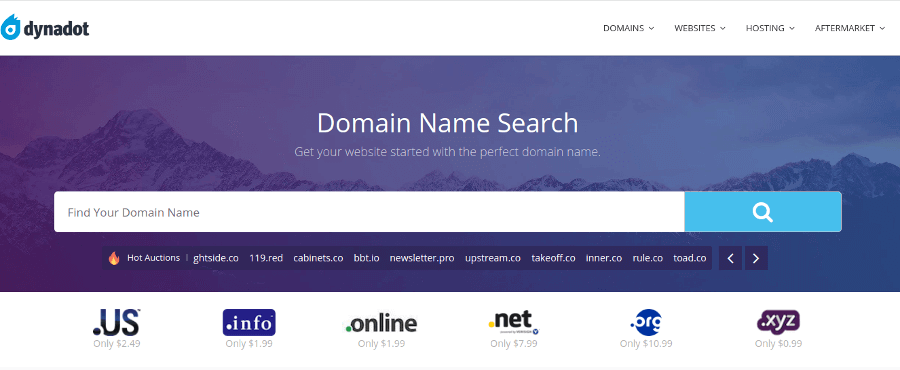 So there you have it – a comprehensive list of awesome GoDaddy alternatives for you to go through and select your best pick. Remember to go through their pricing options before shelling out cash.
Do you have any experience with any of the above? Or perhaps you're conversant with alternatives that aren't listed but are worthy of mention. Feel free to let us know in the comments section below.