The language translation industry keeps growing thanks to the over 7,000 native languages that are spoken around the globe. Statistics show that the global translation market reached US$57 billion USD in 2022 (an increase of more than $5 billion in just 2 years), is projected to reach a revised size of US$84.2 Billion by 2030, growing at a CAGR (Compound Annual Growth Rate) of 5% over the analysis period 2022-2030.
The largest market for language services is found in Europe, where it accounts for 49% of the global market. North America is next with 39.41%.
We have four frequently used translation types. There is literary translation which primarily deals with the translation of text-based languages from the original language to other languages.
Technical translation requires you to have the scientific knowledge to translate the text into another language. Administrative translation deals with the translation of text-based documents that are used by organizations in their daily management and administration functions.
Then lastly, we have professional translation is a special type of translation that must meet the highest quality requirements to be used in various fields and industries.
Check out these online translators you can use to save time at work.
1. Bing Translator
Bing Translator is a free online translator from Microsoft and is available for Windows 10 users. The translator allows users to swiftly translate phrases and words from English to over 100 different languages and vice versa.
To get started, head over to Bing Translator. Click the 'Translation' option and select a language you want to translate the text into. You can add text by typing manually or pasting.
Point Check: The translation limits you to a maximum of 10,000 text-size inputs.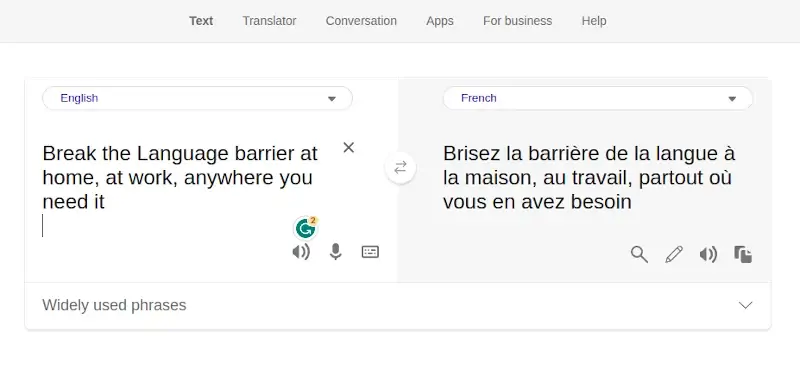 2. Google Translate
Google Translate is a versatile online translator that is provided free of charge. It is operating-system agnostic and offers quick translations of web- pages, phrases, and words between English and other national languages.
Do you wish to translate your document? Head over to Google Translate. You can upload a document for translation by clicking the 'Documents' button.

Next, choose a language from the translator tab icon.

Proceed and click the 'Translate' button. Wait until the translation completes and click the 'Download Translation' button to access the document on your local storage.

Despite the free usage of Google Translator, it has limitations, such as the fact that the translator doesn't provide a way to incorporate the context (meaning can be lost during translation), and there are also notable grammatical errors in the translation.
3. PROMT Online Translator
PROMT Online Translator employs Neural Machine translation (NMT) technology that ensures high accuracy and fluent translations. The translator runs on operating systems such as Windows, MacOS, Linux, and Android.
It provides premium subscriptions that enable you to enjoy 50% of the benefits (downloading the application and enjoying unlimited access to all the features).
You can try PROMT Online Translator to see how it works. Start by picking the language you want the text to be translated into. Next, drag and drop or paste your text into the 'Type to translate' option.

4. DeepL Translator
DeepL Translator is available online and as an application for Windows, iOS, and Android users. For easier access to the translator, it provides Chrome and Microsoft Edge extension services. The translator provides payment plans that enable you to enjoy unlimited access to all the features.
To translate text, go to DeepL Translator. Begin by selecting the language you want the text to be translated into. Proceed and click 'Translate Text'. Next, drag and drop or type the text manually.

5. ImTranslator
ImTranslator is an online translator with several extensions for Chrome, Firefox, Opera, and Yandex. An application is also available for Windows users. On your browser, it can translate over 1640 combinations of languages. To check how the translation works, head over to ImTranslator.
Choose the language you want to translate into first and copypaste or drag and drop the text. Click the 'Translate' button.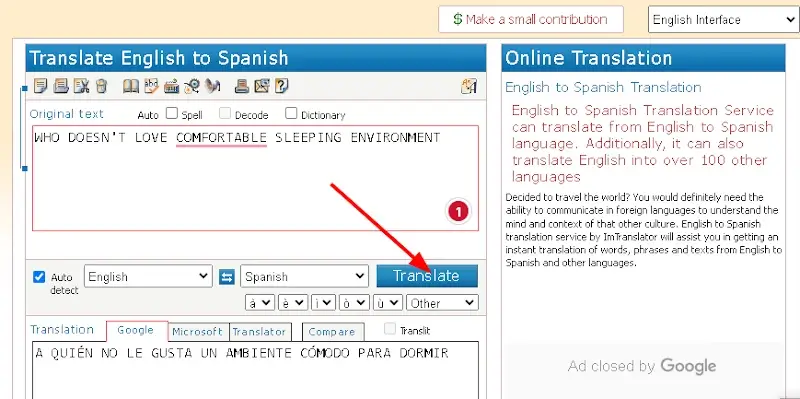 6. Reverso
Reverso provides services such as contextual dictionaries, spell-checking, grammar, and the use of Neutral Machine Translation technology in online translation.
The translator is available as an online translator and as an application. The translator provides subscription plans that enable subscribers to enjoy unlimited features.
Click here Reverso to see how the translation works.
Change the language option in the translator tab icon and copypaste or type the text manually. Click the 'Translate text' button.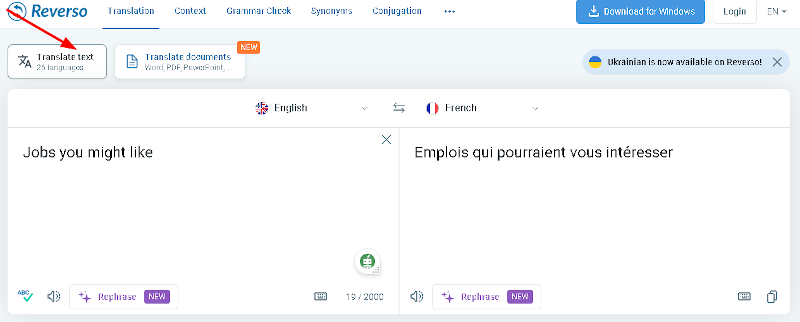 7. SpanishDict
SpanishDict is an online translation tool as well as an application available in the Windows Store, MacOS, and Android. The translator specifically deals with English-to-Spanish translations.
It has Chrome and Firefox extensions that enable quick access when you want to translate text. Have a look at SpanishDict, to see how the translations are conducted.
Type or copypaste the text you want to translate and click the 'Arrow Key' inside the circle.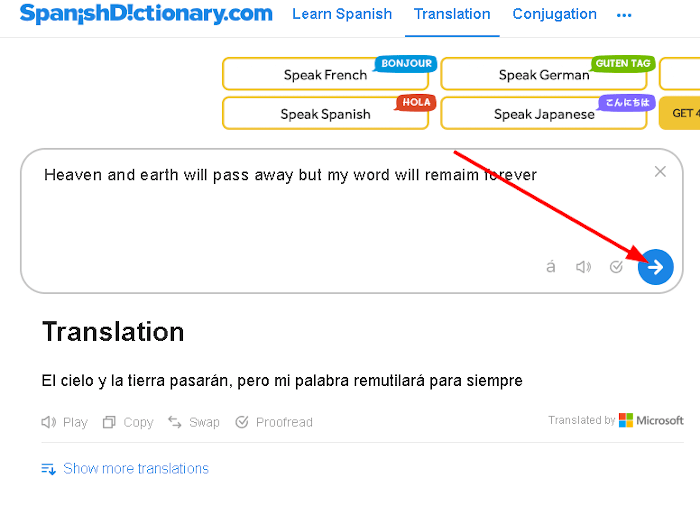 8. Translate.com
Translate.com is a versatile online translator that provides both professional and machine translation. It has pricing services that you can select from, and each pricing service comes with its own unlimited features.
An application version is also available on the App Store for macOS users and on the Microsoft Store for Windows users. Head over to Translate.com to see how good it is to use the translator.
If you choose machine translation, switch to the Translator tab by tapping the icon, and selecting the language you want to translate the text into.
Proceed with pasting or typing manually the text.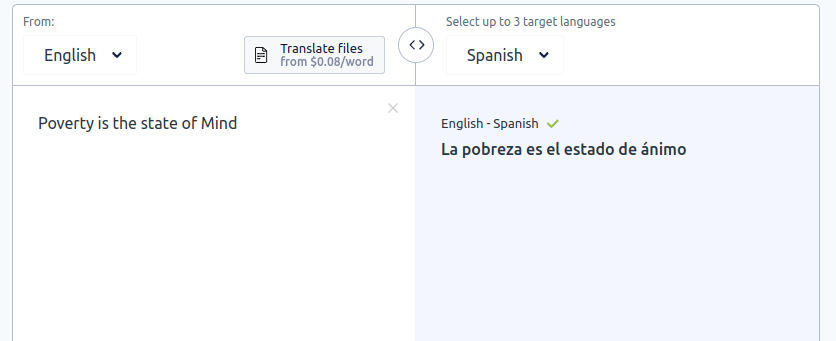 9. Collins Digital Translator
Who is searching for an elementary and convenient translator? Collins Ditagital Translator is the one for you to use. The translator provides grammar tools, a thesaurus, and a dictionary, which you can utilize. It also provides translations of texts from over thirty languages.
To get started, go to Collins Digital Translator, and select your preferred language from the translator bar icon. Next, type manually or drag and drop the text.
Finish by clicking the 'Translate' button.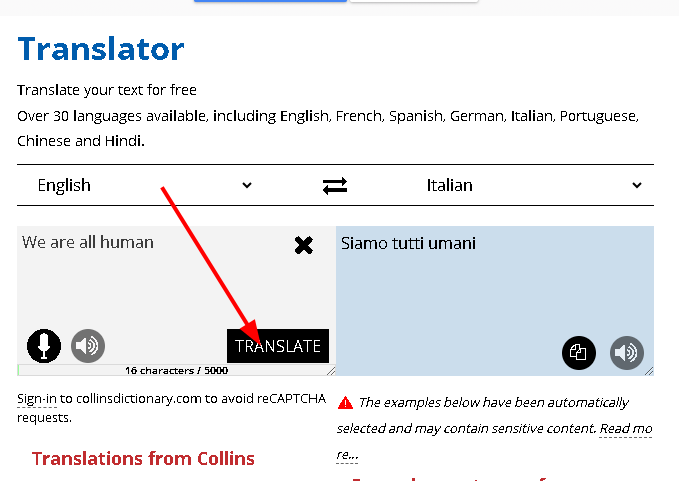 10. Yandex Translate
Yandex Translate offers free English to other languages translation as well as the other way around. The translator works with written texts, words, web pages, and text on images.
The translator provides extensions for Chrome and Firefox. Voice text translation is a feature that is included in the translator. Check out Yandex Translate to see how the translation is initiated.
Start by picking the language you want to translate the text into. Next, click the 'Text' button copypaste or drag and drop the text.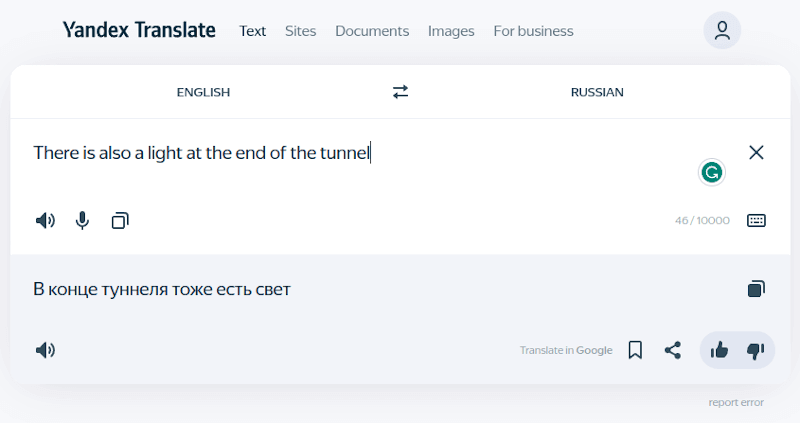 Bottom line
We have covered some of the most handy online translators that you can leverage to break the hindrances in communication when dealing with different languages.
Hopefully one of these will help you to accomplish your translation needs. Your feedback is highly welcome.