With how important social media has become in our times coupled with advancements in technology, tools for technical activities like music and video creation have been made more accessible to virtually anyone with a smartphone who cares to be creative.
As you would imagine, the Google Play Store is littered with several applications to enable users to create and edit videos with tons of visual effects and customizations that make having a video editing dedicated desktop less of a do or die affair.
If you would like to create videos for social media, your next project meeting, or to just share with friends for fun then you're in luck because here is a list of the best video editors for Android.
1. KineMaster
KineMaster is a full-featured media utility for creating professional videos on Android with powerful tools such as blending modes, chroma key, transitions, speed control, multiple video layers, voiceovers, special effects, and subtitles, among others. Its UI is properly segmented to allow for the most convenient editing space including its pie-chart type menu containing layer, audio, voice, and media options.
You can think of KineMaster as a minimized version of a robust desktop editing app because of its versatility. You can work its inbuilt keyframe animation tool for adding motion effects and stickers to layers, select music from your local directories, share directly to Dropbox, Facebook, YouTube, export 4K 2160p video at 30FPS, and many more!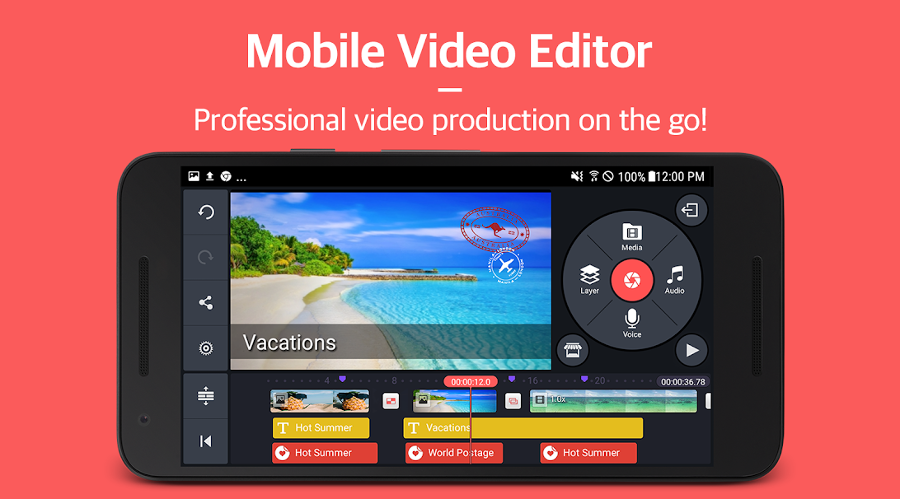 2. YouCut
YouCut is a free video editor and maker application for creating professional videos, especially in formats for YouTube and social media. You can edit videos using its inbuilt tools for cutting & splitting, trimming, creating slideshows, fine-tuning playback speed, etc.
YouCut is loved by 10 million+ users for its beauty and praised for its simple yet powerful and efficient workflow. Its feature highlights include video color adjustments, an ad-free video editor, customizable aspect ratio, HD video compression, free online music + local music, no watermarks, and beautiful FX effects and filters.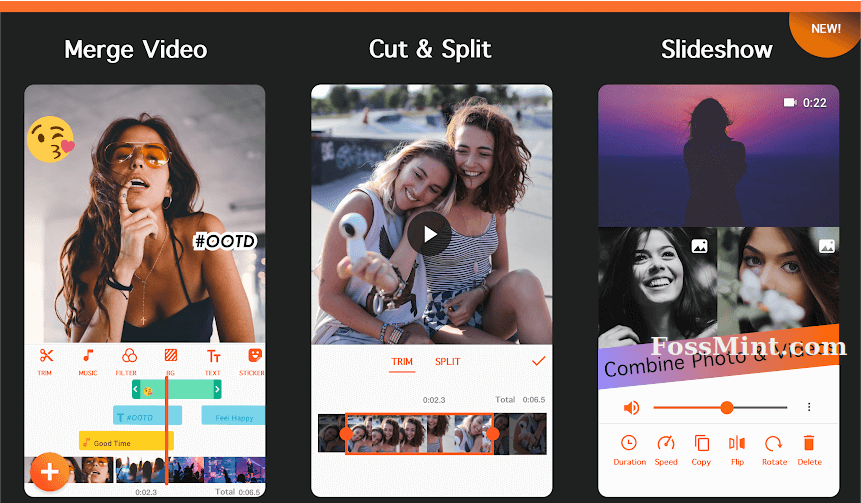 3. Quik
Quik is a free video editing application for creating professional fun and interactive videos as easily as possible. Its feature highlight is how it enables users to create beautiful videos complete with transitions, effects, and texts that sync to the beat/background music in seconds. It also boasts a clean, ad-free, portrait-mode-interface for editing and easy customization.
Quik allows you to add up to 75 video clips and photos from your preferred location e.g. Gallery, Dropbox, Albums, etc. and it works with Motion Photos. It also contains 23 themes with unique transitions, fonts, filters, and graphics to match with your video's story. It also allows you to work with HD videos that play at 60 FPS, supports several audio formats, supports adding GPS stickers, and much more.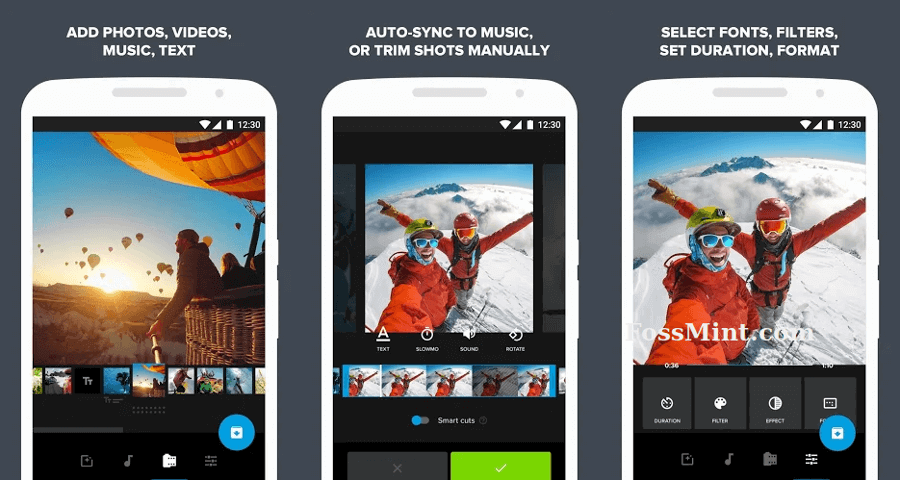 4. FilmoraGo
FilmoraGo is a beautiful mobile video editing solution created by Filmora Wondershare to enable users to create stunning videos as easily and professionally as possible. As the name suggests, FilmoraGo is for creating professional videos on the go. It features tons of visual effects, text styles, animations, stickers and motion graphics, themes with unique color correction settings and layouts, smooth transitions, etc.
FilmoraGo allows you to view edits and real-time, export HD video projects in 1:1 for Instagram and 16:9 for YouTube, use locally-stored music and/or music from its licensed songs library, import video clips and photos from social media platforms such as Facebook and Instagram.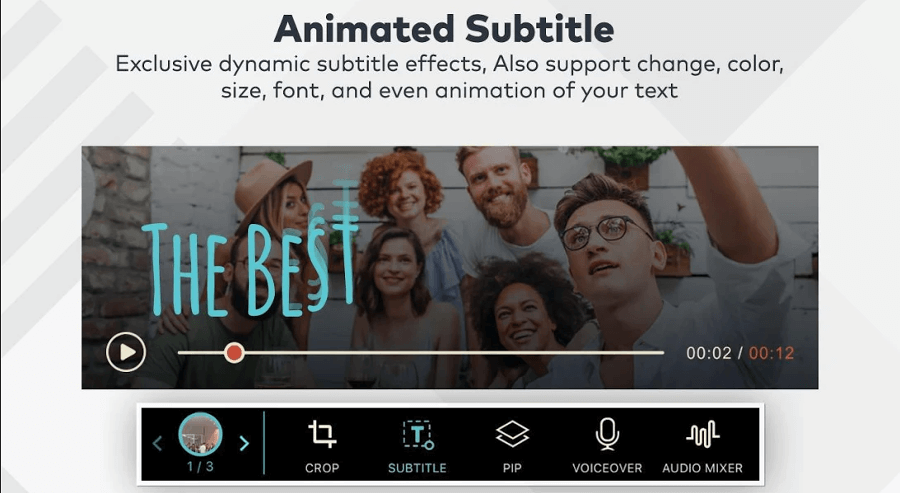 5. VivaVideo
VivaVideo is a free video editor and photo movie application that lets you combine videos and photos into full-featured films with several professional effects such as slow motion, special lenses for recording "funny faces", video collage with tons of templates, stickers, themes, etc.
VivaVideo has a simple user-friendly UI which makes it easy to make use of its several professional tools including trimming, auto record, splitting, merging, reverse, speed control, transitions, texts, music playback, etc. and it was created with the aim of allowing anybody to create professional video stories. It is free to use with a dedicated tutorials page for new users and in-app purchases.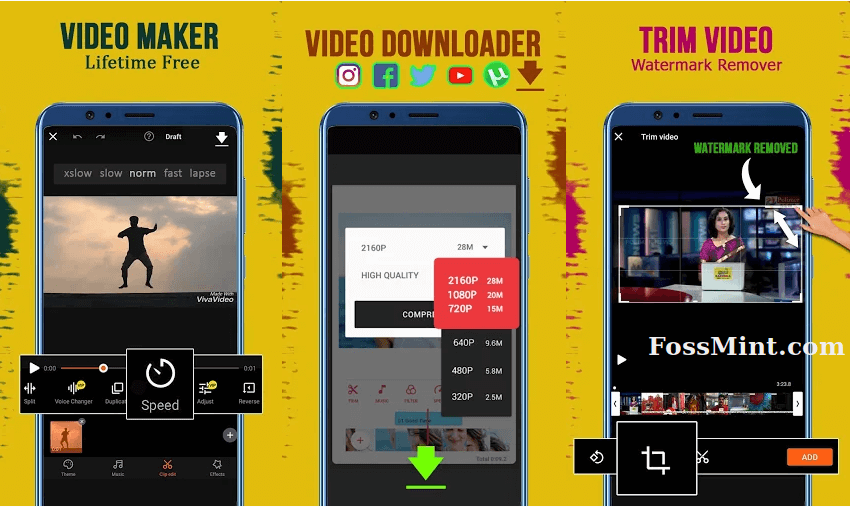 6. VideoShow
VideoShow is a powerful all-in-one video editor for creating professional videos using 50+ themes, multiple background music, stylized texts, background effects, and 30+ filters. It sports professional editing tools such as merge, split, timeline reverse, bluer, collage, zoom, motion speed, video compression, video to mp3 conversion, etc.
VideoShow has an inbuilt editor for selfie stickers, a beauty camera for touching up your photos, an editor for working with photo videos, and a toolbox for extra editing features. It is free to use with an avenue for in-app purchases.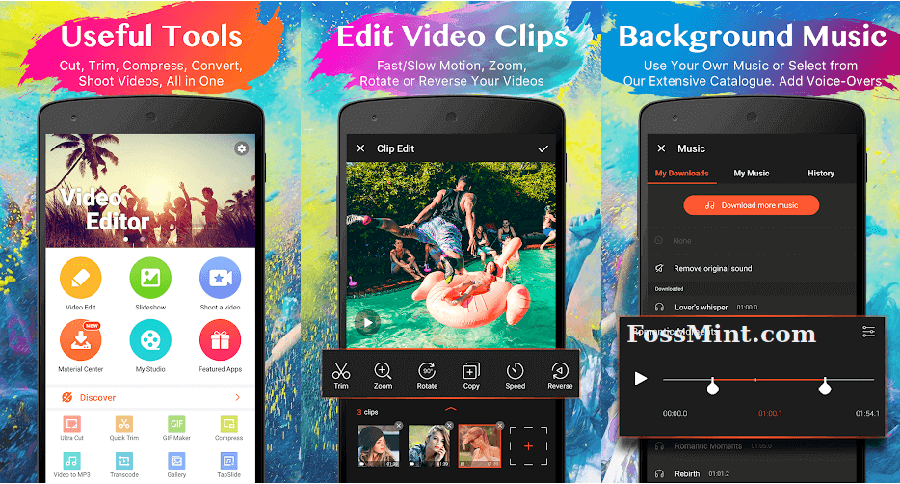 7. Video Editor
Video Editor is a professional video editing app that enables Android users to create fun videos by merging photos and edited video clips together with additional items such as text, filters, transitions, and synchronized music. Its features include video dubbing which allows you to add recorded voices or sound effects, playback speed control, zoom in and out, 10+ high-quality transitions, 20+ cool filters, a slideshow maker, picture-in-picture, custom video duration, etc.
Video Editor is completely free to use so while it contains advertisements, it does not limit your usage time nor add watermarks to your video projects.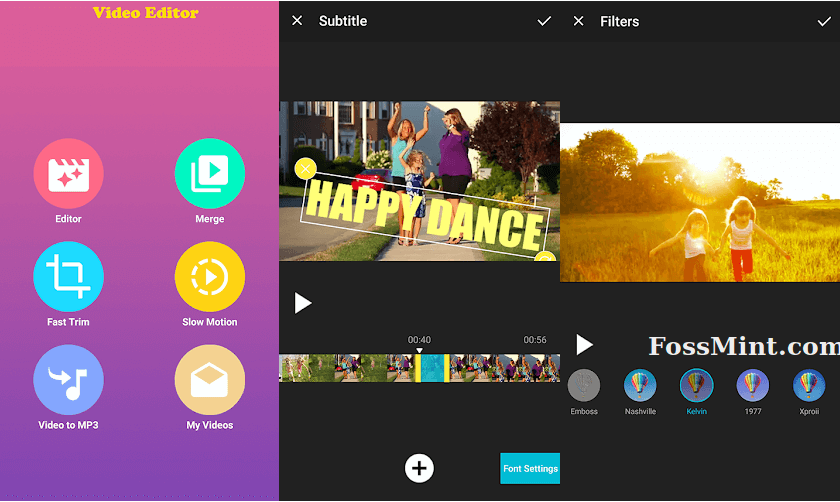 8. Video Editor, Crop Video, Edit Video, Effects
Video Editor is a paid app that is designed for making professional videos by splicing and/or merging photos together with background music, filter effects, and interactive stickers. It enables you to create videos with several categorized cinematic such as Bomb, Fire Sea, Dr. Strange, etc. a time machine tool which digitally edits pictures of people to make them look younger or older, a glitch tool for adding glitch colors to selected photos as well as several fantastic filters and slideshow presets, etc.
Video Editor is straightforward to use especially when adding custom text, emojis, locally stored music, and online music, etc. It also allows you to crop videos to your preferred aspect ratio and to export completed video projects in HD formats.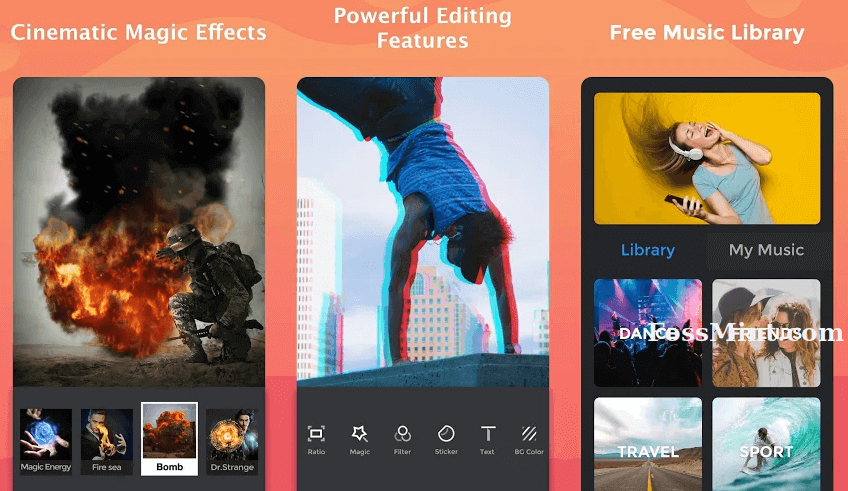 9. Glitch Video Effect
Glitch Video Effect is a video editing app for Android that comes with tons of video effects to give your video projects stylish looks. It features 100+ effects themed Retro VHS, Chrom, Shadoe, RGB, Pixel, Cyber, Moire, Aesthetic effects, etc.
You can also use it to shoot retro videos with glitches and VHS effects in real-time combined with a built-in video editor for customizing your project's aspect ratio, trimming and cutting sections of the playback timeline, adding background music, and exported completed projects in HD for virtually any platform.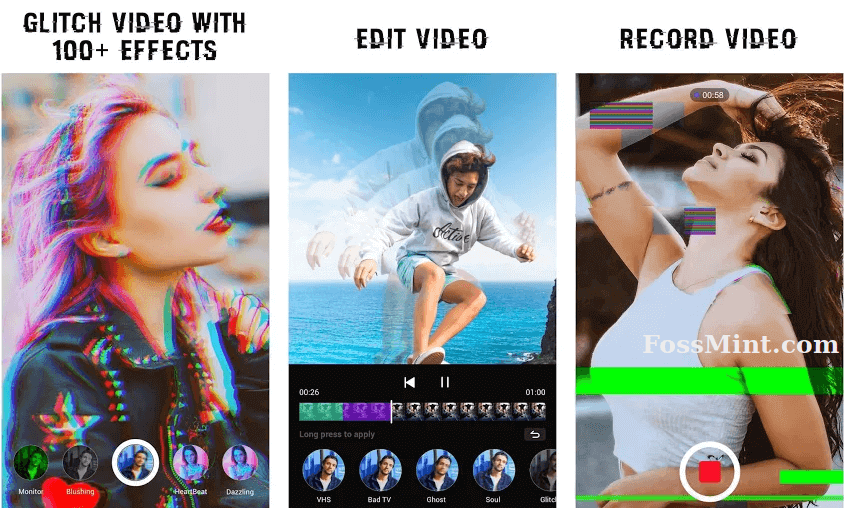 10. Adobe Premiere Clip
Adobe Premiere Clip is a free video editor for quickly creating HD videos on mobile photos and then typically sharing them for editing in Adobe Premiere Pro CC. Its features focus on automatic video creation wherein you simply select images, choose a soundtrack and playback pace, and powerful video editing using drag and drop, trim, transitions, aniamtions, custom texts, and effects, etc.
Like all Adobe apps, Adobe Premiere Clip feeatures a beautiful UI with cloud integration. While it is a good video editor if you're shooting videos on the go, you'll get extra editing functionality and customization options when you use it in conjunction with Adobe Premiere Pro CC.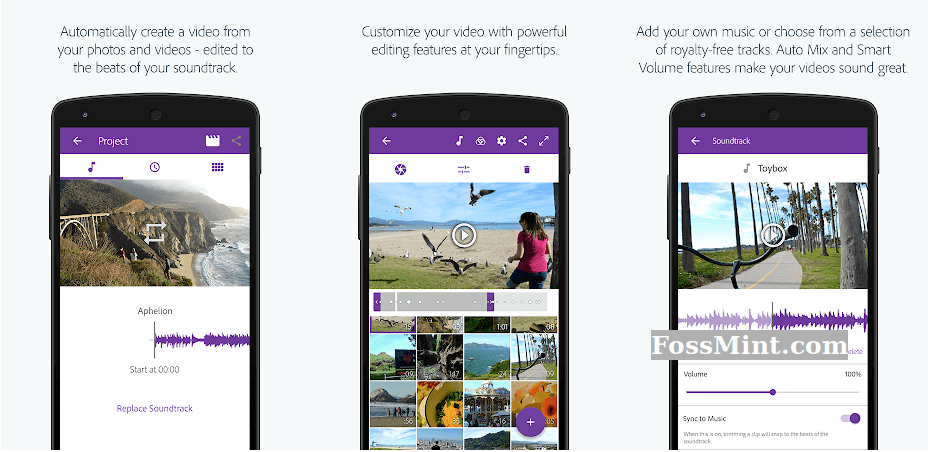 Some of the listed applications are free to use with ads until you purchase premium versions which unlock many extra features. Others are completely free to use with either non-intrusive ads or no advertising at all.
Whatever the case is, you might find that using some of the apps together is the right workflow for you but you can only find out when you start trying them out for yourself. Did I mention your favorite app editor for Android? Drop your comments in the section below.