Do you own an Apple Watch? Are you looking for ways to use it to boost your productivity? Well, we have good news for you because due to the explosion of options in the Watch App Store, there isn't a better time than now to become more efficient at tracking and completing tasks using your wearable device.
In today's article, we bring you a collection of the most popular applications for completing several tasks from the device on your wrist which will, in turn, make your life so much easier and more efficiency-driven. These tasks include creating and keeping track of to-do lists, setting alarms, automating processes, etc.
1. Todoist
Todoist is a popular freemium modern to-do list application whose Watch app offers users a streamlined interface for quickly creating and managing tasks that can be shared with a household or work team.
The tasks can be prioritized by importance and tracked by due dates with a notification that lives in the corner of your Watch face to remind you of how many more tasks there are for you to complete. Swipe left on completed tasks to send them to the archive.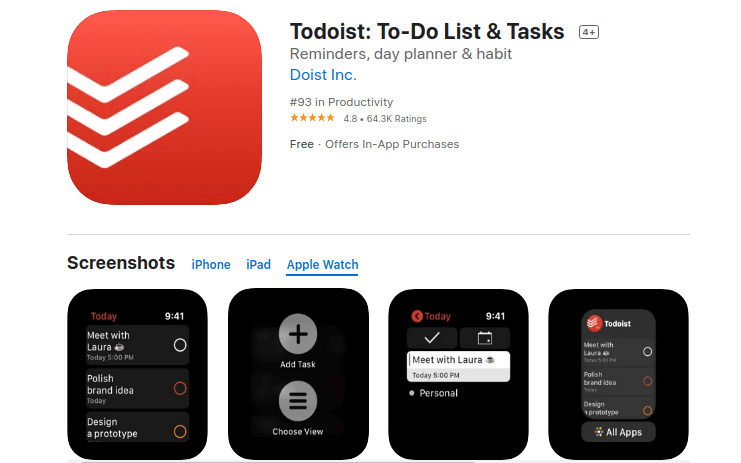 2. Streaks
Streaks is a premium application created to enable users to develop positive routines and it features a UI so beautiful it won an Apple Design Award. Although a maximum of 6 habits at a time is recommended, Streaks allows users to designate up to 12 habits which are displayed on their watch face as icons.
When you complete any task, tap on its icon to mark it as done. If the habits you set are timed, tapping the icon will trigger a stopwatch. As it is with all habit-making apps, you will get a lot of notifications when you're lagging behind. Streaks costs $4.99.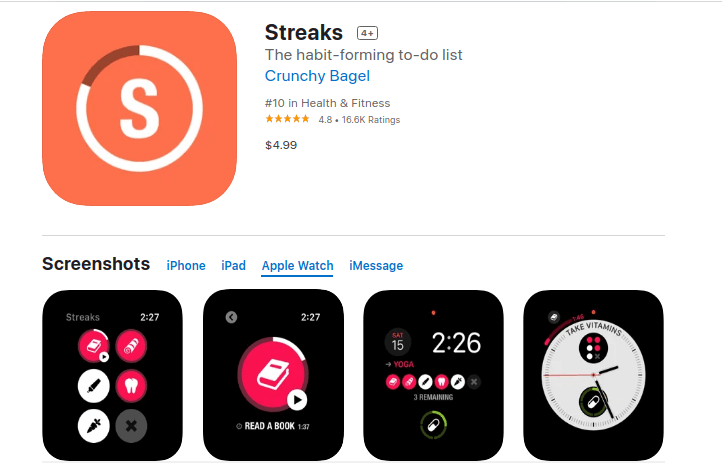 3. FlickType Keyboard
FlickType Keyboard is a premium app created to make typing on smartwatches a lot faster and intuitive by finger swiping across a QWERTY keyboard to string words together. The app is powered by algorithms that learn your speech patterns from typing and auto-correct spelling mistakes over time in order to predict words.
Is there a difficult word o decipher? You can just scroll through similar word options until you get to the intended input. FlickType Keyboard also features text and emoji shortcuts for ultra-fast typing with the option to read letters out loud anytime or in case of visual impairments. It costs $2.99.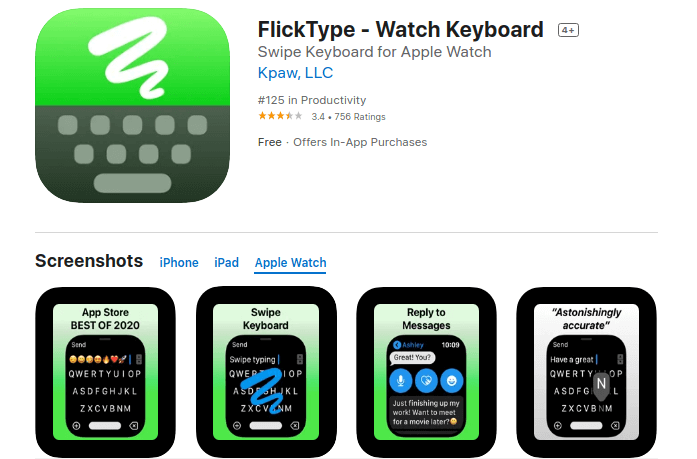 4. Cheatsheet Notes
Cheatsheets Notes functions as an easily accessible notepad with which users can enter little numbers and similar-type data. These can include license plate numbers, phone numbers, addresses, etc. It has the option to display as many as 16 notes on your watch face with each one having a unique icon.
Cheatsheets Notes is a freemium app i.e. it has both a free and premium version depending on which set of features appeal the most to you. Remember to use this app for only non-sensitive information because it was created with accessibility in focus and not privacy.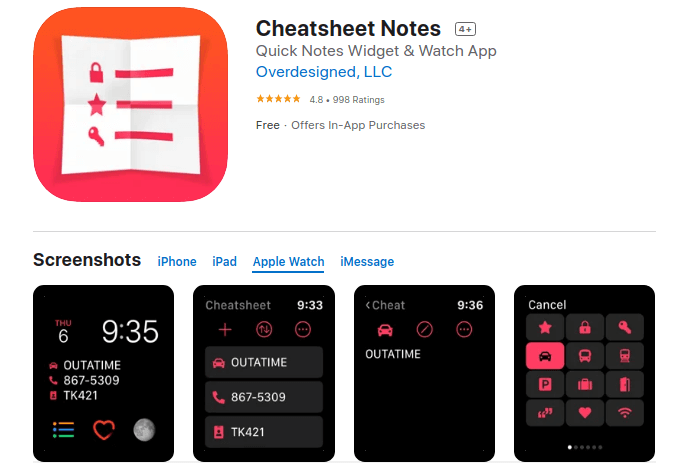 5. Billings Pro
Billings Pro is a freemium smartwatch app that enables users to track expenses in a couple of ways. First, you can record and follow expenses by inputting transaction/receipt amounts directly from your smartwatch. Secondly, you can use Billings Pro's built-in timer to track delegated Ibillable time for clients, trip duration, etc.
When it's time to bill your client, the app equivalent on iPhone or desktop will sync the data in a matter of seconds in order to generate the relevant invoice.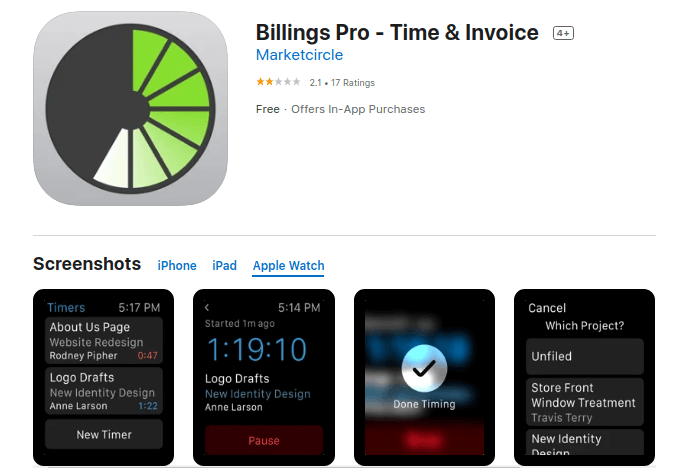 6. MultiTimer
Multimer offers users a beautiful dashboard for managing several timers and stopwatches coupled with the ability to create daily timers in advance and start them when they're ready. Have you ever need to track multiple processes at once? You can finally do that from the convenience of a raised elbow.
Multimer is free to use and there is a premium version that you can purchase if you're interested in the premium features.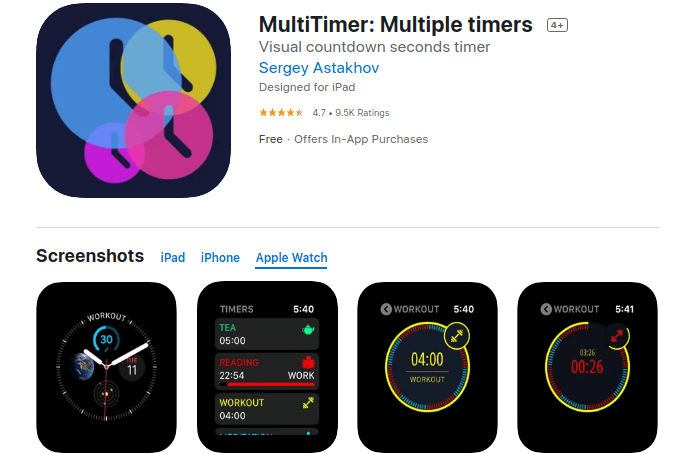 7. IFTTT
IFTTT (If This Then That) is a popular productivity app that enables users to create automated tasks/activities between apps based on several configurable triggers. For example, you can automatically play music on YouTube whenever you enter your house and set a reminder to turn down the heat as you leave the house. What's even cooler is the plethora of pre-programmed IFTT applets which you can get straight to using when you install the app and you are free to create your own applets too.
Having support for more than 600 applications, IFTTT is a dream come-through for automation lovers who can finally put their smartwatch to good use and is available as both a free app and subscription-based model.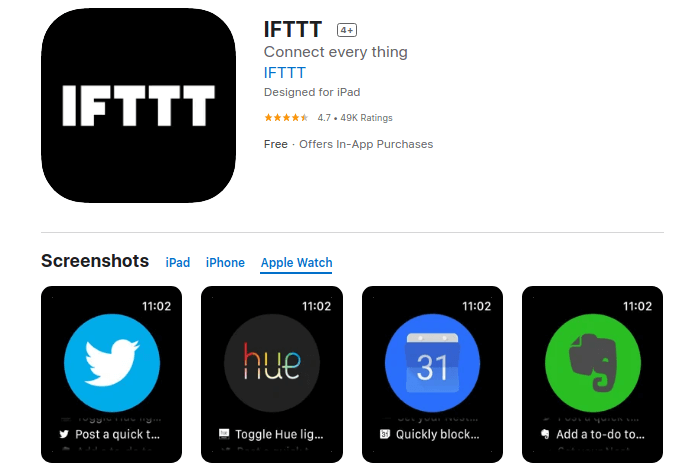 So there you have it. A perfect list of productivity applications for your Apple smartwatch. Are there applications that you would like to see on this list? Mention them in the comments section and let us know the features that set them apart from the rest.