Before the widespread adoption of WordPress, transferring web data between websites was more than a painstaking task for any beginner developer because it typically required using scripts and several terminal commands to SSH files around.
Things got a lot better when WordPress came along and developers created plugins that can help even beginners to the content management system move existing website data such as plugins, themes, customizations, databases, etc. from an old site tp a new one, for example.
Today's article is a compilation of the best WordPress migration plugins for your WordPress websites. That is to say that they feature a beautiful modern UI, reasonable prices, easy of use, and support from both their developers and certified users.
Nothing in this world is perfect, though, so allow me to highlight the pros and cons of each plugin as that will further simplify the choice you have to make when making your decision.
1. Duplicator
Duplicator Pro is one of the most popular migration plugins for WordPress and it is my personal favorite because of its simplicity. It uses an easy-to-follow wizard that guides you through the processing of backing up the web files that you select and recovering them on your target site in minutes.
Duplicator is free to use on small websites but it has a pro plan that starts from $59/year for up to 3 websites.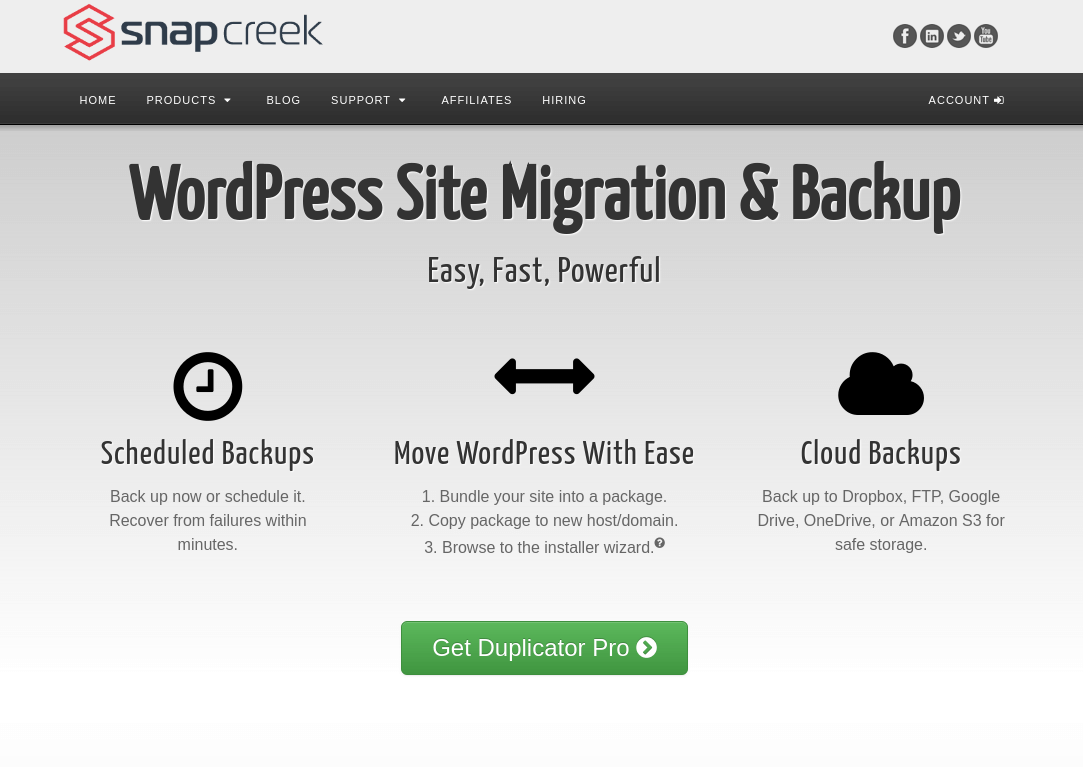 Pros:
An easy-to-follow wizard
Works on a domain name, local server, or live site
Connects with cPanel dashboard for automatic database and user creation
It can be used to schedule remote storage backups to Dropbox, Google Drive, etc.
Cons:
Requires a reliable Internet connection for transferring large data.
Requires knowledge about FTP servers.
2. UpdraftPlus
UpdraftPlus is a top-tier migration plugin created to enable users to migrate from one website to another conveniently and in style. It is available as a free version but for advanced user features you'll need to purchase the Migrator Add-on for $30 or purchase UpdraftPlus for $70.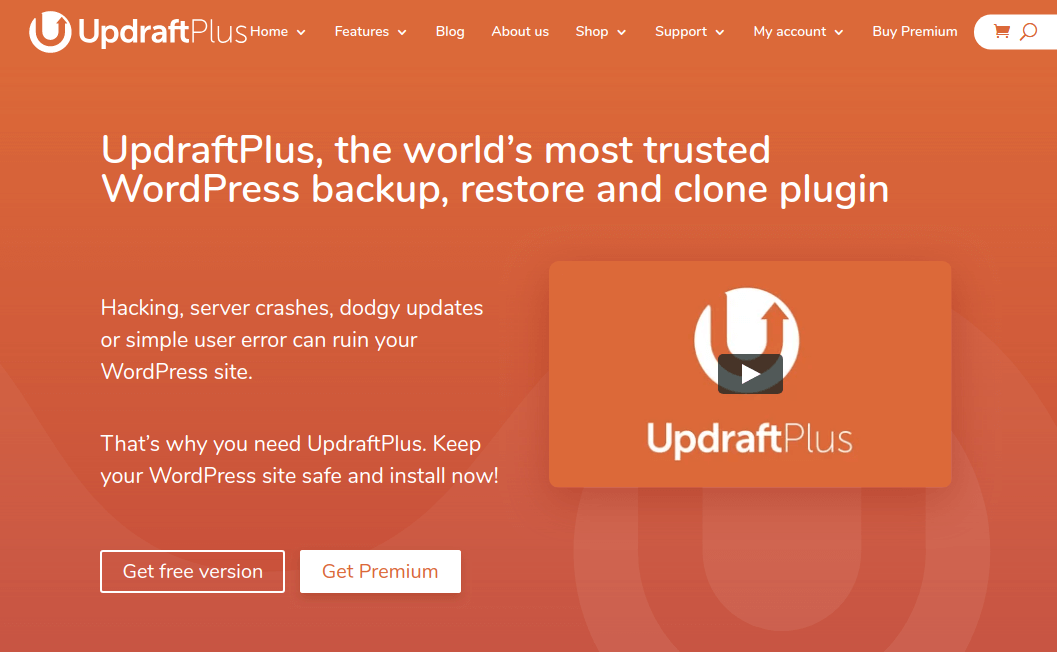 Pros:
Supports incremental backups
An easy-to-use UI with one-click restore
Schedule backups to remote locations e.g. Google Drive, Dropbox
Cons:
WordPress must be installed on the target website
3. JetPack
JetPack is a plugin created to optimize security and performance on WordPress websites as well as to provide users with management tools that include a powerful backup feature. The backup feature is bundled as JetPack Backups and it is designed for migrating website data to new servers. JetPack's pricing plan starts at $39/year.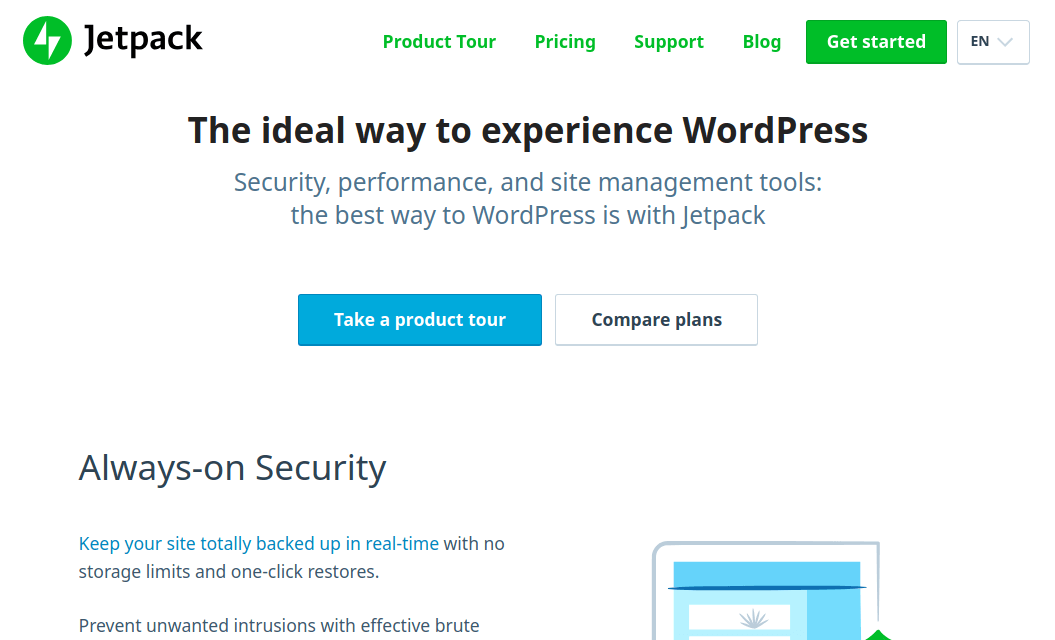 Pros:
Easy to use
Supports incremental backups
1-click data restore
Includes security features
Cons:
Requires a JetPack subscription.
Not all features in a JetPack subscription may be necessary to you.
Setup is tricky as it requires two separate plugins.
4. BackupBuddy
BackupBuddy is a renowned backup plugin for WordPress with over 1 million active installations since its appearance on the scene in 2010. It is currently offering a 40% holiday discount which makes its pricing plan start from a one-time fee of $48 instead of $80.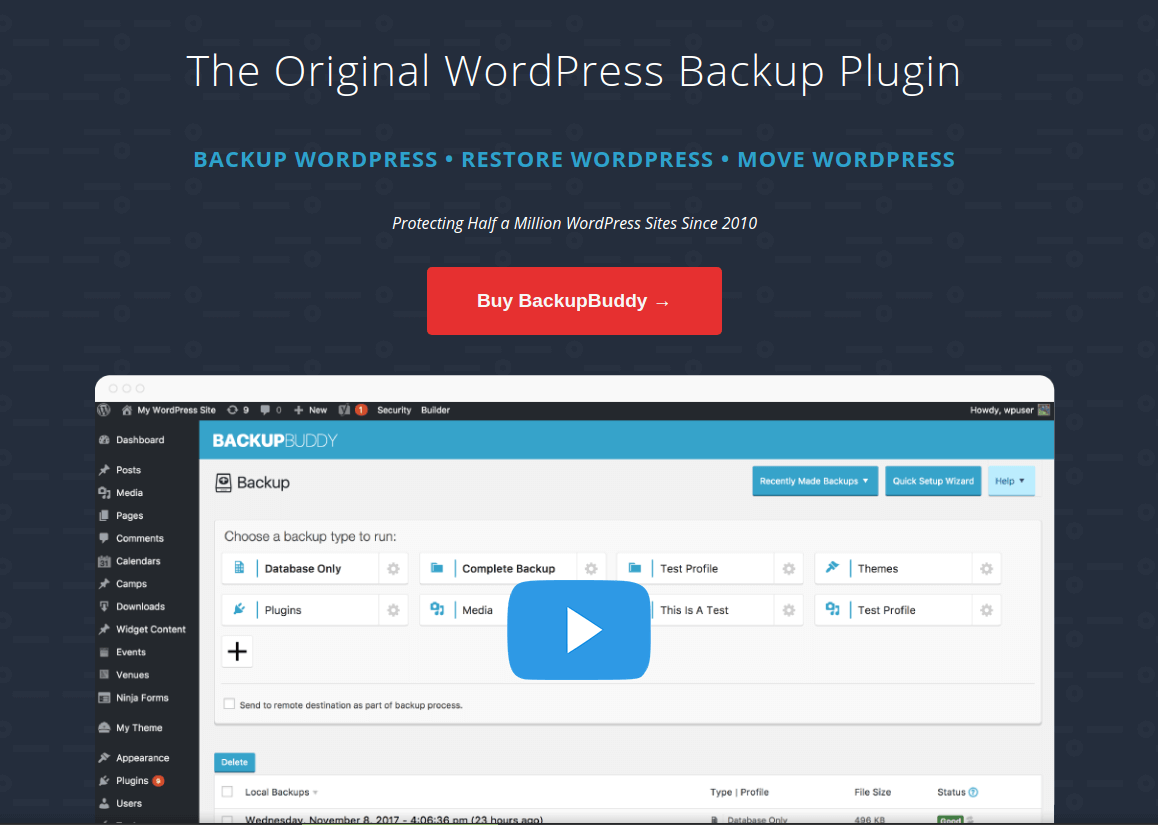 Pros:
Comes bundled with automated scheduled backup, restore, and migration features.
Supports storage on remote locations such as Amazon S3, Google Drive, Dropbox, etc.
1-click feature for deploying a WordPress staging site.
Cons:
Does not support multisite WordPress migration.
The migration and restoration workflow has room for improvement.
5. Migrate Guru
Migrate Guru is a free and open-source plugin developed by the same developers of the popular Blog Vault backup plugin for WordPress with a specialty in migrating websites to a new host and has become the self-proclaimed fastest way to effect difficult migrations such as multi-site networks, 200GB sites, etc.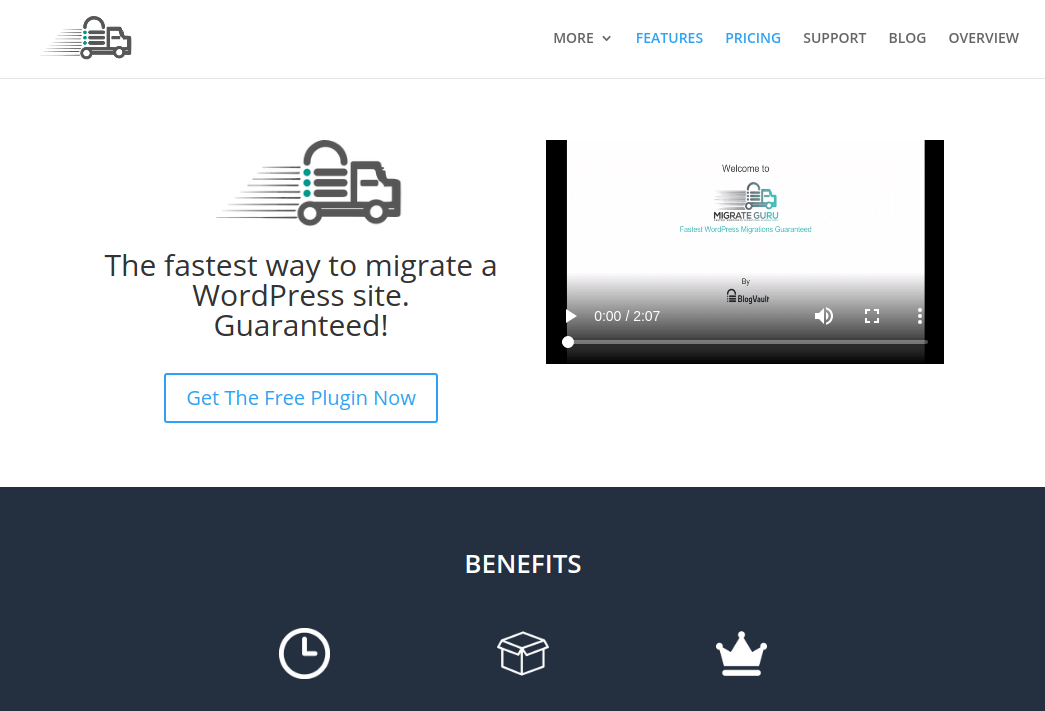 Pros:
Supports all WordPress hosting companies
Easy setup for migration as it requires only the target host's cPanel or FTP credentials
Does not negatively affect server performance of even large websites
Cons:
Does not support transfers between localhosts and live servers
Multisite migration has room for improvement
6. Migrate DB Pro
Migrate DB Pro is a backup plugin created to enable users to push and pull their WordPress site with ease. Unlike most of the plugins on this list, users here refers to tech-savvy clients. The cheapest price starts at $99 but the most popular and 'non-limiting' license is the developer license which costs $199.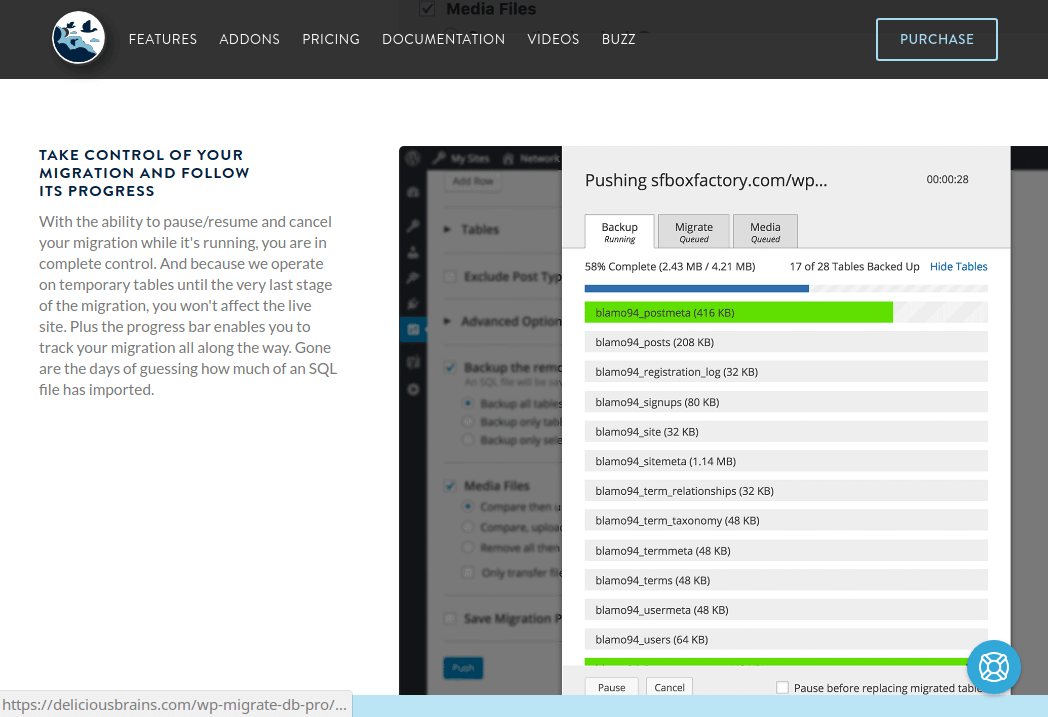 Pros:
Find and replace text in databases
Efficient for large websites
Rapid database copy between WordPress websites
Cons:
Backup and migration procedures are not beginner-friendly
Requires 2 add-ons available only to developers (and higher license owners) for complete migrations
7. All-in-one WP Migration
All-in-one WP Migration is a migration-specific WordPress plugin for users who may not have technical knowledge about WordPress. It uses drag and drop, a fund and replace function, and the ability to fix serialization problems during find/replace operations, among others.
To be able to import more than 512MB at a time and to run multiple export operations, the premium version costs a one-time fee of $69.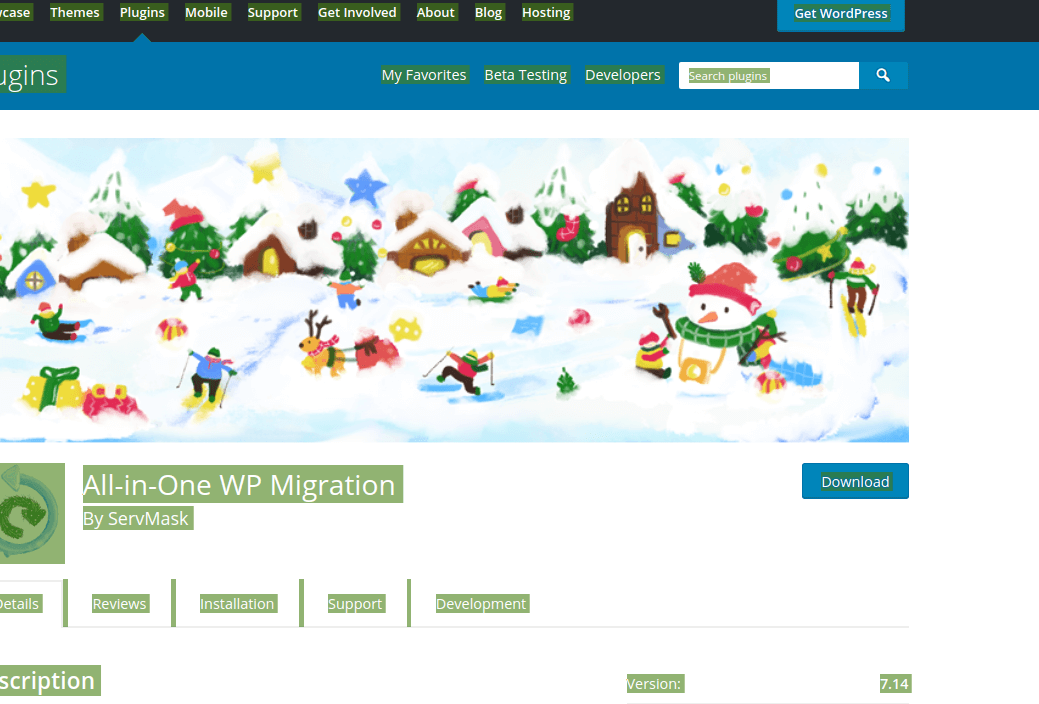 Pros:
Doesn't require technical knowledge
Zero dependencies on PHP extensions
Supports older WordPress versions
Imports data in chunks and ignores the host's file size limits
Cons:
The free version is limited to 512MB imports
The free version is limited to single exports
8. Super Backup and Clone
Super Backup and Clone is an automatic backup and migration plugin with a speedy secure cloud connection and other features such as incremental backups, several backup destinations, snapshot logs, etc. Its pricing starts at $35.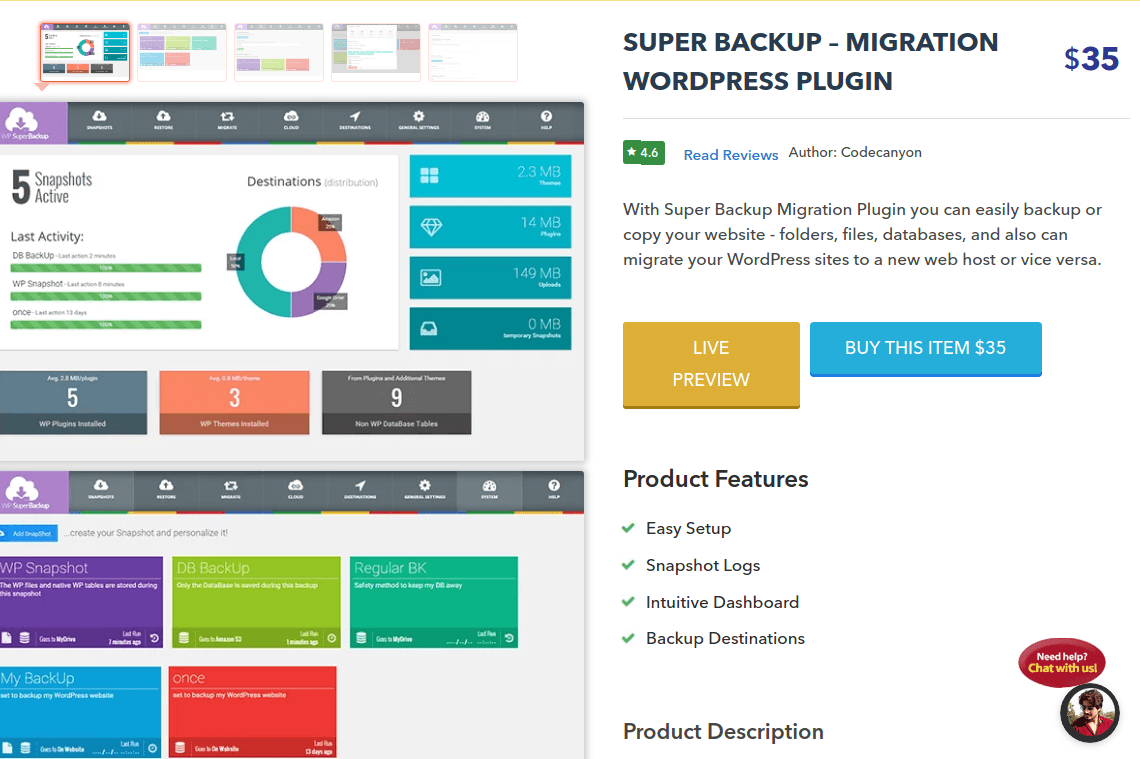 Pros:
Easy to set up
Cloud synchronization
Periodic backups
Built-in dashboard
Cons:
Doesn't work with multisite WordPress
9. SiteGround Migrator
SiteGround is one of the most reliable web hosting providers today and it offers a free dedicated plugin in the form of SiteGround Migrator for its users to conveniently migrate website data between servers.

Pros:
Created specifically for SiteGround migrations thus it is efficient
Easy to set up as it requires only a cPanel token
Automatically creates a temporary domain during migration in the case of an unchanged domain name
Cons:
Doesn't work for transfers between localhost and live servers
Does not support WordPress multisite
10. Backup Guard
Backup Guard is an advanced backup and restore plugin for easily making backups of websites and transferring them to new locations.
Among its several features include the ability to handle permalink errors, image load problems, incorrect URLs, etc. It offers a free but limited model and its cheapest plan costs $16.25 instead of $25 thanks to its 35% Christmas discount.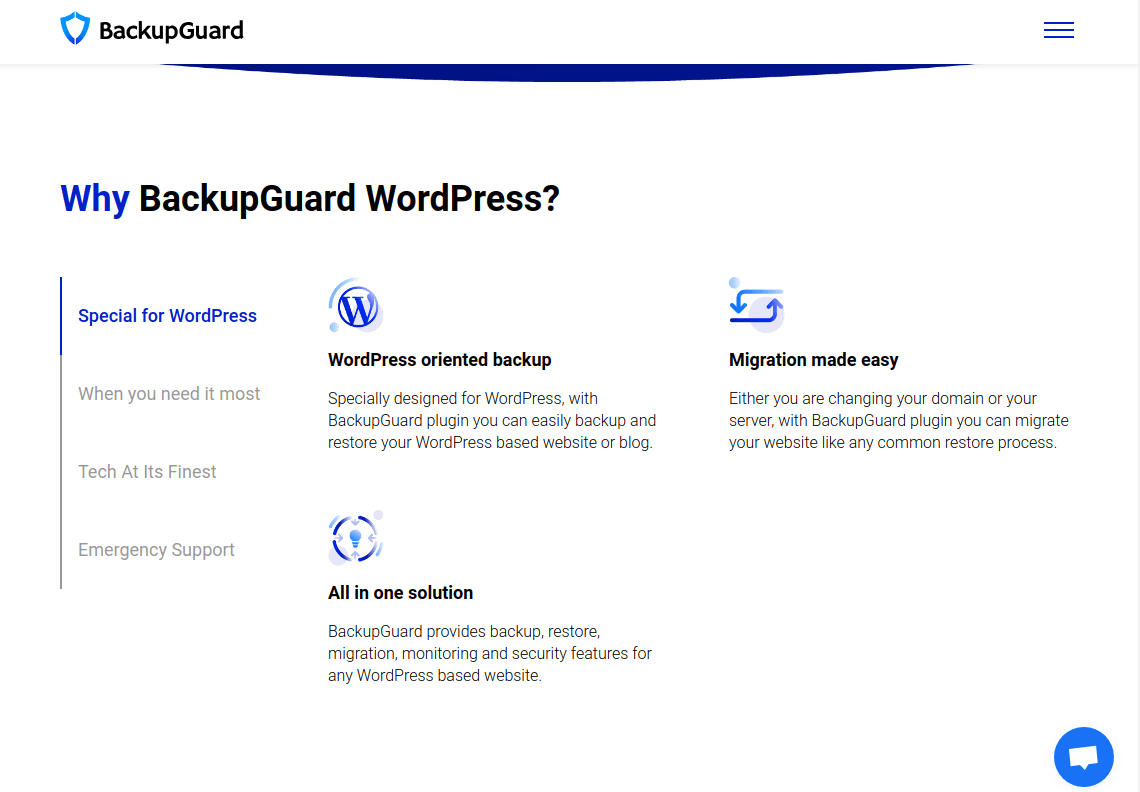 Pros:
1-click backup
Remote storage locations e.g. Dropbox, Google Drive
Scheduled automatic backups
Supports WordPress multisite
Cons:
The free version is too limited
Well, there you have it, folks. My list of the top-tier migration plugins available for WordPress in 2019. Are there any recommendations you will like to see added to the list? Share your thoughts with us in the discussion section below.