According to World Wi-Fi Day, the global total number of public Wi-Fi hotspots will grow sevenfold from 64.2 million in 2015 to 549 million in 2022. While that's an exponentially huge leap, the world is a really big place and that makes it difficult to randomly roll into places with free Wi-Fi.
Although the probability of locating free Wi-Fi hotspots ultimately depends on your location e.g. are you in a city or a village? There are a couple of ways through which you can locate free Wi-Fi hotspots not far from you and below is a list of the best that I know.
Visit Free WiFi Locations
The most popular free WiFi locations are restaurants, buses, trains, libraries, and galleries because they typically allow even bystanders to connect to their network.
Granted, these days restaurants require you to buy an item or two before giving you their password, libraries require you to be a student or a registered guest, etc. – you get the idea.
If you want to be able to use their network at any time then meeting their requirements is a small price to pay. So just take a stroll to any of those venues around you with your laptop or phone, take a seat, and enjoy the WiFi-filled air.
Use Hotspot Databases
Would you have guessed that you could go through directories of WiFi hotspot locations before even leaving the house? Well, it is and it is thanks to the awesomeness of WiFi enthusiasts out there who consciously add relevant locations to their preferred platforms such as Wi-Fi Space for free.
Wi-Fi Space
Wi-Fi Space is an online directory where you can locate WiFi hotspots by searching for cities, browsing its location catalog, or interacting directly with its color-coded map.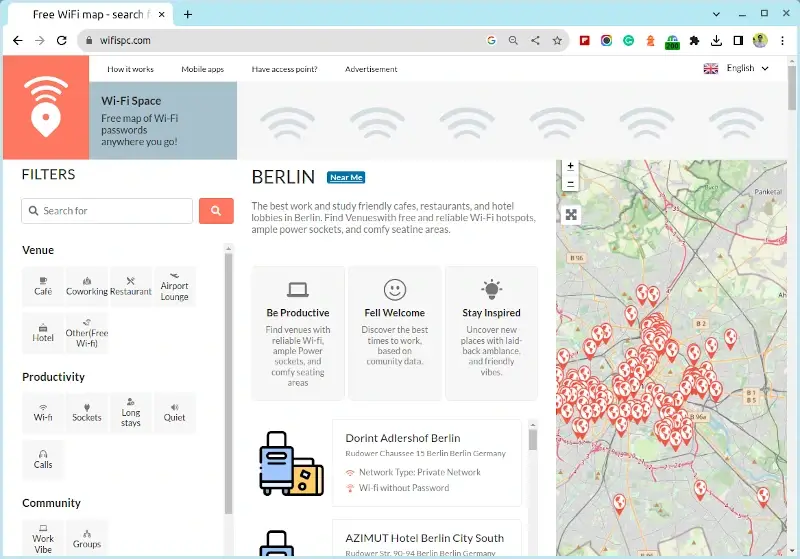 Green signifies the WiFi network is free to use, yellow signifies private networks with known passwords, and red signifies private networks with unknown passwords.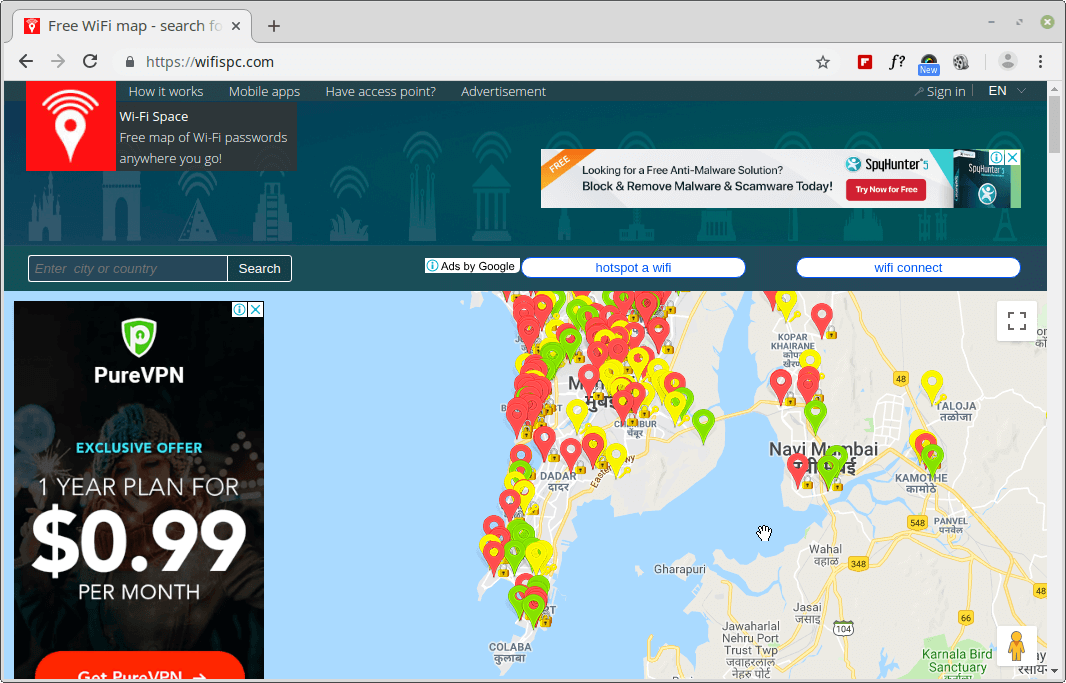 Wi-Fi Space is available to install on Android and iOS and two alternatives for smartphones include Wiman and WiFi Map.
How to Find Hidden WiFi Networks
All WiFi networks have SSIDs (Service Set Identifiers) and that's what shows up as the WiFi name. There are different reasons why people choose to hide their WiFi from unconnected devices but they don't really matter any longer because you can easily make them visible to you using a WiFi analyzer apps for on your laptop or smartphone.
A recommendable mention is Kismet.
Kismet Wifi Network Detector
Kismet is a renowned network detector, packet sniffer, and intrusion detection system for wireless local area networks (WLANs), which operates with any wireless card that supports raw monitoring mode and can detect the presence of both wireless access points and wireless clients.
It aggregates data from multiple networks passively, without establishing any active connections, which makes it particularly valuable for those who wish to monitor networks without being detected.
Its ability to detect hidden networks and glean potentially identifying information from network traffic makes it an essential tool for network professionals and security enthusiasts alike.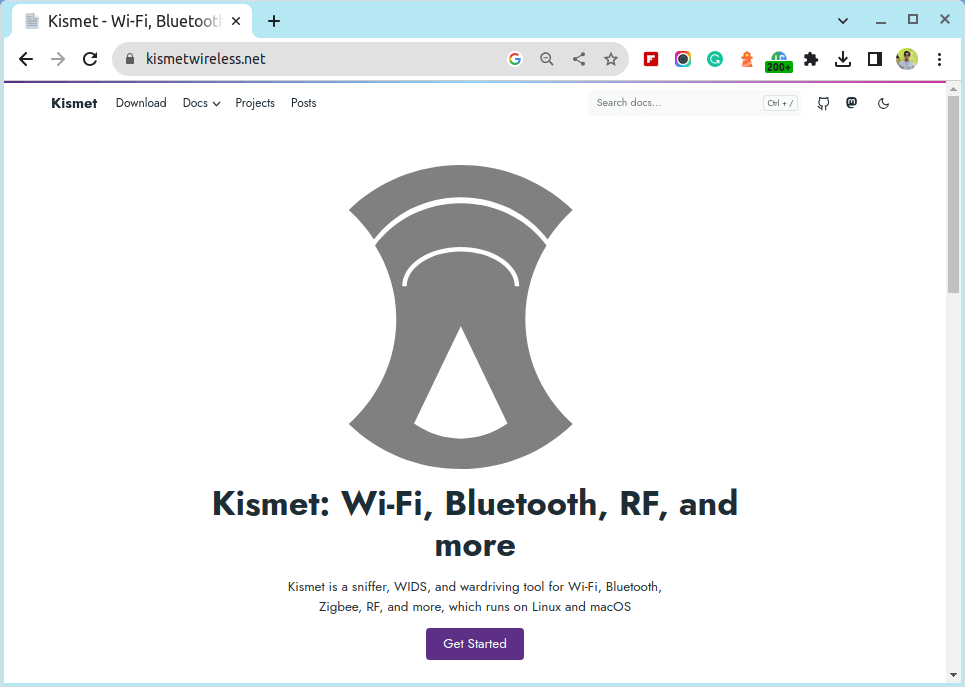 How to Use Wi-Fi-FreeSpot Directory to Find Free Wi-Fi Anywhere
The Wi-Fi-FreeSpot Directory is a valuable online resource that lists locations offering free Wi-Fi access. Catering to travelers and locals alike, this directory provides a comprehensive list of establishments, ranging from cafes and restaurants to hotels and public spaces, where individuals can connect to the internet without incurring charges.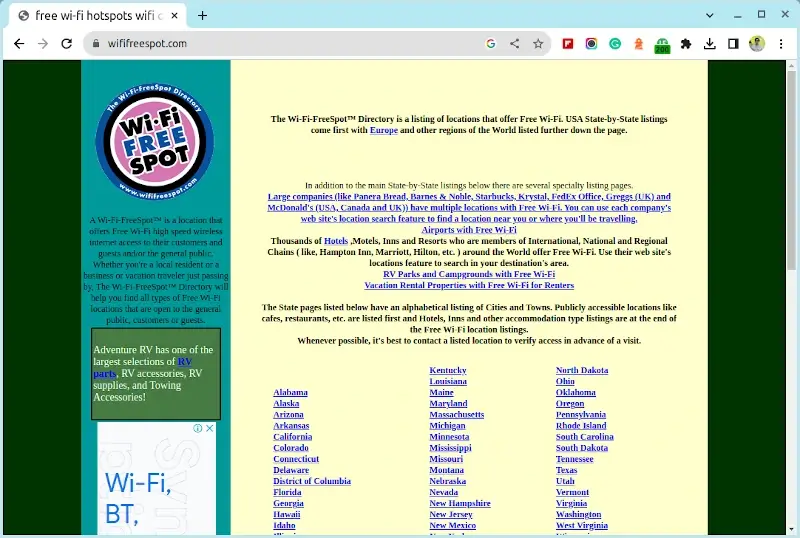 As our world becomes increasingly digital, the demand for constant connectivity has grown. The Wi-Fi-FreeSpot Directory addresses this need, making it easier for users to find reliable internet access points, whether they're in their hometown or traveling abroad.
I hope this article helps you locate (free) WiFi hotspots around you more easily. Please spread the message and if you have any comments and/or suggestions to make feel free to add them in the comments section below.