In our internet-aware world of today, we literally live our lives in the browser – as we basically have more interest with content on the web that allows us to interact with other humans around the world than things we have stored locally on our system – and it had been speculated time and again that most of our computing will eventually be migrated to the web in the next decade.
In the past decade though, it would seem pretty unlikely; but with the advent of Chrome and it's full-fledged bigger brother Chrome OS; what was seemingly an impossibility is now looking to be an actual reality as Google has pushed the boundaries of browser technologies which has also encouraged the likes of Mozilla Firefox stepping up their game including other competitors like Opera, Safari and Edge.
These browsers are very well-known as the major internet surfing tools today; but they are, however not the only ones and neither are they everyone's favorite. We've heard about more than a few browsers using the Chromium blink engine for its flexibility and other varying advantages – all of which are basically direct competitors to Chrome itself – however, they pretty much share the same concept and ideology with very little difference in their scope of operation.
Brave is entirely a new browser built from the ground up with an aim to change the way we interact with ads on the internet in a way that it would profit content producer and the folks using the browser while not sacrificing on the main functions of what a browser ought to be – which include fast, safe and reliable. Brave basically wants a win-win situation for everyone but we'll get into that in more details shortly.
Before we proceed any further, we'd give you a quick breakdown of how browsers make money particularly because Brave's idea of helping evolve the internet includes eradicating the main quirks that are often associated with ads in this day and age.
How do browsers make money?
Browsers have majorly incurred revenue through their partnership with Google, Yahoo, and Bing via web ads. In the case of Google, Chrome is essentially another service of theirs that pretty much makes the rest of their services a lot more accessible since they are all interlinked and connected to your Google account – which is entirely in their favor as they are able to effectively track your internet usage and of course, throw ads (that relates to your internet browsing habits) in your face.
The idea is a tad different for the browsers Google partners with – a prime example being Firefox. Until recently (when Firefox switched their default search engine to Yahoo in the US and other search engines like Baidu and Yandex for other regions to reduce their reliance on Google), it was pretty much a deal between the two companies where Google's search bar was used as the default and whatever revenue it generated via Firefox would be shared between the two companies as per their initial agreement.
As of 2013, Google accounted for a whopping 90 percent to the Firefox's total $314million earnings which was mainly via their established ad revenue agreement.
This was basically how it worked for the internet and other browsers of which you can potentially learn more about on Investopedia.
What is Brave?
Brave is a browser developed by Brave Software – as led by JavaScript's creator and Mozilla co-founder Brendan Eich – and built on the notion of the safety of web users and profitability of web publishers without necessarily violating the privacy of users as the ad industry is notoriously known for.
The web browser creators are ultimately looking to what works for everyone (content providers and end users alike) without necessarily hoarding your data for the purpose of targeted ads.
This is especially sensible given the fact that internet users are rapidly adopting the idea of using adblockers to further reinforce their privacy on the internet and the image below shows clearly how the usage of adblocking solutions have ramped up over the years.
Although, one of Brave's features include adblocking, it's approach to the whole thing is a lot more sensible and acceptable as you'll find out on your way down.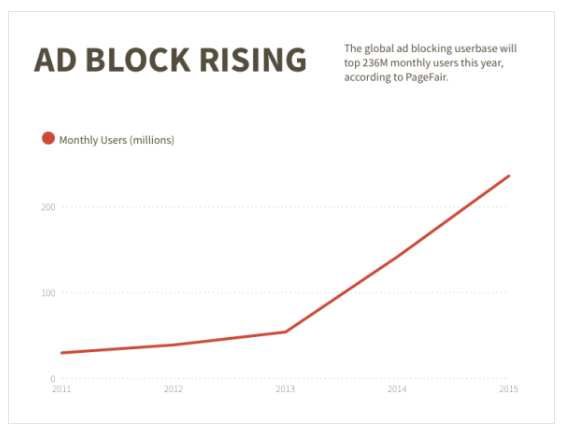 The ad blockers have mostly favored internet users as they can experience faster net load speeds as there are no ads that have to load along with the page; this has on the other affected content creators as they now have to source other means of revenue since their main source of making money is otherwise affected.
With the point above, it then totally makes sense for web publishers and content creators alike to embrace the idea of Brave Software especially when you take a look at the image below that shows connection nodes of the internet as we know it in comparison with Brave's – which clearly explains why we experience slower load times on the standard browser as opposed to Brave's technology which promises to be significantly faster than all the browsers currently available.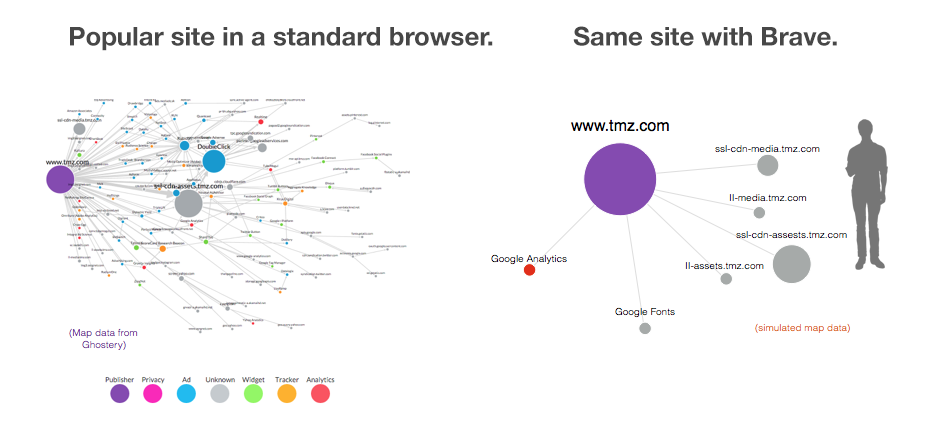 Brave's ad solution which is anti-cloud will only make use of data stored locally in your browser; – basically the direct opposite of current advertising solutions that include creating "profiles in private clouds" which is then used to "serve ads based on those profiles".
However, the browser's form of placing unobtrusive ads on web pages also include learning your browsing habits but with the difference of not being violative as current solutions are fondly known for.
Brave's solution is simple, as evident in this statement, "We have a mission to save the web by increasing browsing speed and safety for users, while growing ad revenue share for content creators".
How does Brave intend to change the status-quo of the browser industry and everything that concerns it?
Did I mention Brave is still new in the browser space? As it was only made public in February the year – in an already competitive space, where Chrome is king with a whopping 60 percent of the browser market followed by Firefox, Safari, MS Edge, and others.
Brave's ideology is no better explained than with what the infographic below entails – provided you take the time to study it.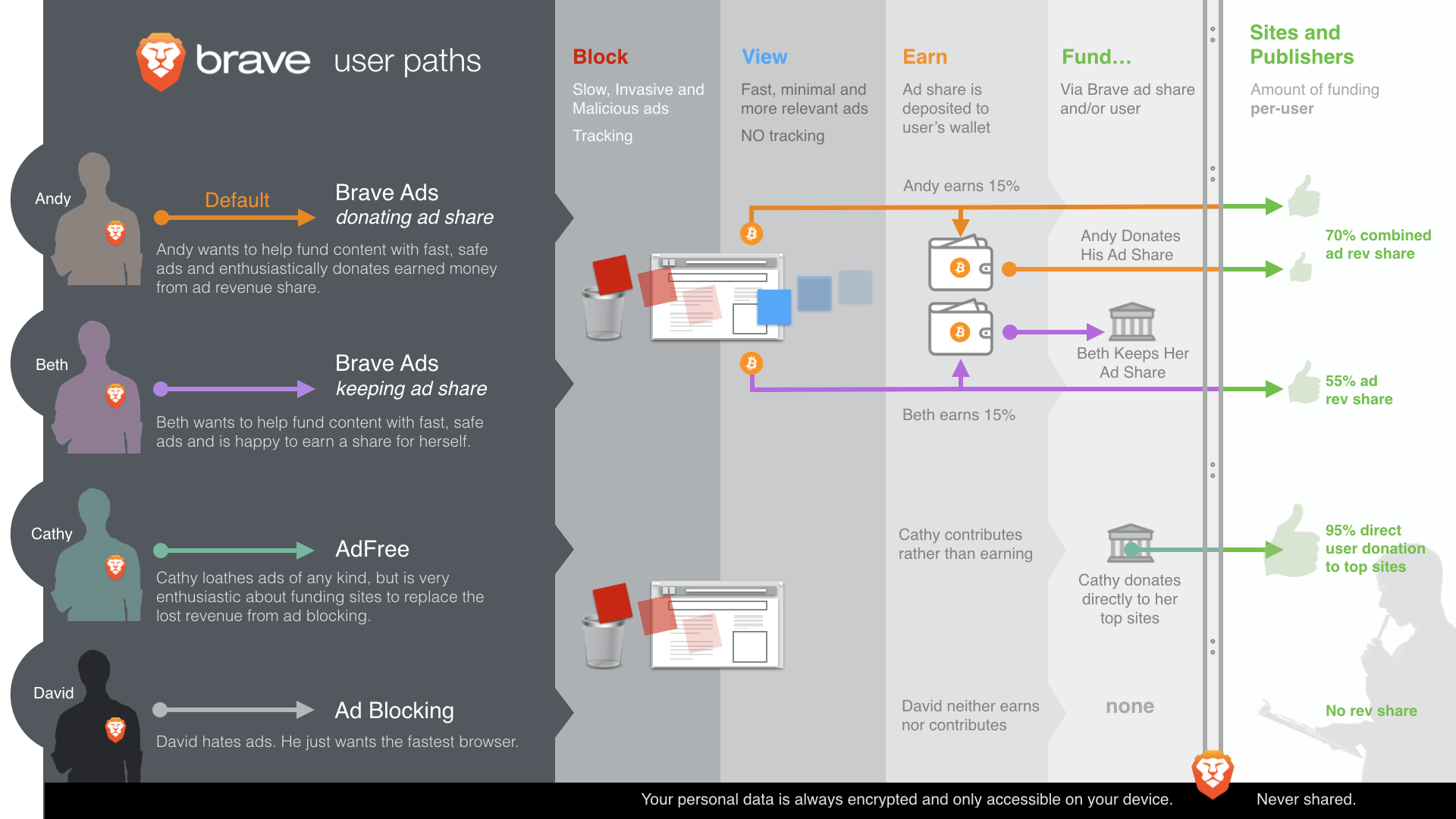 According to Brave Software, "The new Brave browser automatically blocks ads and trackers, making it faster and safer than your current browser. Soon, micropayments and better ads will give users and publishers a better deal."
Brave's ad technology, by the way, utilizes Sonobi's ad network and according to a statement made by Brave Software,
Our ad-matching partner takes a share (15%), we take our share (15%), we reserve the user revenue share of the total payment (15%) for ad-replacement users, and the remaining amount is allocated to the publishers (e.g., 55%).
Which give a clear understanding of how their business model will work once the browser is ready for prime time.
With the infographic and the pie chart below (that details the revenue share from ads), it's rather easy to see why Brave is a compelling option and why it will rake in users a lot easier than expected – however, this is merely my opinion but it's also easy to see how the company, Brave Software differentiates itself from its well-established competitors.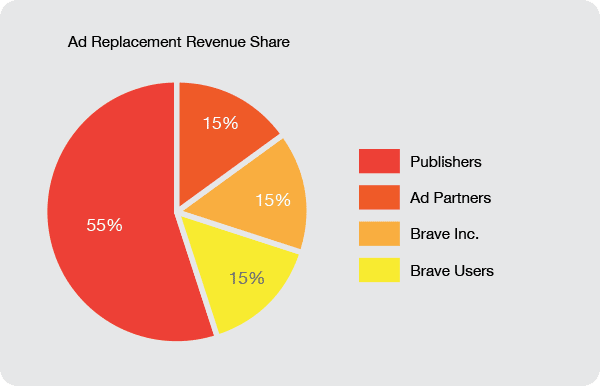 Brave's business model is in summary in the above pie chart but in details, there are two main operational modes of which web users like you and i can decide to be a part of.
The options available are ad-replacement and ad-freemode. The former being the default setup as seen in the inforgraphic above – where you basically donate your share of the ad revenue which is15 percent to to your prefered publishers; while the other, ad freemode, is where you subscribe to your preferred content producers for a fee without having to bother about ads at all.
Brave is currently in beta and doesn't have all its features implemented yet; however, a stable version is expected to be ready sometime later this summer with all the expected functionalities ready to roll.
Brave is also crossplatform and can be downloaded on the most used operating systems which include Windows, MacOS, Linux, iOS and Android.
Bottom line
Brave shows so much potential and i am honestly one of many that will be switching once it hits stable with all the promised features of course.
With everything that Brave Software has going on for it including it's talented team of developers, and a browser that promises to work consistently for both publishers and readers alike (without sacrificing on the most important aspects that concern both parties), we can be sure that we have nothing to lose but rather, a lot to gain.
What are your thoughts on Brave as a browser? Do you see it as a threat to the dominance of Chrome and Firefox? Let us know in the comments below.