I recently wrote on Thetapad and Zim – both are excellent note-taking applications with their specialty geared towards different users. Today, thanks to suggestions from FossMint readers, I introduce to you Cherrytree.
Cherrytree is a free and open source note-taking application with wiki-style text formatting, syntax highlighting, and advanced customizability settings.
Its advanced search function allows you to locate files across the file tree irrespective of their location. It supports keyboard shortcuts, importing and exporting notes, syncing with cloud services like Dropbox, rich text formatting, and password protection to keep your notes secure.
Cherrytree, being a full-featured hierarchical outliner and organizer also allows you to add images, table, links etc, to notes and even save them to PDF.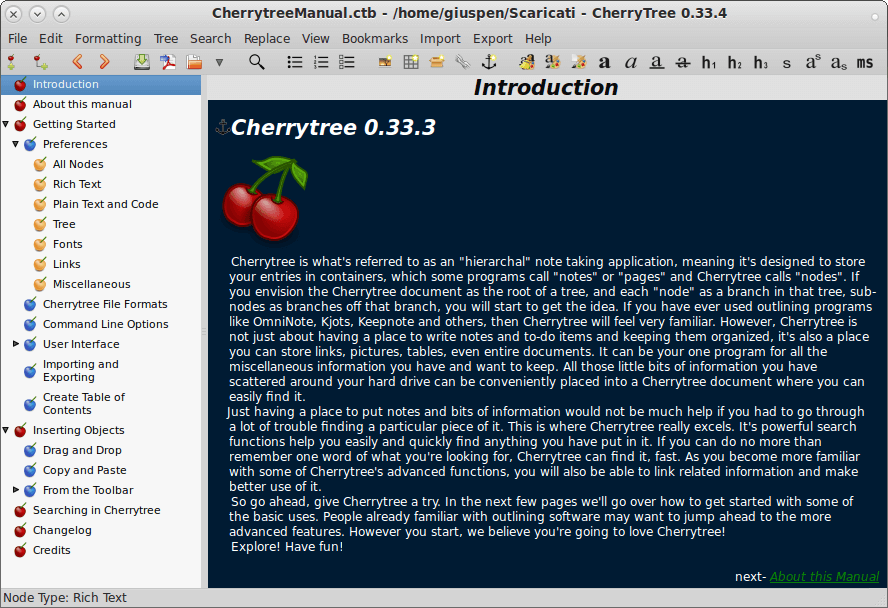 Features in Cherrytree
A resizable app window with a beautiful UI, with the typical note editing layout with toolbars and several command options.
Free and Open source with source code available for contribution on GitHub.
Rich text and syntax highlighting.
Store data in a single sqlite or xml file.
Available in different languages including Turkish, French, Greek, etc.
File directory tree view with drag and drop support.
Customizable User Interface and app preferences including theme, node icons, fonts, background color, etc.
Password protection.
Advanced search.
Export notes to HTML.
Cross-application copying and pasting.
Of course, Cherrytree's feature list goes on longer than the highlights above and even more on its wish list which you can look up on its website's homepage.
Both Zim and Cherrytree are excellent wiki-style note-taking applications but Cherrytree has more functions available to users after a clean installation than Zim does.
And though Zim users can always make use of extensions, Cherrytree seems to be more user-friendly to me. Ultimately, it depends on which app appeals to you more and meets your work needs.
On Debian based distributions such a Ubuntu and Linux Mint, you can install Cherrytree using following PPA.

$ sudo add-apt-repository ppa:giuspen/ppa
$ sudo apt update
$ sudo apt install cherrytree

Other Linux distributions, can follow the download button to try Cherrytree out for yourself and remember to return and tell us how you feel about it.
[mks_button size="medium" title="Download Cherrytree for Linux" style="squared" url="https://www.giuspen.com/cherrytree/#downl" target="_blank" bg_color="#529b30″ txt_color="#FFFFFF" icon="fa-download" icon_type="fa" nofollow="1″]
Which other note-taking wiki-style Linux apps have you used before? Share your experience with us in the discussion box below.