If you are a WordPress site owner, you must know how devastating it can be to be hit by malware. A malware attack can make you lose the SEO rankings while causing data leaks and being quoted as an unsafe site on Google's list, which will eventually block your site on Chrome along with many other issues.
To keep yourself and your site safe from all such happenings, you must regularly scan your WordPress site for malware and follow other sanitization practices. Preventing the occurrence of such issues will keep you away from unwanted problems and long-term damage to your WordPress site.
[ You might also like: 10 Best Automated Backup Plugins for WordPress ]
So, if you are an owner of a WordPress site and want to keep it safe by protecting your site from unwanted threats, we would recommend you to give this post a read and adhere to clean practices to safeguard your site with the best WordPress scanners and vulnerability plugins!
1. Wordfence
Wordfence is one of the most sought-after security tools that is equipped with an impressive firewall that consists of full malware scanning along with additional security features.
The malware scanner can be executed from the inside of your WordPress dashboard to check all the data on the server. The free version of this tool comes with all the scanning features but also houses a limitation i.e., you will have to bear the delay of 30 days for malware recognition signatures.
In case you want to use the real-time malware signatures, you would need to invest in its paid or premium version. Its paid version provides access to the real-time firewall rules.
This tool also checks for other security issues apart from scanning for malware such as weak passwords, out-of-date themes, and so on.
Moreover, this tool can impact the performance due to the scanning of files on your server. Therefore, you should run the scans when the traffic is less to avoid affecting the performance.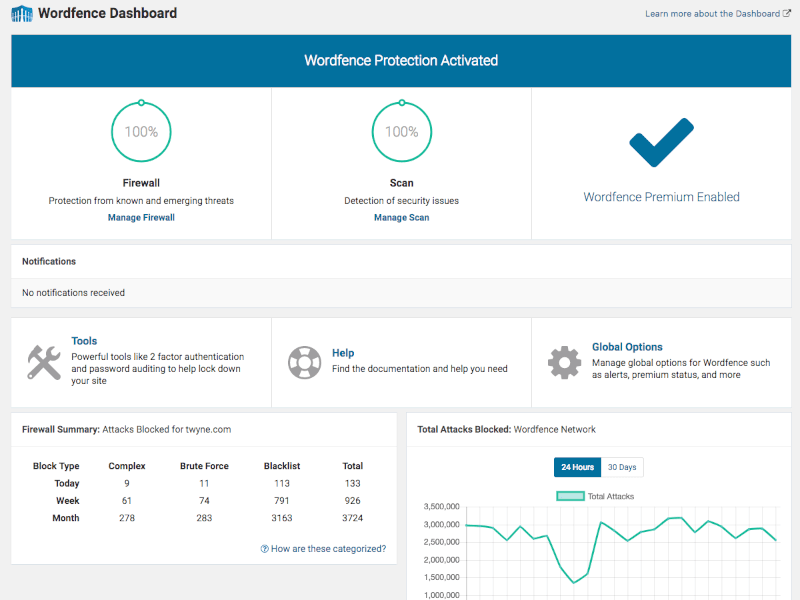 2. Jetpack Scan
Jetpack Scan malware scanning tools are integrated with Jetpack Backup, which uses the same user-oriented approach as MalCare. This tool allows the Jetpack Backup to create a backup of your site on a daily basis to a secure off-site location.
Post this, the Jetpack Scan runs a check to detect malware on the backup version of your site without hampering the performance. If any issue is detected, you will be immediately notified via email so that you can resolve the issue in a single go.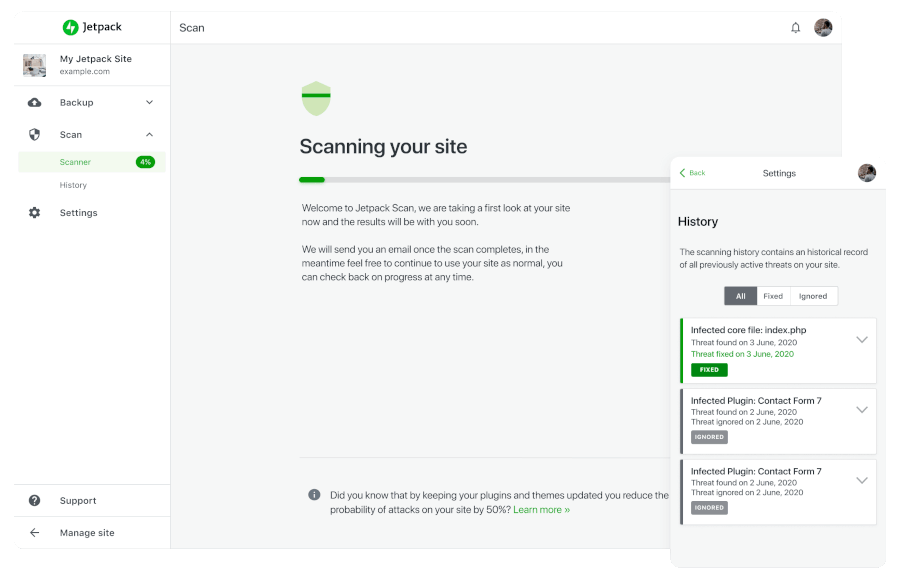 3. MalCare
MalCare, a malware scanner, and a WordPress security plugin belong to the house of "BlogVault WordPress backup service". This unique doesn't work by scanning the data, which implies that it won't impact the performance.
This tool rather copies all the files from your server to its own server and then runs the scan over there. It runs a full scan of the files without having any negative impact on the performance. It automatically follows the same process on autopilot mode to protect the site and detect issues as soon as they occur.
Its paid version provides removal or fixing of issues with a single click by easily eliminating the malware that is detected. It additionally has a basic firewall including other security features.
This tool allows you to scan the files at no cost but, you will need the paid version to see which all files are infected. This means, you can run the scan for free but to fix the issue, you need to shell off money!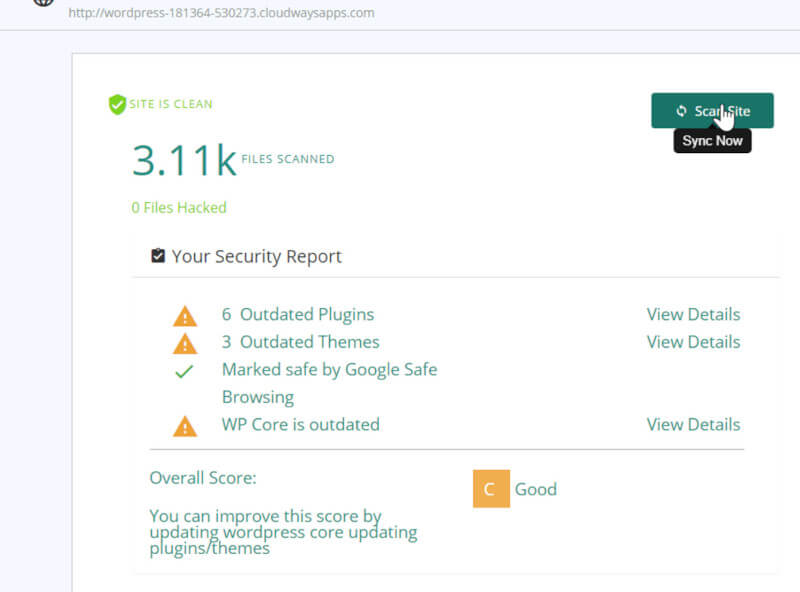 4. Sucuri SiteCheck
Sucuri SiteCheck is a free scanner to detect malware from a well-known company Sucuri! This tool lets you scan the site from the Sucuri SiteCheck website or the Sucuri Security plugin. This tool shows your site's summary of the issues found. It additionally tells your site's listing in blacklists, if any.
This tool is very simple to use, but it comes with a limitation. It scans for only those files which are on the front end of your site. It doesn't follow a full scan on your server, maybe that's the reason it's totally free.
It can detect the malware on the front end but is not capable of catching the malware found anywhere else on the server of your site. Therefore, it makes a suitable choice if you quickly want to scan for malware on your site.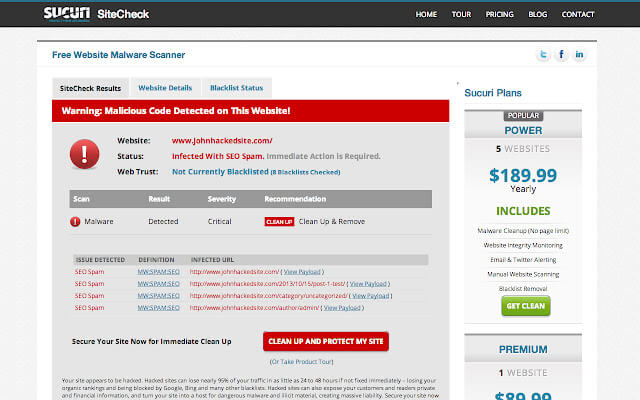 5. Cerber Security
Cerber Security is a WordPress security tool that comes with a dedicated scanning capability. It works by hardening your site to protect it from threats using its firewall. To ensure nothing goes wrong, it lets you run a complete check for all the files on your server.
You can either choose to run a Quick Scan to scan for files with executable extensions only or, run a Full Scan to check each file on the server. It additionally lets you run manual scans or setting the automatic malware scanning. It also checks for other issues like the integrity of WordPress core, plugins, and themes.
If malware is detected by this tool, it will present you with an option to delete or quarantine it. It also allows configuring to auto-quarantine the high-risk files to protect the site instantly.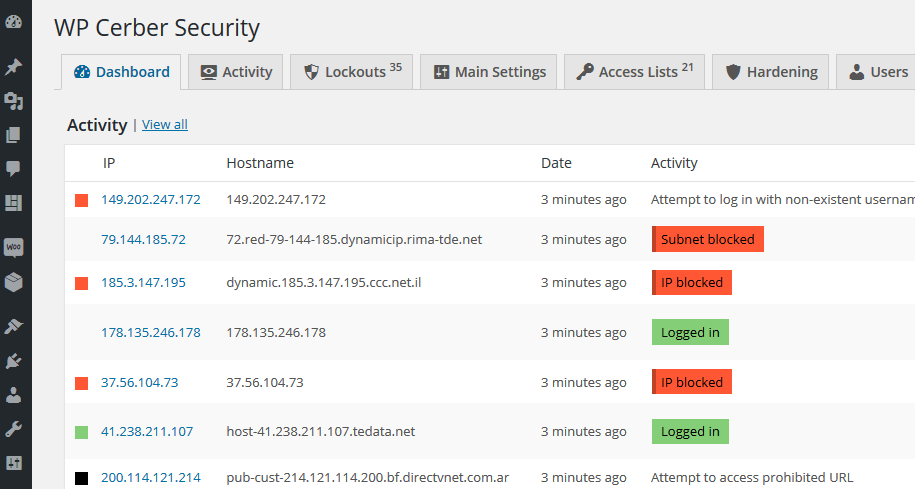 6. WPScan
WPScan is more of a WordPress vulnerability scanner that helps in detecting vulnerabilities on your site and then harden them. This tool works by automatically checking the vulnerabilities in your site's plugins, core, and themes.
It also detects other issues like WordPress username enumeration, publicly accessible wp-config.php, etc., which means that it doesn't really check for malware but still is essential to prevent the occurrence of malware.
This open-source script sponsored by Automattic either works by installing on your server or can be used on any of the hosted implementations.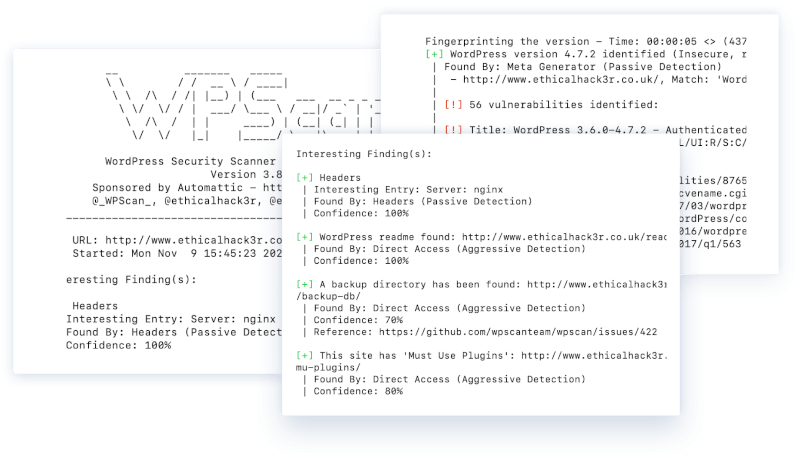 Conclusion
Malware Scanner and Vulnerability tools are essential to protect your WordPress site and keep it running. With the above-given options, you can select any based on your needs to safeguard your site!