In this contemporary technological landscape, where automation is reshaping our world, AI tools have the potential to revolutionize how individuals approach Twitter engagement. These AI Twitter tools offer capabilities for engagement, analysis, and optimization of your Twitter presence.
Whether you're a social media manager or an influencer aiming to excel and enhance your online footprint, consider exploring the AI Twitter tools listed below to elevate your performance on this platform.
1. Tweetmonk
Tweetmonk is an AI-based Twitter tool that specializes in content scheduling and analytics. Its user-friendly platform enables you to schedule tweets, analyze engagement metrics, and track performance.
With advanced AI algorithms, this tool recommends optimal posting times and content ideas which makes sure that your tweets reach the right audience at the right moment.
Tweetmonk is a valuable companion for businesses and individuals who want to improve their Twitter presence with data-driven insights.
Features of Tweetmonk:
Content scheduling
Analytics and performance tracking
AI-driven content recommendations
Keyword analysis for tweet optimization
Competitor analysis for Twitter strategy improvement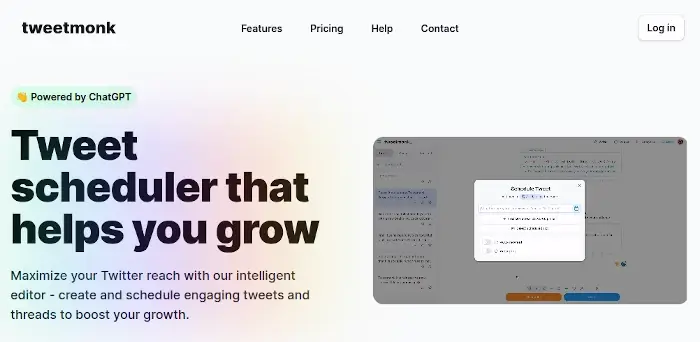 2. Tribescaler
Tribescaler places its primary emphasis on cultivating audience growth and engagement on Twitter. With the help of AI-based algorithms, it identifies and engages with Twitter users who match your target audience.
Tribescaler helps you elevate your follower count and drive interactions with relevant users. Its automation capabilities greatly enhance the efficiency of identifying and engaging potential followers, rendering it a time-saving asset for individuals seeking to expand and fortify their presence on Twitter.
Features of Tribescaler:
Audience growth and engagement
Automation for finding and engaging with potential followers
Analytics for measuring follower acquisition
Segmenting followers into targeted groups
Trend analysis to discover popular topics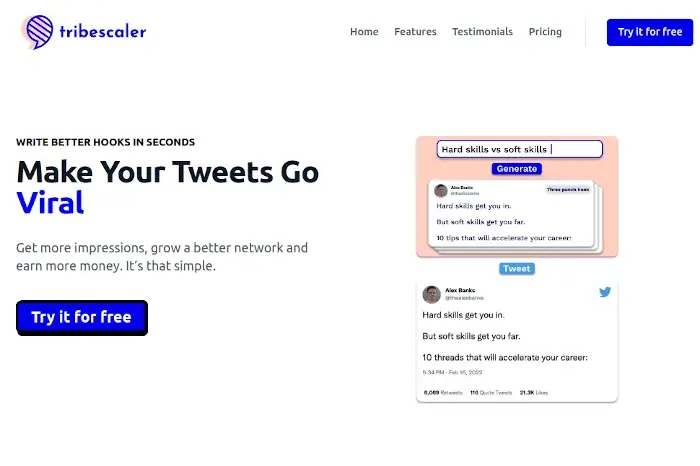 3. Postwise
Postwise is an AI-powered Twitter management platform designed for content optimization. It analyzes your tweet's performance and provides insights to help you maximize audience engagement.
Armed With content recommendations and predictive analytics, this tool assists you in understanding what works best for your audience.
Postwise enables you to create more impactful tweets and refine your Twitter strategy, which ultimately leads you to better results and a stronger Twitter presence.
Features of Postwise:
Content optimization
Predictive analytics
Tweet performance insights
Real-time tweet recommendations
Engagement metrics to assess tweet impact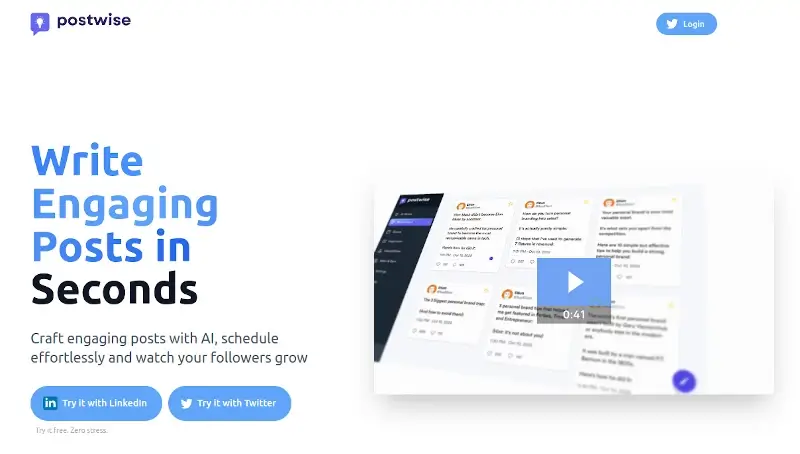 4. Tweetlify
Tweetlify is an AI Twitter tool dedicated to refining tweet creation and optimization. It excels in generating captivating and contextually relevant tweets for your audience by harnessing natural language processing to ensure coherence and engagement.
Moreover, Tweetlify provides valuable keyword suggestions and hashtag recommendations to enhance the discoverability of your tweets.
Whether you're a social media manager or an individual seeking to elevate the quality of your Twitter content, Tweetlify empowers you to craft tweets that resonate and excel on this dynamic platform.
Features of Tweetlify:
Tweet creation and optimization
Natural language processing for coherent tweets
Keyword and hashtag suggestions
AI-driven content categorization
Automated tweet scheduling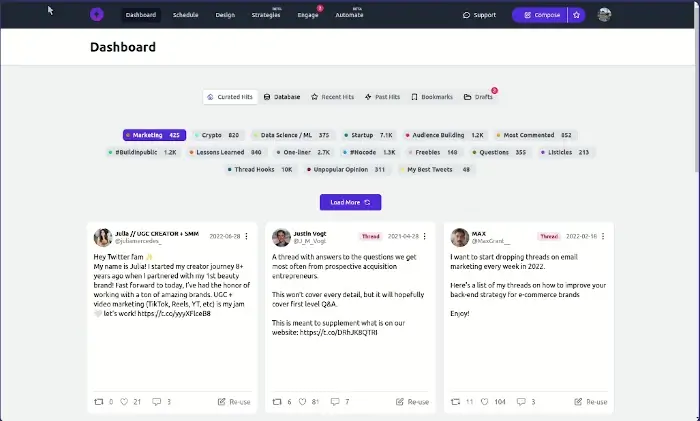 5. TweetAI
TweetAI is an advanced Twitter tool that specializes in generating tweets and relevant trend tracking. Leveraging AI and machine learning, it delivers immediate insights into Twitter's trending topics and discussions.
TweetAI is an invaluable asset for journalists, social media marketers, and anyone eager to remain well-informed about the latest happenings on Twitter, offering a powerful means to stay ahead of the curve in this dynamic platform.
Features of TweetAI:
Real-time trend tracking and insights
Data-driven information on trending topics
Sentiment analysis for understanding topic emotions
Competitor trend analysis
Historical trend data for in-depth insights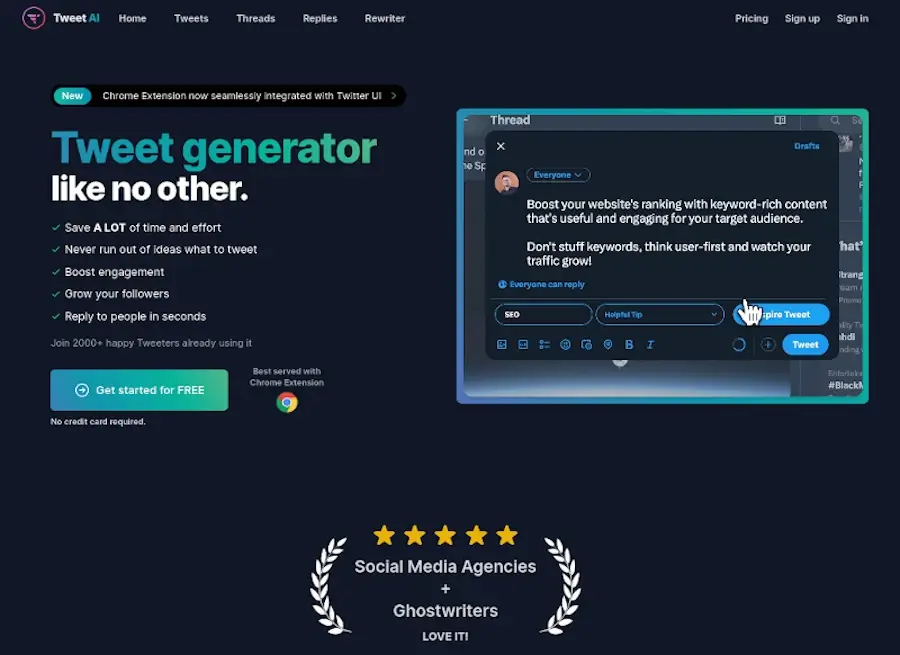 6. Tweet Hunter
Tweet Hunter is a go-to AI tool for Twitter audience analysis and segmentation. It uses AI for identifying and categorizing your Twitter followers which helps you understand your audience better.
Segmenting followers into relevant groups empowers you to tailor your content and engagement strategies for optimal impact. Whether your goal is targeting specific demographics or launching personalized campaigns, leverage Tweet Hunter to elevate your Twitter presence.
Features of Tweet Hunter:
Audience analysis and segmentation
Enhanced understanding of Twitter followers
Targeted content and engagement strategies
Automated audience engagement
Keyword analysis for content personalization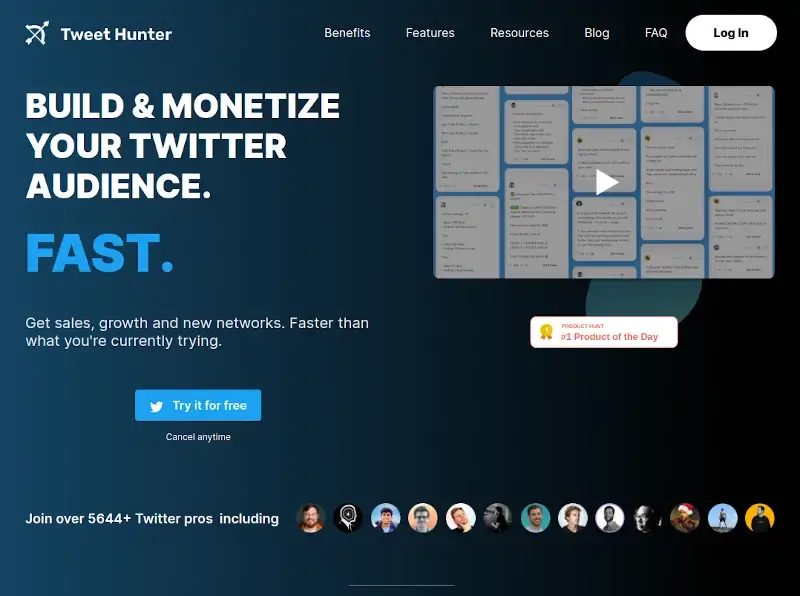 7. Cocoleco
Cocoleco is an AI Twitter tool that uses AI algorithms to identify trending topics and popular content on Twitter.
You can set up automated content curation and sharing, which makes sure that your Twitter feed is always fresh and engaging. Cocoleco also offers content scheduling and analytics, which makes it a versatile tool for maintaining an active and captivating Twitter presence.
Features of Cocoleco:
Content curation and sharing
Trending topic identification
Content scheduling and analytics
Hashtag recommendation for tweet optimization
Multi-platform content sharing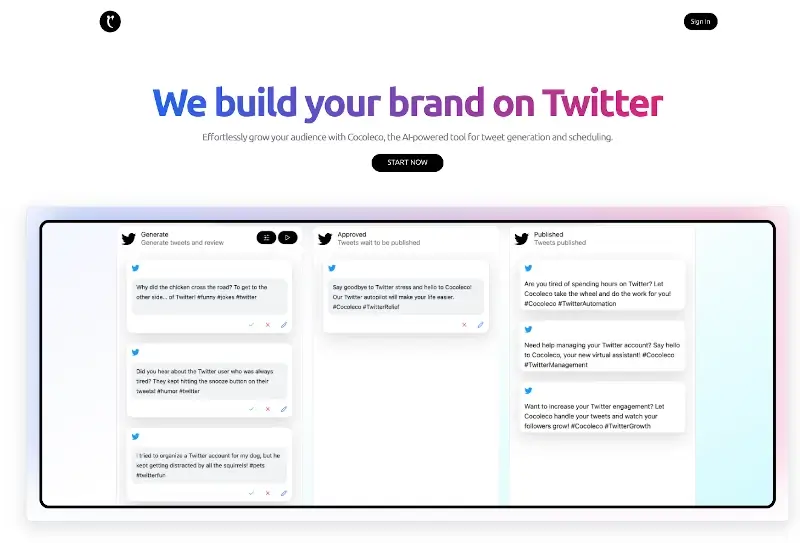 8. SocialPilot
SocialPilot is a comprehensive social media management platform with AI capabilities designed for Twitter. One of its fantastic features is intelligent content scheduling, SocialPilot utilizes AI to optimize your posting schedule, which guarantees that your tweets will reach the right audience at the best times.
Furthermore, it offers content ideas and suggests hashtags to amplify and enhance tweet visibility. SocialPilot is an excellent choice for social media managers and businesses seeking efficient and data-driven Twitter marketing strategies.
Features of SocialPilot:
Intelligent content scheduling
Content suggestions and hashtag recommendations
Data-driven Twitter marketing
In-depth analytics for tweet performance
Team collaboration and approval workflows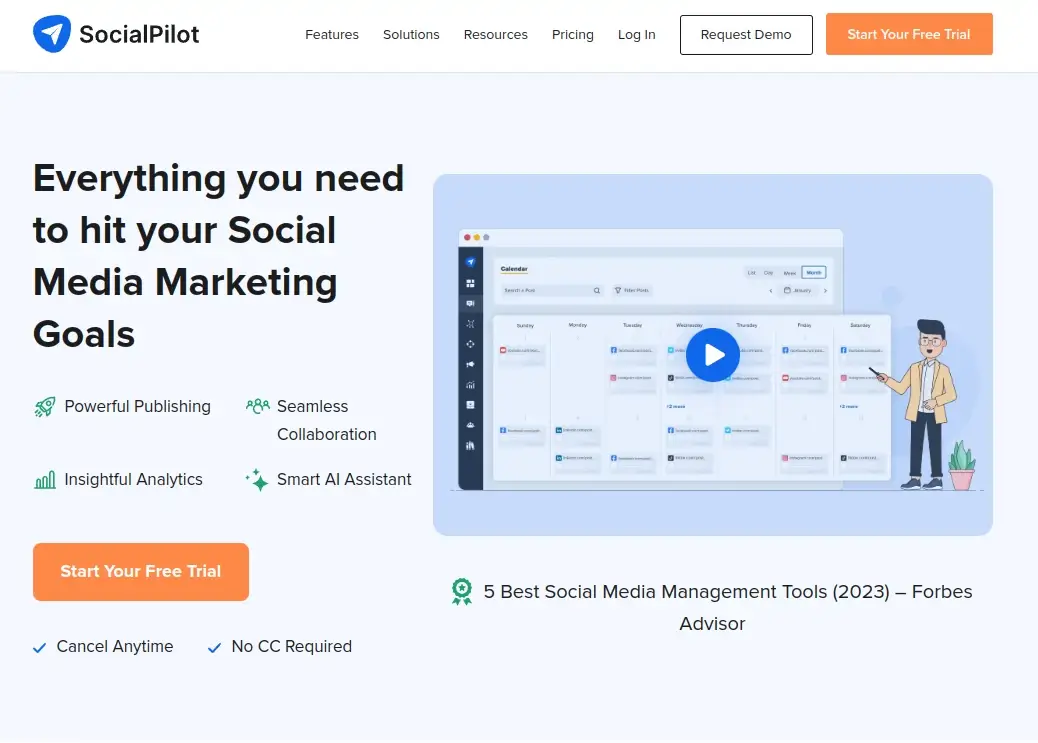 9. ThunderClap
ThunderClap is an AI-based Twitter tool that uses AI to analyze Twitter conversations and identify sentiment trends related to your brand or topics of interest. It helps you extract audience reactions and make data-driven decisions to improve your Twitter strategy.
ThunderClap is essential for businesses looking to maintain a positive brand image and respond proactively to audience sentiment.
Features of ThunderClap:
Sentiment analysis for brand and topic monitoring
Real-time audience sentiment insights
Competitor sentiment analysis
Historical sentiment data for trend analysis
Sentiment-based content recommendations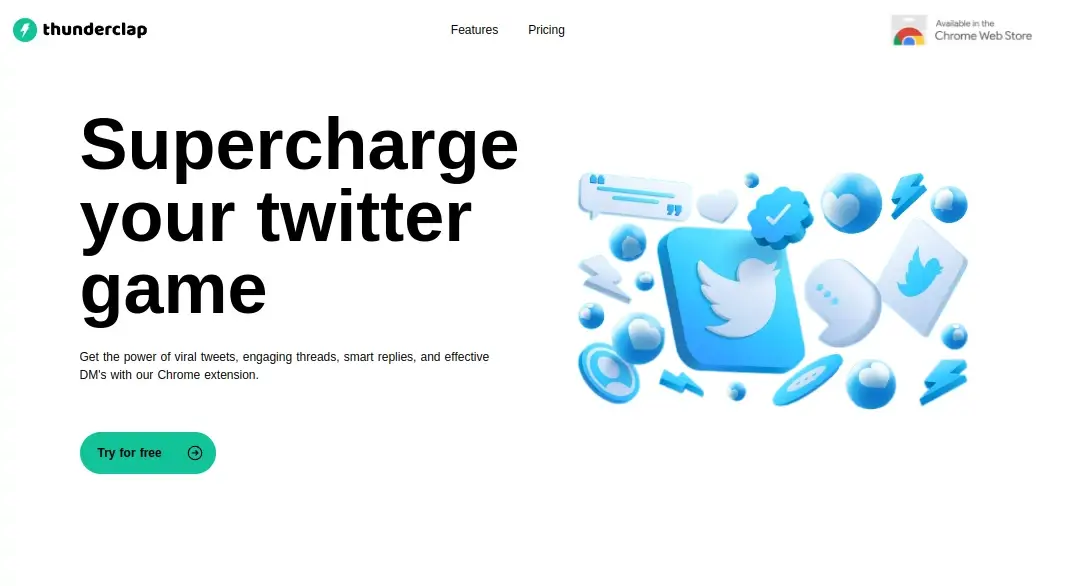 10. Trumpethouse
Trumpethouse is an AI Twitter tool designed for social media analytics and competitive intelligence. It uses AI to track and analyze the Twitter activity of competitors.
More specifically, by gaining a competitive edge, you can refine your own Twitter approach and outperform competitors in your niche. Trumpethouse is a valuable resource for businesses aiming to stay ahead in the Twitter landscape.

Features of Trumpethouse:
Competitor analysis
Insights into competitors' Twitter strategies
Competitive edge in your niche
Competitor performance metrics
Competitor audience analysis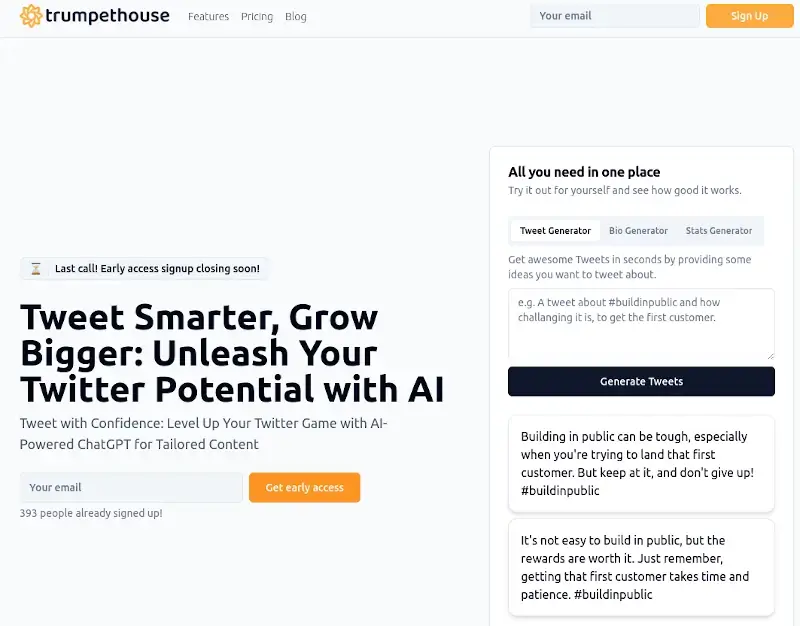 11. TweetHub
TweetHub is a powerful AI Twitter tool that provides trend analysis and content recommendations, which helps you stay up-to-date with popular topics and make sure that your content is always relevant. Its analytics feature permits you to measure the impact of your tweet, providing valuable insights into engagement and performance.
TweetHub supports audience segmentation and targeting, so you can connect with the right Twitter users effectively.
Features of TweetHub:
AI-driven content creation
Tweet scheduling and optimization
Trend analysis and content recommendations
Analytics for measuring tweet impact
Audience segmentation and targeting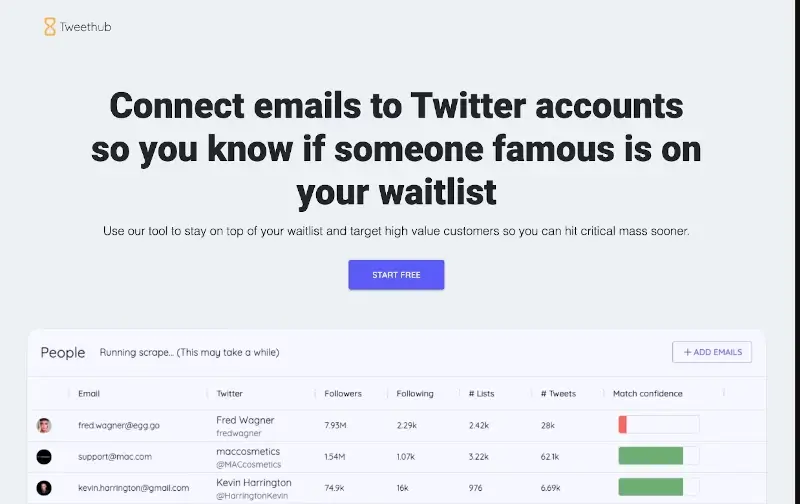 12. Tweet Writer
Tweet Writer is an AI tool that can be utilized for tweet creation and optimization. It generates compelling tweets using AI-driven language models. Tweet Writer also offers hashtag and keyword suggestions to boost discoverability.
Whether you're a social media manager or an individual looking to improve the quality of your Twitter content, use Tweet Writer and deliver high-quality tweets.
Features of Tweet Writer:
Simplified tweet creation
AI-driven language models for tweet generation
Hashtag and keyword suggestions
Customizable tweet templates
Tweet performance tracking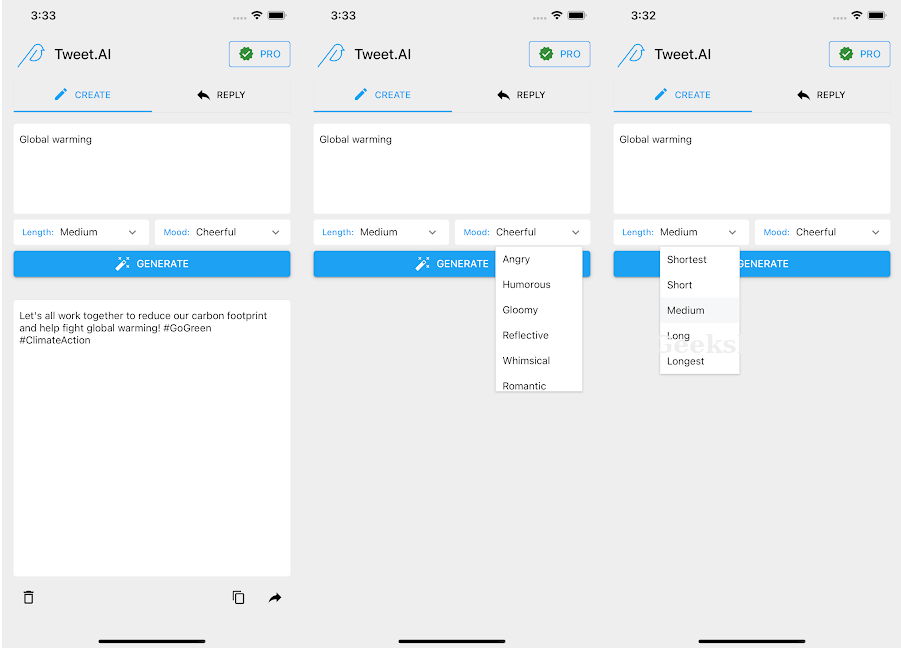 13. Cookup
Cookup is an AI Twitter tool designed for creating engaging and relevant tweets. It can generate tweets on several topics, which assist you to maintain a consistent and active Twitter presence.
Whether you need to schedule tweets in advance or share real-time updates, use Cookup as it is one of the best assets for Twitter content creators and marketers.
Features of Cookup:
AI-powered tweet generation
Content scheduling and automation
Consistent and engaging Twitter content
Trend-based tweet creation
Keyword analysis for content relevance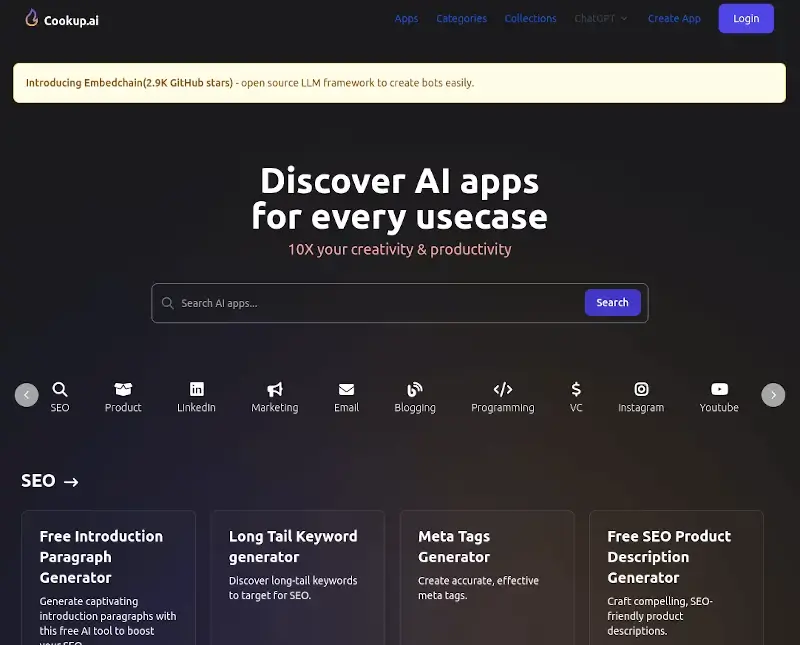 14. Flight Path
Flight Path is an AI-powered Twitter analytics tool that provides in-depth insights into tweet engagement, reach, and impact. It helps you understand which tweets are most effective and which strategies drive the best results.
By offering detailed analytics, Flight Path allows you to refine their content and optimize your approach for greater Twitter success.
Features of Flight Path:
Detailed tweet performance metrics
In-depth insights into tweet engagement
Data-driven content optimization
Tweet performance trend analysis
Real-time engagement tracking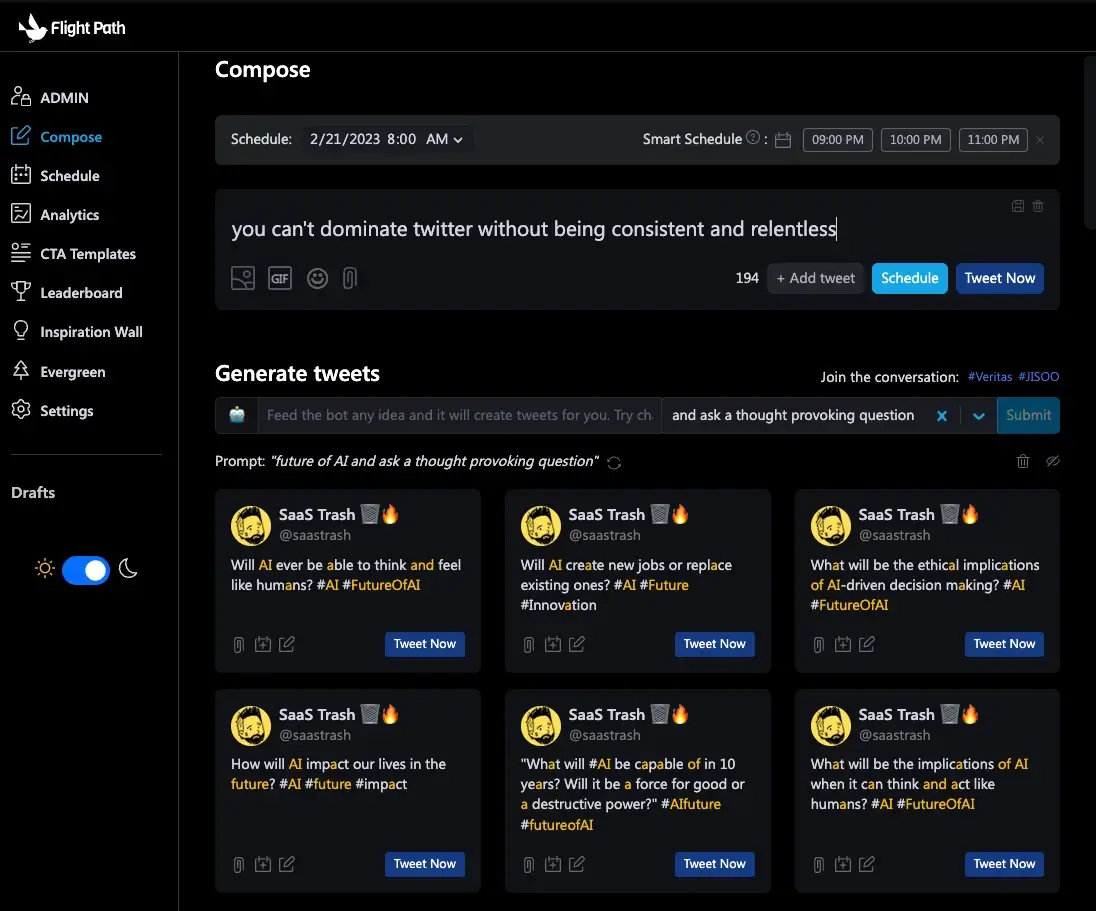 15. TweetFox
TweetFox is an AI Twitter tool designed for advanced content scheduling and analytics. It utilizes AI algorithms to determine the optimal times for posting tweets, which consequently improves visibility and engagement. It also provides detailed analytics, including performance data and audience insights.
TweetFox is a valuable resource for social media managers and businesses looking to maximize the impact of their Twitter content and refine their strategy based on data-driven insights.
Features of TweetFox:
Intelligent content scheduling
Comprehensive analytics and audience insights
Maximized tweet impact and visibility
Content recommendation for tweet optimization
Automated content sharing across platforms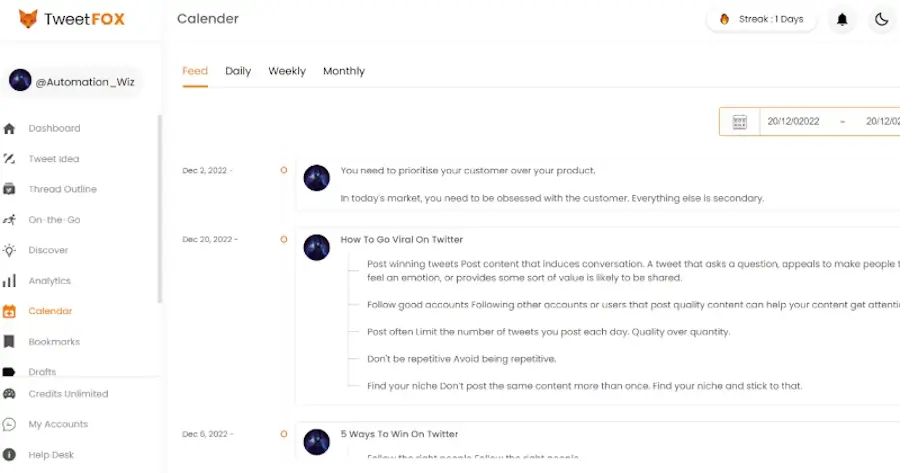 Conclusion
The future of Twitter management is now based on the usage of AI Twitter tools that allow you to tweet smarter, engage better, and analyze trends effectively. Moreover, these AI Twitter tools can improve your strategy to watch your presence reach new heights.
So, use these tools, and step up your Twitter game for a better reason than ever!