Google Analytics is a website analytics service developed and maintained by Google for providing users with relevant statistics on how Internet surfers find and use their websites. The software offers features such as Return on investment (ROI) tracking, sifting and sorting website visitors with several dimensions, etc.
How does it work? To put things simply, it uses browser cookies to track user website workflow on websites and ultimately provide business owners with enough insight to make design and product decisions that will boost their portfolio. It is completely free of charge.
While Google Analytics is free, there are several plugins that make it a lot easier to work with even as a non-techie, and today, our focus is on the list of the best plugins you can use on your WordPress website.
1. MonsterInsights
MonsterInsights is a beautiful and easy-to-use WordPress plugin and arguably the #1 Google Analytics plugin for WordPress with over 2 million active installs. It offers users a Google analytics dashboard, enhanced eCommerce operations, EU compliance, event tracking, form conversion tracking, and WooCommerce tracking.
MonsterInsights is easy to install and setup and it is free to use. However, you can shell out some cash for advanced features with a 14-day money-back guarantee starting at the price of $99.50 annually.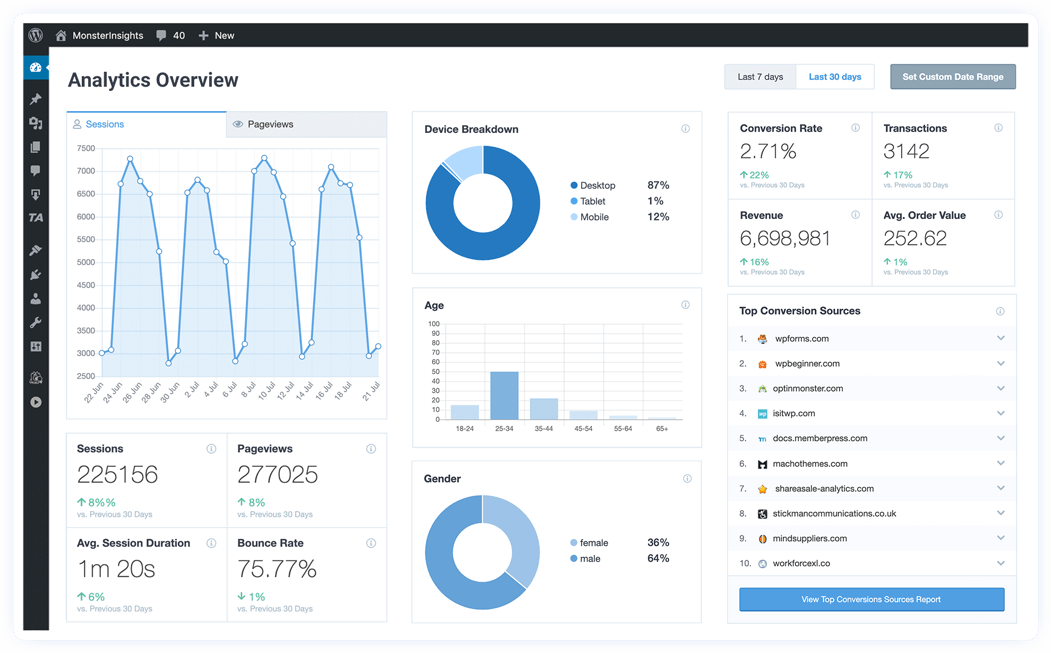 2. Analytify
Analytify enables you to get the best out of Google Analytics by showing you statistics on social media, mobile devices, browsers, and geographical interest points all in RealTime. It is free to install on WordPress with basic features such as support for SEO optimization, general stats on sessions, page views, average time on pages, city, country, and top referrer lists, etc.
Analytify is a free plugin on WordPress but it offers payment plans for users depending on their type of business. See that on the site's official pricing page.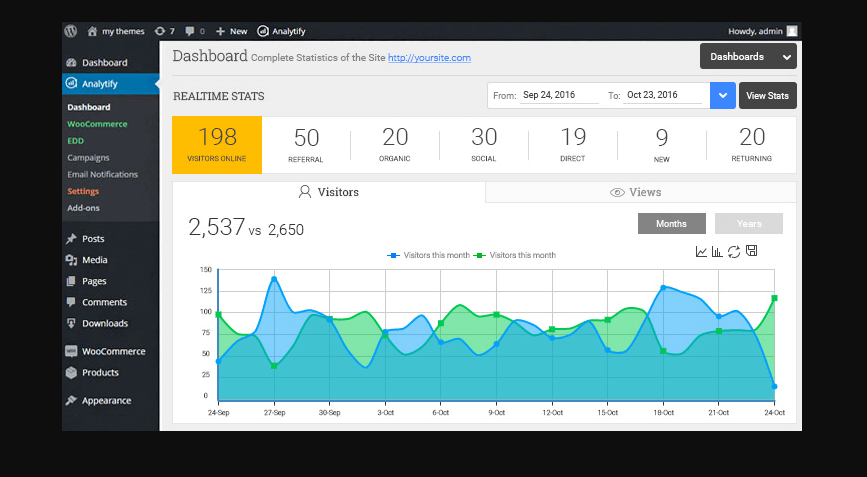 3. 10Web Analytics
Google Analytics by 10Web is an easy-to-use plugin with which you can set and manage goals, create custom dimensions, and view Google Analytics. 10Web Analytics gives you access to different types of reports from your dashboard with the ability to display them on the appropriate pages, export CSV and send emails, receive notification alerts, filter tracked data, and much more.
10Web Analytics is open-source and free to use. However, the company charges for extra features such as Google AdSense and AdWords reports in 3 packages, Basic, Standard, and Advanced with the first package costing $30.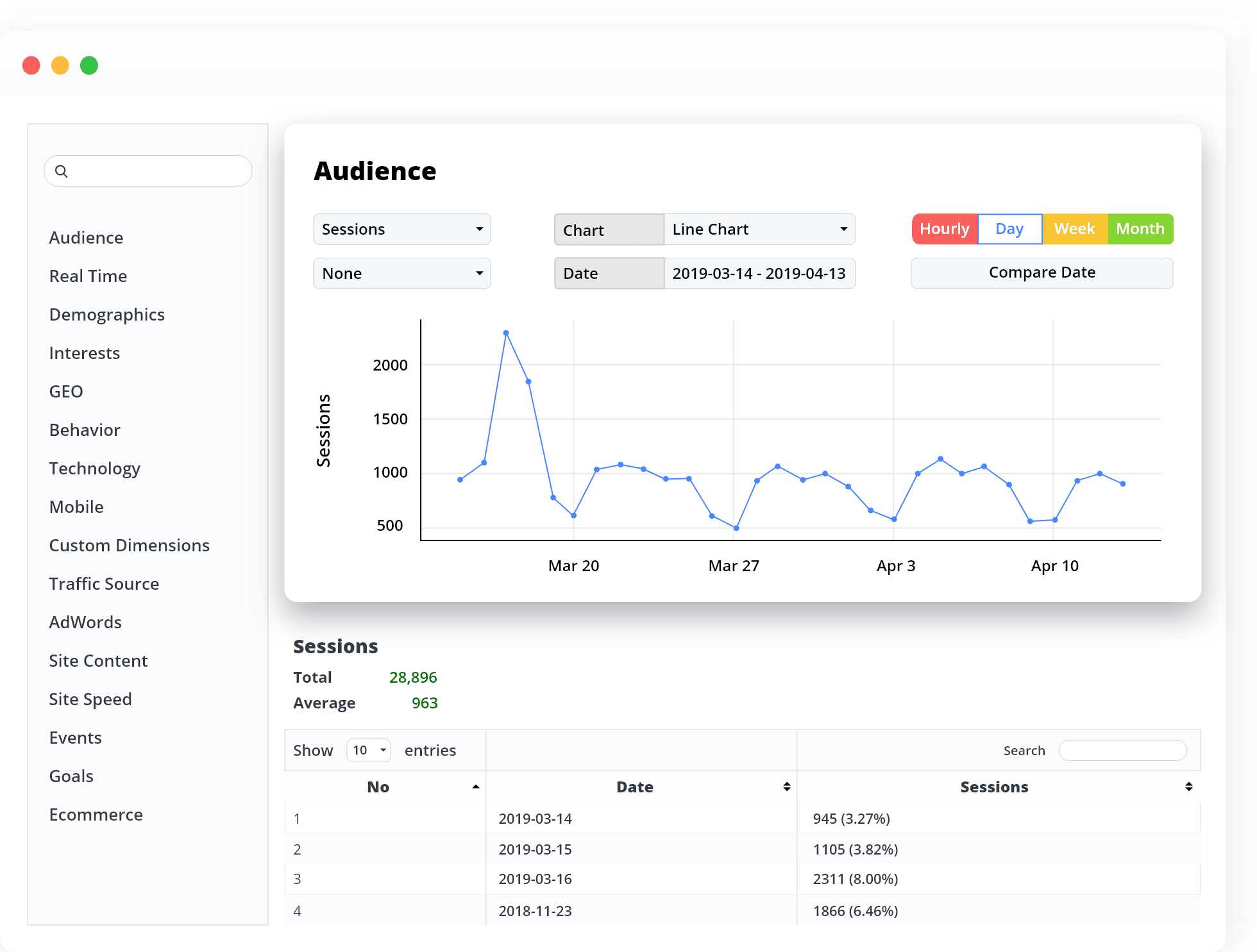 4. GA Google Analytics
GA Google Analytics is a fast and lightweight plugin that enables Google Analytics for entire websites. Although lightweight and speedy, its features include tracking code in header and footer, admin-type options, support for plugins to extend its functionality, automatic synchronization with the latest tracking code, etc.
While GA Google Analytics is open-source and free to install, it offers additional features that are only available in the pro versions.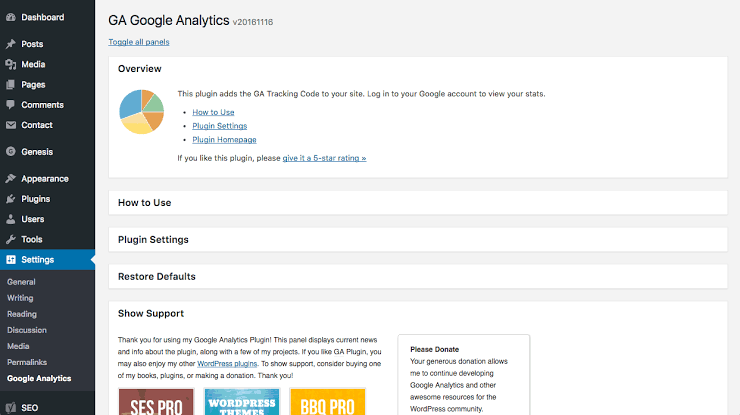 5. Google Analytics Dashboard for WP
Google Analytics Dashboard for WP is a high-ranking plugin that enables you to use the latest Google Analytics tracking to collect insightful statistics about your website from the comfort of your WP dashboard. Its features include universal analytics, file tracking, GDPR compliance, event tracking, enhanced link attribution, custom dimensions, etc.
Google Analytics Dashboard for WP is released under the GPLv2 license thus it is free and completely open-source.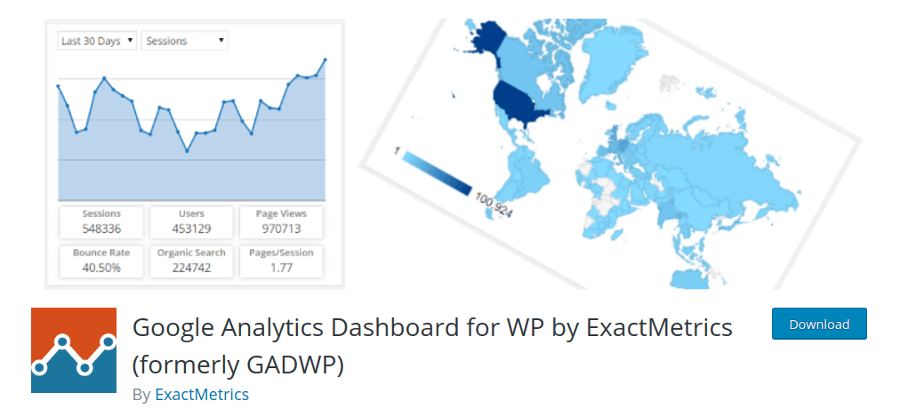 6. Enhanced Ecommerce Google Analytics Plugin
Enhanced Ecommerce Google Analytics Plugin gives you the ability to track user behavior and use the insights from collected data to make informed decisions that will boost profit.
Its features include quick and easy installation, tons of options for working with carts and products, several types of reports, local currency, IP anonymization, etc. Enhanced Ecommerce Google Analytics Plugin is built for WooCommerce on WordPress.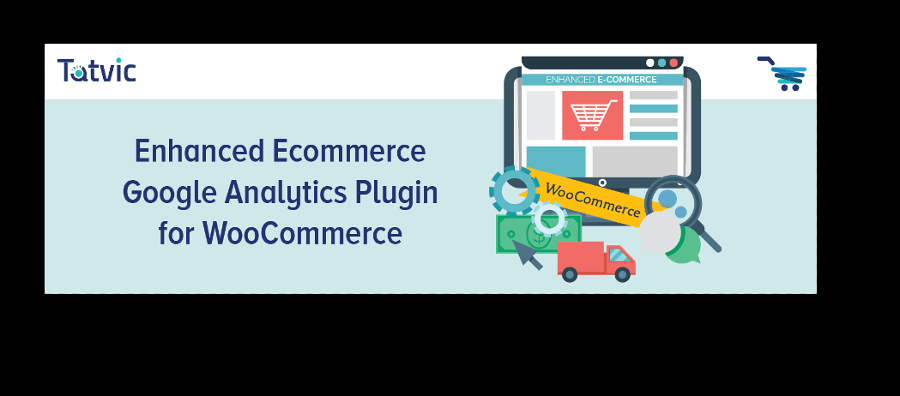 7. Google Analytics WD
Google Analytics WD is a freemium WordPress plugin that enables you to view reports by Google Analytics right from within your dashboard. It ships with a variety of options for functionality, usability, and customization.
It is free to install but with a limited feature set. You'll need to shell out at least $30 for a feature set that includes advanced GA reports, Ecommerce reports, page and post reports, etc.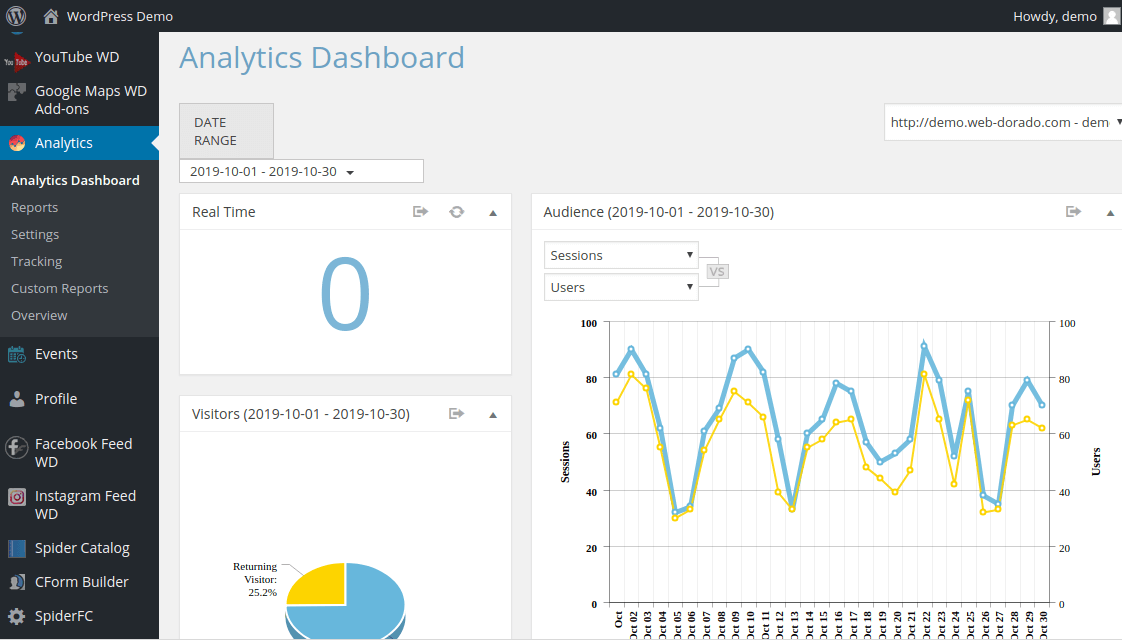 8. WP Google Analytics Events
The WP Google Analytics Events enables you to send events to Google Analytics when a user scrolls to a point of interest on your website, or when he clicks on elements of interest (like an ajax button, videos,etc.) on the page. Say, for example, you can create an event when a visitor scrolls to and views your pricing table.
What's even cooler is that you can do all this without writing a single line of code. So instead of writing lines of JavaScript as you will need to do when working with other plugins, just use the UI to create a set of logical event-driven goals and you're good to go.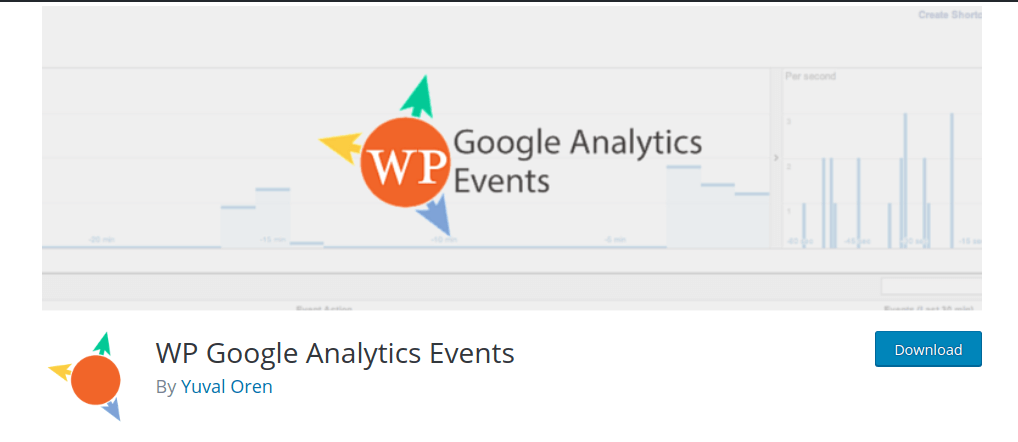 9. WP Statistics
WP Statistics is a free and advanced statistics plugin that enables WordPress users to collect complete information about their website's visitors. It is easy to install and configure thanks to its user-friendly interface.
WP Statistics also offers other features such as WP Roles, support for hashing IP addresses, support for GeoIP, referring websites, statistical reporting emails, visitor's city recognition, stunning graphs, and visual informatics, etc. It is free to use and has a premium subscription plan if you want to cop extra features.

Congratulations on making it to the end of today's list. All the above-mentioned plugins are designed to work nicely with WordPress and seamlessly with Google Analytics so all you need to do is decide which one fits your business needs best.
Do you have any experience with the plugins on our list? Perhaps you've got your own suggestions to add, let us know in the comments section below.