GitBook is a command line tool (and Node.js library) you can use it to build beautiful books locally on your desktop or online, hosted on GitBook.com using GitHub/Git and Markdown (or AsciiDoc).
It can be used to create any type of written content including documentations, thesis, research papers, enterprise manuals, etc.
GitBook Editor is a cross-platform GUI application that brings the workflow of GitBook to your desktop.
It features a well thought-out text-editing interface into which you can enter Markdown and work side by side with its live preview, integrated Git controls, a table of contents panel, a file tree panel, and quick formatting buttons for easy document structuring.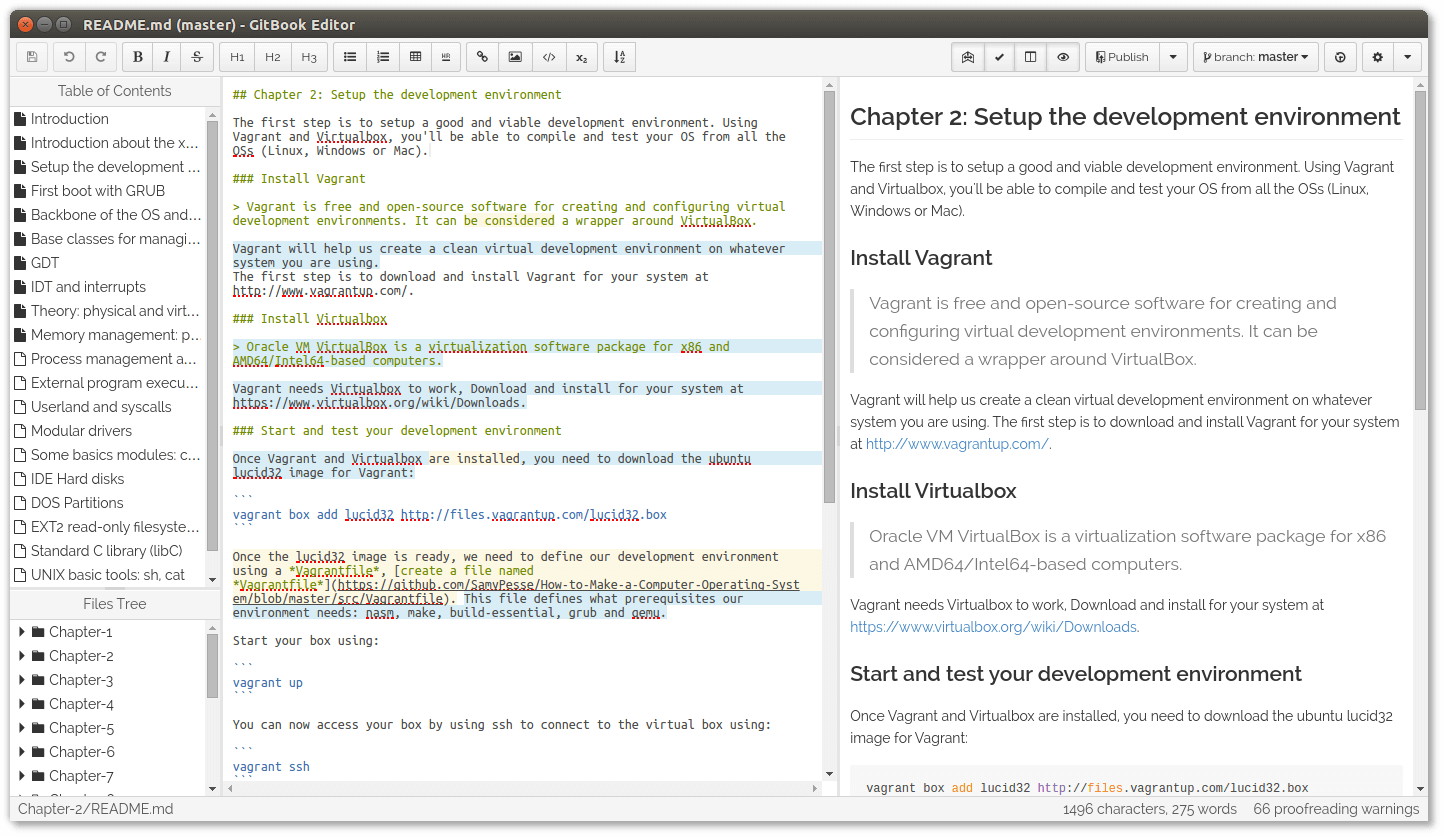 Features in GitBook Editor
Cross-platform and free: you're not limited to using GitBook Editor on Linux; download and sign into the app on a Mac or Windows laptop to continue your work like nothing changed.
Minimal and intuitive UI: easily find your way around the editor without random buttons getting in your way.
Expressive Markup: use Markdown or Asciidoc to structure content and LaTeX to typeset mathematics.
Convenient Editing: use drag-n-drop, keyboard shortcuts, auto-complete, and other features to improve your workflow.
Version Control: Git facilitates collaborative writing, content version history, and auditing.
GitBook editor is a must-have if you already use GitBook or if you intend on starting the type of projects GitBook enables. That way, you and your team can edit documents offline and push changes to the master while having all the features of Git at your disposal.
[mks_button size="medium" title="Download GitBook Editor for Linux" style="squared" url="https://www.gitbook.com/" target="_blank" bg_color="#3d7911″ txt_color="#fff" icon="fa-download" icon_type="fa" nofollow="1″]
If you are a GitBook user I suppose you are happy with this editor as you are no longer restricted to using its web app or command line alternative.
If you haven't used GitBook Editor yet check it out and tell us about your experience in the comments section.