Kodi is one of the best Media Player applications available in the market for free.
The award-winning free and Open Source (GPL) software can not only play videos, music, and games but also podcasts and tons of other media files from both local and network storage, as well as from the Internet.
The XBMC Foundation, a non-profit technology consortium, originally developed Kodi for Microsoft's Xbox (when it was called Xbox Media Center (XBMC)) until it since became a user sensation and eventually made its way to various platforms including Linux, Raspberry Pi, mac OS, and Android, to name a few.
What's Special about Kodi?
Kodi is special because its developed to use on personal computer as an entertainment hub to a big screen, it was designed to act as a media center and built with a 10-foot UI with support for remote control and various hardware and software types.
Kodi is easily customizable with the many free skins and add-ons available and has a huge developer and user community for support e.g., forums and Wiki.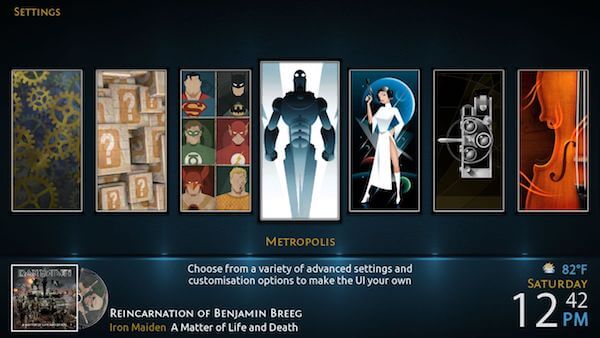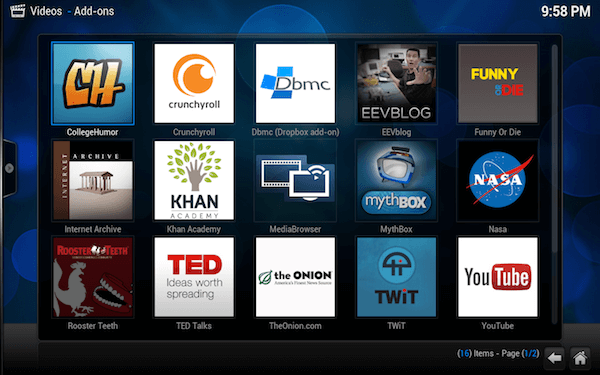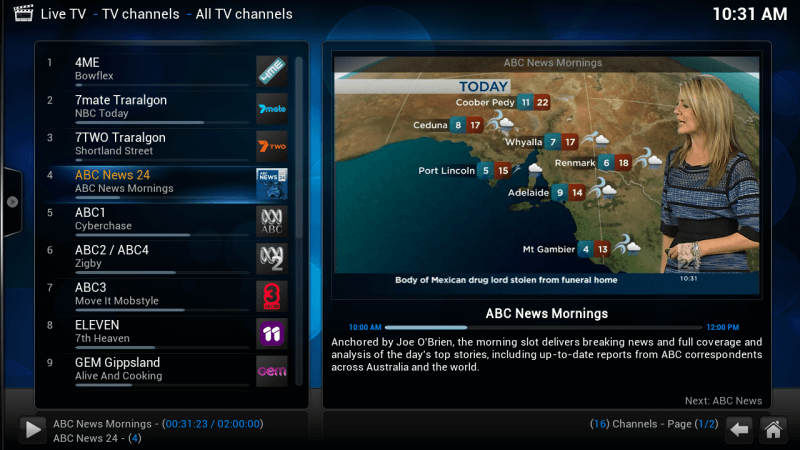 Features Kodi Offers
Apart from Kodi being cross platform and elegant with an intuitive interface that can be conveniently and responsively customized, Kodi has some other features as we highlight below:
Broad Range Support
Kodi can play any music and video format, thanks to its ability to play virtually any media format including AAC, FLAC, MP3, OGG, WAV, ISOs, 3D, H.264, HEVC, and WEBM among many others.
It supports smart playlists, media ID tagging, and integration with MusicBrainz.
Media Libraries (Movies, Music, Pictures, Podcasts)
Kodi will help you organize your media content according to their associated meta-data, thereby allowing you to conveniently search through your music library using ID tags information like Artist, Year, Genre, etc.
It can also download and update your library with video information by getting resources via data scrapers like TheMovieDB and IMDB. Kodi is also capable of importing movies with video extras, actor information, trailers, posters, fan art, disc art e.t.c.
Wide Range of Add-ons
Have access to tons of community-made-available add-ons through Kodi's repositories with which you can tweak its UX and web services. There are even add-ons that give you IoT features like controlling your lights and a lot more.
The add-ons are available here.
Dozens of Skins
Completely transform Kodi's UI at your whim using the dozens of skins also created by the community. Each skin comes with its set of options for quick implementation or better yet, just create your skin.
Check out all the available skins here.
Remote Control and Web Interfaces
Control your media using any modern remote control you can lay your hands on with CEC-compatible TVs and web browsers thanks to Kodi's JSON-RPC based remote interface.
Kodi also an app launcher for third-party software including video game emulator, computer games, weather forecast, audio visualizations, e.t.c.
The Kodi team added tons of features in the latest Kodi 17.0 "krypton" release, and you can check its Wiki page for a comprehensive changelog.
Installing Kodi on Linux
The latest version of Kodi can be installed on Ubuntu-based distribution using official PPA repository via your terminal:
$ sudo apt-get install software-properties-common
$ sudo add-apt-repository ppa:team-xbmc/ppa
$ sudo apt-get update
$ sudo apt-get install kodi

On Fedora distribution, you can install pre-build Kodi packages from the RPMFusion repository as shown.
$ sudo dnf install kodi

For other distribution, you can compile and build Kodi from source here.
Using XBMC's Kodi will make all the interaction you have with your media a painless task, and we hope you have nothing but a good experience with it.
Share your views on Kodi with us in the comments section.