Shotcut is a free, Open Source, cross-platform video editor with a sleek User Interface and support for a broad range of video formats.
This latest version is a rewrite by its current lead developer, Dan Dennedy, of the original Shotcut Video Editor which was created in November 2004 by MLT co-founder, Charlie Yates.
According to the website,
Dan wanted to create a new editor based on MLT and he chose to reuse the Shotcut nom since he liked it so much. He wanted to make something to exercise the new cross-platform capabilities of MLT especially in conjunction with the WebVfx and Movit plugins.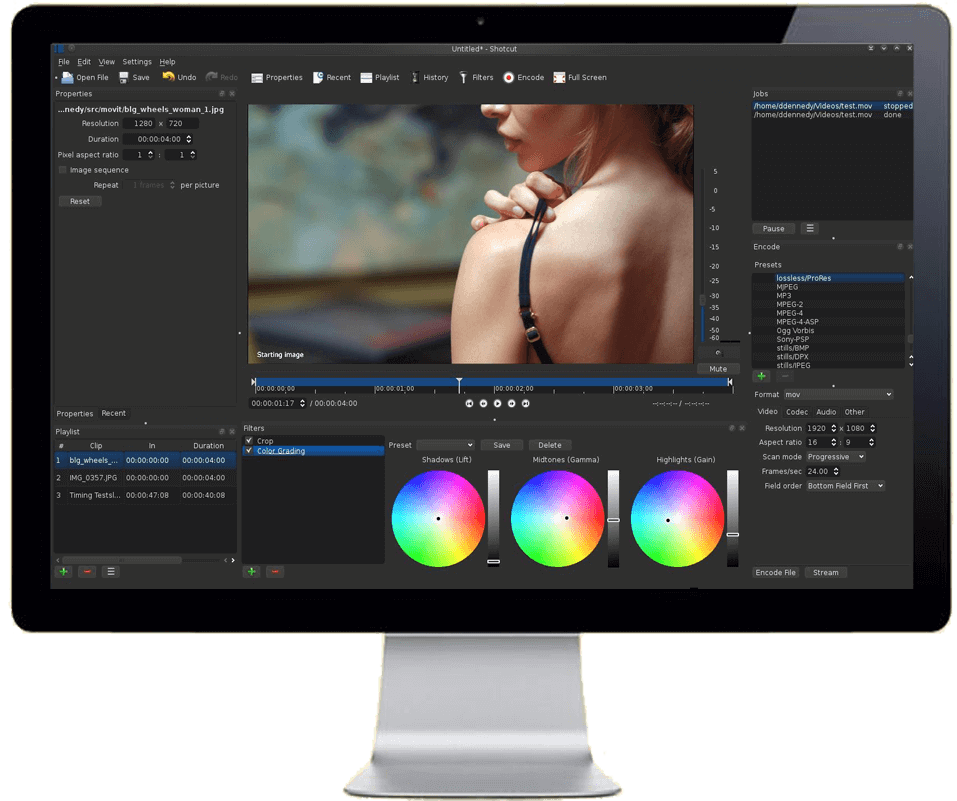 Feature Highlights in Shotcut Video Editor
Shortcuts Support – Minimize how often you leave your keyboard to use your mouse by using the various shortcuts built into the video editor. E.g. control playback speed and direction by tapping J, K, L. Repeatedly tap J or L to go faster.
Install Multiple Versions – An advantage of using a Snap is that you can run multiple versions on your system. With each Shotcut versions based on a date you can decide to update your version as they new one are released monthly or just keep the versions separately.
Record Voice Overs – This is a long-awaited handy feature that came in version 17.02.
Broad Media Format Support – Thanks to FFmpeg you can work with video and audio files in hundreds of formats and codecs without the need for imports. You can use multi-format timelines, resolutions and frame-rates within a project.
Tons of Video Effects – Use any of the free inbuilt video effects including audio fade in/out, auto-rotate, deinterlacing, video wipe transitions (barn, box, iris, diagonal, matrix, e.t.c), and Alpha channel filtering modes, just to name a few.
See the features page for a complete list of what the video editor offers.
What's New in Shotcut 17.02?
The dev team strongly advise users to upgrade to this latest version (released on Feb. 2017) to take advantage of the many bug fixes and significant performance changes that have been added to it. These changes include:
Device capture in the background and improved screen capture
Improved support image sequences
Improved network stream launching
Added new language: Slovenian
Fixed decimal point bug in the MLT XML repair tool
Download Shotcut as a Snap
Install Shotcut Video Editor in Linux
You can install Shotcut Video Editor using the Snap command in Ubuntu and Fedora based distributions:

-------- Insall Snap in Ubuntu/Debian --------
$ sudo apt install snapd

-------- Insall Snap in Fedora --------
$ sudo dnf install snapd
$sudo systemctl enable --now snapd.service

To install shotcut run:

$ sudo snap install shotcut --classic

In the case wherein you want to update use:

$ sudo snap refresh shotcut --classic

Or using the tar.gz file shotcut-linux-x86_64-170205.tar.bz2. It will work for Linux Mint 17+, Ubuntu 14.04+, Debian 8+, Fedora 21+, and Arch/Manjaro.

$ tar -xvf shotcut-linux-x86_64-170205.tar.bz2
$ cd Shotcut
$ ./Shotcut.app/shotcut 

Check out Shotcut Video Editor's website for tutorial videos to get you up and running.
Oh, and don't forget to drop your feedback in the comments section after you must have tried it.