Linphone is an Open Source Voice Over IP app you can use to make voice and video calls over the Internet, as well as send instant text messages.
It uses an open standard for Internet telephony known as SIP and can be used with any SIP VoIP operator including Linphone's own free SIP audio/video service.
Linphone holds the record for the first Open Source application to used SIP software on GNU/Linux as it was first launched in 2001 and has received performance and feature updates for over 10 years now of which some advancements were bringing it to iOS and Android in 2010, Windows Phone 8 in 2013, and then Blackberry 10 and Windows 10 in 2016.
Features in Linphone
After over 10 years in service you can imagine the VoIP app is filled with features too many to list here. Let's highlight a few:
Cross-platform (GNU/Linux, iOS, Android, Windows Phone, MAC OSX, Windows)
Make HD Audio and Video Calls
Share media files with friends
Instant messages
Call history panel
Conference calls
Secure communications using zRTP, TLS, and SRTP
Record and save calls for later referencing
Language support for English and French
Low bandwidth mode for audio calls over 2G networks
You can check the complete list of features here and even see the mobile-specific and desktop-specific features.
Installing Linphone on Linux
As usual, the task of installing software has been made easier via the CLI. Just enter the following command into a new terminal window on Ubuntu based distros:

$ sudo apt-get install linphone

You can check out Linphone's distro-specific packages on the websites below:
Using Linphone
You can use either a SIP account or a Linphone account to log in and there will be a setup assistant to help you with the registration/login process when you open the app.
The app features a dialer with which you can type in numbers to call and a panel to display call and video details like duration and call quality.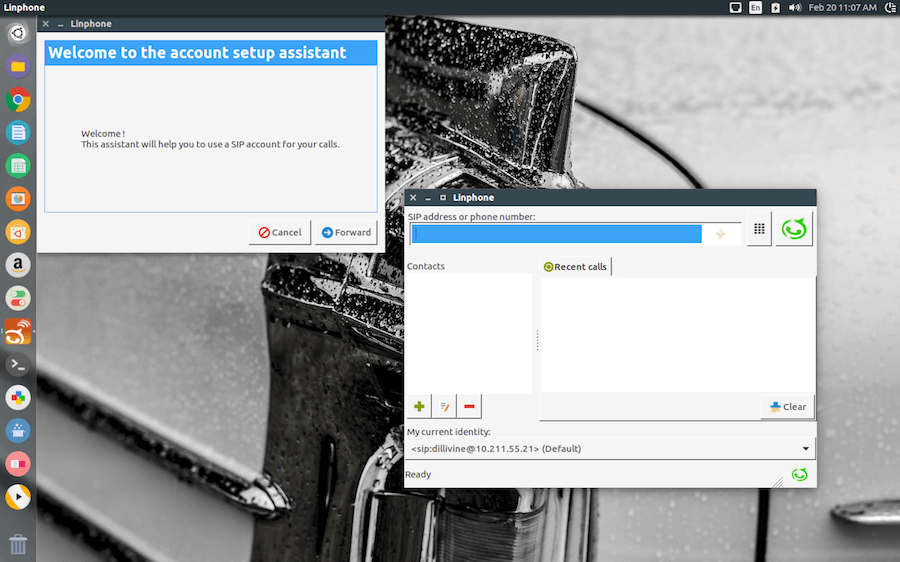 You can check out Linphone's website for its documentation and a more technical overview, especially if you would like to professionally contribute to the project's code base; they are looking for developers skilled in either C, C++, Java.
Are you a Linphone user or do you at least plan on checking it out? Do you think this is a worthy alternative to Skye for Linux just like Wire? Drop your comments below.