Matrix Writer is a cross-platform blog editing application for beginner and pro bloggers alike. It features a modern User Interface with a rich text editor, support for the most famous blog CMS including WordPress, Google Blogger, and Metaweblog API.
Matrix Writer is available as a free app to download and use, but it also has two subscription models available. The free version will only get you a rich text editor, a local post manager and most of the fancy functions Matrix Writer has to offer.
For the Professional Package at $3.99/month, you will have access to insert photos as albums, share posts to social media accounts, change your color scheme to the dark theme, and publish posts to multiple accounts.
For the Premium Package at $8.99/month, you will have access to insert content from both Google Drive and OneDrive, post data backup, capture screenshots, and beautify your HTML posts before publishing.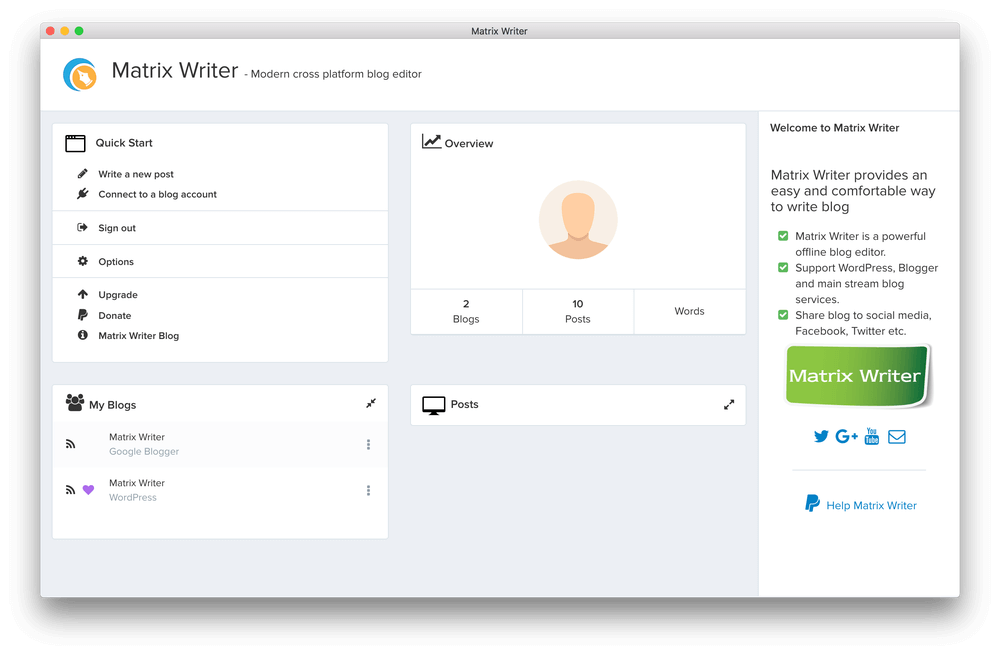 Features in Matrix Writer
Freeware: Matrix Writer is free for everyone to download and use.
Cross-Platform: All Windows, Linux, and Mac users can enjoy the coolness of Matrix Writer.
Supports WordPress, Google Blogger, and other mainstream blogging platforms.
Supports publishing posts to multiple accounts simultaneously.
Share posts to connected social media accounts.
Insert images from Google Drive and Microsoft One Drive.
Customize color scheme with an inbuilt dark theme.
Manage posts locally by editing, previewing, or deleting them before getting content published.
It is interesting how the functions Matrix Writer has to offer have been sectioned accordingly. In my opinion, the best parts of the app are available in its paid packages.
The good news is that you can give the app a test drive for as long as you want before you shell out any cash to subscribe for its services.
[mks_button size="medium" title="Download Matrix Writer Free" style="squared" url="http://www.matrixrepublic.com/product/details/matrix-writer" target="_blank" rel="nofollow" bg_color="#46698E" txt_color="#fff" icon="fa-download" icon_type="fa" nofollow="1″]
Have you ever heard of Matrix Writer before? Feel free to tell us about your experience with it in the comments section below.