Sometimes we get fed up of using different softwares over and over again for multiple use cases (including music and video playbacks, video editing, torrenting, sync and YouTube downloads); – this can be a bit stressful when it comes to switching through these applications while multitasking.
What if you can have a single application that does it all? – Miro is one such that i recently discovered; it's a media player, downloader, torrent manager, Internet television and a whole lot more. Miro has been around for sometime now but many Linux users may not have heard or used it before. Delve in to see what is about.
The amazing features Miro encompasses include the following:
Works with your the current music library on your system
Buy music and applications from within Miro
Download and play any video file
Convert any video file to any format of your choice
Share music on a network your connected to
Sync to Android and Kindle Fire
Above all, it is open source
How to Install Miro Player in Linux
On Ubuntu 14.04 and Linux Mint 17.x
Here you will have to install Miro 4 because i was moslty unlucky installing the latest version 6 on my system and also, the standard Ubuntu repository only has Miro 4. You can however, try your luck to see if it works with your system.
To install Miro 4, simply run the command below:
$ sudo apt-get install miro
On Ubuntu 16.04/15.10 (for Miro 6)
Here you will install the latest version, Miro 6 by running the following commands:
$sudo add-apt-repository ppa:pcf/miro-releases
$sudo apt-get update
$sudo apt-get install miro

How to use Miro Player
After installing Miro, go to your dashboard in Ubuntu and search for Miro or in Linux Mint, go to your app menu.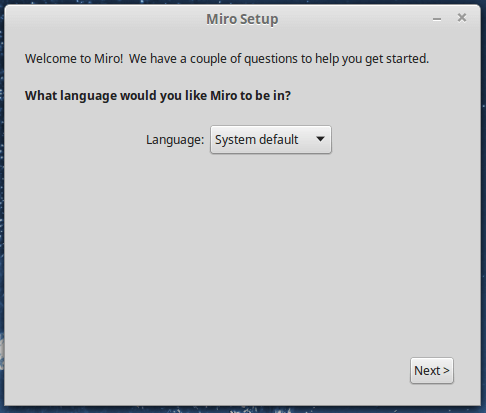 Click on Next to proceed and you should be at this interface below, where you can choose to start the application at system startup or not and then click Next to proceed.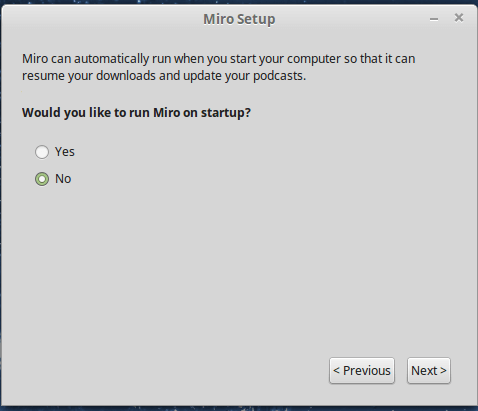 Next, enable Miro to search your system for media files and click Next: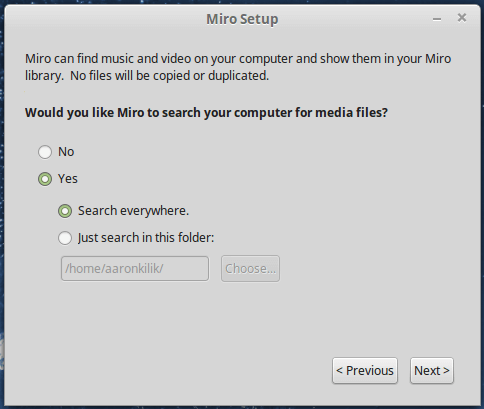 Here, you get to see the number of media files Miro has found on your system: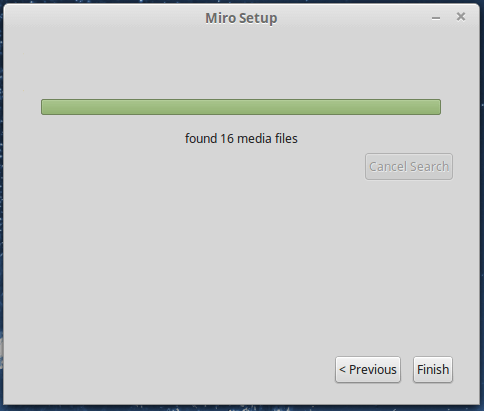 You can now use and enjoy Miro for playing audio, video files and Internet TVs.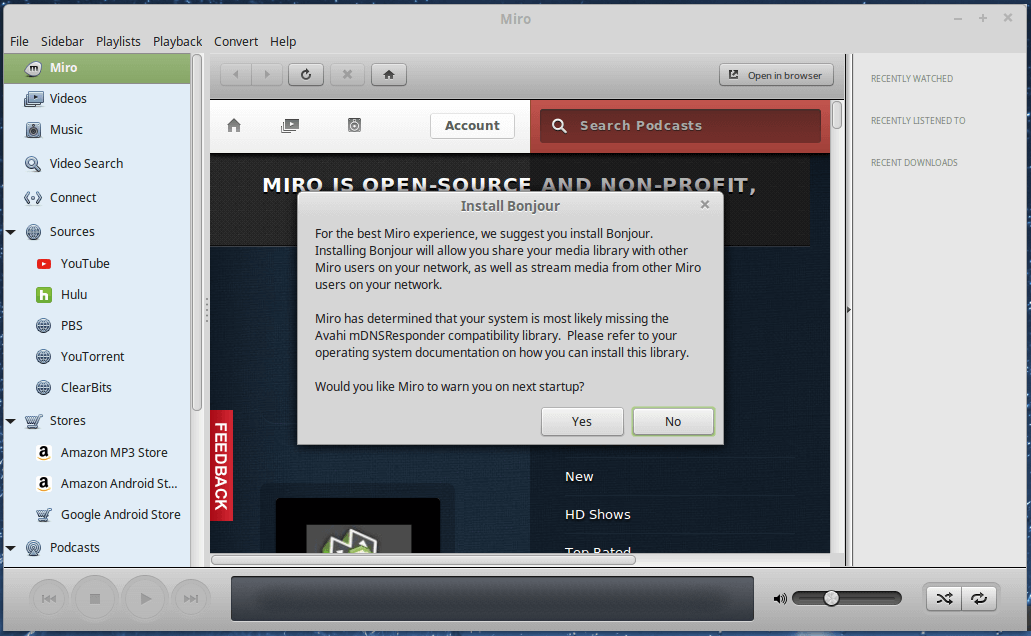 You can also play video files:
Follow your favorite Podcasts on-line on Miro: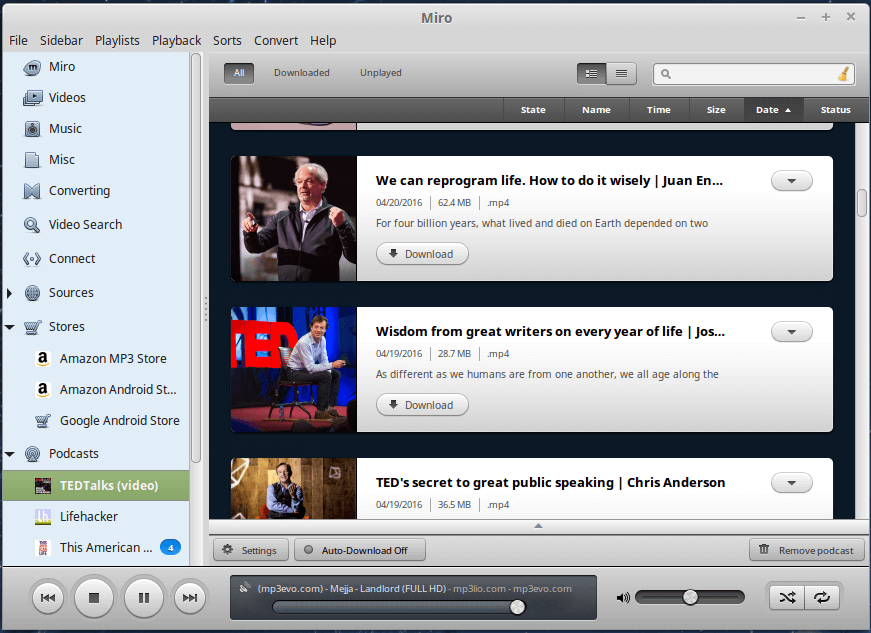 You can also share music with other people who are using Miro on a network you are connected to, but you have to install Bonjour to have this service running.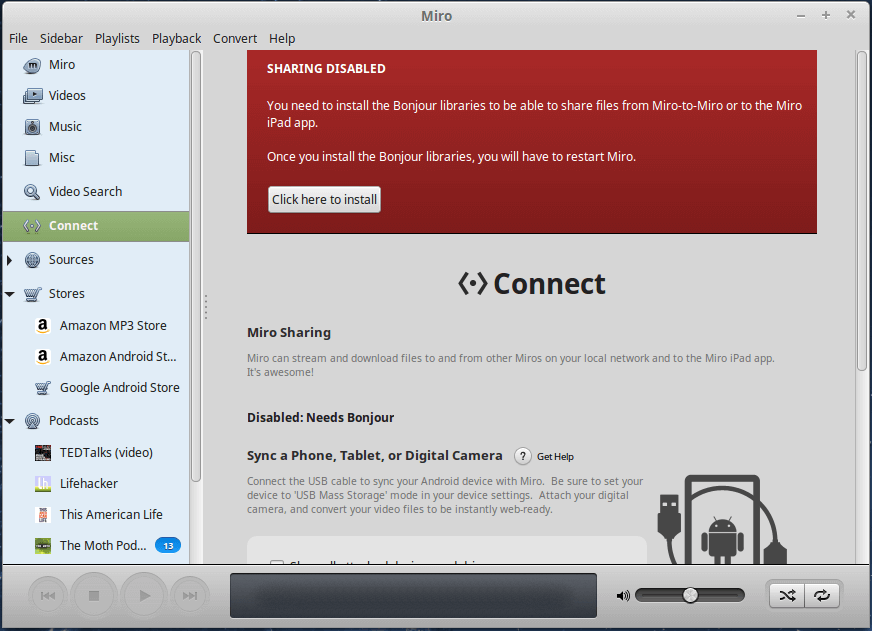 With all these amazing features, you have so much to enjoy from converting video files to audio of different formats, watching on-line TVs, downloading video files, buying music and applications in the easiest way possible.
You can let us know about your experience with Miro by leaving a comment down below and also let us know if you know any other media softwware that quite compares to Miro and keep it tuned to TecMint!