Email Marketing is one of the ways to connect your customers to your products whether you post blog articles or sell digital and/or physical products. It involves sending commercial messages to people by means of a broadcast email.
There are other marketing strategies such as Google Ads which are tailored to offer customers products they are more likely to purchase, but history has shown email marketing to be the most efficient at getting the most conversions.
It is therefore important that you integrate your business with the best email marketing strategy for you and your customers whom you can separate into groups for a better-tailored experience.
Because choosing the email marketing service to use can be daunting due to the sheer amount of options, I have compiled a list of the best products for you to choose from. Some of them are free till you reach a number of subscribers while others expect you to pay straight away after their free trial expires.
Email Marketing Services Comparison
1. Drip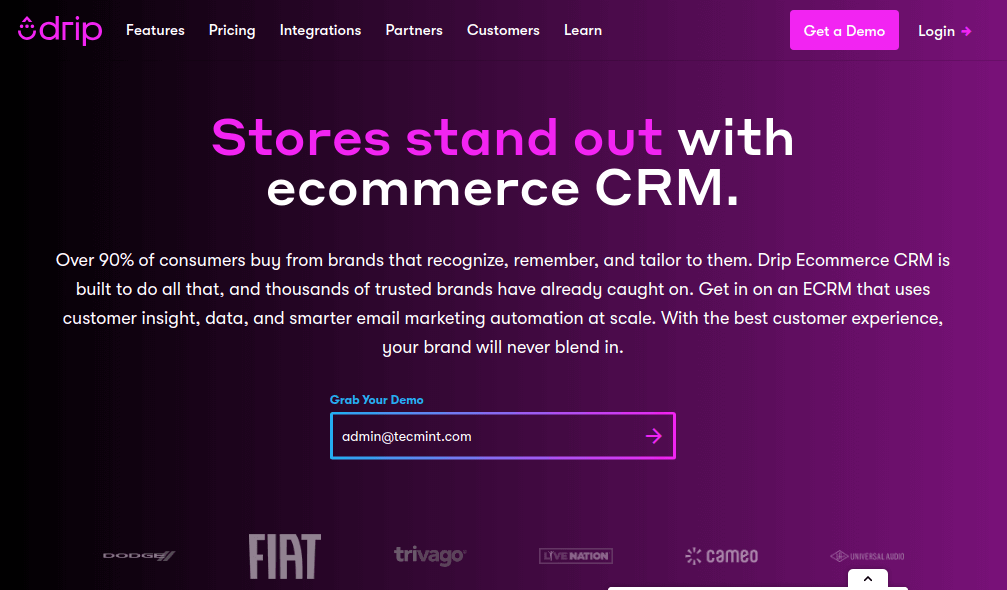 Drip is an E-commerce customer-relationship management (CRM) that capitalizes on the fact that at least 90% of consumers make purchases from brands that they recognize, are memorable, and above all, are tailored to their taste.
It aims to make your brand unique by giving you access to customer insights, preference data, and smart email automation which enable you to conveniently keep track of your online business.
Drip displays informational statistics on your customers' purchasing behavior e.g. the products they click, how often they use coupon codes, and which products they have bought. Based on this insight, you can segment your clients by the pages they frequent, emails they have opened, etc. in order to personalize your marketing strategy towards their specific needs.
Drip also offers you visual workflows based on behavior, automated cross-channel marketing for both email and social media interactions, campaign tools such as coupon codes and shipping discounts, broadcast notifications, revenue attribution, etc. – all within a beautiful dashboard with eye-candy charts and graphs and without the need to write any code at all.
A great feature that contributes to Drip holding the title of best is split testing which it does incredibly well. Also known as A/B testing, e-commerce split testing is (in the simplest of terms,) the process of using conducting controlled, randomized experiments in which you analyze the statistics taken from two variants to decide on the marketing strategy to implement on your e-commerce site.
Basically, you want to improve your website metric by getting more traffic and selling more products. This means that Drip allows you to easily go beyond testing emails to testing customer experience on your website and eventually secure more conversations.
Drip is used by several A-class business including Fiat, Dodge, Live Nation, trivago, etc. and is worth every penny if you can afford it.
It charges $19/month for up to 500 subscribers with a free 14 days trial. What's even cooler is that you can request a demo by entering your email address from its official home page.
[mks_button size="medium" title="Join Drip for Free" style="squared" url="https://www.drip.com/" target="_blank" bg_color="#529b30″ txt_color="#FFFFFF" icon="fa-hand-o-right" icon_type="fa" nofollow="1″]
2. ConvertKit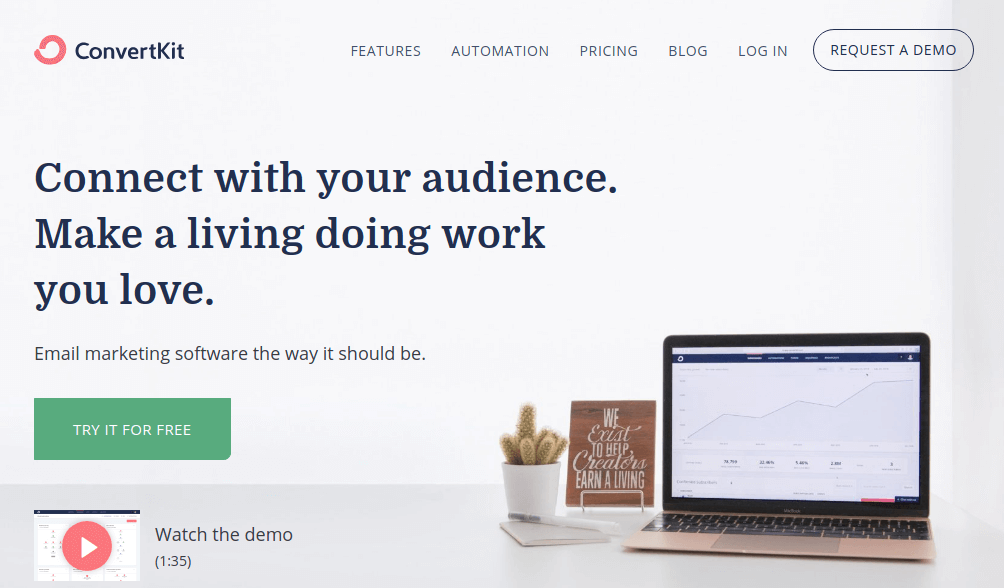 ConvertKit is an email marketing software that simplifies your email marketing by combining powerful usage statistics and activity metrics with a beautiful User Interface.
At the heart of its features is the visual automation generator which enables you to create forms, tags, and sequences in simple steps which visually describe how every action and expected result is connected.
Its developers have managed to make several options configurable from within single windows which reduce the number of times you need to navigate between windows to effect changes to your sequences.
ConvertKit enables you to quickly embed code snippets in your website using JavaScript and it works conveniently with WordPress.
It also features A/B testing which allows you to set two headlines and send the one that resonates better with your audience, integration with popular tools and e-commerce platforms e.g. Slack, RSS, and membership sites, filter-based newsletters and broadcasts, eye-catching animations, etc.
ConvertKit concentrates on growing your audience and this is clear from its ability to tag and segment users based on their clicks, searches, interests, in order to send tailored messages. It also provides you with nicely illustrated graphs and charts which enable you to visualize its service and conveniently track your website's statistics.
Are you already using a different e-marketing service? ConvertKit has guides to help you migrate from MailChimp, Infusionsoft, Active Campaign, MailerLite, Aweber, and Drip. It charges $29/month for 1,000 and all its subscription plans are free to try for 14 days. You can request a demo using your email address.
[mks_button size="medium" title="Try ConvertKit for Free" style="squared" url="https://convertkit.com/" target="_blank" bg_color="#529b30″ txt_color="#FFFFFF" icon="fa-hand-o-right" icon_type="fa" nofollow="1″]
3. MailerLite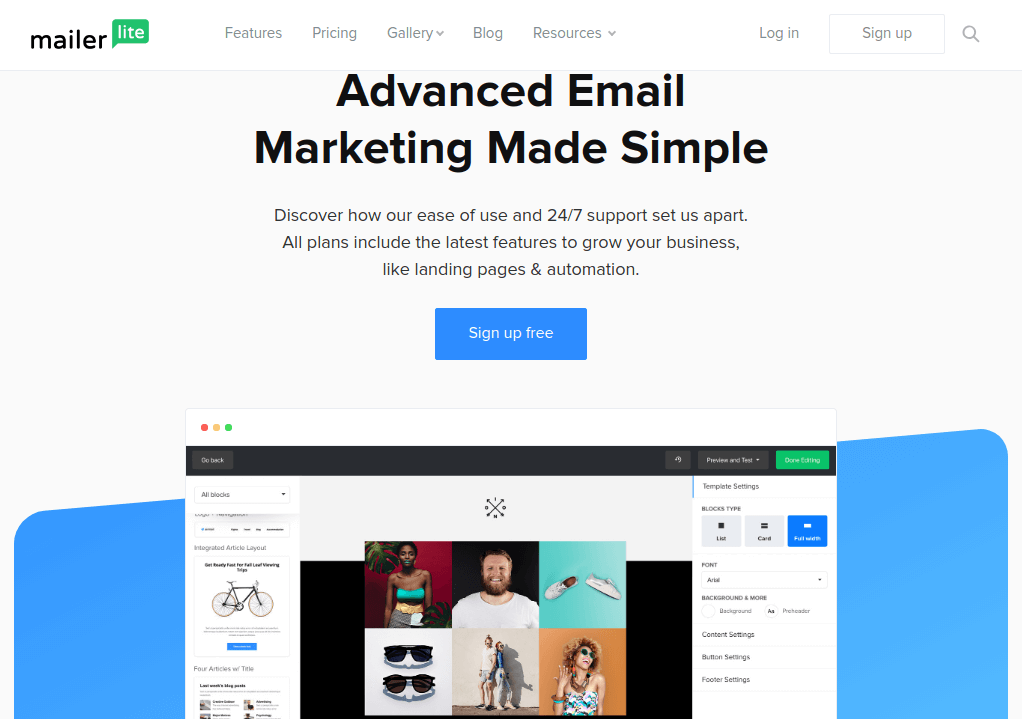 MailerLite works to simplify advanced email marketing by giving users access to all the necessary tools for growing their e-commerce business. These tools include smart email automation, beautiful landing pages, a drag & drop email builder, beautiful, minimalist pop-ups, and function extensibility via integration with other platforms.
With MailerLite, you can easily use drag & drop to create modern-looking landing pages if you wouldn't rather customize any of the 250+ default templates present in its design gallery and create professional-looking newsletters that have personality. Mind you, there are over 200 newsletter templates you can customize as well.
It also lets you build sophisticated campaigns using email automation tools that require no technical skills and connect to other web services such as Shopify, SendOwl, Coupon Carrier, and WooCommerce.
To put the icing on the cake, you can track your website's metrics from campaign reports, surveys, opens by location, and click maps. You can use A/B split testing, auto resend, RSS, deliver by time zone, built-in photo editing, and create interest groups (tags), among lots of other features.
MailerLite is trusted by many big names such as BMW, GoPro, Bored Panda, Typeform, and Marvel. It is free for sending as many as 12,000 emails per month to 1000 subscribers and its subscription plan starts at $10/month depending on whether you pay monthly or annually.
[mks_button size="medium" title="Try MailerLite for Free" style="squared" url="https://www.mailerlite.com/a/v7bb1byvuw" target="_blank" bg_color="#529b30″ txt_color="#FFFFFF" icon="fa-hand-o-right" icon_type="fa" nofollow="1″]
4. MailChimp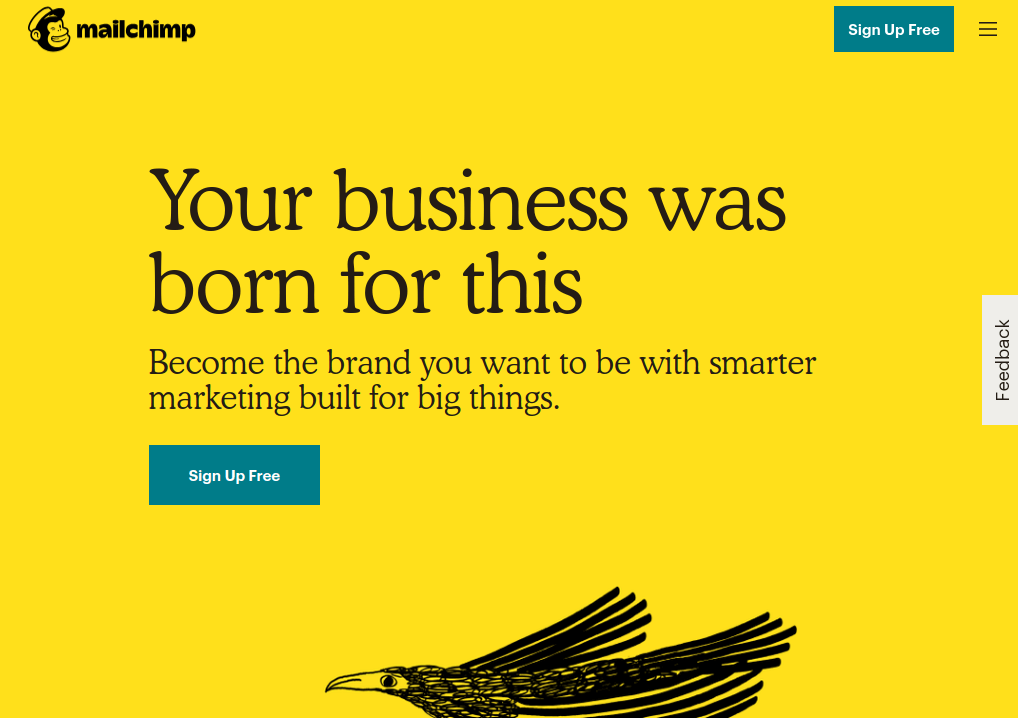 MailChimp is a modern e-commerce marketing service that is so user-friendly you can easily see why it is arguably the most popular email marketing platform. It offers you several tools for building and managing your customers' list while solidifying your business and the branding of your choice.
The tools MailChimp offers you include the ability to create emails, landing pages, Google Remarketing ads, postcards, social media ads, etc. easily.
The ability to connect with your audience with BigCommerce, Eventbrite, Square, Salesforce, and WooCommerce, among other platforms.
The ability to create automation for different events such as an abandoned cart, welcome messages, order notifications, RSS to email, product recommendations, etc.
Also, the ability to optimize your website content after reaping the benefits of MailChimp's CRM, segmentation, and reporting features. You can also employ A/B testing to further personalize your client interaction.
MailChimp has a rich library of tutorials which you can follow from its website and a large community of users which contribute to making it one of the easiest services to get up and running with.
It is relied on by not only big names such as East Fork, Chronicle Books, Sweat, Fader, and Magnolia Bakery, but also schools and development communities to tutor on web development, e-commerce marketing, and all the fields in between. It also has several marketing tips and success stories which you can derive inspiration from.
MailChimp is free for sending up to 12,000 emails per month to 2000 subscribers and its cheapest package sells for $10/month for unlimited emails per month to up to 500 subscribers.
[mks_button size="medium" title="Try MailChimp for Free" style="squared" url="https://www.mailerlite.com/a/v7bb1byvuw" target="_blank" bg_color="#529b30″ txt_color="#FFFFFF" icon="fa-hand-o-right" icon_type="fa" nofollow="1″]
5. Active Campaign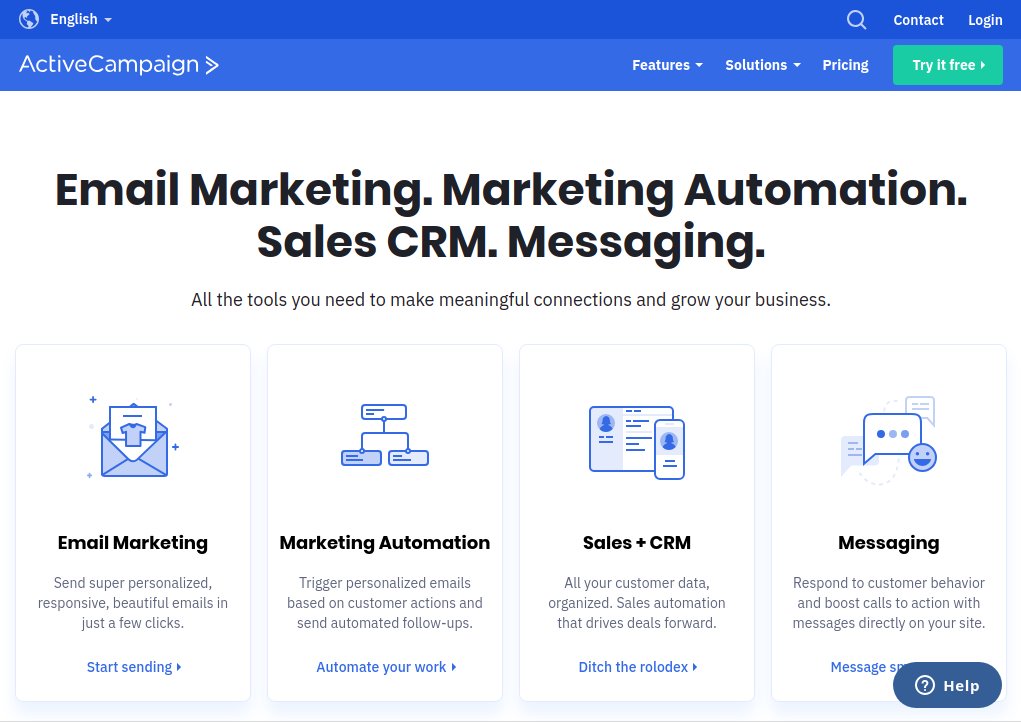 Active Campaign is an email marketing software that aims to boost your business and help you establish your brand with smart marketing, machine learning, and customer relation. Its email marketing options give you access to subscription forms, dynamic content, split testing, and email segmentation.
Its marketing automation allows you to track website metrics such as traffic, location statistics, and click events. Active Campaign has a convenient Gmail extension and mobile app, contact & lead scoring, and an efficient messaging system through which you can send SMS, site messages, hold conversations, etc.
As expected, Active Campaign offers a beautiful dashboard where you can keep track of every single activity that happens on your e-commerce website. It features advanced reporting with colorful line graphs, integrated forms with different pop-up options, migration services, and 1-on-1 support/training, among others.
Active Campaign goes for the price of $9/month on an annual payment plan to send unlimited emails, chat & email support, marketing automation, and a team of up to 3 members. You can try it for 30 days free and even request a demo on its website.
[mks_button size="medium" title="Try Active Campaign for 30 Days for Free" style="squared" url="https://www.activecampaign.com/?_r=CE3761PV" target="_blank" bg_color="#529b30″ txt_color="#FFFFFF" icon="fa-hand-o-right" icon_type="fa" nofollow="1″]
6. AWeber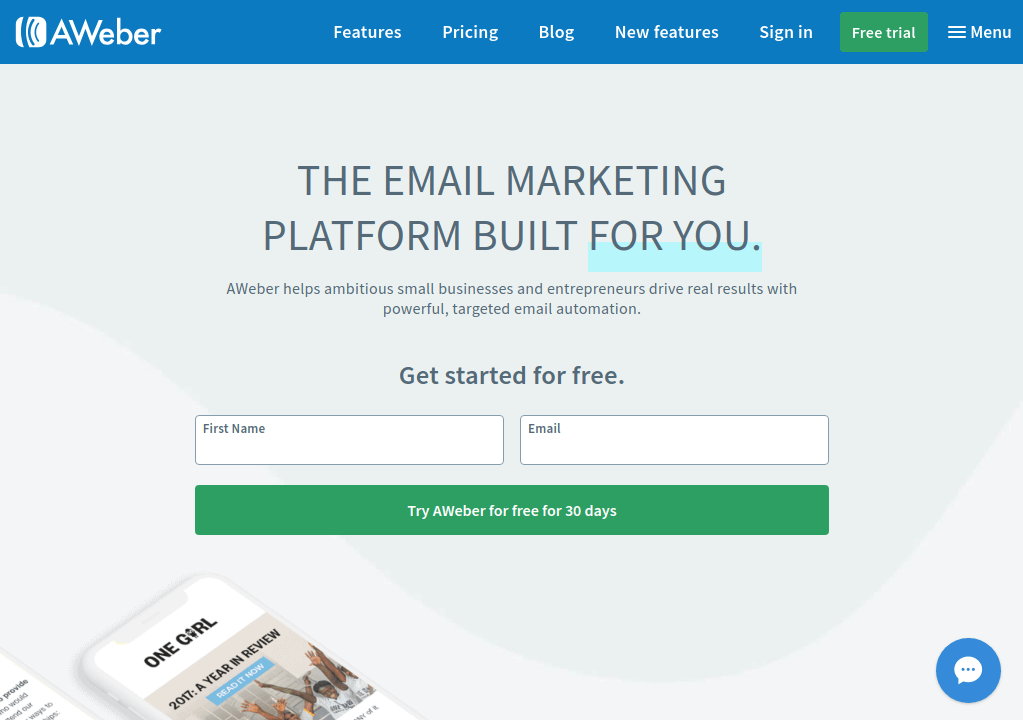 AWeber is an email marketing platform built for any user irrespective of their background as it aims to help entrepreneurs and small businesses attain excellent marketing results using robust, targeted email automation and analytic tools such as Split testing and triggers.
With AWeber, you can collect email addresses on your social accounts, websites, mobile, etc. using eye-catching signup forms in order to build your audience.
You can make stronger connections with your clients by tagging them based on the emails they open and which links the follow and sending them personalized content. You can also create professional emails that are consistent with your business brand using drag & drop or by customizing any of the 100+ responsive templates.
Last but not least, connect your account to your favorite tools not excluding Facebook, Shopify, WordPress, and PayPal.
Use AWeber's campaign builder to curate content and create tailored email sequences for subscribers based on their actions. Keep track of your e-commerce metric with colorful graphs, manage bounced emails with bound auto-removal, and send new blog posts via RSS to email.
AWeber charges $19/month for up to 500 subscribers and unlimited emails. You can try it free of charge for 30 days with just your email and full name – no credit card required!
[mks_button size="medium" title="Try Aweber for 30 Days for Free" style="squared" url="https://fossmint.aweber.com/" target="_blank" bg_color="#529b30″ txt_color="#FFFFFF" icon="fa-hand-o-right" icon_type="fa" nofollow="1″]
7. GetResponse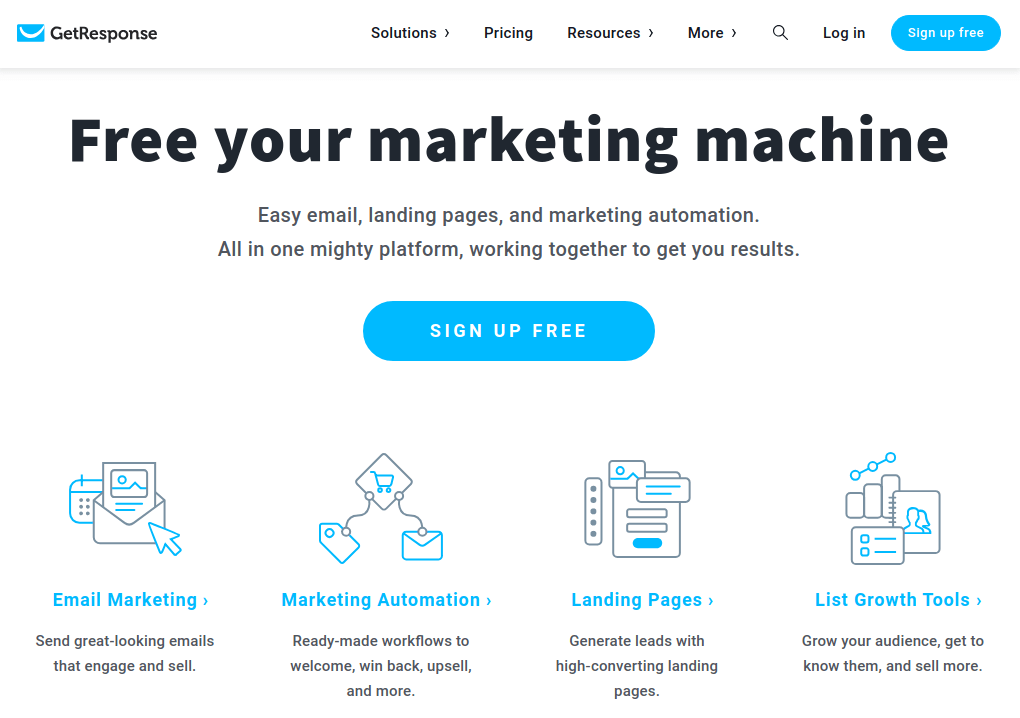 GetResponse is an all-in-one e-marketing solution that was created to provide users with solutions to help their businesses grow.
It reportedly boasts a 5-star customer service with 50+ features aimed at helping you easily create and manage online campaigns, track user actions and preferences, follow-up clients, and integrate your business with other tools such as Facebook, PayPal, and Salesforce. To name a few.
GetResponse provides you with a drag & drop editor for building modern, responsive email templates, newsletter prompts, and landing pages – all which will work together to increase your conversion rate. This is made possible with deliverability checks, autoresponders, email templates, RSS to Email, and its perfect timing and time travel features.
You can automate your marketing strategy to scale workflows based on customer journeys and track their behavior in real-time using automation templates, web event tracking, cart abandonment, automation segmentation, and scoring.
You can also nurture your leads by using a webinar marketing solution – a feature that GetResponse is the first CRM platform to offer. Grow a dedicated contact list using custom fields, GDPR fields, hydra, A/B testing, spam checker, and advanced analytics coupled with a nice and clean user Interface.
GetResponse is free to try for 30 days no credit card required. After that, you will need to shell out $15/month for 1000 subscribers on an annual payment plan.
[mks_button size="medium" title="Try GetResponse for 30 Days for Free" style="squared" url="https://www.getresponse.com/?ab=KrgRV9Kxjc" target="_blank" bg_color="#529b30″ txt_color="#FFFFFF" icon="fa-hand-o-right" icon_type="fa" nofollow="1″]
8. Constant Contact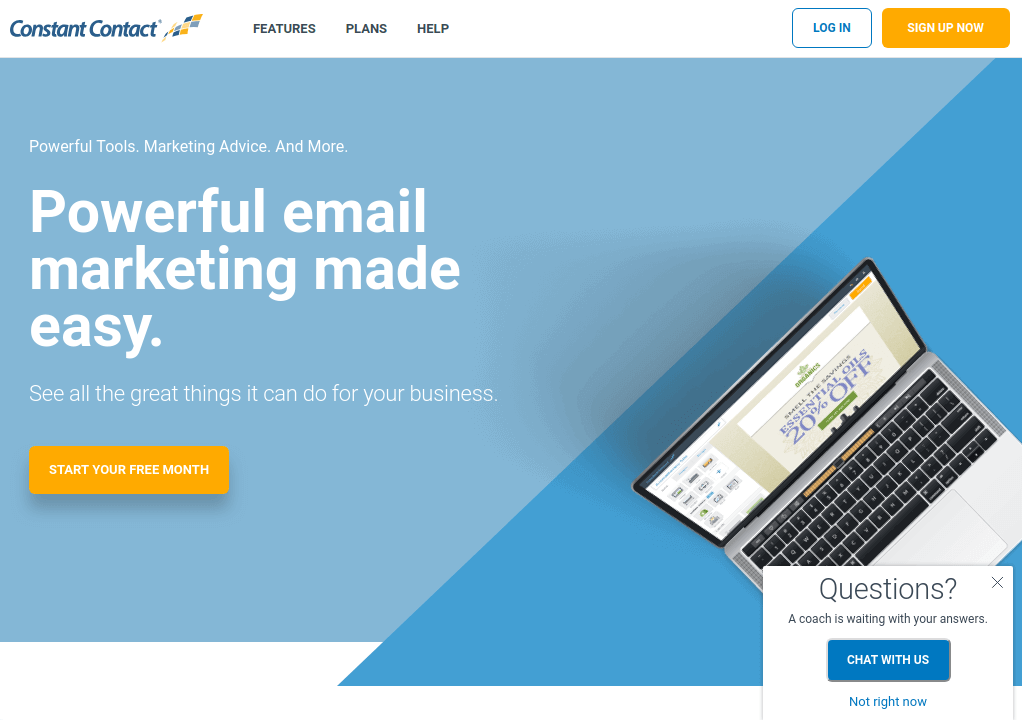 Constant Contact CRM aims to make powerful email marketing as easy as possible by making sure that all the tools required to run successful businesses online are available to users without any technical skills required irrespective of the business size. It has been in service for 20+ years and is committed to helping non-profits and small businesses make good returns.
It features engaging templates that are mobile-responsive and drag & drop editor for creating and customizing professional emails and email content focused on converting more customers.
Automatically drive more sales on your websites using automated welcome emails, list-building tools, contact segmentation, and trigger emails based on user clicks. Import contact information from Outlook, Excel, or Salesforce, and track your marketing results in real time which analytic data displayed in colorful, easy-to-understand graphs.
Constant Contact starts at $20/month based on your number of contacts and you can try the first 30 days free of charge. The Email Plus package offers extra features such as polls, surveys, RSVP, coupons, online donations, etc. and it starts at $45/month.
[mks_button size="medium" title="Try Constant Contact for 30 Days for Free" style="squared" url="https://www.constantcontact.com/in/home-page" target="_blank" bg_color="#529b30″ txt_color="#FFFFFF" icon="fa-hand-o-right" icon_type="fa" nofollow="1″]
9. SendinBlue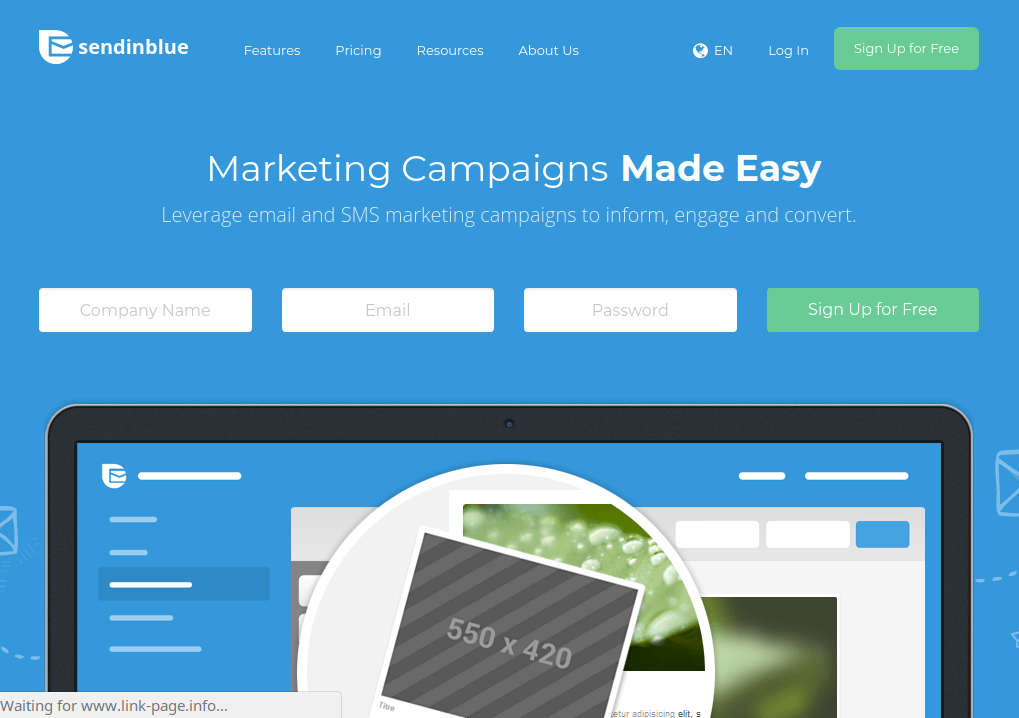 SendinBlue is a cloud-based, GDPR-complaint marketing software that empowers business to develop and maintain healthy relationships with their customers by simplifying the process of marketing automation and campaigns, transactional messaging, and website metric tracking.
It features an HTML editor with support for dragging & dropping blocks into place to create beautiful personalized emails and well-designed newsletters. It is also able to collect the email addresses and contact information of prospective customers using custom forms custom contact fields, and contact segmentation.
Make use of any of SeninBlue's 8 automation workflow templates which you can personalize to improve your website's User Experience with only a few clicks. You can automate several events not excluding welcome emails, purchase reminders, abandoned cart, etc.
SendinBlue enables you to monitor your website's performance by accessing open rates, deliverability, click-through rates, and heat map in real-time and the information is displayed in sleek, distraction-free graphs.
You can also integrate other apps to work with SendinBlue e.g. Salesforce, Intercom, Google Analytics and it has support for all the popular Content Management Systems including Drupal, WordPress, Magneto, WooCommerce, and Prestashop.
It is free to use to send up to 300 emails a day to unlimited contacts without the need to connect any credit/debit cards. The Lite package for new marketers begins at €19/month and you will be able to send 40,000+ emails each month and explore other payment plans for more features.
[mks_button size="medium" title="Try SendinBlue for Free" style="squared" url="https://www.sendinblue.com/" target="_blank" bg_color="#529b30″ txt_color="#FFFFFF" icon="fa-hand-o-right" icon_type="fa" nofollow="1″]
10. Benchmark Email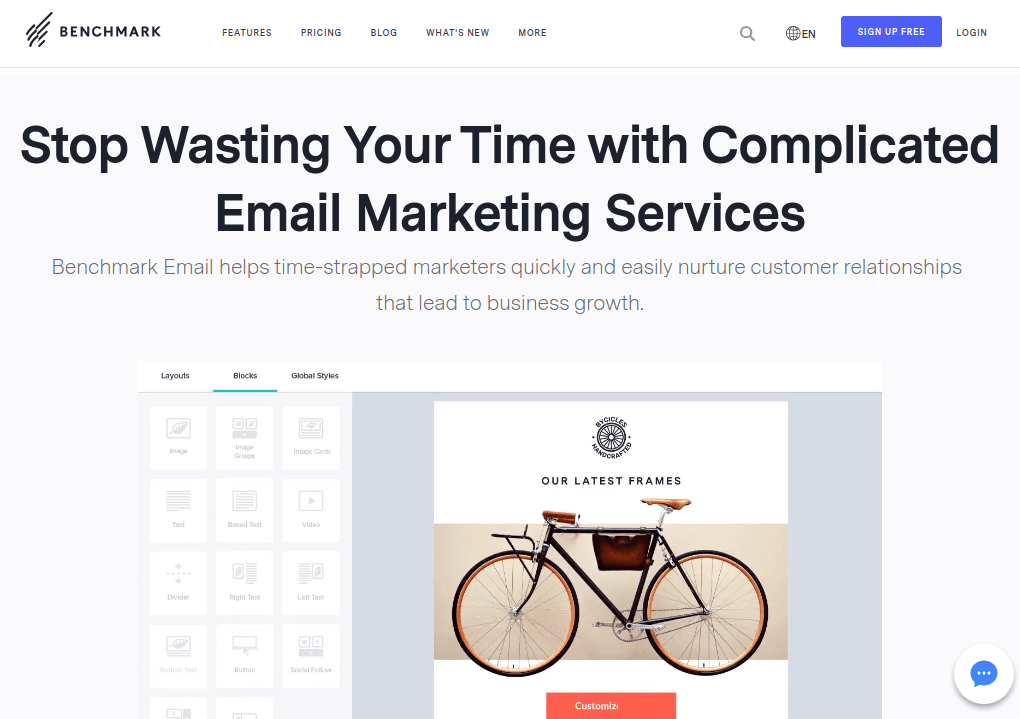 Benchmark Email is an email marketing service that focuses on helping you to build customer relationships that lead to your business growing.
It features a graphical email designer with which you can drag & drop elements into place to create beautiful engaging responsive emails complete with color customization and a code editor. Make use of Google analytics tracking, RSS email campaigns, live engagement reports, e-commerce integrations, unlimited video storage, signup forms, surveys, and polls.
As a Benchmark Email user, you will enjoy the ability to manipulate photos using its inbuilt photo editor with several fonts, templates, and color customization options. You will also enjoy the WYSIWYG HTML editor which has dual view support if you fancy that workflow.
You can use Benchmark Email's free plan up to 2000 subscribers with limited features. The medium pricing plan starts at 1000 subscribers after which you will have to pay $13.99/month.
[mks_button size="medium" title="Try Benchmark Email for Free" style="squared" url="https://www.benchmarkemail.com/?p=1047857″ target="_blank" bg_color="#529b30″ txt_color="#FFFFFF" icon="fa-hand-o-right" icon_type="fa" nofollow="1″]
I hope this list helps you with your email marketing as you create a reliable templates and build subscriber base.
All the listed options virtually the same features in their unique ways and it is left to you to choose which service works best for you with your budget in your mind. And when you do test them, remember to return to drop your questions, suggestions, and comments in the discussion section below.