MuditaOS is a beautiful, minimal open-source operating system for mobile phones. Unlike other mobile phone operating systems, however, the developers behind MuditaOS are not interested in smartphones. Instead, they aim to take us to the era before the smartphone craze that has lead to distrust for big tech companies, but with a far cooler style.
Developing this mobile operating system has admittedly been a challenge to the team and they are excited to have come up with a beautifully designed E Ink OS, which they have open-sourced to meet the modern user's desire for transparency without compromising quality.
When the company developed and open-source the operating system, they announced that open-sourcing the OS goes along the lines of their "You're happy – I'm Happy" philosophy and this makes even more sense when you understand that Mudita is from the Sanskrit word "Mudit" which translates to 'Happy'.
What's It like using a Typical MuditaOS Device?
Not too much. A basic phone running MuditaOS features a home screen which uses a perfectly soothing E Ink display that is pretty to behold. Apps for calling, phonebook, messaging, settings, alarm clock, music player, calendar, meditation timer, tools, and onboarding.
Mudita has a desktop app, Mudita Center, with which you can manage your Mudita phone from your Linux, Mac, or Windows machine.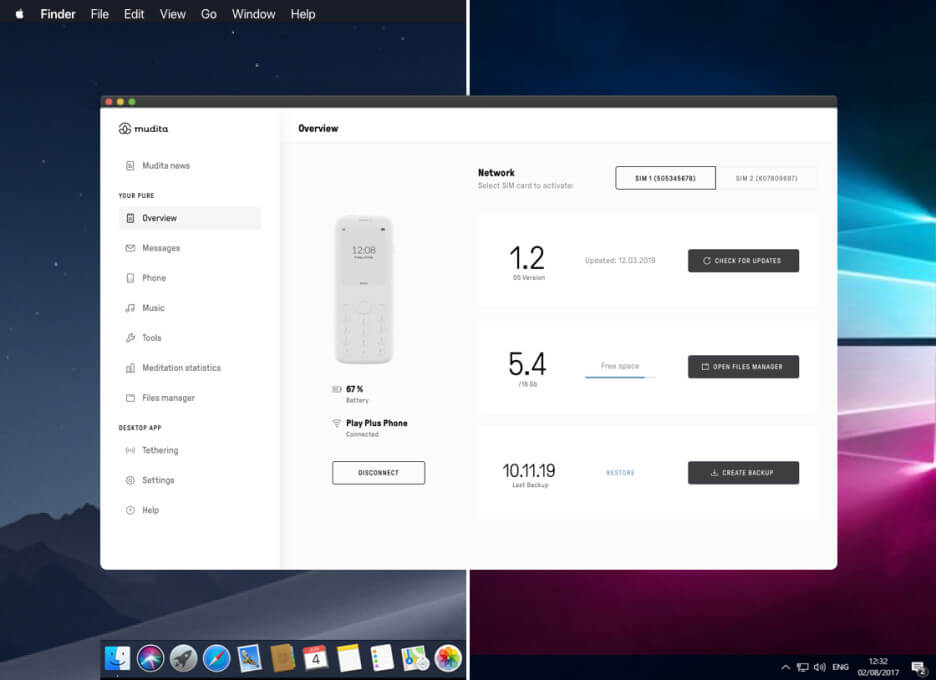 Its control features include
Update MuditaOS
Upload and manage audio on Pure
Create messages and notes
Export voice memos and notes
Synchronize calendar
Use phone as a mobile hotspot for 3G/4G data connection
MuditaOS is created specifically to run on Mudita Pure phones which come in 2 colour options: Pebble grey and Charcoal black. Mudita Pure phones are water-resistant with an IP54 rating, support 4G, use an ultralow SAR antenna for minimizing mobile radiation exposure.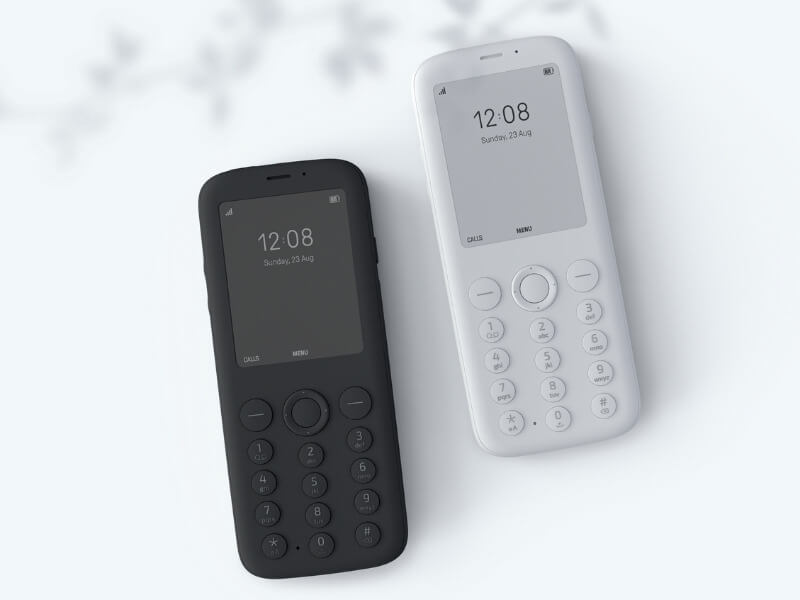 They also offer good quality audio thanks to their speakers and microphones which is made by Harman, the same brand behind JBL, Infinity, Harman Kardon, and Epicure loudspeakers.
Mudita Pure phone Specifications
The Mudita Pure phone specs include:
Arm Cortex-M7 600MHz, 512KB Tightly Coupled Memory (TCM) processor
2G, 3G, 4G/LTE, GSM, Bluetooth 4.2, USB Type-C
16MB SDRAM and 16GB eMMC flash storage
2.84'' E Ink (600x480px), 16-grayscale, scratch-resistant display
2 nano SIM card slots
~1600mAh, Li-Po, replaceable battery
Loudspeaker, ear speaker & microphone by Harman, Audio playback format: MP3, WAV, FLAC, Headphone jack, Bluetooth audio playback
Ambient Light
There's one caveat, though, the phones cannot use the Internet. That's right. They are pretty much modern versions of the extremely popular 'torchlight' phones with a heavy price tag a 2 design awards in 2020 and 2021.
Currently, the Mudita Pure phones are not available for sale yet but if you are interested, you can make a pre-order now for €297,00 (-15% discount).
We haven't tested the phone or the operating system yet so we don't know exactly what to expect from its performance. As far as we know, no other phones can run MuditaOS so the OS and device are pretty much inseparable. In the spirit of goodwill, we imagine that MuditaOS will be enjoyed by many users who want a modern phone with a sleek UI but don't need the extras that come with internet connectivity.
What do you think about this development? Will you be getting your hands on the Mudita Pure phones when they come out? Do you have any thoughts on the project? Drop your 2 cents in the comments section below.