A Wiki is a collection of web pages that is collaboratively edited by its users. Its content and structure of wikis are designed to be easily modified using a simple markup language. A wiki is powered by an engine, i.e. software that facilitates the creation and modification of its web pages typically implemented as a web app running on at least one server.
The most popular wiki we have today is Wikipedia, which is popular for being the usual landing page of every researcher whether they admit it or not, as well as hobbyist readers.
Today's article brings you a list of the most resourceful software with which you can host your very own wiki. Listed in order of their user ratings, here are the 15 best self-hosted wiki software for your Linux computer.
1. MediaWiki
MediaWiki is an open-source collaboration and documentation platform built to be reliable, extensible, memory-friendly, and customizable. Although originally written to power Wikipedia, it is currently being used by several projects including the non-profit Wikimedia Foundation.
MediaWiki's feature highlights include access and group options, namespaces, scalability, message notifications, automatic signatures, talk pages, and multi-language support with support for UTF-8.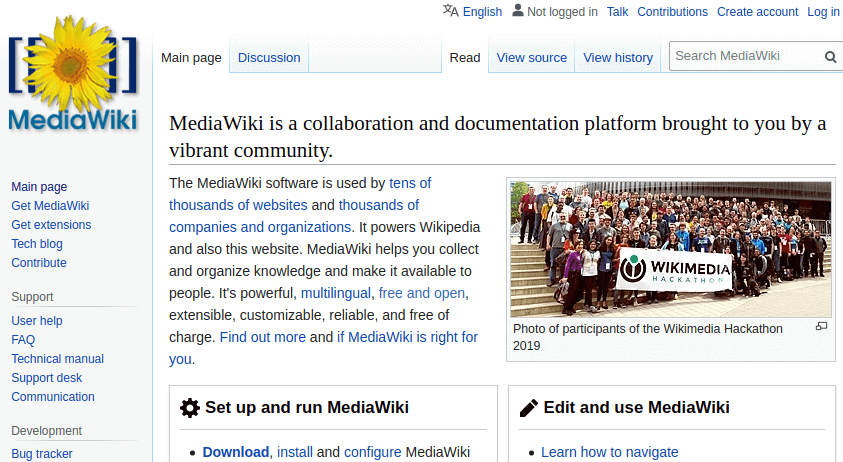 2. DokuWiki
DokuWiki is a free and open-source versatile wiki software that unlike many others, doesn't require a database. It was built with a focus on creating documentation with a design that enables convenient collaboration and version history.
DokuWiki's features include templates (skins/themes), configuration, plugins, mail encryption, spam blacklist, delayed indexing, unlimited page revisions, etc.
If you're looking for software to use as a private notebook, CMS, project workspace, corporate knowledge base, or software manual, you can't go wrong with this one.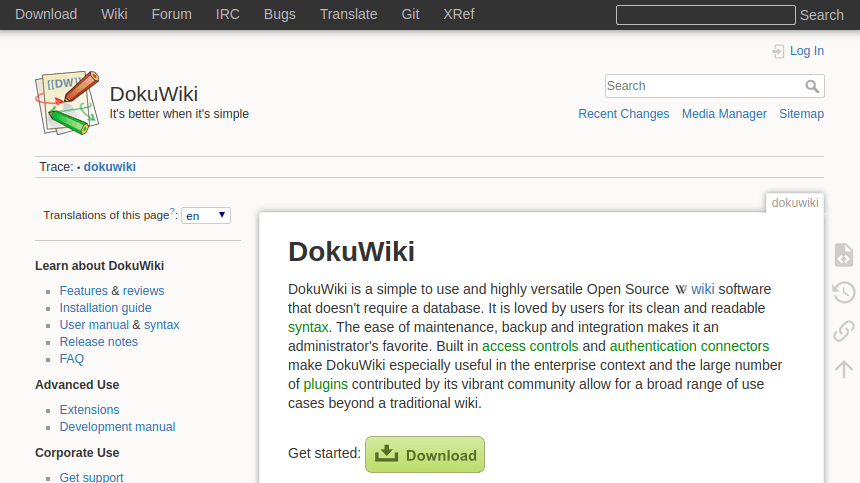 3. Wiki.js
Wiki.js is a powerful, extensible, free and open-source wiki software designed to make writing documentation a joyful breeze. It is built on Node.js, Markdown, and Git and it features a beautiful user interface that puts it among the most modern mentions in this list. Given its modern approach to wikis, Wiki.js is fast, memory-friendly, security-intensive, and configurable.
Its feature highlights include local, social, and enterprise authentication, cross-platform support, a built-in search engine as the content is automatically indexed and made accessible from the search bar of every page, intuitive assets management, integrated access control, etc.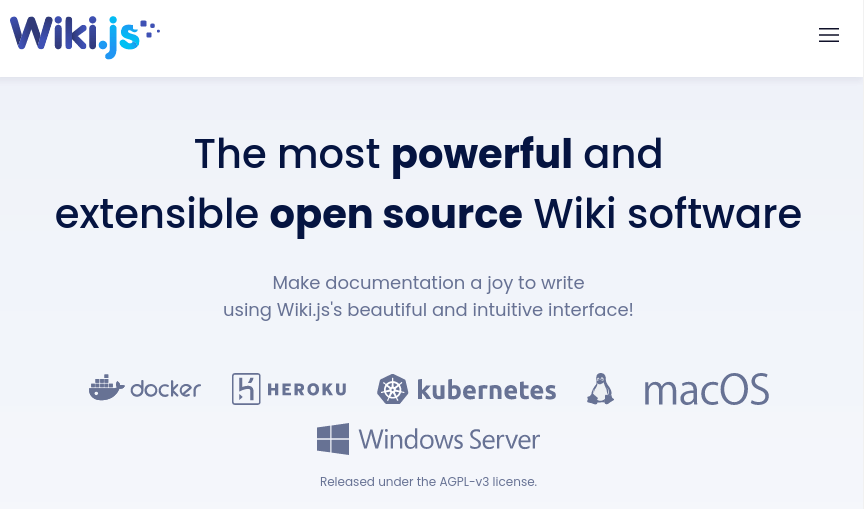 4. TiddlyWiki
TiddlyWiki is a unique, free, open-source non-linear notebook designed for capturing, sharing, and organizing complex inform. Whether it is a novel, a to-do list, or an easy, TiddlyWiki enables you to record information and efficiently manage it with complete control of where it is kept.
Among TiddlyWiki's several features is the ability to incorporate audio files as you would an image, SVG support, scalability, modals, an alert mechanism, a web server, encryption using the Stanford JavaScript Crypto Library, permalinks, autosave, and lazy loading.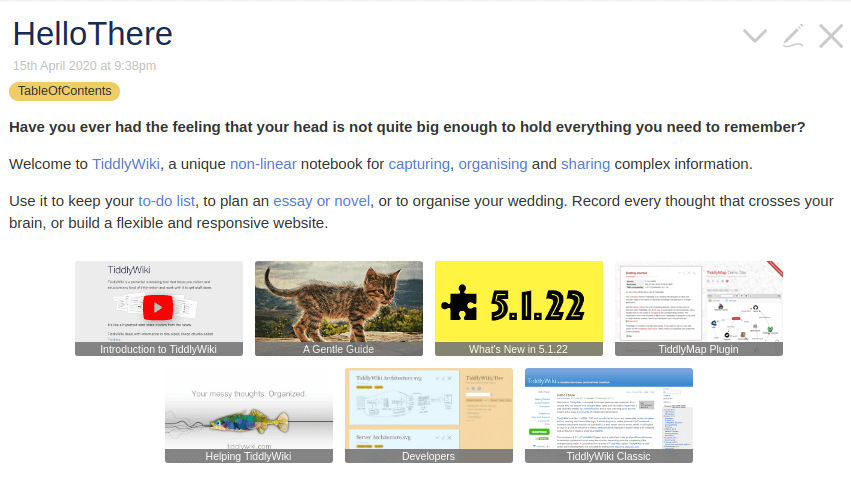 5. XWiki
XWiki is an advanced open-source Java-based enterprise wiki app that offers a generic platform for developing projects and collaborative applications using a wiki paradigm. It is built for its users to have complete control of its functionality as it supports north of 600 extensions for applications, themes, skins, etc.
XWiki's feature highlights include a robust WYSIWYG editor, privacy and rights management, a powerful wiki syntax, a unique set of applications, XML/RPC remote API, version control, integrated statistics, PDF export, document lifecycle, and Portlet integration.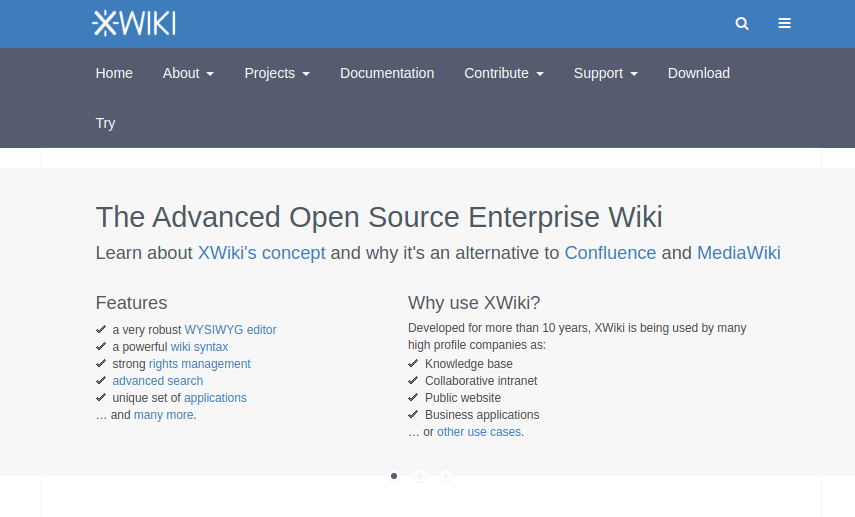 6. MoinMoin
MoinMoin is an advanced, open-source, Python-based, extensible wiki engine created with the ability to fulfil a variety of roles among which is an internet server open to users with similar interests, a company knowledge base deployed on an Intranet, a personal notes organizer deployed on a home server or on a laptop, etc.
Its features highlights include versioning, groups, tables, subpages, flat files and folders-based storage mechanism as opposed to a database, modular authentication, pluggable formatters supporting plain text, DocBook, HTML, and XML, pluggable parsers supporting diffs and CSV, XMLT (with XSLT), Creole, etc.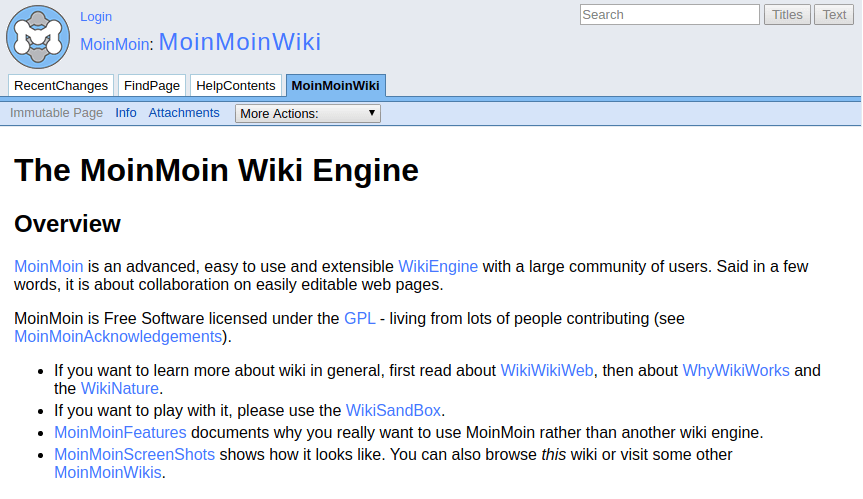 7. BookStack
BookStack os a free and open-source wiki software for organizing and storing information. It is designed with simplicity in mind and features an easy-to-use WYSIWYG page editor that its content broken into 3 main world groups: Books, Chapters, and Pages.
BookStack's feature highlights include several configuration options, full search, cross-book sorting, image management, page revisions, multilingual support, an optional markdown editor, an integrated authentication.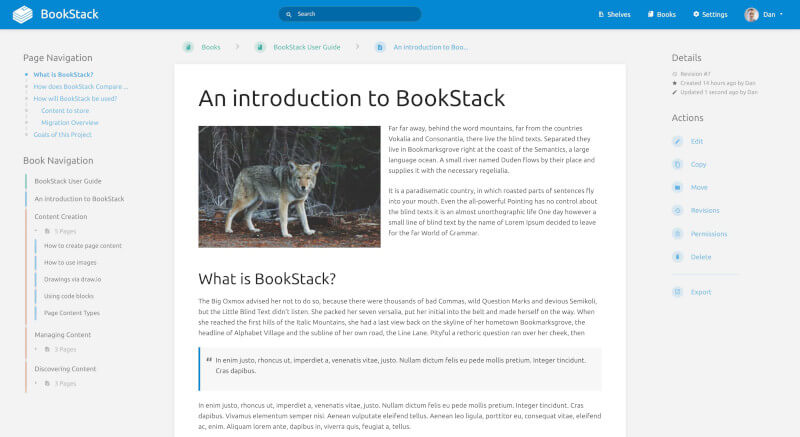 8. Tiki Wiki
Tiki Wiki is a free and open-source wiki-based content management system born of the mission to foster the development of free and open-source software that can be benefited from by all. It has been in development since as far back as 2002 and continues to be under active development thanks to its dedicated community. It is built in PHP.
Tiki Wiki's feature highlights include surveys, polls, and quizzes, user and group management, calendars and events, WYSIWYG editing, RSS syndication, a database tracking system, blogs, an XMLRPC interface, HTTP authentication for permission-based RSS feeds, etc.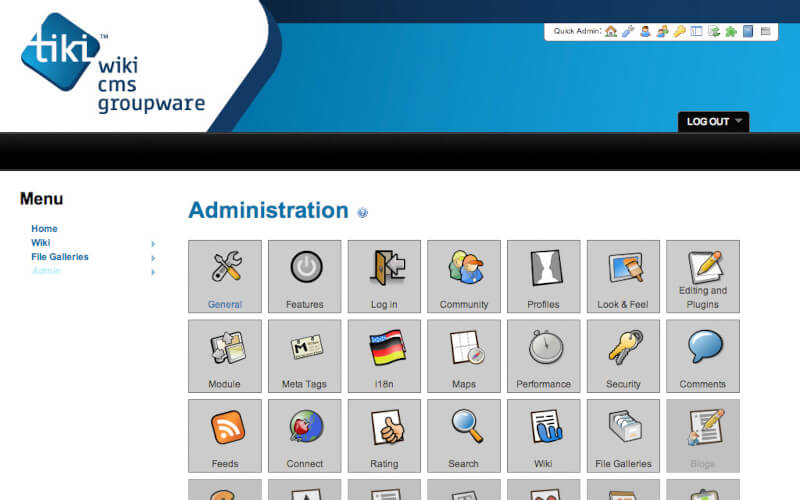 9. PmWiki
PmWiki is a simple free and open-source wiki-based content management system for collaborative creation and maintenance of websites. Its pages are designed to resemble normal pages save for the 'Edit' link that users can click to collaboratively edit pages using basic text content editing rules.
Its key features include a customizable look and feel, customization via the use of plugins, page indexing, change summary, page history and revision differential, authentication backends, Wiki SPAM Protection, email/RSS notifications, page redirection, Unicode/localization support, full-text searching, etc.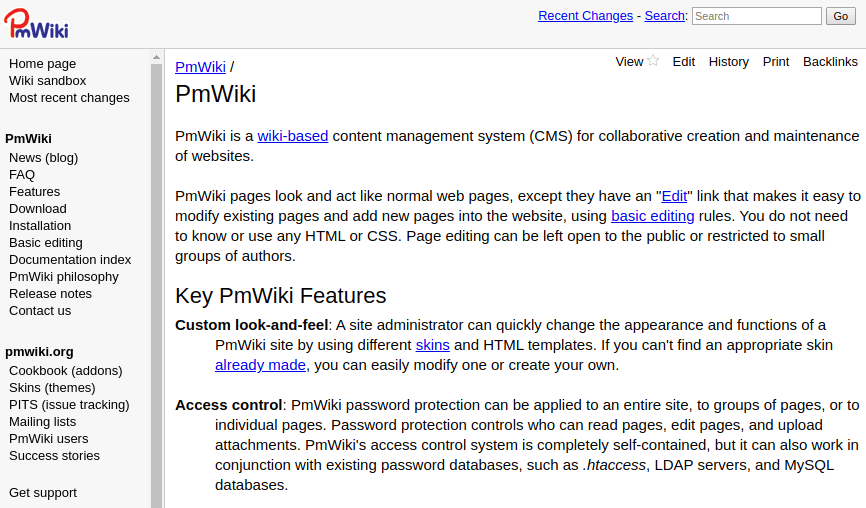 10. JSPWiki
JSPWiki is a free and open-source feature-rich WikiWiki engine built around Java, JSP, and servlets (i.e. the standard JEE components). Its key features include file attachments, template support, support for multiple wikis, support for UTF-8, easy plugin and page filter interfaces, choice of data storage, page locking (to prevent editing conflicts), and authorization and authentication controls using Java Authentication and Authorization Service (JAAS), WebDAV support for page access.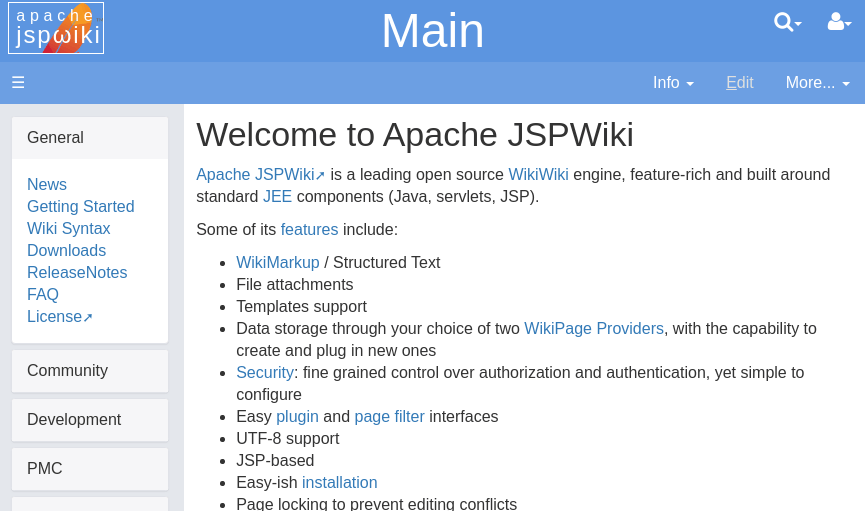 11. Foswiki
Foswiki is a free and open-source platform that enables users to edit paged directly in their web browser as well as to automate and build entire applications. It comes with advanced collaboration functionality and is primarily used as a corporate wiki for coordinating team activities, implementing workflows, and tracking projects at the workplace.
Foswiki's key features include TinyMCE-based WYSIWYG editor, revision control, a built-in database, over 400 extensions and 200 plugins for customization, a themeable user interface, RSS/Atom feeds, email notification, forms and reporting dynamic content generation using macros, and internationalization.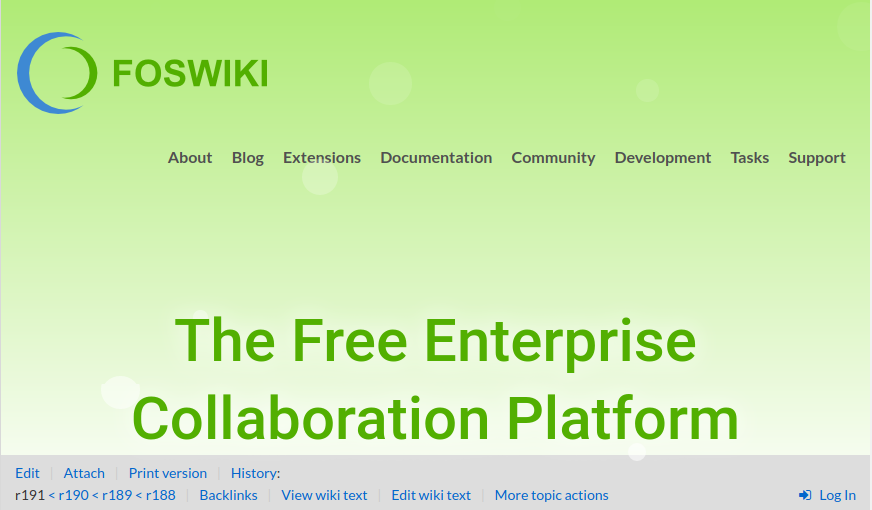 12. PhpWiki
PhpWiki is a PHP-based WikiWikiWeb that works right out of the box – no configuration or page setup needed. Its features include plugin architecture, full version history, themes, RSS, InterWiki support, several administrative functions such as page locking and deletion, etc.
PhpWiki is a clone of the original WikiWikiWeb and unlike MediaWiki, users can choose if they want to use a database prefix.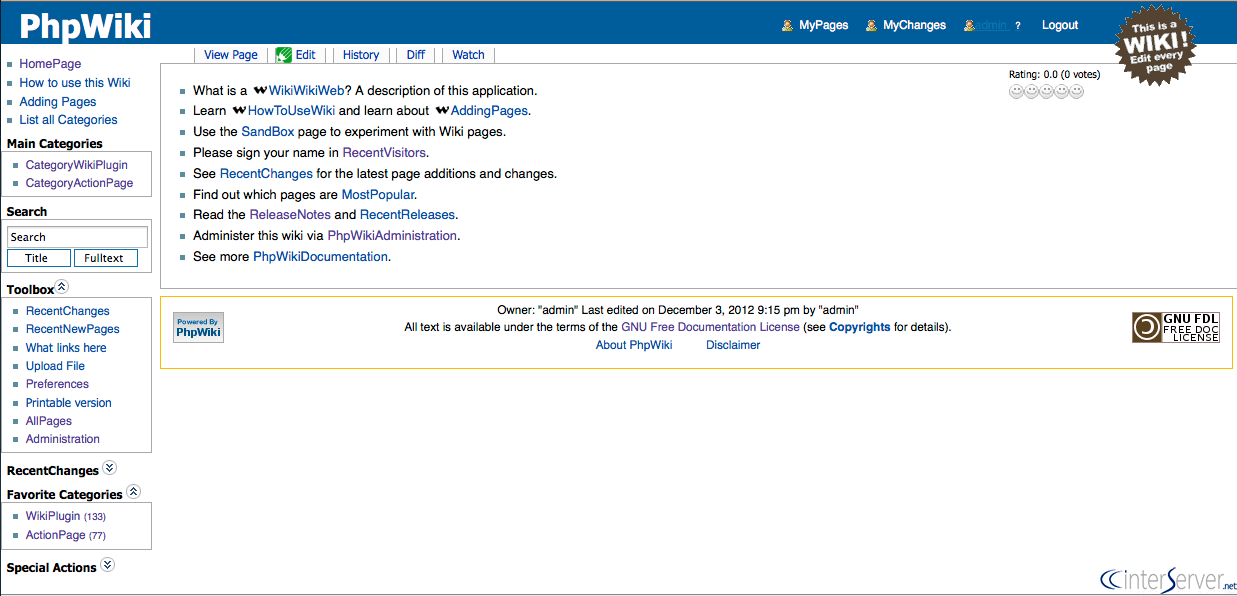 13. WackoWiki
WackoWiki is a small, lightweight, expandable, multilingual Wiki engine designed for speed and extensibility. It ships with an easy-to-use installer, a WYSIWYG editor, template engine, URI router, HTML5 compliance, page comments, page rights (ACLs), design themes, several cache levels, and it is released under the BSD license.
WackoWiki keeps a strong watch on security as it uses a custom-developed 'SafeHTML parser' to strip data of malicious content and avert cross-site scripting vulnerabilities.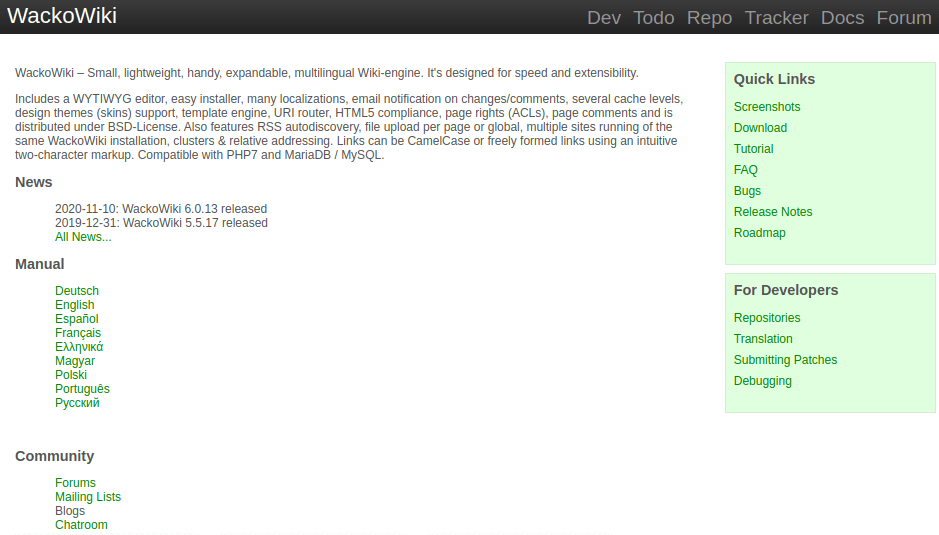 14. TWiki
TWiki is an easy-to-use, extensible well-structured enterprise wiki and collaboration platform typically used to run project development spaces, knowledge bases, document management systems, or other groupware tools on an extranet,  intranet, or the Internet. It has reportedly been downloaded over 700,000 times and used daily by millions of people in more than 50 countries with some large deployments having over one million pages and 1000 users.
TWiki is open-source software with key features such as RSS/Atom feeds and email notification, built-in database, forms and reporting, extensible TWiki markup language, authorization based on groups, full-text search, automatic link generation, over 400 extensions and 200plugins, web form handling, TinyMCE based WYSIWYG editor, and revision control.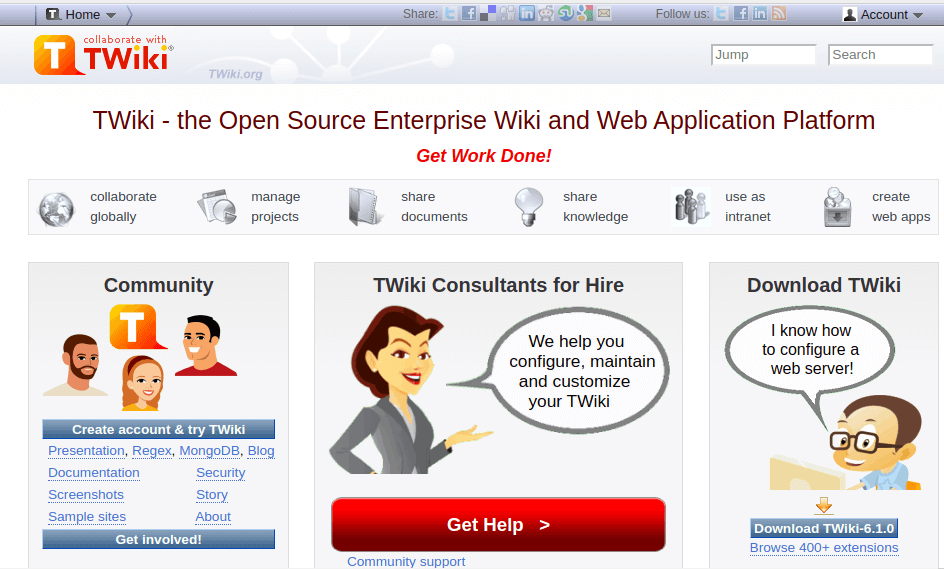 15. WikkaWiki
WikkaWiki is a flexible, lightweight, standards-compliant PHP-based wiki engine for working with pages, tables, RSS feeds, Flash objects, FreeMind maps, etc. It was built with the aim of keeping its core as light as possible while maintaining an architecture that supports extensibility through plugin modules.
While WikkaWiki has its open-source code available on GitHub, it is important to note that development has ended. You can still submit issue requests or even merge requests if you fancy contributing to its codebase. In any case, it had a good enough run to make it to our list of best self-hosted wiki software.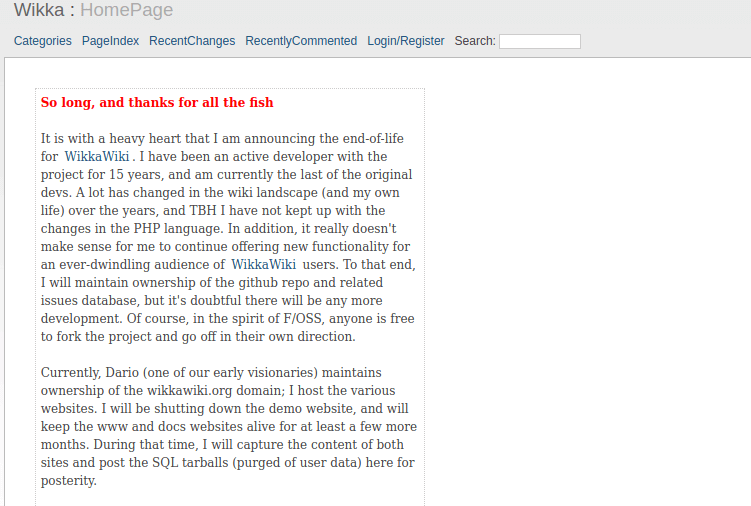 Now, we are sure that you have more than enough options to choose from for when you want to set up a wiki, documentation collaboration hub, notebook, or whatnot. Did we miss any of the good software you know? Let us know in the comments section below.