The feature-rich, simple, and CentOS/RHEL based NethServer OS, is finally here with their final release, NethServer 7 and I must admit that I am impressed.
Three months ago we got a glimpse of how far the team had come with the project after they released the NethServer 7 RC 2, and then NethServer 7 RC 3.
In announcing their new release, the NethServer team said,
NethServer 7 is a big step forward on the path of innovation, now we can take full advantage of the power of CentOS 7.

We're confident that it will be the best NethServer ever and it will achieve our mission. Making sysadmin's life easier with Open Source. This is thanks to the most vibrant, supportive and friendly community in the Open Source space (and not only Open Source).
Features of NethServer 7 OS
Following are notable features of NethServer 7:
A Neat Web Interface
Make use of a neatly designed and intuitive GUI environment to execute tasks, backups, and restores, etc with ease.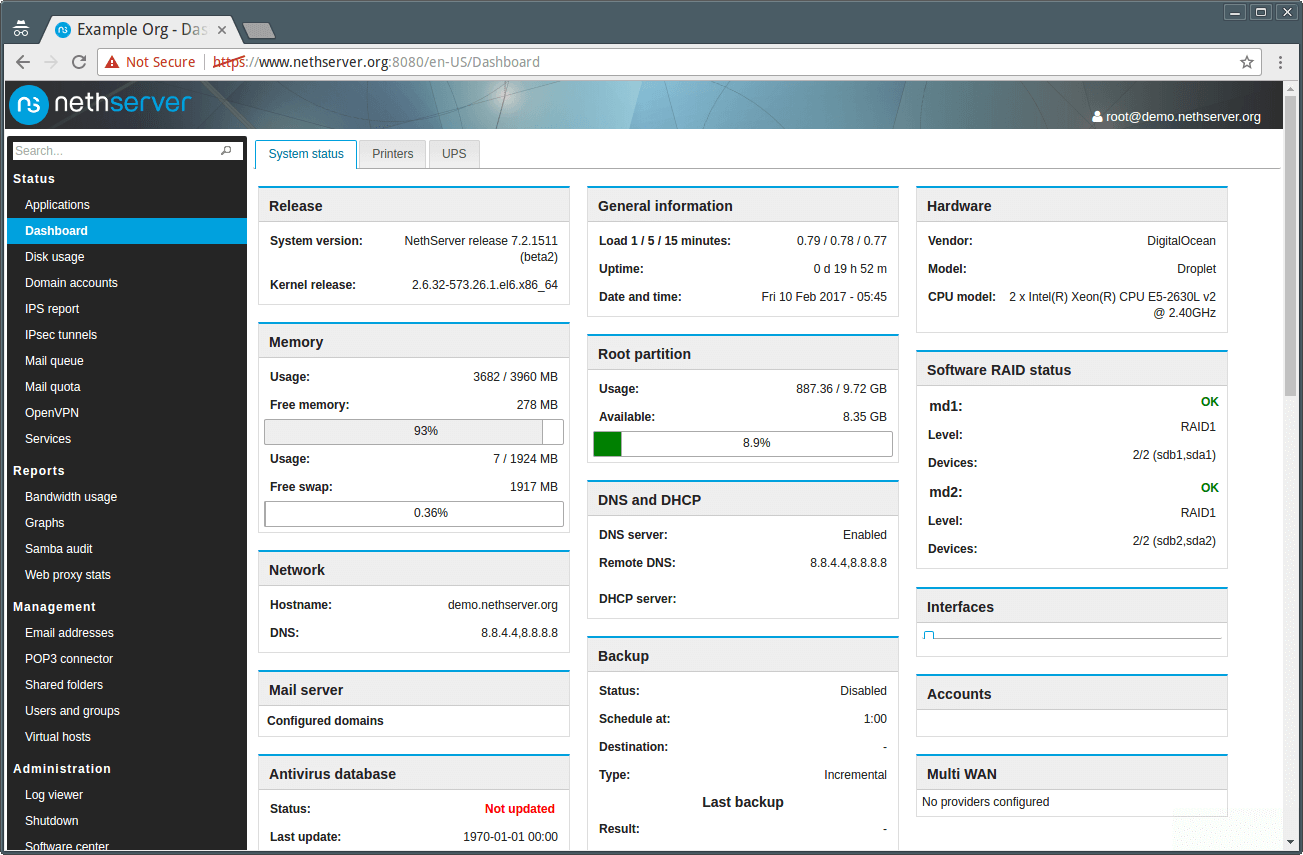 Advanced Static Routes
Easy static route configuration by implementing routes with either a specific selection of device and metric or forcing a default gateway.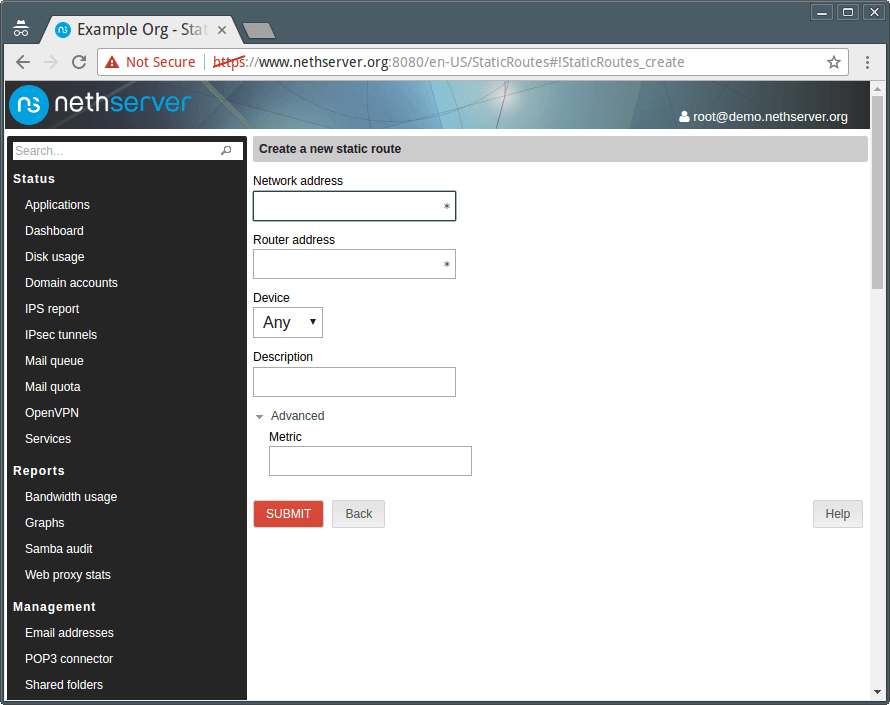 Next Cloud 10
Next Cloud is a new open source project that gives you the ability to run a private cloud platform from the laptop in your house.
You can read more about the project here for a quick overview of its features.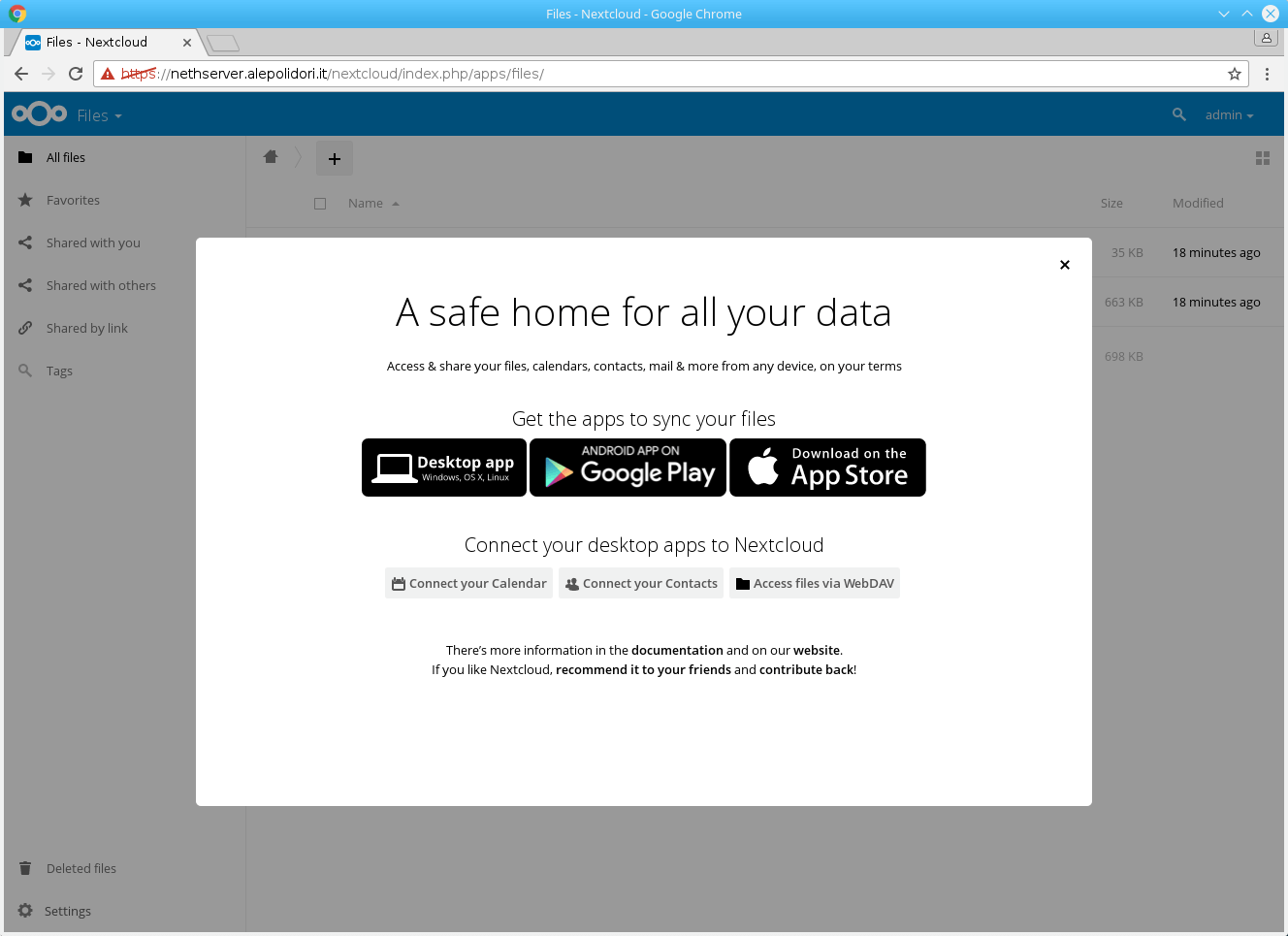 SSL Certificate Management Panel
Request for a new Let's Encrypt certificate to automate the obtaining certificates and configuring service daemons to use them (same way web servers do).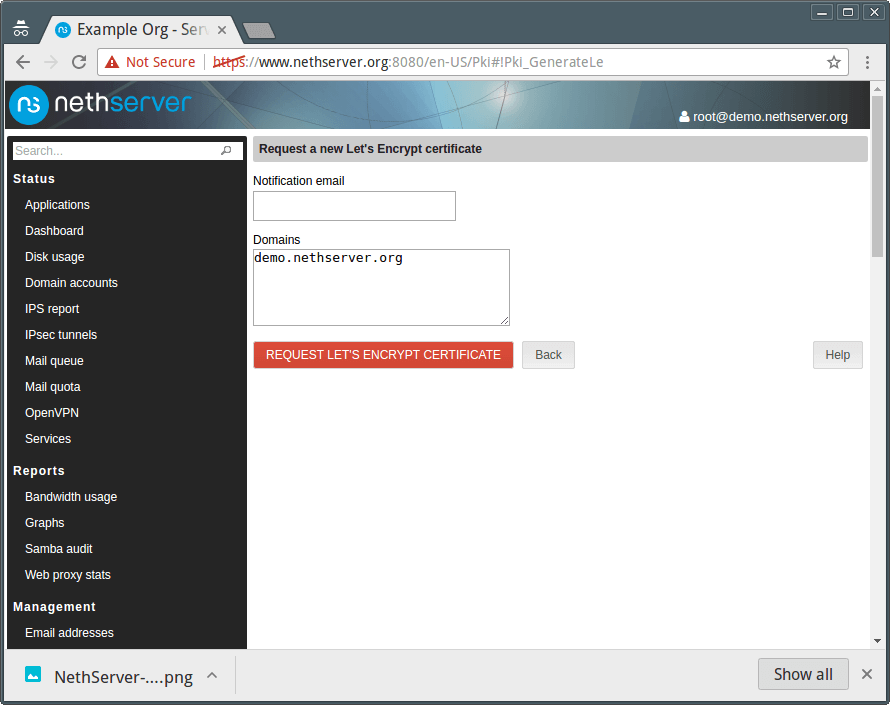 Firewall
Take advantage of deep packet inspection using nDPI and create firewall rules like "only the boss computer can access Facebook" or "nobody can download torrents". Use the reverse proxy to access internal sites from the outside network and host on an internal web server.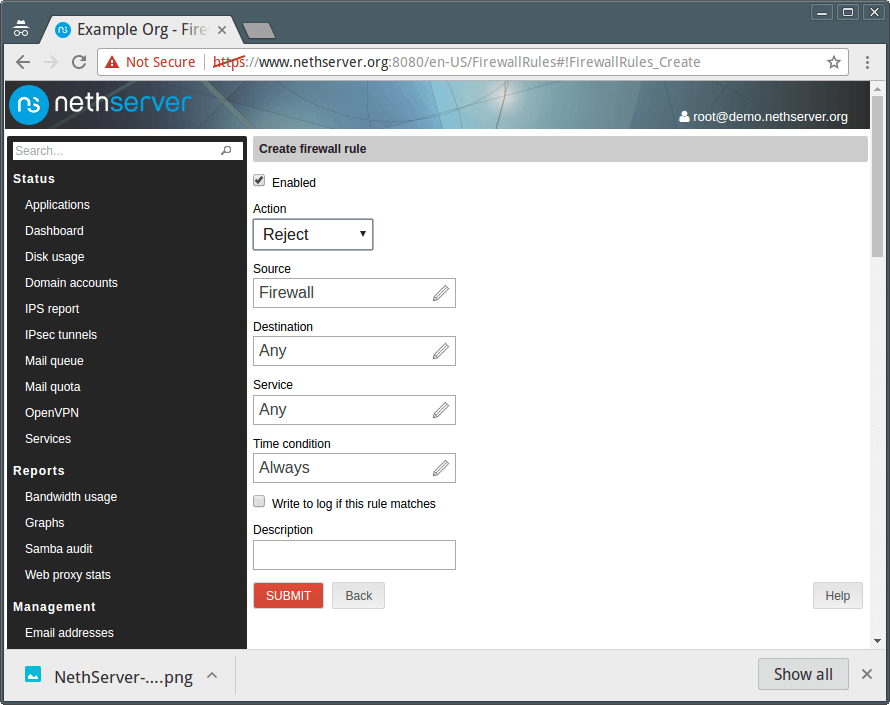 MailServer
All users automatically have a valid mail address e.g. username@domain at the point of creation. You have the ability to create distribution lists with both internal and external mail addresses, and Create shared mailboxes and associate them to a custom mail alias.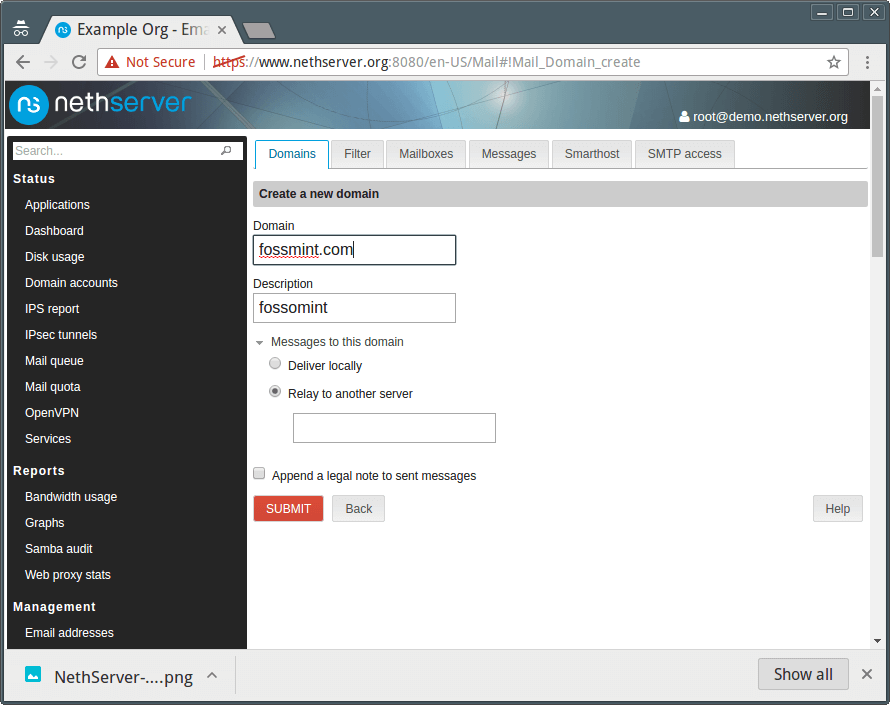 What's New in NethServer 7?
The CentOS/RHEL based NethServer 7 comes with a ton of many features of which most of them are major improvements and newly included repositories. Some of these changes are:
A New Look
NethServer has a more classy look with its polished predominantly blue, dark gray, and white interface.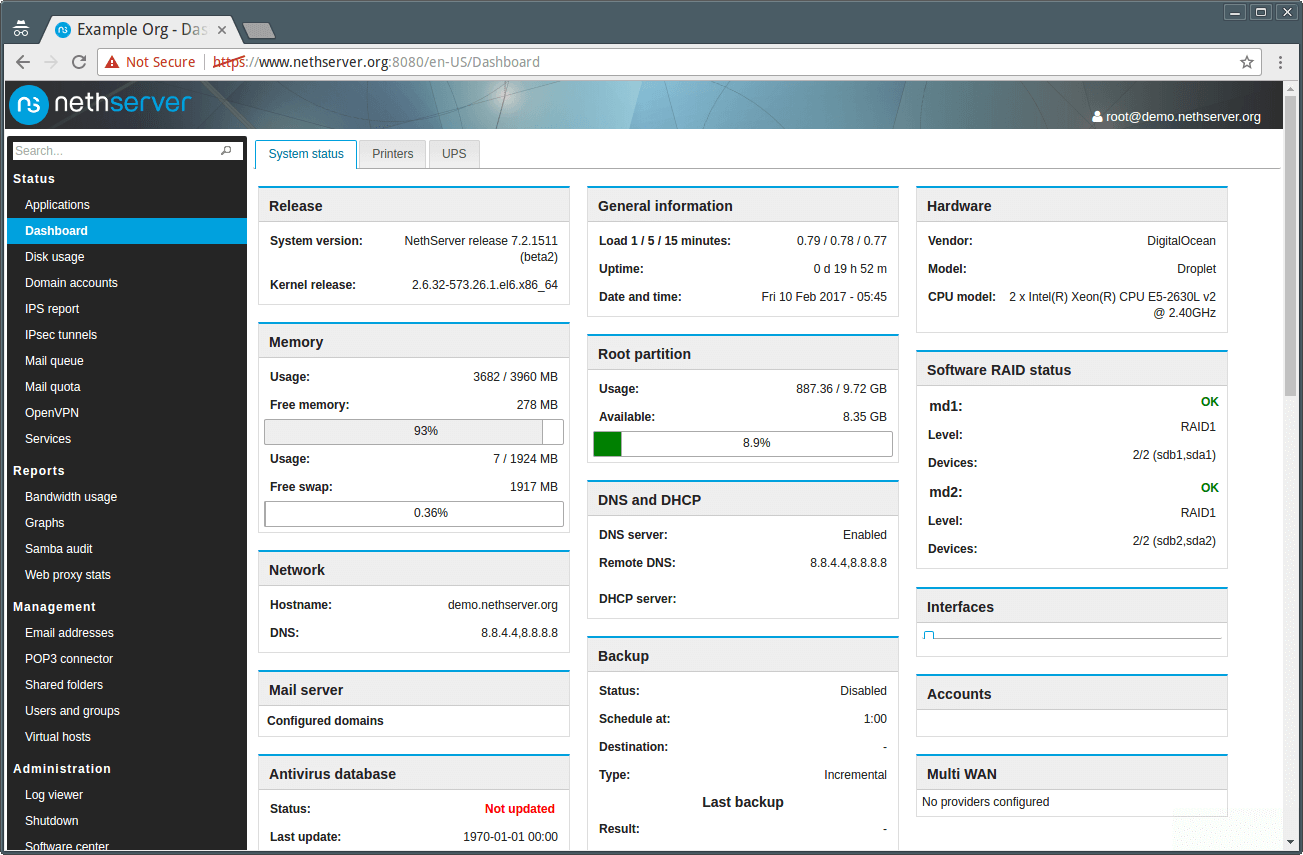 A New Landing Page
The newly implemented landing page holds links to quick tutorials that can help you get up and running.
A New Web Interface for Restoring Backups
You can now decide to do a backup restore from a number of previous backups.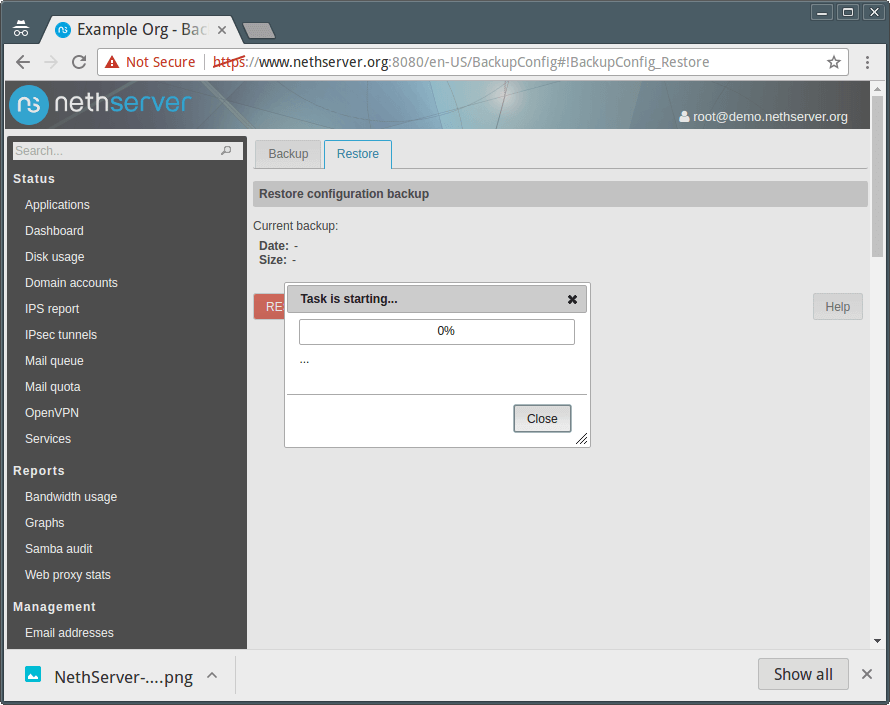 A New Bandwidth Monitoring Module
In accordance with user requests, the development team has added a new module, BandWidthD, for better bandwidth usage monitoring.
The tool is a widely accepted utility app with a proven track record so be sure to be getting an excellent administrative experience.
New Repositories
SCL (Software Collection) repository is enabled by default enabling users to download applications from it using the yum command.
NethForge comes with this version and is enabled by default. It is a center that contains extra downloadable modules built by the development community, has been added to the Software Center and is enabled by default.
You can check out the remaining various features that NethServer has to offer with alongside illustrative screenshots.
NethServer Demo and Download
Users cannot upgrade from NethServer 6.8 to 7 yet, so if you run the former and you wouldn't want to perform a clean installation you will have to wait for the option to upgrade to reach where you.
NethServer is available for free download in two options:
If you don't want to experience the installation process yet you can try out this live demo of the CentOS-based OS in action.
What has been your experience with it so far and how excited are you about this update? Or are you a potential user? Perhaps it is the solution you need for your administrative work. Are you willing to give it a try?
Share your thoughts with us below, in the comments section.