Rambox is a free messaging and emailing app created using Electron which is composed of various popular web applications to provide users with the ability to add as many web services as are supported in the same place and to use multiple accounts by way of duplicate apps.
Rambox is available for Linux, Windows, and Mac and at the moment, supports 73 web services including WhatsApp, Messenger, Viber, Telegram, Google Hangouts, Gmail, etc., and users are welcome to manually add services that aren't bundled in the latest shipment.
It has a simple bright interface with a tabs bar at the top of its UI to which added apps can be aligned either to the left or to the right. It comes with a handful of customization options including show notifications, mute all sounds, display read counter.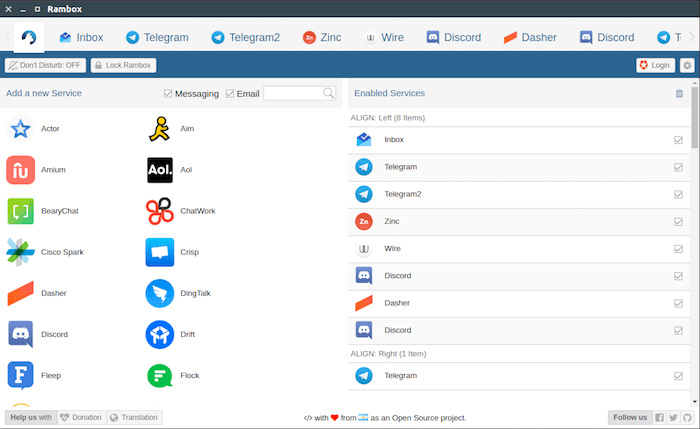 Features in Rambox
Unity notifications for added web services with desktop notification support
Account synchronization across multiple computers
Master password
Menu access from the system tray
Ability to manually add services of your choice
Proxy configuration support to bypass network censorship
Notification count on icons of individual services
Support for the addition of custom code
Reorder icons in the tab bar and group services into two
Long term support (as far back as Ubuntu 12.04)
Rambox is available for Ubuntu 12.04+, Fedora 21+ and Debian 8+ as AppImages and .deb packages for both 32-bit and 64-bit architecture:
If you are interested in joining the dev team you can find its source code on GitHub.
Rambox is not the first of its kind and it certainly isn't going to be the last seeing as Electron has opened a gateway for seemingly easy native Linux application development.
Give Rambox a try and share your experience with us in the comments section.