Thinking of parting ways from Google Analytics? Check out these options below! Irrespective of your reason to move away from Google Analytics, whether, it's about privacy, the overwhelming response of the tool or just to get an experience on any other tool, you can find plenty of its alternatives to serve you just right! But before we jump on to exploring these tools, let us clarify why you need to use an analytics tool?
[ You might also like: The 9 Best Google Analytics Plugins for WordPress ]
Well, if you are into an online business, analytics plays an essential role to get feedback on your data. A dependable analytics tool should be secure and must help you track important metrics and data insights, which might be challenging to perform if you don't have a capable tool or try to do it manually considering a large database of your customers. To know more, let's dive deep to explore these tools!
1. Clicky
Clicky provides real-time analysis while including all the basic features, heat mapping, and uptime monitoring to get to actual insights. It prevents data clogging due to the removal of referral spams and additionally keeps track of your site and alerts if you are not available due to some reason.
This simple analytical tool features white label analytics and you can avail of its basic version at no cost, whereas the Pro version costs start from $9.99 per month.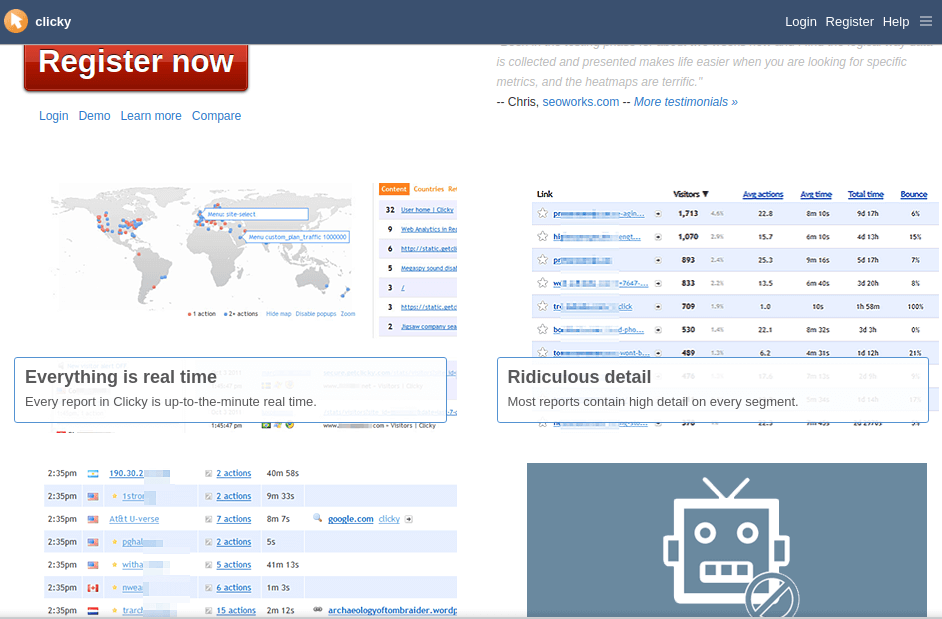 2. Matomo
Matomo works similar to Google Analytics and provides utmost data privacy and security. This software gives you complete ownership of your data so that you can know where your data is stored and if it is dealing with any external influence. It is loaded with a wide array of features such as heatmaps, session recordings, dashboard, form analytics, A/B testing, and lots more.
However, the only drawback is if you have a hefty amount of data, its interface may get blocked. This tool features a free version and its paid version starts at $7.5 per month.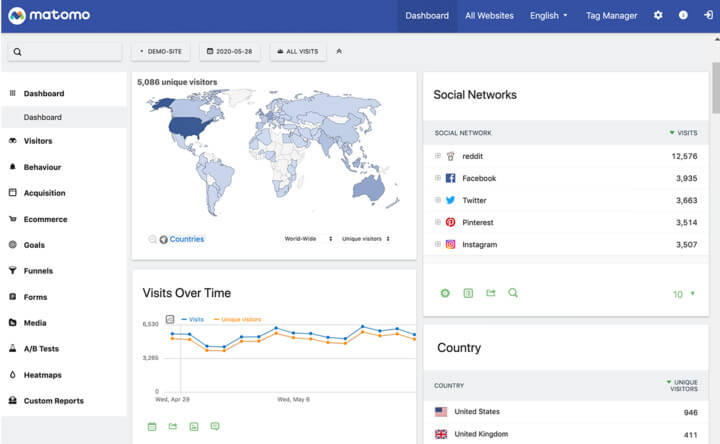 3. Fathom Analytics
Fathom Analytics is a general data analysis tool that is pretty simple to use, quick and focuses on privacy at the onset. This lightweight tool presents dashboard formats to let you seamlessly make business decisions, it offers you all that you need that includes top content and referrers of your business with other important aspects.
This tool works on the basis of CCPA and GDPR without collecting any private data. Besides, all its versions come with custom domains, email reports, and unlimited websites so that you can effortlessly and quickly monitor your website, blogs, and projects, all from a single account.
Furthermore, its monthly pricing starts from $14 for 100,000 page views, $24 for 200,000 page views and $34 for 400,000 page views.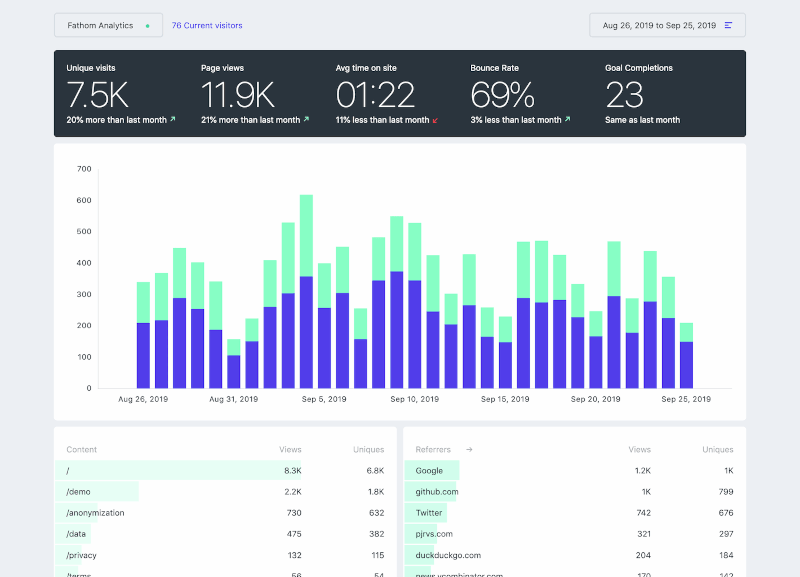 4. Simple Analytics
Simple Analytics highly lives up to its name. This Google Analytics alternative follows simple, clean and friendly practices to gather analysis while catering to privacy optimally. It is capable of monitoring and tracking referrers, page views, top pages, countries, browsers, screen size, and more.
The tool can be availed in three versions or tiers. Its starter plan comes at $9 per month, the business plan can be bought at $49 per month whereas the enterprise plan has customized quoting for which you have to directly contact the company.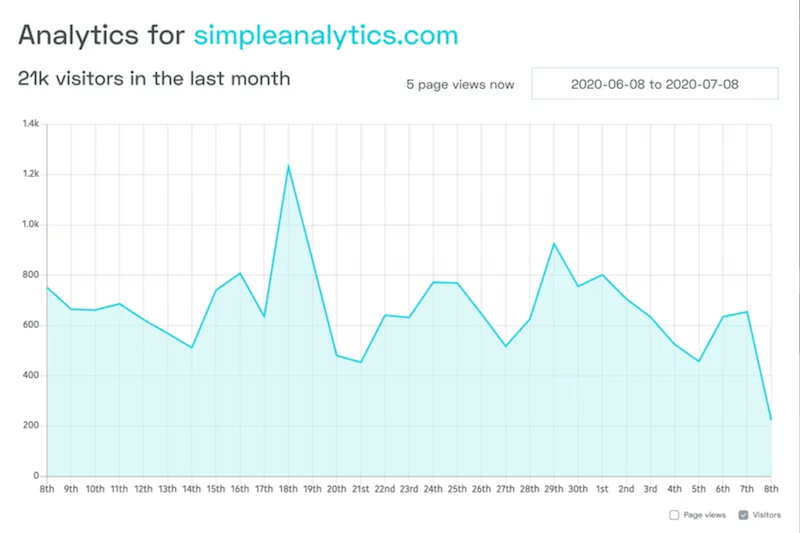 5. AT Internet
AT Internet is yet another big competitor for Google Alternative. This web-based solution helps in measuring web and mobile-based traffic to enhance your business's digital performance. It features data exploration, collection, activation, insights sharing, etc to let you make timely and correct decisions.
The tool is ideal for media, e-commerce, banking, corporate, etc. websites including mobile apps. This tool has no free version and its monthly pricing starts from $355.00 and to avail of its premium version, you need to contact the company directly.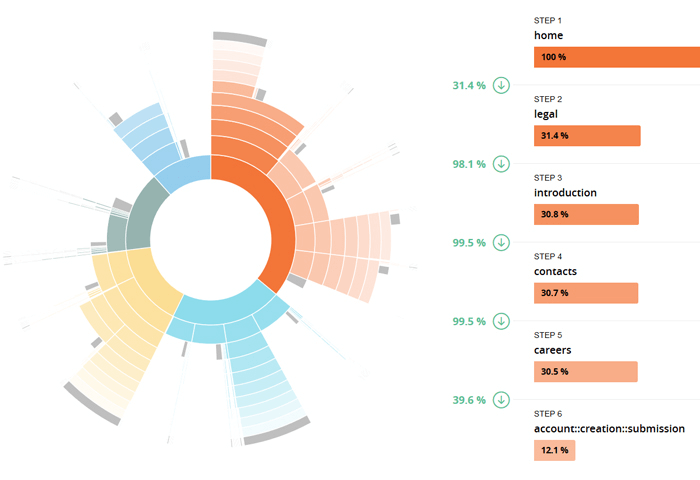 6. Chartbeat
For advanced analytics related to your content and publishing outlets, Chartbeat comes with all that you need. It includes reporting, dashboard, optimization, etc. tools to produce a quality content by also letting you perform headline optimization, integrations, and image testing for doable insights.
This tool provides accurate analytics and eliminates the need for guesswork. Its pricing is not disclosed, you will have to contact the company directly.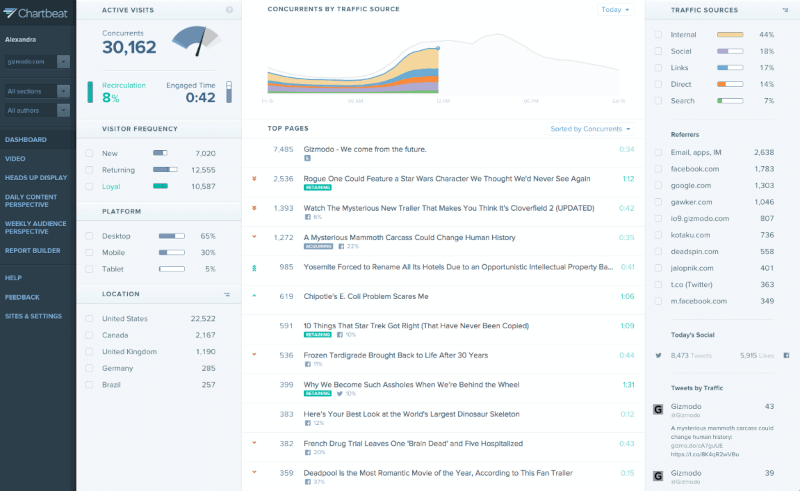 7. Smartlook
Smartlook is an advanced-level analytical tool that houses the features of both qualitative and quantitative analysis. It makes it possible to filter exact recordings for a large volume of visits. It recently got integrated with the REST API, making it suitable for large companies. You can opt for its free plan and the monthly plan starts at $31.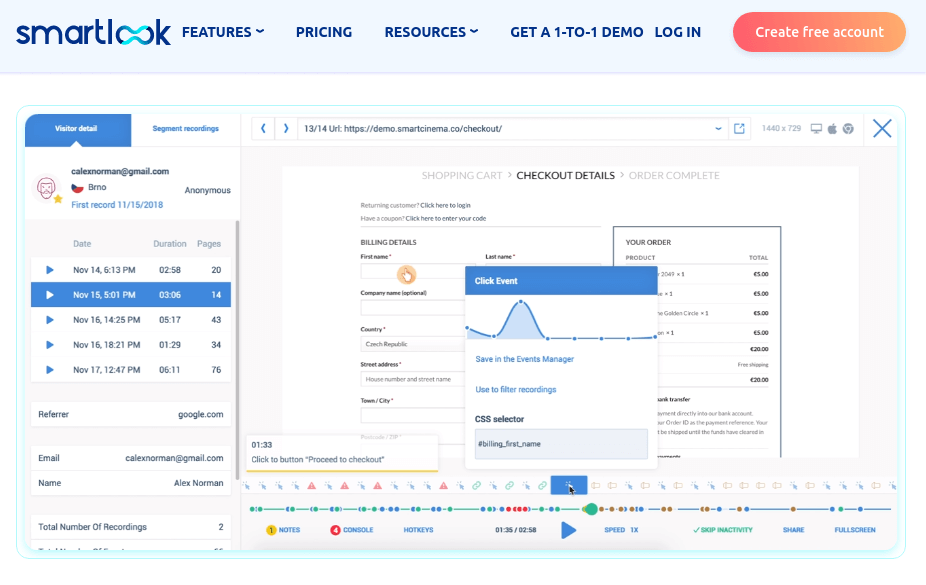 8. Woopra
Woopra uses a data-driven approach to provide analytics based on live chat interactions and user behavior posts on getting the emails onboard. This user journey analytical tool helps in analyzing, engaging, and retaining the users. Its free plan can be availed for limited services and with the paid plan get all that you need at $999 per month.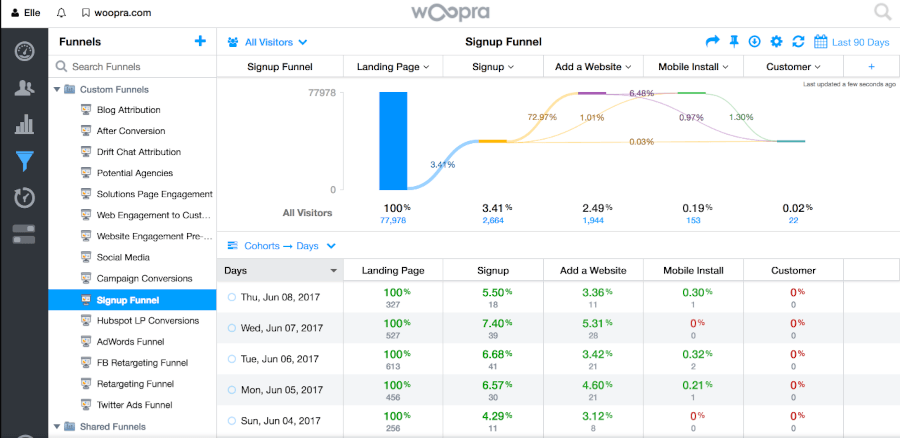 9. Statcounter
If you are in search of a simple analytical tool, end your search with Statcounter. This user-friendly analytical tool is meant for basic analysis and reports on website page views, visitors, new visitors, and sessions. It comes with a free basic dashboard and with its paid plan, you get access to advanced features like reports for paid traffic, conversion rate, etc. you can use Statcounter for free or pay $9 per month to avail its advanced functionalities.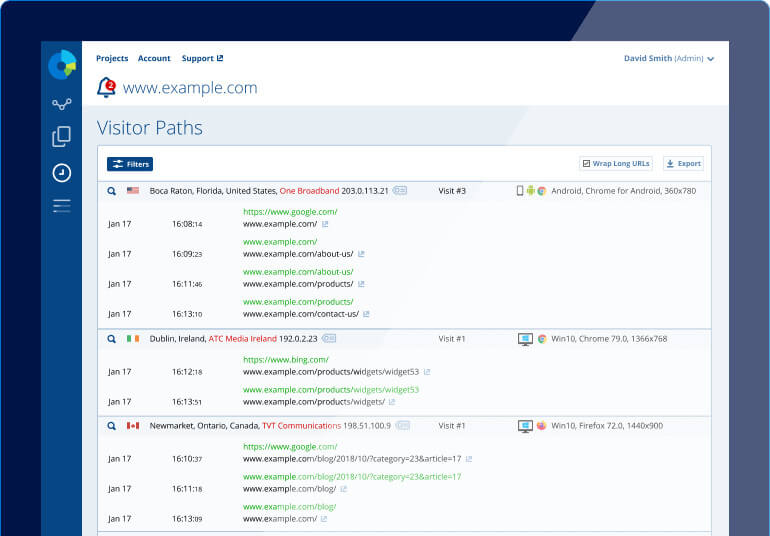 10. Mention
Mention works by picking your competitor's names or their products and your brand name or products while offering relevant hashtags. It features an option to seek how the customers are talking about your brand and your competitor's brand in different languages by using an artificial intelligence system to get positive and negative mentions to create your company's report. Its pricing starts from $29 per month.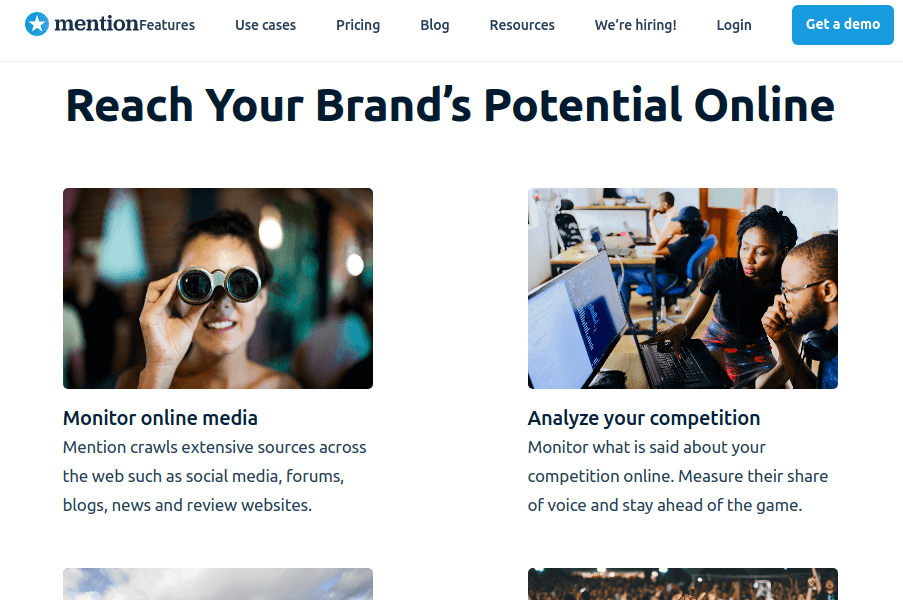 11. Finteza
Finteza is an advanced level yet easy to use analytical tool that provides in-depth analysis of your data along with accurate reports. This budget-friendly tool offers a free trial and is pretty easy to set up. Its paid version for web and application analytics can be availed at $25 for 100,000 users.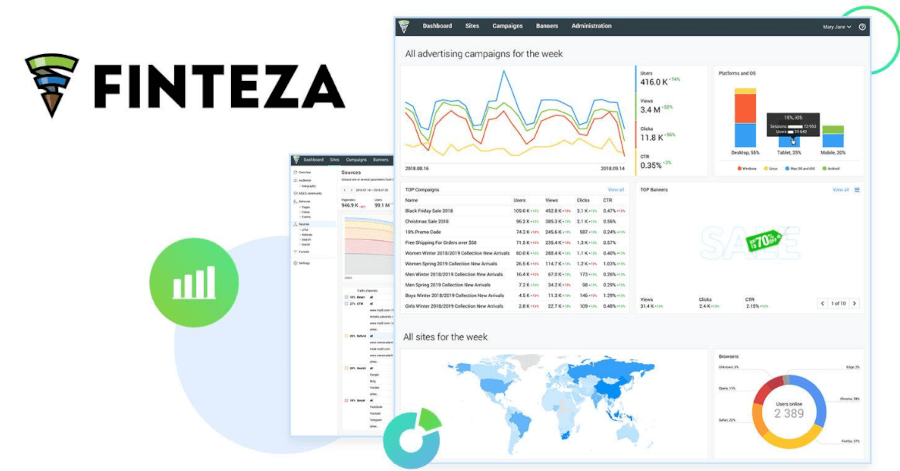 Conclusion
If you are an owner of any online business, the analytics tool is a must-have to help you decide quickly and correctly while analyzing your business data.
Through this post, we shared some of the best choices when it comes to Google Analytics alternatives.