Facebook is one of the earliest and most popular social networking platforms, with roughly around 3 billion monthly active users.
It is one of the few platforms that are used and popular amongst varied age groups, from youngsters and middle-aged people to the older old-age population.
Just like any other social media network, Facebook requires you to create an account and sign up/log in via Two-Factor Authentication (2FA) by providing a valid email ID or a phone number.
2FA adds that additional layer of security, protecting users' accounts and making it difficult for hackers to compromise or break through an authentication system.
Thus, whenever you sign up for the platform for the first time or log in without saving a password, Facebook sends a unique authentication code to your mobile number. Once you enter this code, you can successfully log in to your Facebook account.
However, in some instances, when you lose your phone or it gets stolen, is it possible to still log in to your Facebook account without a code generator? The answer is yes.
In this article, we'll explore some of the top ways through which you can log in to your Facebook account without a code generator.
But first, let's understand the importance of a Facebook code generator.
What is the Importance of a Facebook Code Generator
A Facebook code generator is one of the essential security features that helps secure a Facebook account from unauthorized and unauthenticated user access.
Thus, it helps enhance the security of your Facebook account from hackers or malicious users. Here are some reasons why using a Facebook code generator is crucial for you:
It helps protect against unauthorized access, as discussed. Even if a third-party hacker gets your login credentials, they still won't be able to access or log in to your account, as the authentication code will come to your linked mobile device.
Protects sensitive information related to your Facebook account from unauthorized users, preventing chances of data breaches and misuse.
Prevents unauthorized account recovery, as hackers would need access to the secondary authentication code, even if they gain access to your email account, making it even more difficult for them to break through your Facebook account.
Ensures peace of mind, knowing your Facebook account will always remain safe and away from the malicious hands of hackers, even if your passwords or login credentials get compromised.
Where To Find The Facebook Code Generator
You can easily obtain your Facebook login authentication code in these three different ways:
From Facebook, where you get a confirmation code text to a linked mobile number to your account.
From the Facebook recovery code list, you saved as a backup.
From authentication apps like Google Authenticator or Duo.
How To Log in to Facebook Without a Code Generator
Code generator was a convenient solution for accessing 2FA codes without a phone number. However, Facebook has recently retired its code generator.
Here is what you can do in case you lose access to your code generator or any third-party authentication tool.
1. Let the Facebook App Text You a Confirmation Code
If you still have access to the mobile number you linked with Facebook for 2FA, you can get a new SIM card for the same mobile number from your mobile provider. Then, you can let Facebook easily send you or text a confirmation code.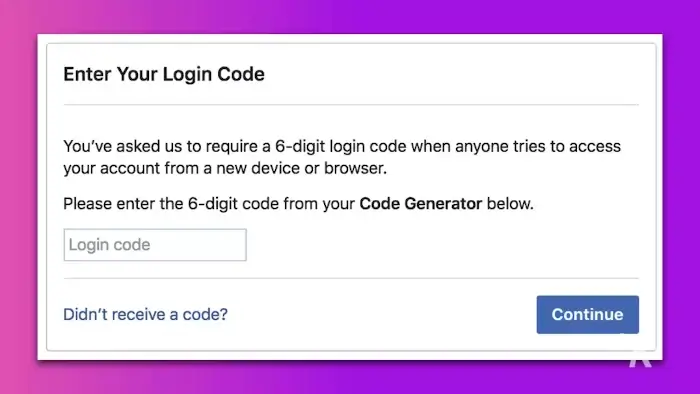 Unfortunately, despite you adding or setting up another phone number under your profile, Facebook can only use the previous phone number you set up for 2FA to send you a confirmation code.
When logging in to your account, select "Need another way to authenticate?" and then click "Text me a login code", Facebook will text a code to your mobile number.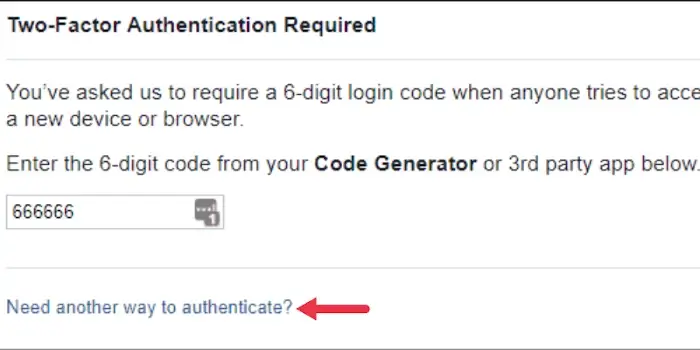 At the same time, you can also get the code via call by asking Facebook to call you instead of texting the code to your linked mobile number.
2. Approve Login From an Authorized Device
Whenever you log in to your Facebook account from a new device, web browser, or application, it asks if you would like the browser or the application to remember the login credentials the next time you log in so it auto-fills the credentials for you.
Hence, you will not have to log in to your Facebook account every time you try to access it through the respective browser or application.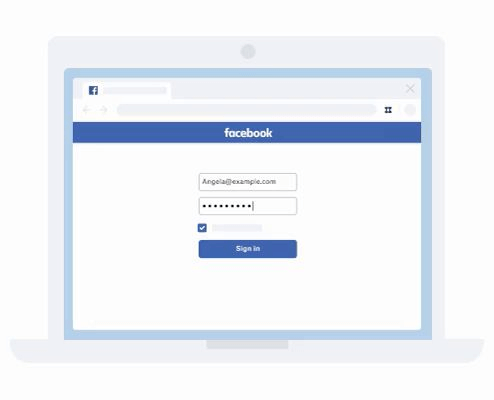 Hence, attempting to access your Facebook account from a web browser, device, or application you have already used previously to log in to your account can help you access your Facebook account without requiring a code generator.
3. Use a Saved Recovery Code or a Backup Facebook Login Code
Once you set up Two-Factor Authentication, Facebook also lets you save or download a set of recovery or login codes whenever you can't access the code generator on your mobile device.
These backup or recovery codes are one-time use codes, which you can print or download directly to your local device. Thus, you must check if you can access these codes; maybe you downloaded them, printed them, took a screenshot, or noted them in your private diary.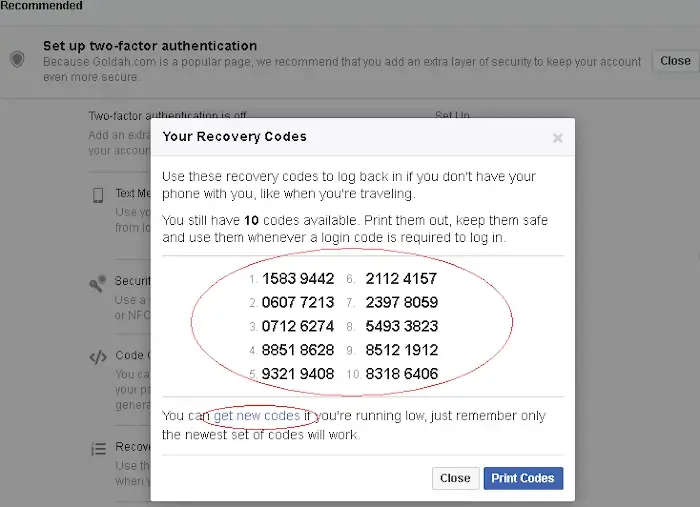 If you have these codes saved with you, you can use any of them to log in to your Facebook account. You can enter these backup codes just like you'd enter the code you'd receive on your mobile via 2FA.
You can try searching for these codes through your device's File Manager in case you face difficulty in finding these codes. On the other hand, if you didn't save these backup or recovery codes in the past, make sure to save them as soon as you regain access to your Facebook account so you can use them in the future if needed, should you lose access to your authentication tool.
4. Confirm Your Identity by Contacting Facebook
If none of the above-mentioned ways work, submit a help request to Facebook.
To do this, when logging in to your account, once you select "Need another way to authenticate" click on "Get More Help" and Facebook will walk you through the critical steps you must take to recover your Facebook account.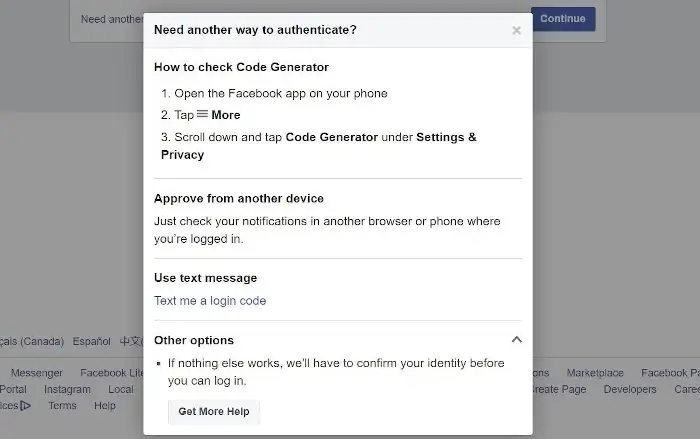 Here, Facebook will require you to confirm your identity by providing your email address and uploading your identity proof, like a driver's license, passport, national ID card, or any other official identity proof document.
Once you provide all the requested and required information, Facebook will email you with the next steps to recover your account.
Conclusion
In this digital and highly revolutionalizing age, securing your social network and other official accounts is highly crucial to avoid risks of identity and data breaches and other cyberattacks.
While Facebook's code generator provides excellent account security, you will still need backup solutions to log in to your Facebook account in case you lose your phone or don't have access to your code generator.
In this article, we have highlighted some of the top and most effective ways through which you can access and log in to your Facebook account without a code generator. While these methods can help you regain Facebook access, it's crucial to keep your account safe and secure from unauthorized access by enabling Two-Factor Authentication.
Make sure you regularly update your login passwords, recovery methods, and trusted contacts to ensure you have ample ways to regain access to your Facebook account in case of a hack, breach, or lost phone.