The Cinnamon desktop environment is based on the GTK+ 3 toolkit and was first released in 2011 having started as a fork of the GNOME Shell; and since it became its own desktop with the release of Cinnamon 2.0, it has come to be one of the most popular desktop environments in the Linux world.
The Cinnamon team just recently announced their latest release, Cinnamon 3.2, which ships with it a brand-new screensaver, a redesigned keyboard applet, sound effects for notifications, support for Qt 5.7 and vertical panels, settings for the new menu animations, and tons of other changes.
The desktop environment has a simple UI with small icons by default. Its applications menu is different from that of Ubuntu's Unity in that it has all the applications categorized and displayed when you hover over the major categories.
See screenshots of Cinnamon 3.2 below:
What's New in Cinnamon 3.2?
Applets
Many changes have come to Cinnamon's applets:
The keyboard applet can now display flags based on shortened language names and even distinguish between two different layouts. It also has an improved navigation experience and performance in general.
Cinnamon
Cinnamon itself has added a few features including: the addition of vertical panels, the ability to peek at the desktop, to play system sounds when displaying notifications, and the ability to upload system information. Control Center
Issues with new network connections have been fixed and the keyboard layout now has new options available.
Nemo Extensions
Nemo extensions now support EXIF rotation and have received fixes in nemo-preview. More size options have also been added to image converter.
The Screensaver
The screensaver has been revamped to be faster, more customizable, and more responsive. Support to show notification number and battery status has been added. Support for media art, controls, and keys has also been added.
Window Manager
The windows manager now features a cross-fade effect option in background changes. Cases that caused cinnamon crashes have also been fixed.
There are a lot more features including under-the-hood fixes and you can see them all here.
Install Cinnamon 3.2 on Ubuntu 16.04 LTS, 16.10, & 17.04
First, add Cinnamon's Stable PPA to your system
$ sudo add-apt-repository ppa:embrosyn/cinnamon

Next, update your PPA, Permissions, and Distro.
$ sudo apt update && sudo apt dist-upgrade

Finally, install Cinnamon desktop
$ sudo apt install cinnamon
After installation is complete you will be bale to choose your preferred desktop at the log-in screen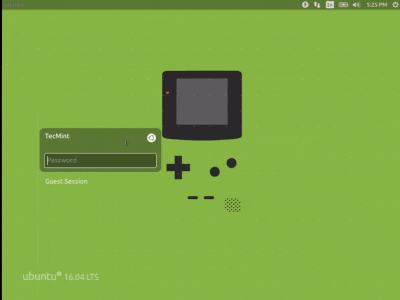 Install Cinnamon 3.2 on Linux Mint 18
$ sudo add-apt-repository ppa:gwendal-lebihan-dev/cinnamon-nightly
$ sudo apt update
$ sudo apt install cinnamon
If you want to remove Cinnamon desktop do so by running:

$ sudo ppa-purge ppa:embrosyn/cinnamon                     [On Ubuntu]
$ sudo ppa-purge ppa:gwendal-lebihan-dev/cinnamon-nightly  [On Linux Mint]