Wayland has been the default session choice for the Gnome Shell ever since the release of Fedora GNU/Linux last year November, and it has been working great so far.
In fact, the Gnome shell seems to even work better with Wayland than Xorg – but every now and then I come across an app or two that will run only on a Xorg session e.g. TeamViewer and Brightness Controller.
So I've decided to introduce to you a nifty tool that'll save you the stress of wondering whether you're running Xorg or Wayland – it is XorWayland.
XorWayland is a simple GNOME Shell extension that displays an X or W icon in the system tray depending on whether you're running a Xorg or Wayland session.
Check out how it looks like below: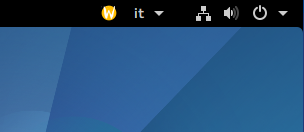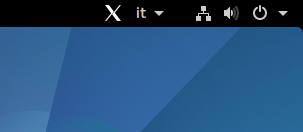 The best way to install it at the moment is to get it directly from git via the terminal, which is quite an easy and straight-forward process. Just open a new terminal window and enter the following:
$ git clone https://github.com/pedemonte/gnome-shell-extension-xorwayland.git
$ cd gnome-shell-extension-xorwayland
$ mkdir -p ~/.local/share/gnome-shell/extensions
$ cp -r [email protected] ~/.local/share/gnome-shell/extensions/

If you are running Xorg restart GNOME Shell using (Alt+F2, type r, Enter) and enable the extension via Gnome Tweak Tool.
If Wayland is what you're running, log out, re-login (because Wayland doesn't support Gnome Shell restart yet), and then enable the extension via Gnome Tweak Tool.
According to the developer (who doesn't quite like JavaScript), this project is his first GNOME Shell extension and so it might be on the buggy side. Feel free to make suggestions and pull requests on its GitHub page.
Thanks to Federico Pedemonte for developing this nifty utility tool; You can find his original blog post here.
And thanks to Rick McNamara for pointing out the importance of a tool like this in the comments section of our post on Brightness controller.
We look forward to hearing from you on how you check your Linux session type and don't forget to share this method with friends and colleagues.