Customer Relationship Management software is immensely important in any business because the apps are designed to help business owners improve the quality of their interaction with their customers by streamlining the content that they receive which in turn attracts more traffic and increases sales.
On what basis are CRM software better than others, you ask?
Usability – The best CRM applications have a nice straightforward UI and informative dashboard that make them easy to use and navigable.
Portability & Mobile Responsiveness – They are also available for use from the cloud and mobile devices which ensures that managers can always keep track of their business project at any time and from anywhere.
Affordability & Feature Set – The best CRM applications (especially for small businesses) offer a good number of features at affordable prices. This means that CRM platforms that don't offer the essential features necessary for managing their customer relationships at low costs are not listed.
Integration – The best CRM software for small businesses has OOTB support for several 3rd-party programs which will enable them to boost the functionality of whatever platform they're using.
Today, I bring you a list of the best Customer Relationship Management software in the market.
1. Zoho
Zoho is a CRM software that aims to help owners of any business size to sell better, smarter, and faster. Its features include live chat for keeping your site visitors interactive, prompt reminders, call analytics, email filters by priority and sales with context, process management, developer tools, marketing automation, in-depth analytics, integration with all the popular business apps e.g. Office 365, Zendesk, Twitter, Slack, Zapier, etc.
Zoho CRM is free for up to 3 users with leads, documents, and mobile apps and 3 subscription packages, Standard at $14/month, Professional at $23/month, Enterprise at $40/month, and Ultimate at %52/month. It is also available on Android, iOS, Windows, and the Web.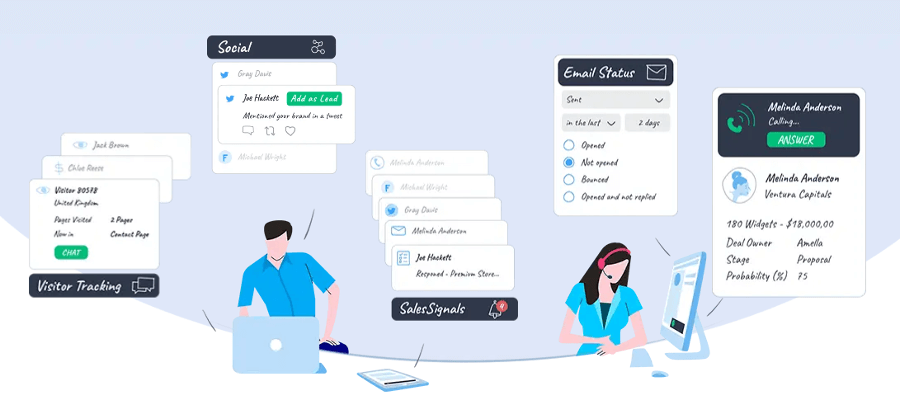 2. Pipedrive
Pipedrive is a free cloud-based CRM tool designed to enable online business owners and sales personnel to consistently grow their sales by gaining maximum output from minimum input. It is designed with a focus on simplicity, time-saving, beginner-friendly, and affordability.
Pipedrive's subscription packages cost $9.90/month for Essential, $19.90/month for Advanced, $39.90 for Professional, $49.90 for Power, and $59.90/month for Enterprise. It is also available on Android, iOS, Mac, and the Web.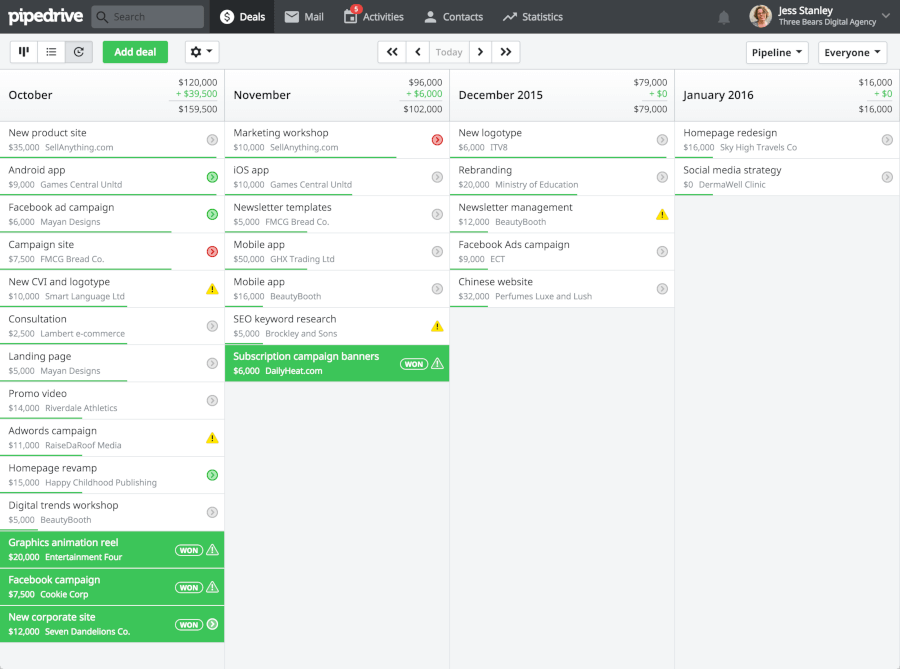 3. HubSpot
HubSpot is a 100% free intuitive platform designed to help business owners manage and promote their businesses online. Its CRM is designed to enable marketers/salespeople to manage their relationships as well as improve their interaction with customers.
It features several tools geared towards client relations such as lead generation, marketing automation, email automation, analytics, tickets, and popular feedback.
Hubspot is free to use forever while offering 3 subscription packages, Starter at $18/month, Professional at $800/month, and Enterprise at $3200/month. It is also available on Android, iOS, Mac, Windows, and the Web.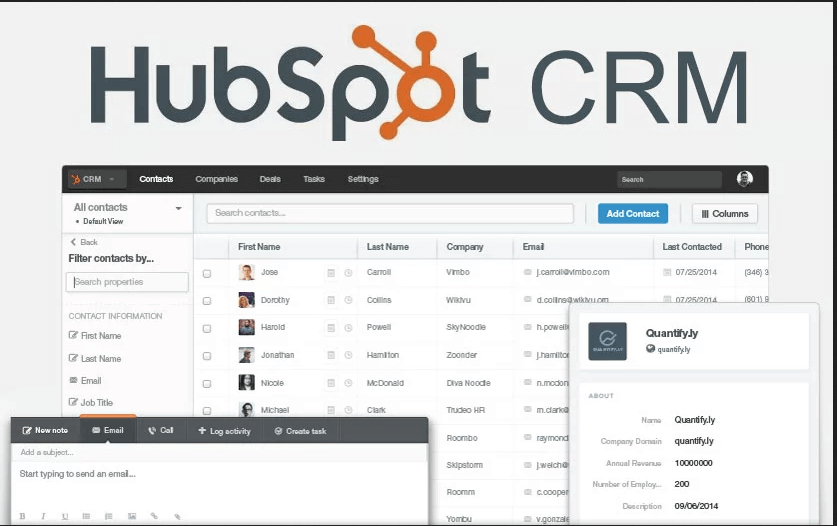 4. Agile CRM
Agile CRM is a powerful affordable all-in-one cloud-based customer relationship management software designed for sales and marketing automation with small businesses in mind.
It is free for 10 users with lead scoring, tasks, unlimited deals, appointment scheduling, etc. while offering 3 subscription packages, Starter at $8.99/month, Regular at $29.99/month, and Enterprise at $47.99/month. It is also available on Android, iOS, Mac, Windows, and the Web.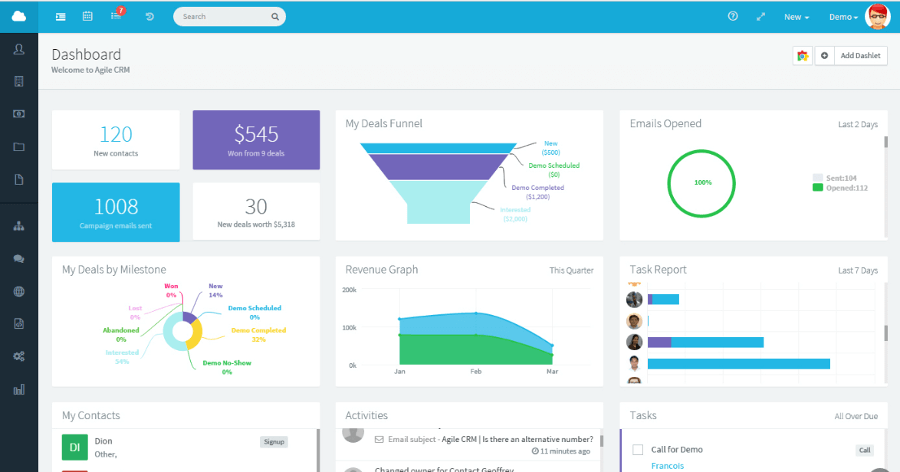 5. Drip
Drip is a beautiful popular eCommerce customer relationship management application designed to enable the business of its users to stand out. It offers a comprehensive list of tools for customer data, engagement, personalization, and optimization.
Drip integrates seamlessly with email services, Facebook, and Instagram as well as other 3rd-party platforms, etc. It is free to use but offers extra features in subscription packages namely Basic at $49/month, Pro at $122/month, and Enterprise which varies in price.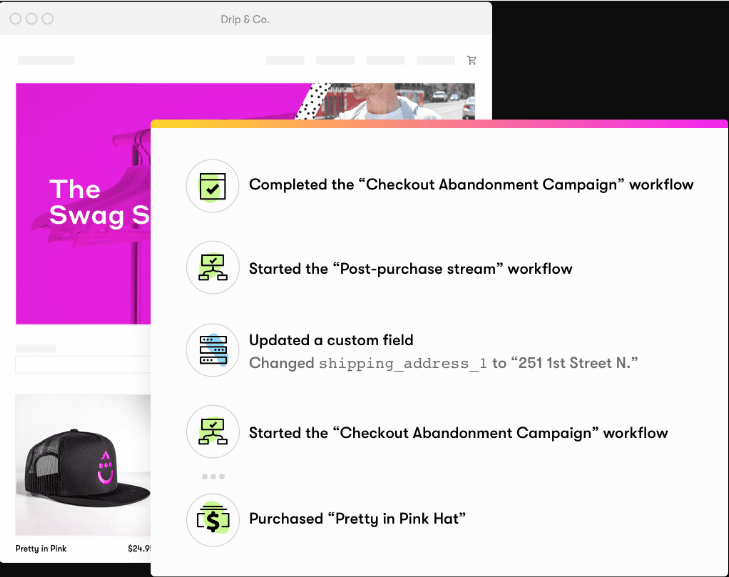 6. Constant Contact
Constant Contact is a paid CRM built to enable WordPress to improve its online presence and customer relationships using tools that allow them to easily manage their contacts list, send personalized emails, track customer activity, generate and analyze reports, drag-drop, create sales funnels, schedule emails, etc. all from the convenience of a beautifully designed dashboard.
Constant Contact's subscription packages are based on the number of contacts with Email starting at $12/month for Lite, $35/month for Standard, and Premium at $80/month.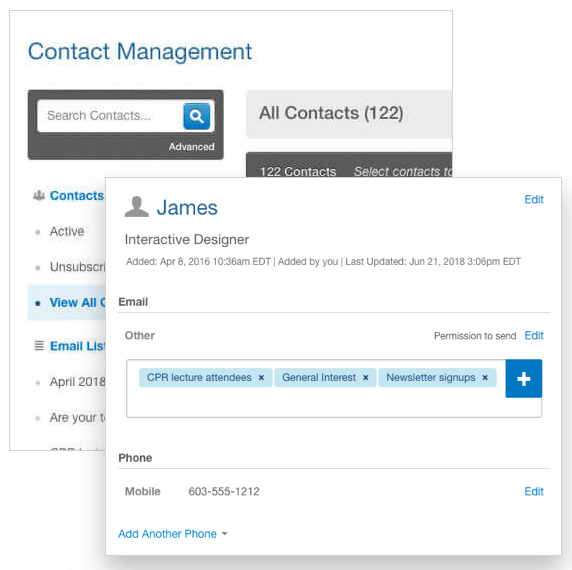 7. Freshsales
Freshsales is customer relationship management software with a focus on beauty, efficiency, and simplicity. Its feature highlights include AI-based scoring, personalized emailing, activity capture, built-in phone, interactive pipeline management for tracking deals, smart forms, etc.
Freshsales has 4 subscription packages namely Growth at $15/user/month, Pro at $15/user/month, and Enterprise at $69/user/month. It is available on iOS, Android, and the Web.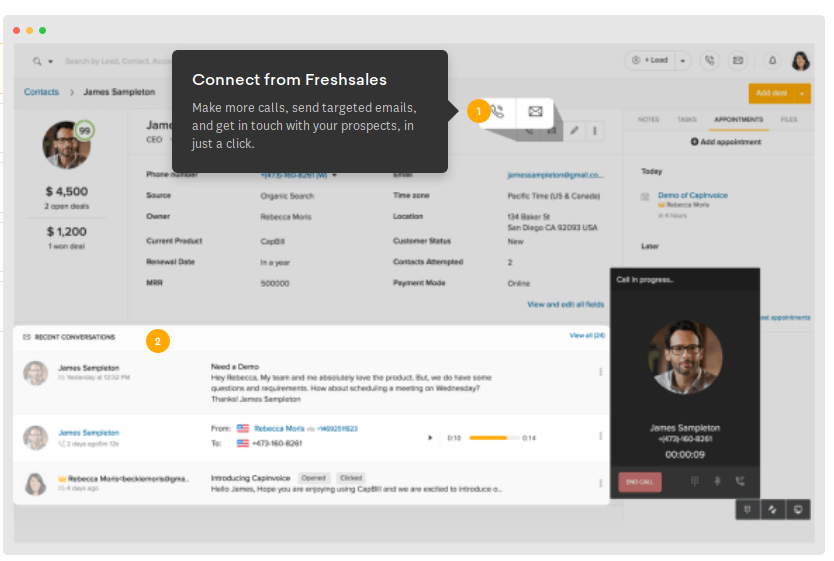 8. Insightly
Insightly is a cloud-based CRM platform built for Gmail, Outlook, and G Suite applications. It is developed to enable lifelong customer relationships that are strong and aims to grow users' revenue by 20% annually by offering features such as workflow automation, several 3rd-party integrations, bulk emails, a minimalist dashboard, etc.
The platforms that Insightly supports are Android, iOS, Windows, and the Web and its subscription packages cost $29/month for Plus, $49/month for Professional, and $99/month for Enterprise.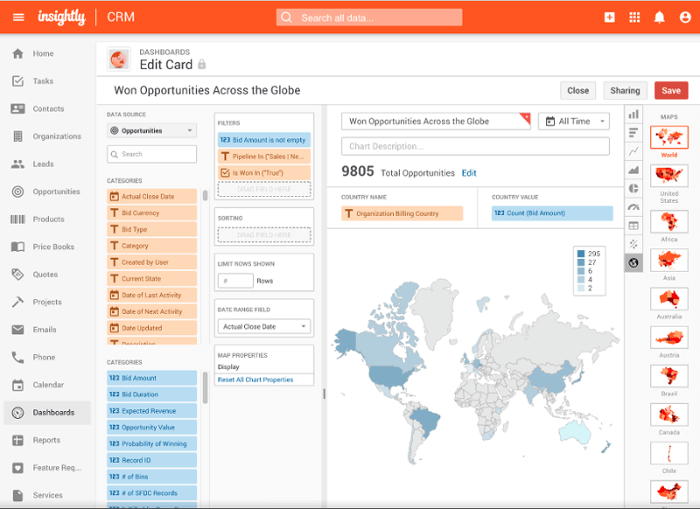 9. Copper
Copper is designed to simplify the work of salespeople, client managers, and marketers by conveniently integrating with G-suite and providing a Chrome extension for fetching tasks directly from your users' inboxes and tracking conversations.
Its features allow for a streamlined sales process, personal notifications on the completion of deals, standard email templates, pipeline management for monitoring the progress of deals, etc.
Copper is available on Android and iOS and its subscription plans are Basic at $23/month, Professional at $59/month, and Business at $99/month. If you enjoy using Google's suite of applications then copper is probably the perfect pick for you.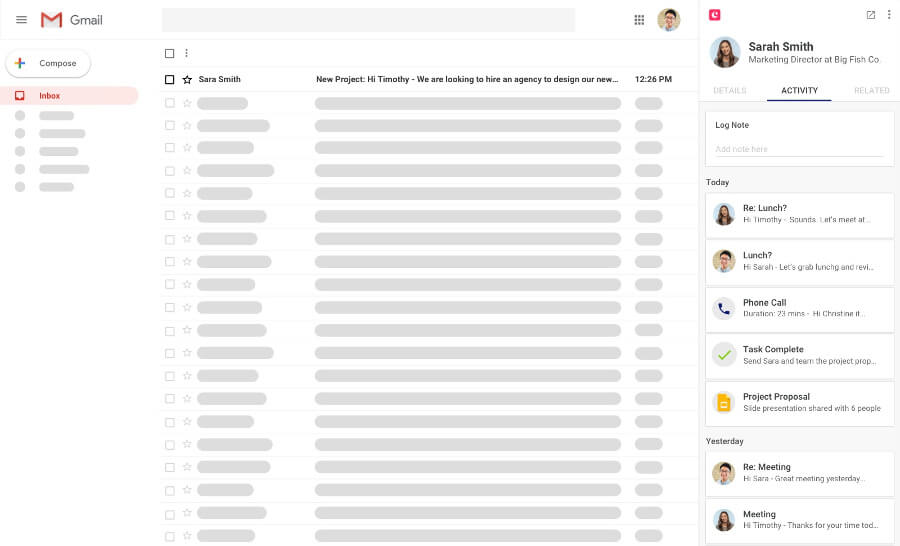 10. Bitrix24
Bitrix24 is a freemium CRM built with personal to mid-size businesses in mind with a comprehensive list of necessary features for managing business sales and customer relationships using tools such as pipeline management, multiple custom reports, both on-cloud and on-premise availability, appointment scheduling and service bookings, etc.
Bitrix24 is available on iOS, Android, the Web, Mac, and Windows with subscription plans costing $69/month for CRM+, $99/month for standard, and $199/month for Professional.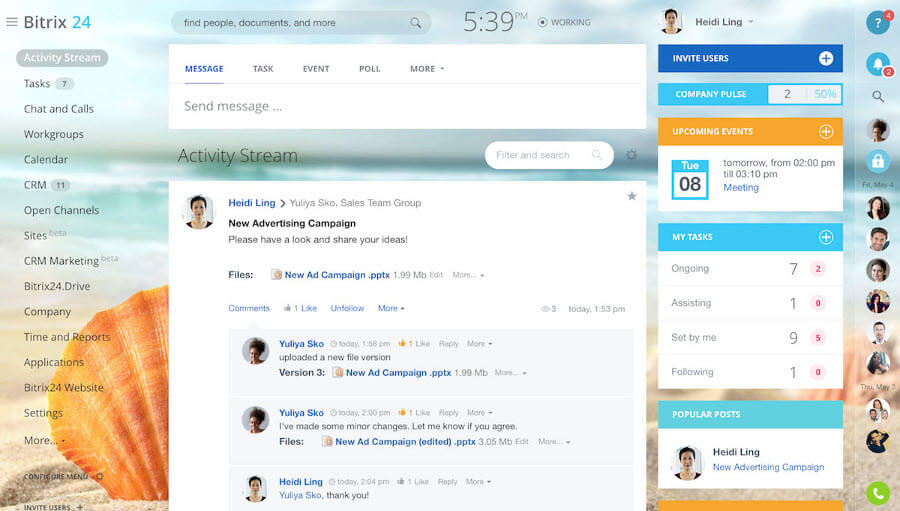 11. Nimble
Nimble is a super simple CRM software that combines your business contacts, sales, business intelligence, and communication into a single platform with an eye-candy dashboard through which you can monitor prospective deals at all stages as well as scan the social media of customers in order to understand your clients better.
Nimble's other features include pipeline analytics, sales forecasting, deal tracking, and availability on Android and iOS. Its subscription plan is $29.90/user/month billed annually or $24.90/user/month when billed monthly.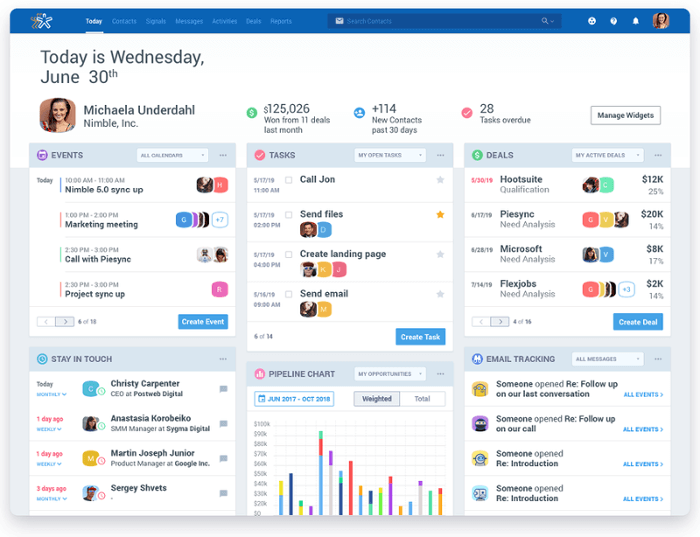 12. Close
Close is a free CRM designed to enable users to close more deals by focusing on sales automation. It is developed for salespeople by salespeople with features that offer users lead management, reporting, predictive dialers, timeline view, email sequences, global call coverage, and integration with other platforms including Stitch, Zendesk, Slack, HubSpot, Intercom, etc.
Close is available on Windows, Android, Mac, iOS, and the web, and its subscription plans are Startup at $49/month, Professional at $299/month, and Enterprise at $699/month.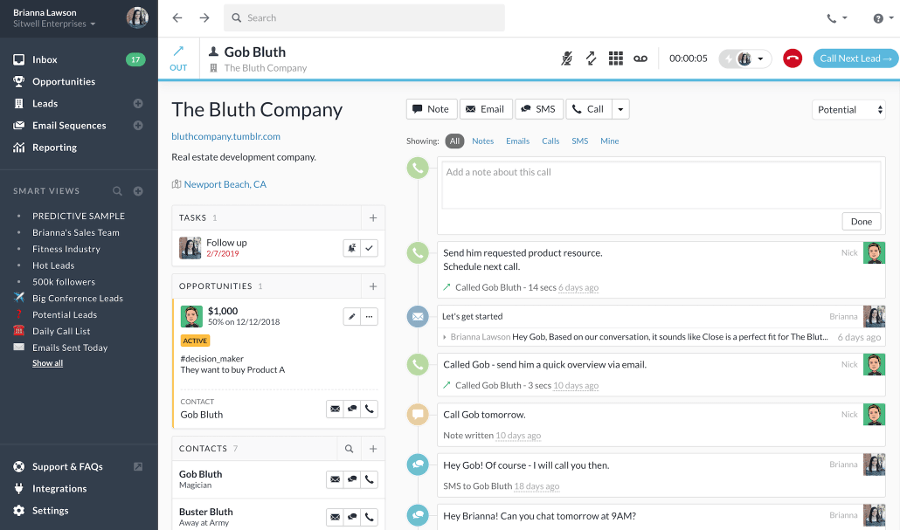 All the listed software employ a modern approach to online business and customer relations management; they feature a beautiful UI, minimalist design dashboard, several client management, and activity tracking tools, are customizable, and offer a comprehensive list of features at affordable prices.
Have you got any questions, suggestions, or comments that you want to add? The discussion box is down below.