Its human tendency to grasp information with better understanding when visually represented. Let's quote this with an example of a bar or a pie chart representation of data in comparison with monotonous and clumsy spreadsheets on the other hand, which one will you choose?
Well, if you like to follow an interesting approach, your selection must be a visual tool rather than the same old boring spreadsheets and excel.
Data visualization is an important facet to narrow down hidden layers and patterns in the data. Data visualization charts such as line charts, bar charts, maps, and scatter plots work wonders to process information for you to comprehend without any complexities.
This post will introduce you to the 10 best data visualization tools you must check out!
1. Tableau
Tableau is our first choice, which can be widely implemented by scientists, analysts, statisticians, corporate professionals, etc for clean data visualization. This easy-to-use tool gives output in a short time while providing adequate security to mitigate any concerns.
The tool allows its users to clean, prepare and format the data followed by creating visual content to achieve doable insights to be shared with others. This tool comes for individuals and business teams or organizations with a 14 days trial.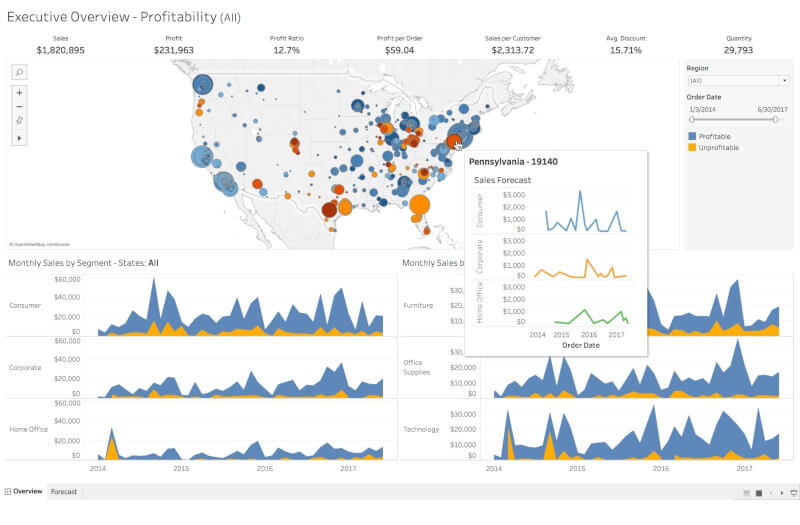 2. Looker
Looker is an in-depth data analytical tool that provides comprehensive insights. It uses a real-time dashboard for data analysis to let you make timely and correct business decisions on the basis of data visualization.
This tool is linked with Snowflake, Redshift, and BigQuery along with over 50 SQL dialects so that you can network with several databases without any issues. Besides, it can be shared with anyone and lets you export files in any format. To know about its price, you need to submit a request form.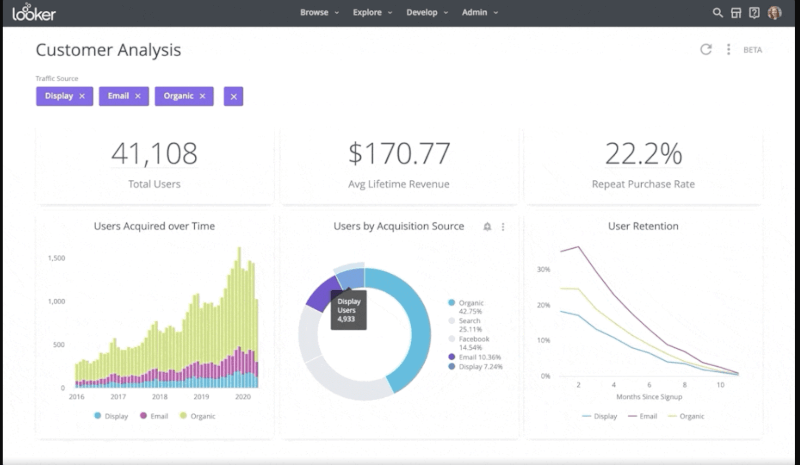 3. Zoho Analytics
Zoho Analytics is yet another business intelligence and analytics tool that lets you generate data visualizations in just a few minutes. With Zoho, access data from various sources and combine it to create multidirectional data visuals. This tool has a smart assistant called Zia, created using AI or artificial intelligence, natural language processing, and machine learning, you can access Zia in case of any queries.
Zoho lets you publish and share reports with your peers and add comments or initiate conversations. Besides, Zoho Analytics files can be exported in any format like Excel, PDF, Spreadsheet, Word, etc. Zoho comes with a basic plan at $34.1 billed monthly.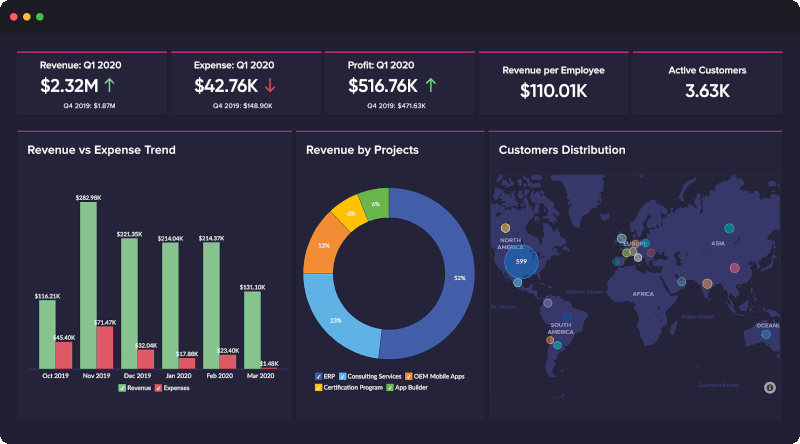 4. Sisense
Sisense, a data visualization tool is based on a business intelligence model to offer multiple tools for data analysis while simplifying complex data to gather insights. It follows a data-driven approach thus providing top-notch data analytics tools for business. The tool is pretty easy to set up and use, it can be installed in minutes and provides instant outcomes.
It additionally allows the users to export files in distinct formats like PDF, Word, Excel, PPT, etc, while offering full-time customer support, in case of users witness any issues. You can check out its prices by submitting a form.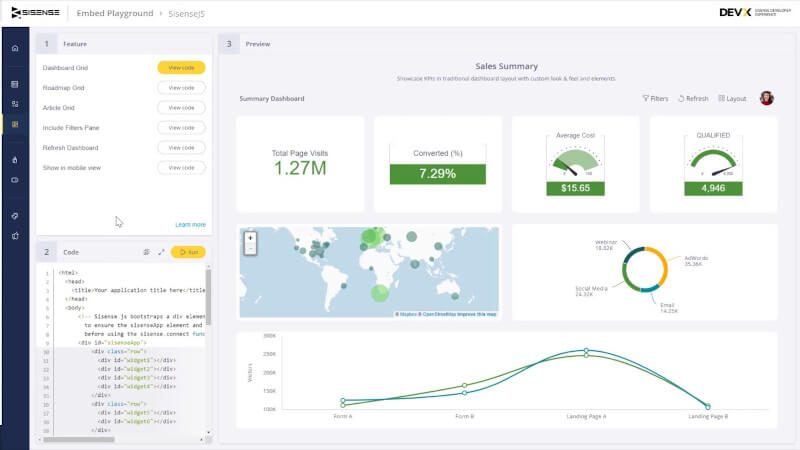 5. IBM Cognos Analytics
IBM Cognos Analytics is based on an artificial intelligence platform to support data analytics. It lets you visualize and then analyze the data to provide actionable insights.
This tool is pretty simple to use; even if you don't have data analytics knowledge, you can easily comprehend the data with it in a simple language. It lets you share data with others on the cloud using emails or slack.
Besides, you can also import data from multiple sources such as CSV, spreadsheets, cloud, etc. to combine relatable data sources into a single one. This tool offers a 30 days free trial and its monthly plan starts at $20.87.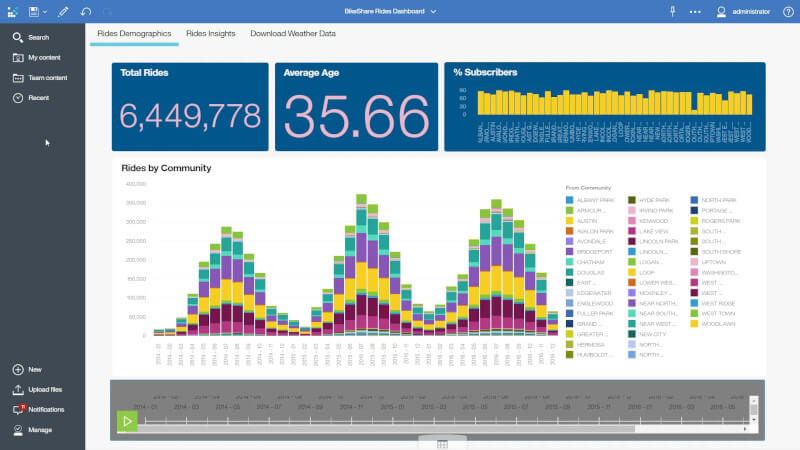 6. Qlik Sense
Qlik Sense a data visualization tool that provides associate data engines with an artificial intelligence system and multi-cloud architecture to help companies to turn into data-driven enterprises by deploying a combination of Saas on a private or on-premises cloud. This tool lets you seamlessly load, combine, visualize and explore the data, irrespective of its size.
All its visualizations, charts, and tables get immediately updated as per the present data context. This tool offers data insights to help you generate analytics with drag and drop functionality. It can be tried for free for 30 days.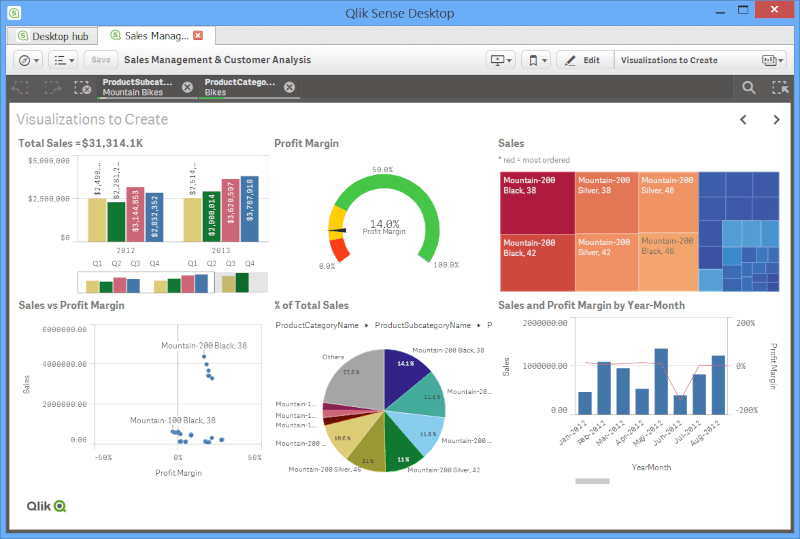 7. Domo
Domo comes with many data visualization tools to offer you an interactive platform to conduct data analysis and create impressive visuals for others to easily understand your motive.
It lets you collaborate images, cards, and texts in the dashboard so that you can flawlessly guide others. You can make use of its in-built dashboard to get timely insights using the data. This tool has a free trial option for you to try and make further decisions based on its functionalities.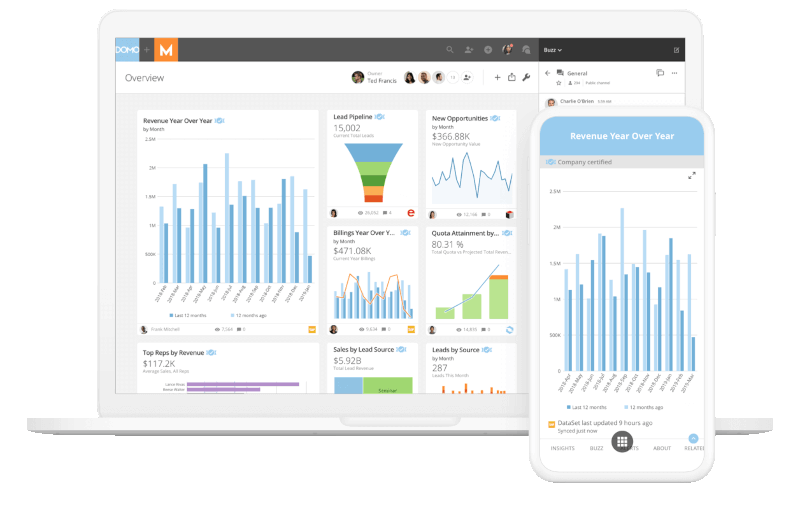 8. Microsoft Power BI
If you are looking for the solution to create a data-driven business intelligence then Microsoft Power BI is the best tool! It offers self-service analytics to analyze, share and aggregate data in a meaningful way. This tool features hundreds of visuals including in-build artificial intelligence abilities and excel integration.
This pocket-friendly tool comes at $9.99 per month for a single user and offers multiple support systems like forums, live chat, faqs, etc.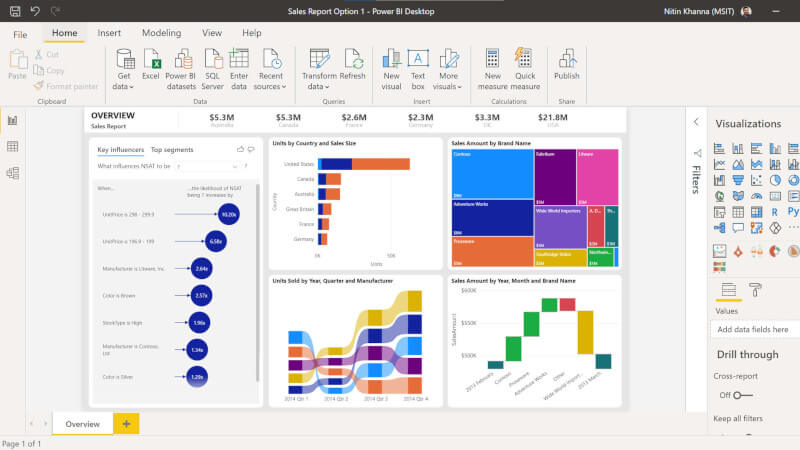 9. Klipfolio
Klipfolio is a Canadian company dealing with Artificial Intelligence to offer the finest data visualization tools. It allows you to access data from multiple data sources such as files, web services, spreadsheets, databases, etc. using connectors. It also lets you create drag and drop visuals while letting you select the options such as graphs, charts, scatter plots, etc.
Klipfolio lets you use tools to implement complicated formulas to solve data problems and challenges. It has a 14 days trial version and its basic business plan comes at $49 on a monthly basis.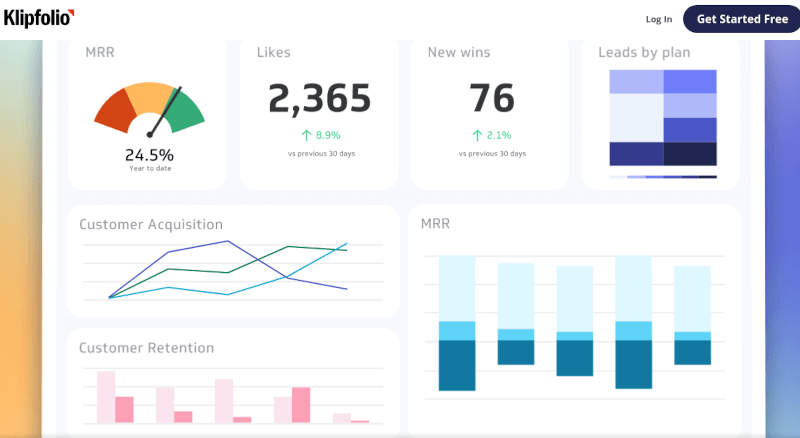 10. SAP Analytics Cloud
The SAP Analytics Cloud is based on business intelligence and data analytics to let you analyze your data and create visuals. This tool features advanced modeling tools that notify you of errors in the data while classifying multiple data dimensions and measures.
This SAP Analytics Cloud offers smart transformations for better visuals. It offers complete customer satisfaction by handing customer-generated queries with artificial intelligence and language technology.
You can try this tool for free for the period of 30 days and its business intelligence pack is available at $22 per month.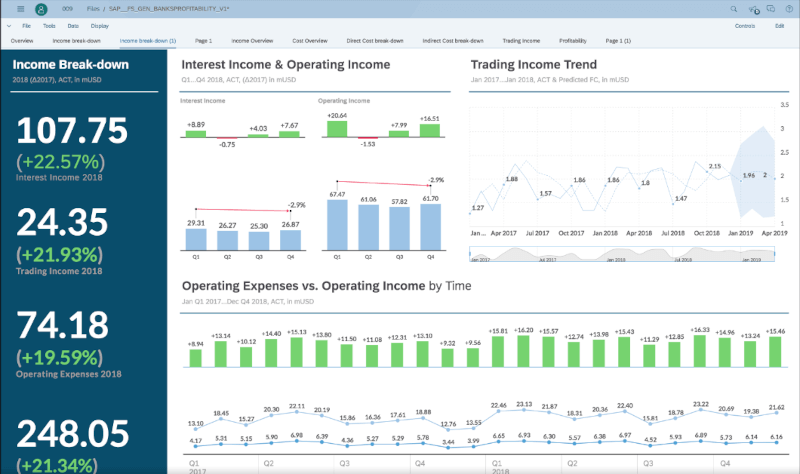 Conclusion
Listed above are the best handpicked collection of data visualization tools. We recommend exploring the capabilities and potential of the tool by using the demo or trial version before your final purchase in order to know whether the tool you wish to buy can fulfill your requirements or not.