Although there are numerous CAD software available for Linux, the choices for Mac are more limited. Unlike Linux, relying on cloud-based CAD tools is not a feasible option for Mac users. CAD software is not designed to work seamlessly in a cloud environment.
With its 3D modeling and visualization capabilities, CAD software is an indispensable tool for taking your ideas to the next level. Its ability to bring designs to life makes it an essential tool for professionals and enthusiasts alike.
A few CAD software for Mac are power-packed and offer 2D or 3D support to land your intuitive approach in your work.
In this article, we will explore the best CAD software for Mac, considering factors such as functionality, user-friendliness, design capabilities, and industry reputation.
1. SmartDraw
SmartDraw is easy-to-use yet powerful 2D CAD software for Mac, which is equipped with over 70 different diagrams, flowcharts, and floor plans included in its quick start program.
With easy formatting, this tool provides you with perfect layouts within a few minutes. It doesn't matter whether you are working as an individual or with a big firm; it gets the job done!
It integrates flawlessly with tools that you use and can create and insert diagrams in Google Workspace, Atlassian's Confluence and Jira, Microsoft Office, and lots more. It even lets you share files on OneDrive, Google Drive, Dropbox, etc.
While offering support for making class diagrams, ERD, and org charts using in-built extensions while enhancing any data and creating manifests. The single-user version of this software comes at $9.95 and the multi-user option is available at $8.25.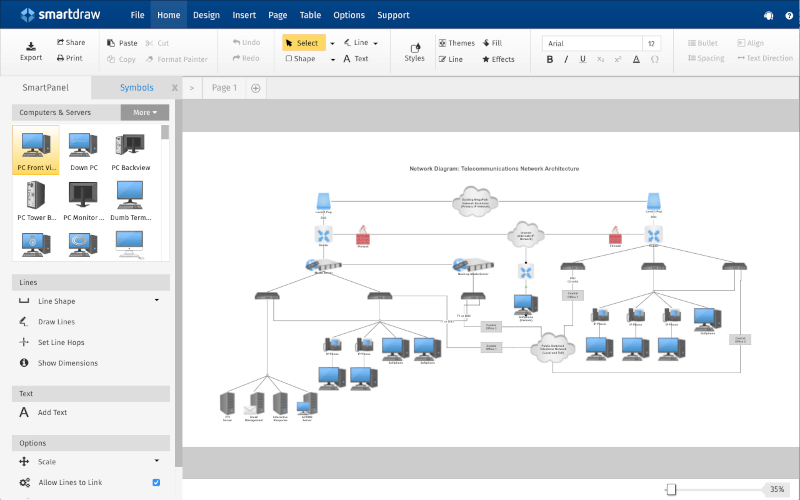 2. AutoCAD
AutoCAD is a computer-aided designing software that supports 2D and 3D drawings that include surfaces and neat objects. It lets you customize APIs and add-on apps while automating tasks like counting, comparing, creating schedules, adding blocks, and more.
This professional CAD software offers features like drawing history that lets you compare the drawing versions to see their evolution.
It also lets the user view and access their block content using the AutoCAD web app. This tool displays all the nearby measurements with the use of your mouse.
Furthermore, it makes it easy for you to make drawings through your browser using the app. This function-oriented tool is available at $245 per month.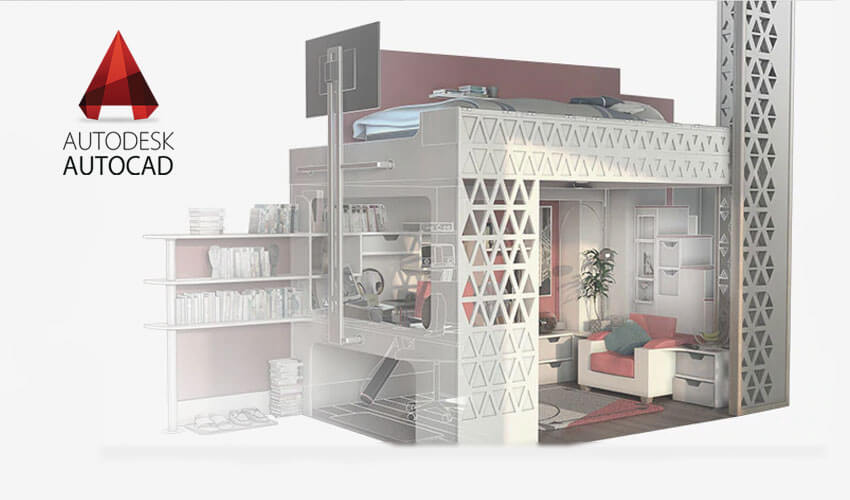 3. Fusion360
Fusion360 is a modem CAD/CAM software that is equipped with in-built collaboration to let you work from anywhere you want using any device.
It features surface modeling to create the T splines push-pull command, parametric modeling to auto-update values, and mesh modeling to import STL or OBJ bodies to create custom designs corresponding to mesh surfaces.
Fusion360 additionally supports features like data translations for over 50 file types, assembly modeling to assemble and see the working of components including joints, and motion studies to stimulate motion and create relationships.
This dynamic CAD software also allows rendering, animations, etc. and can be purchased at $545.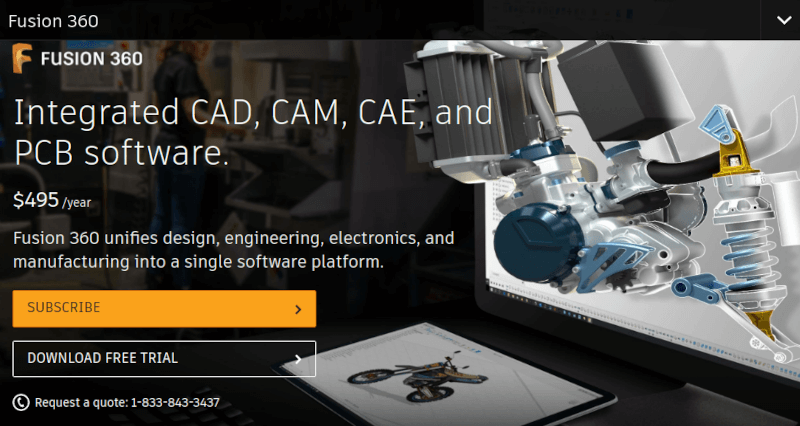 4. CorelCAD
CorelCAD is a pocket-friendly solution to all your drafting and designing needs, as this power-packed professional 2D and 3D tool offers DWG files, STL support for enough collaborations, and enhanced 3D publishing.
It transforms 2D drawings into 3D with just a few clicks to finish your work effectively and efficiently. It adds an edge to your drawings with graphics and texts while managing technical design tasks and collaborations to offer a rich user experience. The tool can be bought at $680 approx.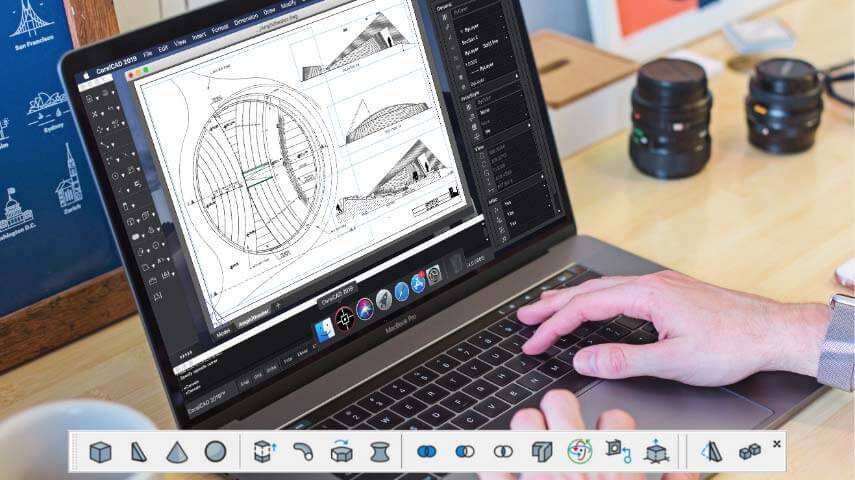 5. TurboCAD
If you are looking for an unmatched experience, TurboCAD is what you need! This highly productive software supports 2D and 3D CAD drawings with fully integrated drafting tools, surfaces, modeling tools, and advanced architectural and assembly tools.
Suitable for photorealistic rendering, it consists of thousands of decals, materials, and symbols. This software is additionally compatible with several CAD graphic formats. It can produce editable files which can be fixed by AutoCAD users and users working with other tools. This dynamic and highly functional CAD software is available at $699.99.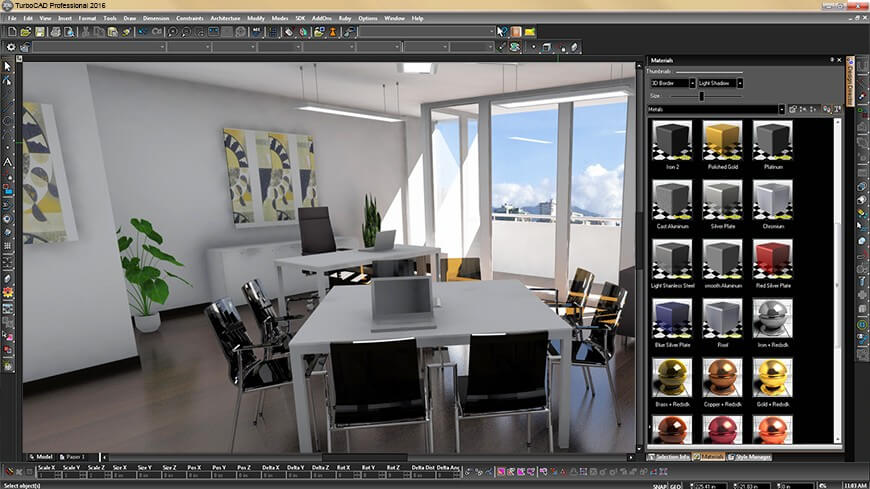 6. HighDesign
HighDesign is a comprehensive tool that comes with an easy-to-use interface to simplify designing and meet all your needs. It features all that you need to sketch, design, and publish. It is capable of annotating, dimensioning, and documenting your work using parametric properties and standard-compliant tools.
This CAD software lets you organize your work in certain views, layers, and sheet styles while extending the resource libraries for styles, patterns, hatches, textures, and more.
HighDesign also imports and exports your design in various formats like Jpg, PNG, DXF, Tiff, etc. with the help of alpha channels. It comes in LT, standard, and pro versions costing $99.00, $299.00, and $449.00 respectively.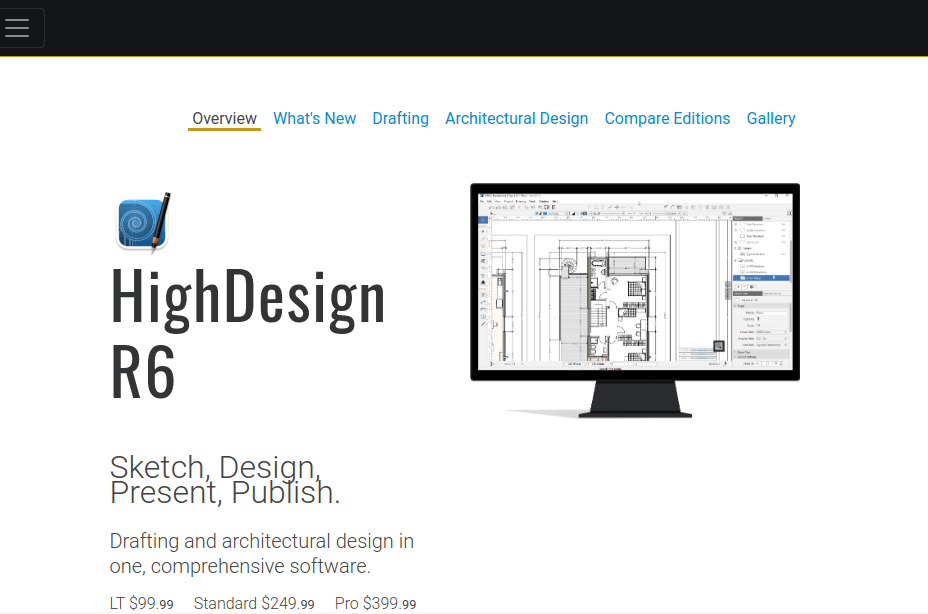 7. VectorWorks
VectorsWork is a performance-packed CAD software for Mac that is meant for BIM modeling, designing, drafting, and documenting. It offers 2D and 3D support while refining construction details.
Its high-quality renderings are easy to be created and come with default textures using VectorWorks content library objects to render work features and functionalities.
Its subscription starts at $153 per month and you can buy a lifetime package at $3045.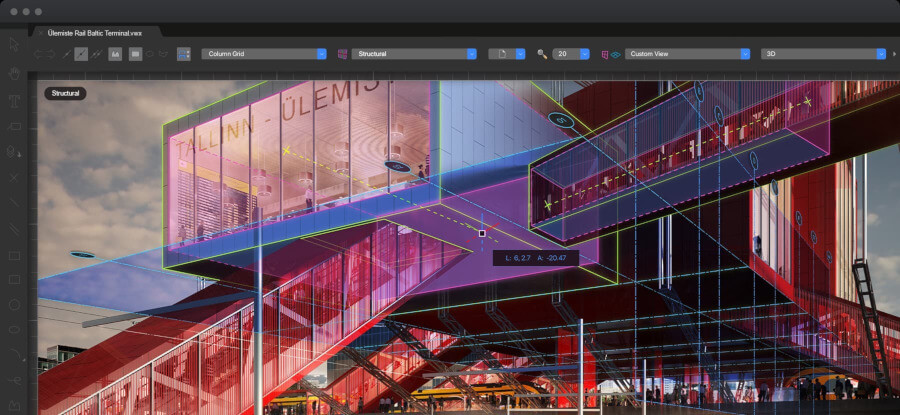 8. MacDraft
The powerful yet easy to execute, MacDraft is revived with new features and impressive upgrades. Its intuitive and speed-up design is equipped with 2D functionality to make floor and garden plans seamlessly and in less time.
It also features precise technical drawings having on-point accuracy while letting you share your generation with other CAD users. It is ideal for site designs as it can help you create towns, maps, and whatever you want with simple vector drawing tools.
Well, that's not it! With MacDraft, you can also create mechanical and electrical engineering drawings using precise and powerful tools from the engineering toolbox. Additionally, it offers dynamic text editing with an exclusive environment to produce incredible designs with just a couple of clicks.
So, let your imagination run through in creating anything you want with the breathtaking graphics that this tool has to offer. The pricing of this versatile tool starts from $129.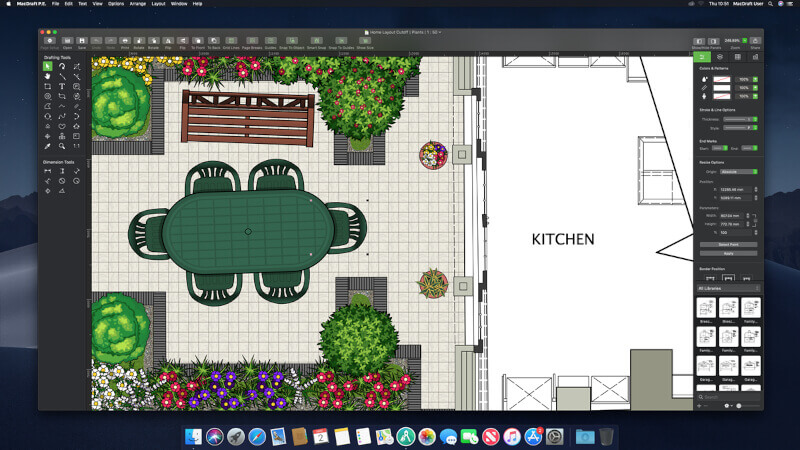 9. Graphite
Graphite is yet another 2D and 3D drawing tool that can be considered for Mac. This precise and easy-to-use software offers a suitable environment to create your designs without hassles. Its easy-to-use interface is highly efficient and provides quick help related to drawings without distraction. It houses innovative designs and attractive designs to broaden the horizons of your draftings and drawings.
The precise data of this CAD software ensures speeding the manufacturing process while delivering accurate drawings. Also, it lets you work without distractions and ease out the complexities and details for you. This CAD software comes with a single-user and commercial license.
The single-user version of the monthly subscription starts from $39.95 whereas the yearly subscription comes for $395.00.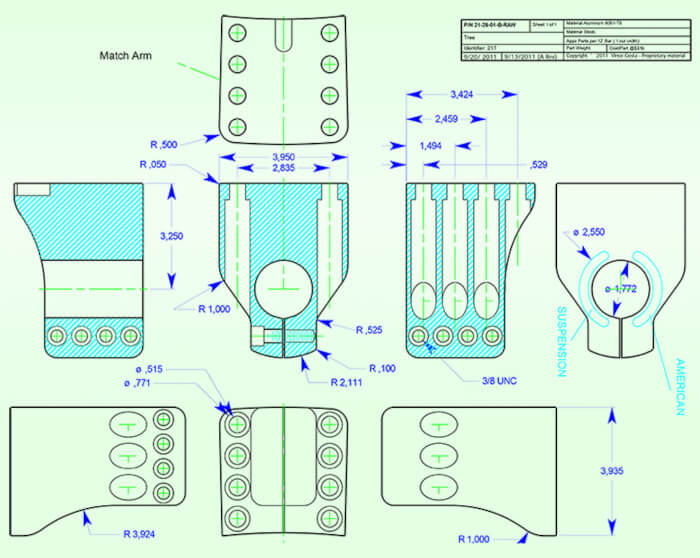 10.SketchUp
SketchUp has all that you need to complete your draftings and drawings. This 3D modeling and designing software comes with the functionalities to sketch all that you can think of from intricate designs to treehouses and more.
This intuitive and professional software is highly creative and has plenty of tools and programs to enhance your drawings by creating concepts across a wide platform and industries that include interior, architecture, engineering, woodwork, and so on.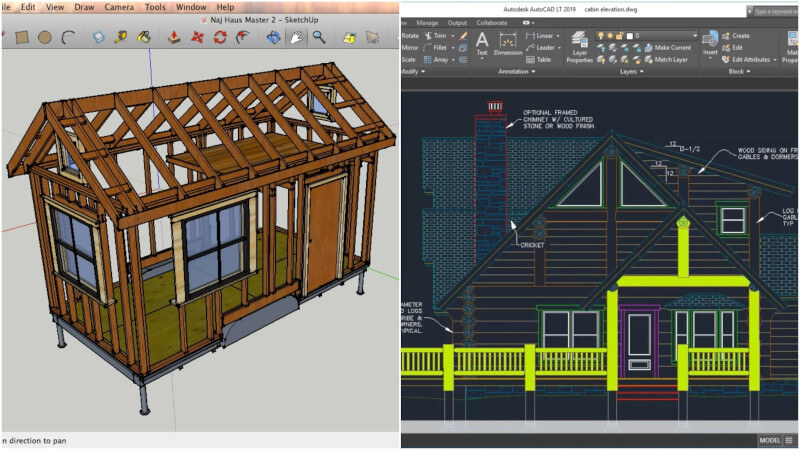 11. Rhino3D
Rhino3D is the editor's choice for CAD software on Mac, offering a beginner-friendly interface, a wide range of tools, and the ability to create curvaceous designs using a Non-Uniform Rational B-Spline (NURBS) mathematical model.
Rhino3D supports both 2D and 3D design, making it suitable for diverse industries such as jewelry design, industrial design, and architecture. Its extensive third-party plugin support allows users to enhance their capabilities further. With its focus on organic and free-form designs, Rhino3D offers unparalleled creative freedom.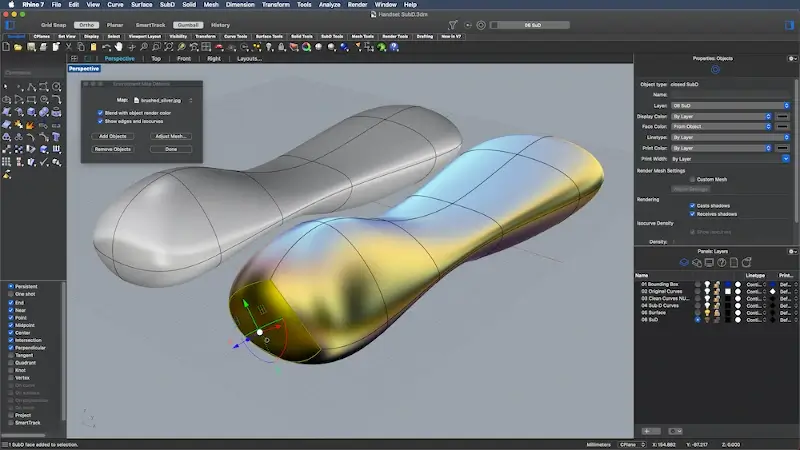 12. LibreCAD
LibreCAD is an open-source, community-driven CAD application that provides users with the ability to create 2D designs and technical drawings.
As open-source software, it's available for free, making it an attractive option for those who are budget-conscious or simply looking for an alternative to commercial CAD software.
This software is developed by a community of volunteers who are passionate about providing accessible design tools to users around the globe.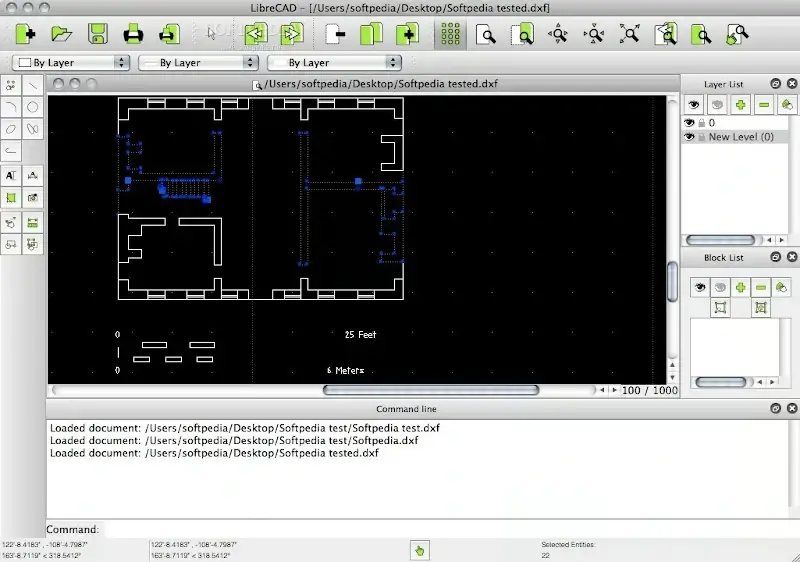 13. Blender
Blender is an open-source 3D content creation suite that enables users to create stunning visualizations, animations, and interactive experiences. Developed and maintained by a global community of artists, designers, and programmers.
Blender is available for free to anyone, making it accessible to both novices and seasoned professionals. Its feature-rich environment encompasses 3D modeling, sculpting, texturing, rigging, animation, rendering, and even video editing.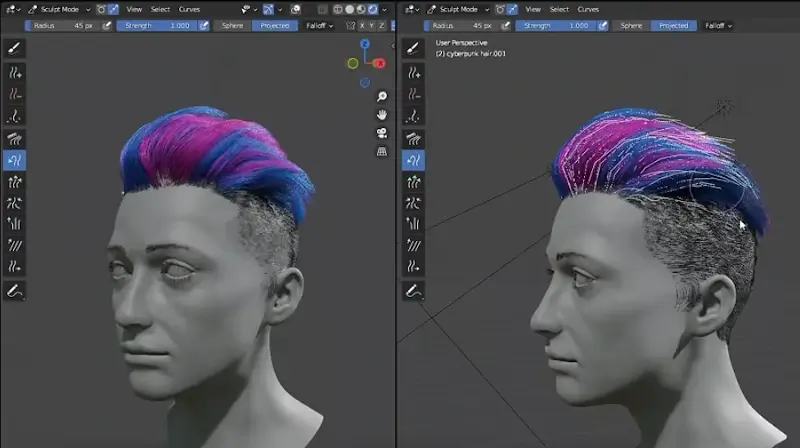 14. QCAD
QCAD is a professional 2D CAD application that enables users to create detailed and precise technical drawings for a wide range of purposes.
Developed by RibbonSoft, QCAD offers an accessible platform for individuals who require the precision of CAD software without the complexity associated with 3D modeling. With its focus on 2D design, QCAD is particularly well-suited for projects that require schematics, floor plans, mechanical designs, and more.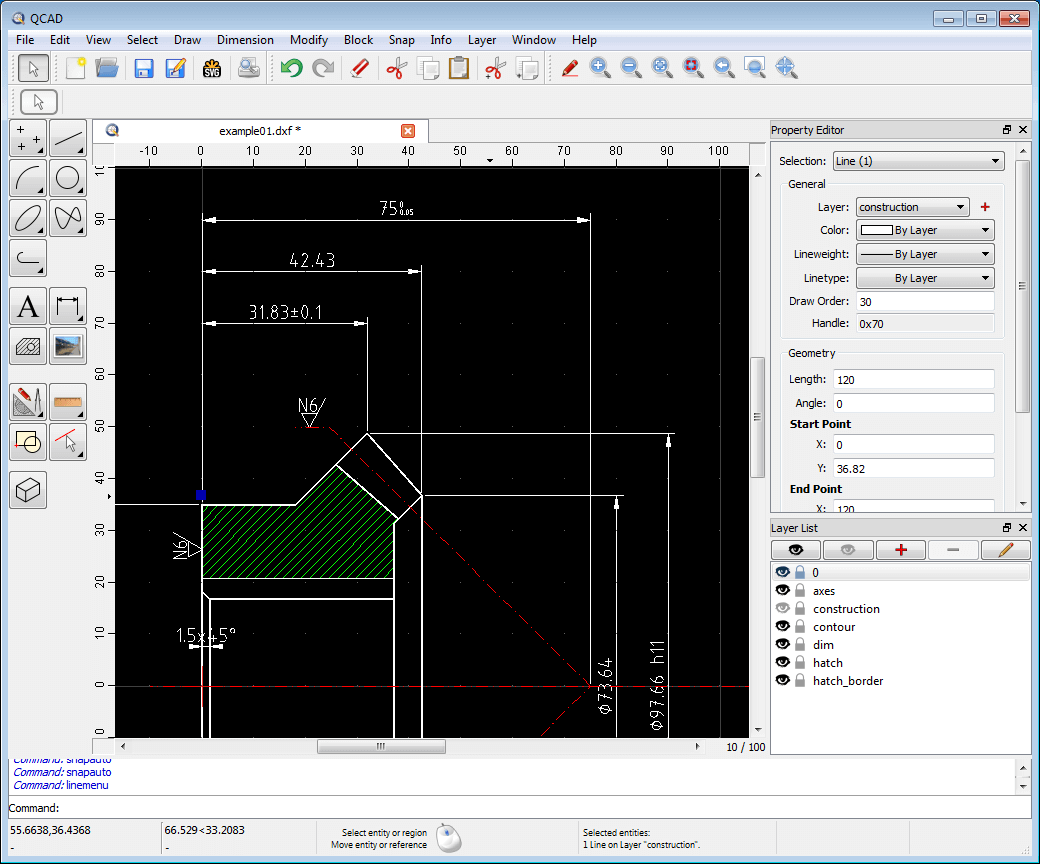 15. OpenSCAD
OpenSCAD is a script-based 3D modeling software that prioritizes parametric design. Unlike traditional 3D modeling software that relies on direct manipulation of objects.
OpenSCAD utilizes scripts written in a domain-specific language to define and generate 3D models. This approach offers a unique level of control, allowing users to create complex and customizable designs through code.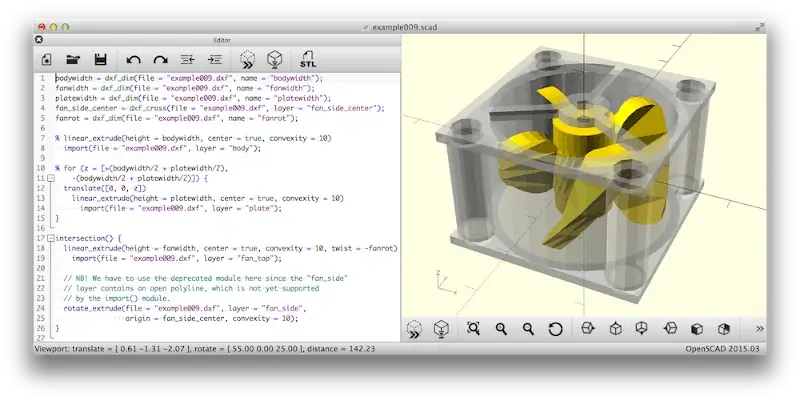 16. Shapr3D
Shapr3D is a 3D modeling software that takes full advantage of the iPad's touch and stylus capabilities. Developed to provide a seamless and natural modeling experience.
Shapr3D enables users to design complex 3D objects directly on their iPad. This app combines the convenience of tablet technology with powerful modeling tools to cater to a wide range of design needs.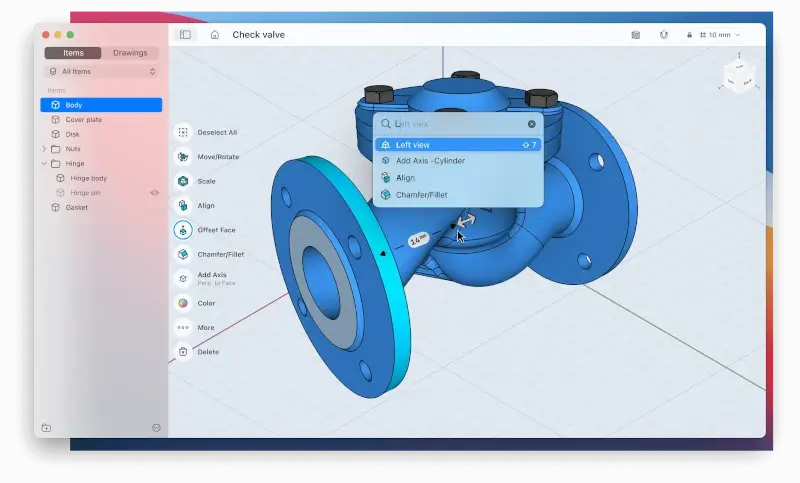 17. ZBrushCoreMini
ZBrushCoreMini is a user-friendly 3D sculpting software developed by Pixologic, the creators of the renowned ZBrush.
This scaled-down version is designed to introduce artists, beginners, and enthusiasts to the magic of 3D sculpting without overwhelming them with an extensive feature set. ZBrushCoreMini is a gateway into the world of digital sculpting, allowing users to transform 2D sketches into dynamic 3D models.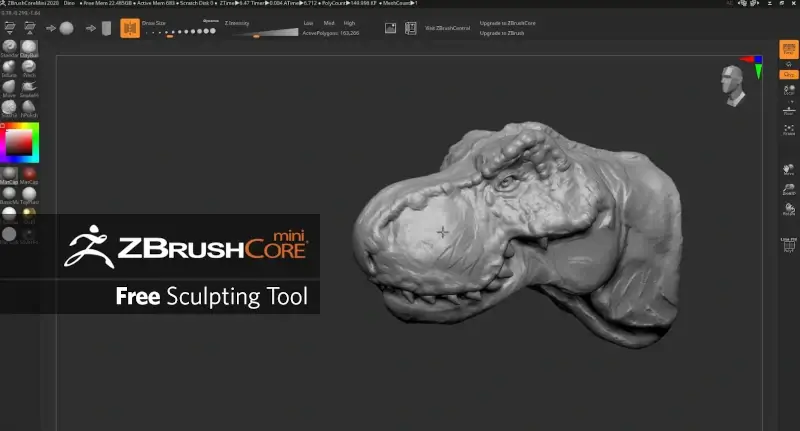 18. MatterControl
MatterControl is an open-source 3D printing software suite that unifies various aspects of the 3D printing workflow.
Developed by MatterHackers, this software offers a centralized platform for 3D model management, slicing, printer control, and more. MatterControl caters to a wide audience, from hobbyists and educators to professionals who seek a streamlined approach to 3D printing.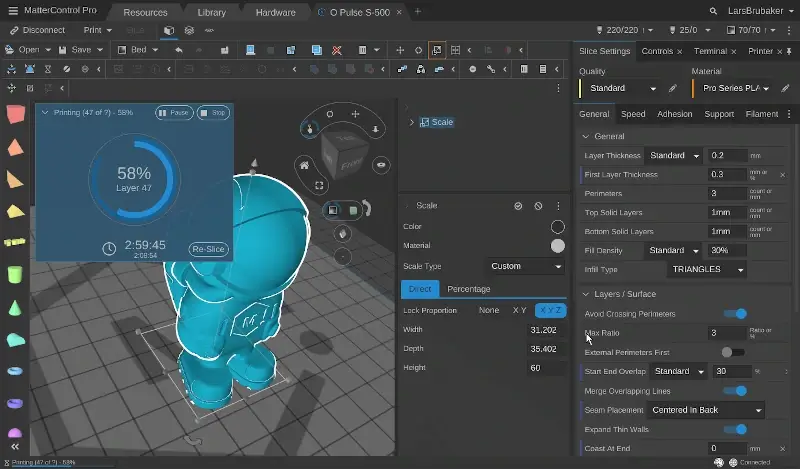 Conclusion
CAD is one of the most basic software if you are someone belonging to designing and styling platforms. Throughout intense research, we have narrowed down some best CAD software options for your Mac to let you seamlessly put across your ideas and showcase your efforts via your designs!