Today, more than anything, Search Engine Optimization (SEO) has become very critical for businesses. SEO tools help you gain invaluable insights into the performance of your website, also keeping you updated on how your competitors are faring on their SEO strategy.
Some of the ways in which the SEO tools can help you are given below –
Keyword Search
Local SEO
Analytics
Research
On-Page SEO
Mobile SEO
These tools help you uncover opportunities and identify issues that are preventing you from earning visibility in the Search Engine Results Pages (SERPs). That is not it, your visibility in this competitive market also depends a lot on efficiently you can use the SEO tools, and if you are somebody who is just starting, finding the best SEO tool can be challenging.
But don't you worry! We have for you compiled a list of 40+ simple SEO tools you can use for your business and that too for free. Lets' check them out one by one.
1. Answer the Public
If you are looking for an SEO tool to help you with keyword search, Answer the Public has all your answers. You can put in any keyword and this tool will give you an extensive list of questions that is being searched around by people helping you use the right words on your website.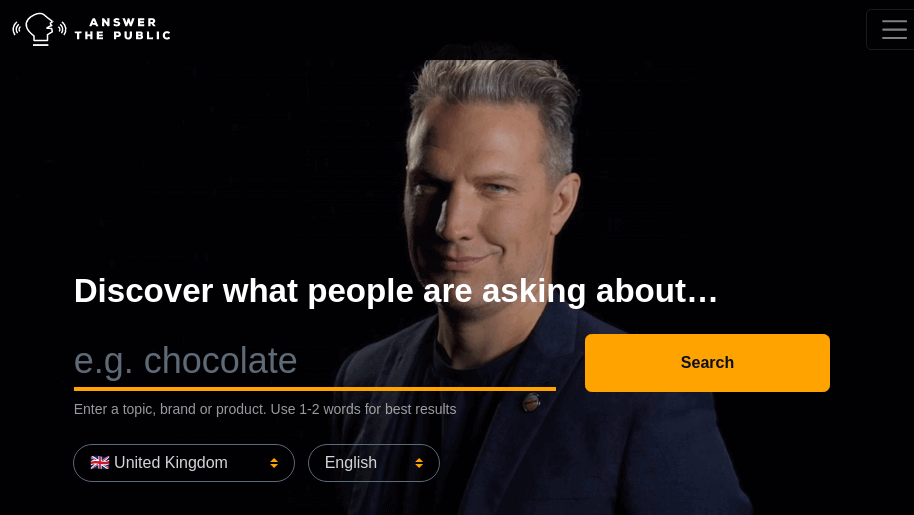 [ You might also like: 10 Best SEO Keywords Research Tools for Better Ranking ]
2. Google Analytics
An article on SEO without mentioning an offering from Google is inconceivable. Google Analytics is one of the best free SEO tools that the world can have. It provides a lot of data on the performance of your websites like location demographics, number of site visits, and traffic sources.
Digital markets can use Google Analytics to figure out what content works best and what doesn't.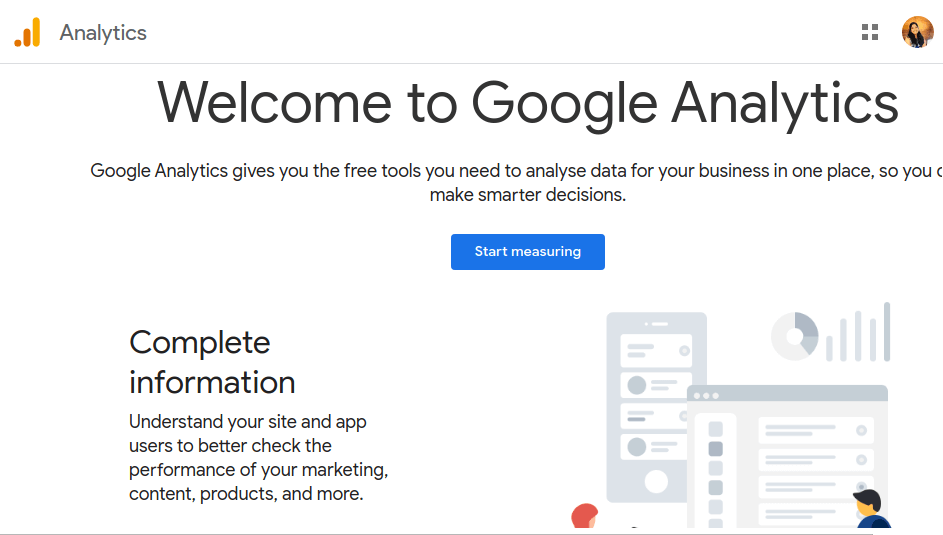 3. SEOlyzer
SEOlyzer is a crawler, log analysis tool. It's simple and can be used by digital marketers of any experience level. With this tool, you can do real-time analysis and correct whatever is impacting your SEO immediately. The tool also lets you get results for different categories of your pages.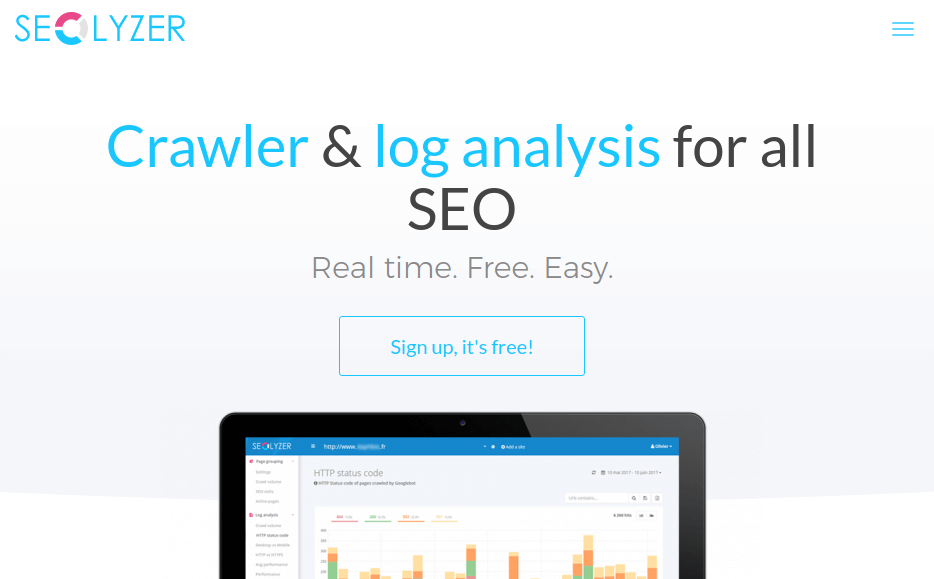 4. Keywordtool.io
For every search item, Keywordtool.io can generate more than 750 long-tail keyword suggestions, and surprisingly you would not even have to create an account with them.
It can help you create your content around the most searched keywords, increasing your visibility, thus giving you an edge over your competitors.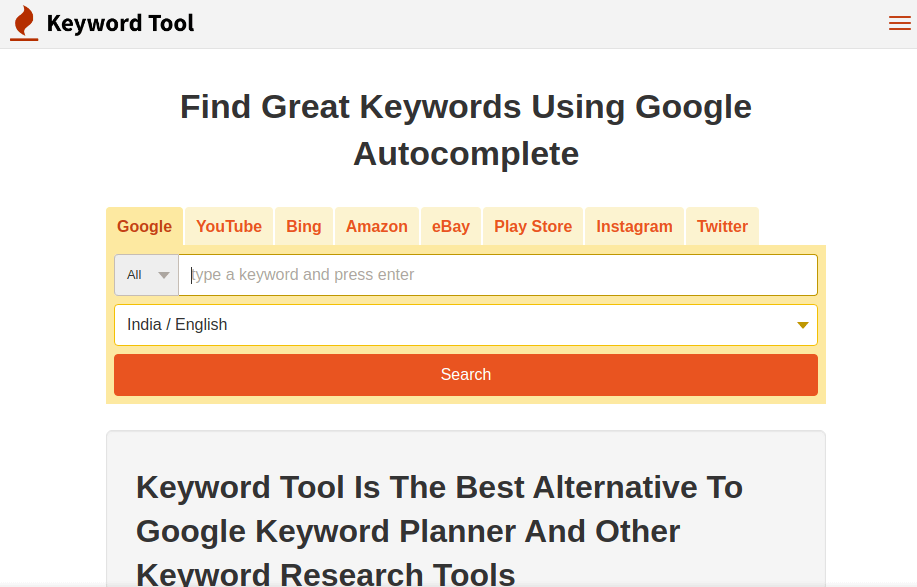 5. Moz Link Explorer
One of the best tools to analyze your website link and as simple as its name. You just need to enter your page link and Moz Link Explorer will present to you a robust analysis of your link including the list of the most linked-to pages.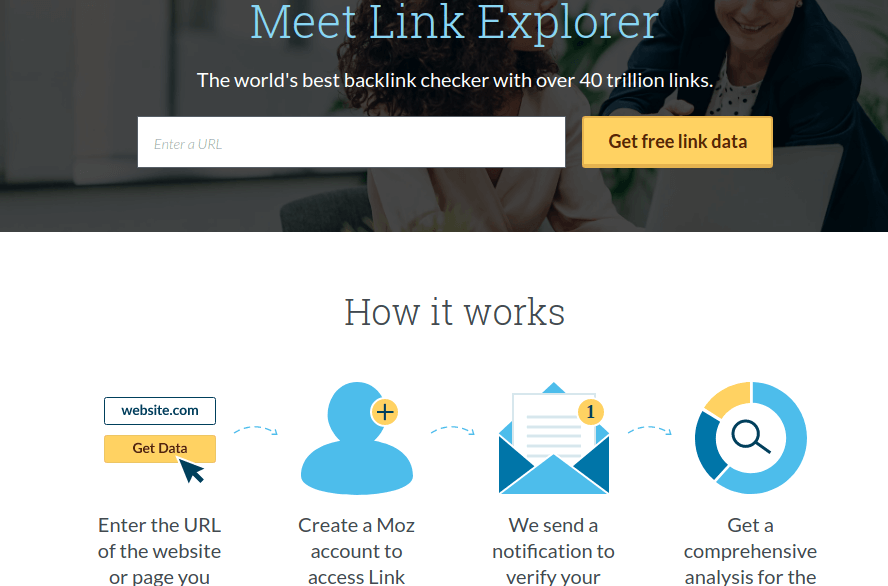 6. SEO Web Page Analyzer
SEO web page analyzer dissects the layout and content of your website, evaluating the build quality as well as the content quality from the perspectives of accessibility, usability, and search engine optimization. It assigns a score for each of the elements and categorizes it as pass or fail.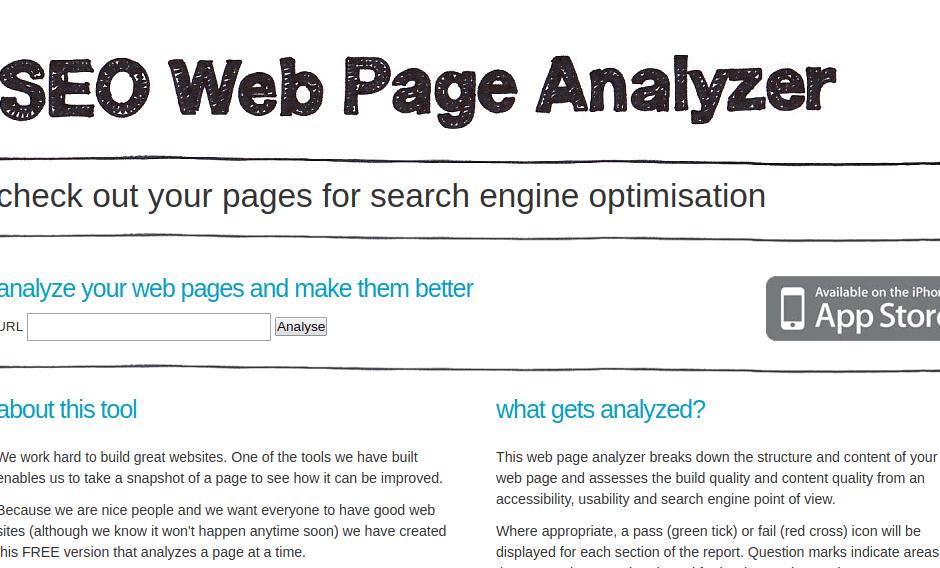 7. JSON-LD Schema Generator
With Schema Generator, you can create your custom codes so that your reviews, website contents, events are displayed as per your choice in Google's search results. You can simply follow the how-to steps on the website and you are good to go.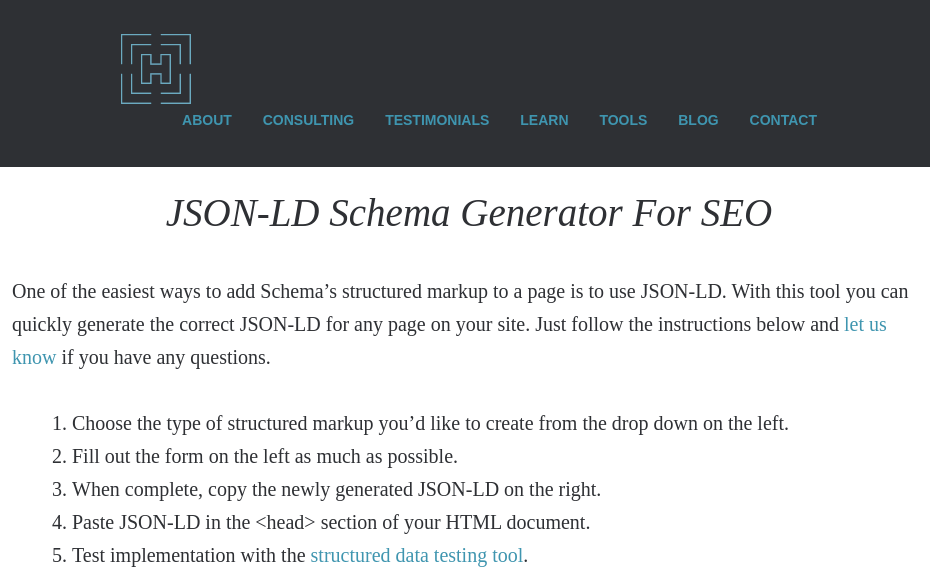 8. Rich Results Test
Another SEO tool from Google, the Rich Results Test tool not only lets you troubleshoot your structured data but also does a comparative analysis of your data with your competitor's structured data. You can also share the results with your team members or anybody by using the share button.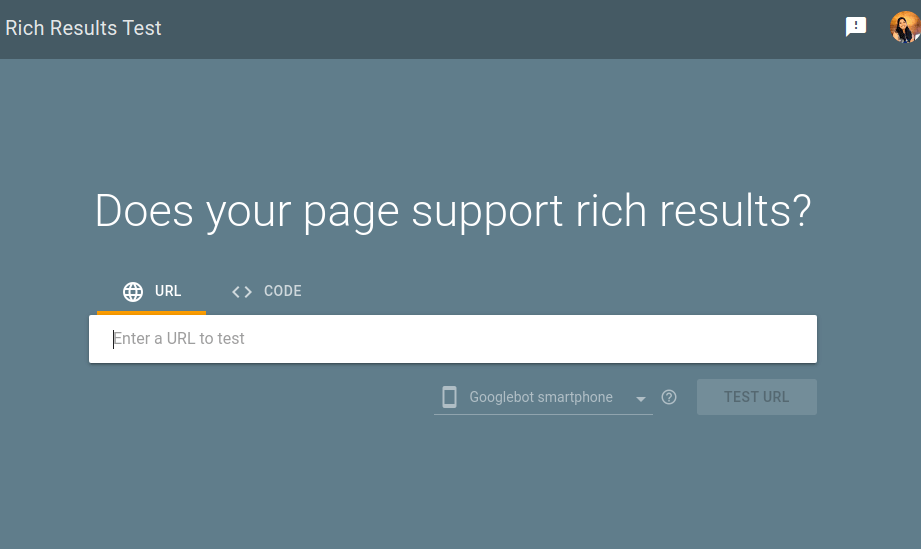 9. Similar Web
Similar Web is one of the best competitive analysis tools available for free. You can enter any domain, be it yours or of your competitor, and check out details like traffic sources, the number of page visits, types of page engagements, and so on.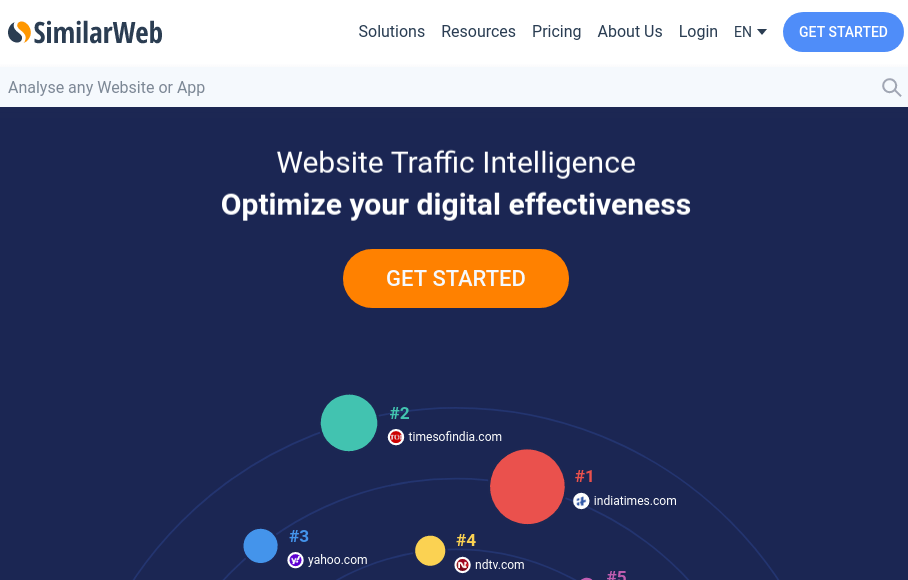 10. SEO Site Checkup
SEO site Checkup is a health checkup of your website. You can check your website for different factors like the Sitemap test, Headings tag Test, SEO Friendly URL Test, Backlinks test, Social Media Test, and so on. This SEO tool is a one-stop-shop for all your SEO needs.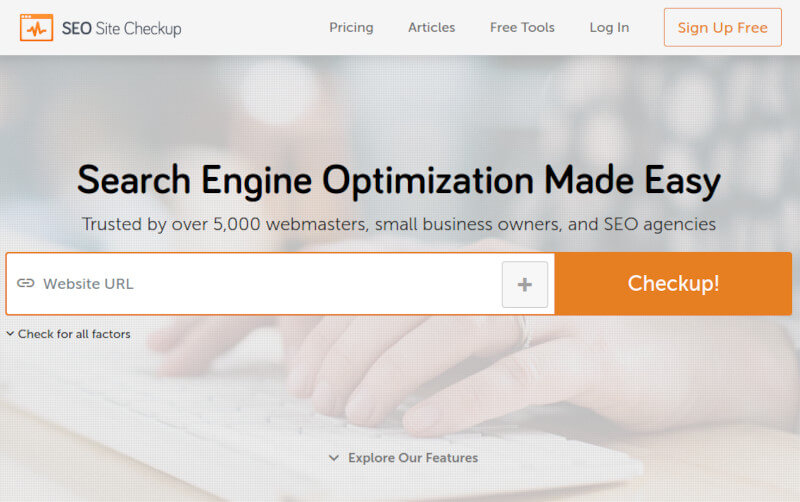 11. Screaming Frog
The Website and its functionality are as fancy as its name. Screaming Frog is a website crawler that can help you improve onsite SEO. With screaming frog, you can find broken links, discover duplicate content, identify redirect chains, view URLs that are blocked by meta robots or robots.txt.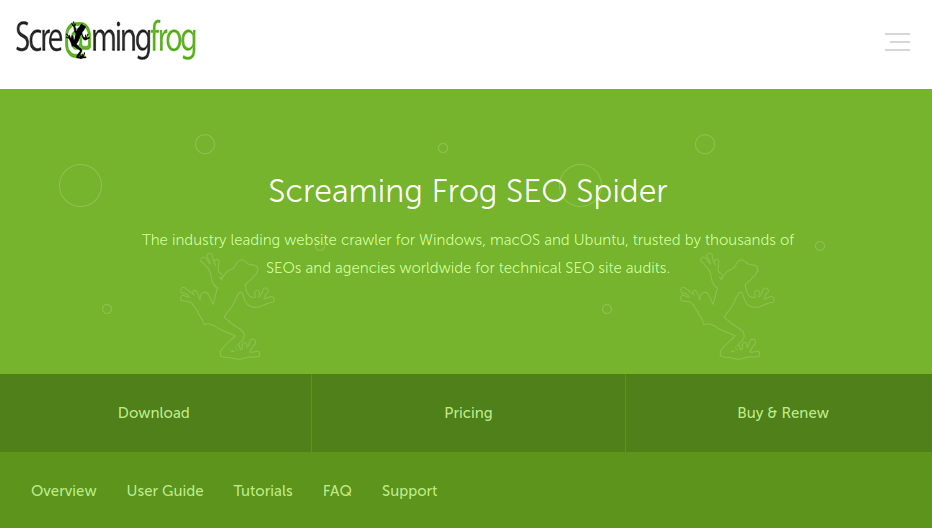 12. Google Search Console
Another powerful SEO tool from Google is Google Search Console. This SEO tool helps you analyze your website basis what queries brought people to your website, how many clicks did your website receive, and your position on Google search. Sitemaps and URLs can also be submitted for crawling.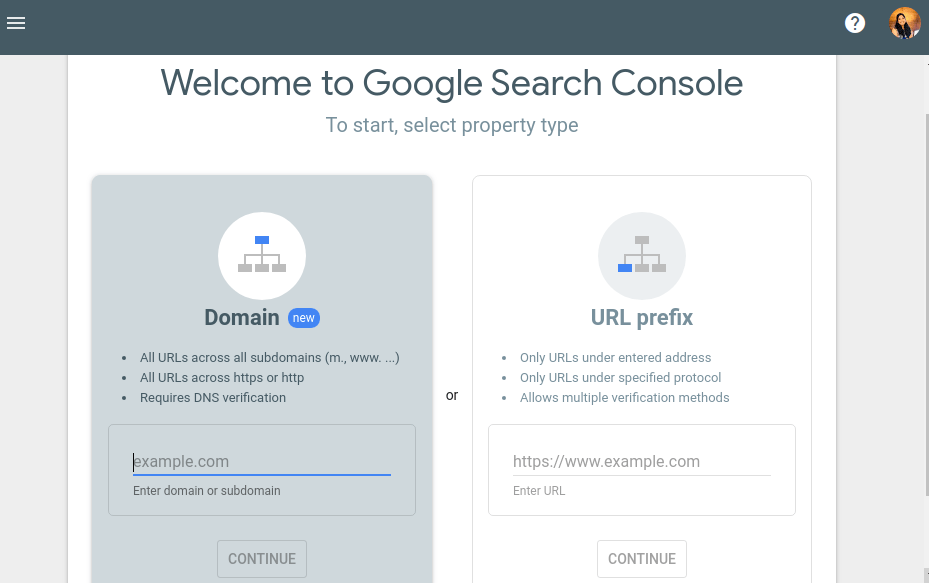 13. SERP Simulator
With the SERP simulator, you can preview how your page would appear in Google's search results. You can download existing Metadata using its fetch feature, save and share your work, easily copy Google snippet tool data in excel or sheets.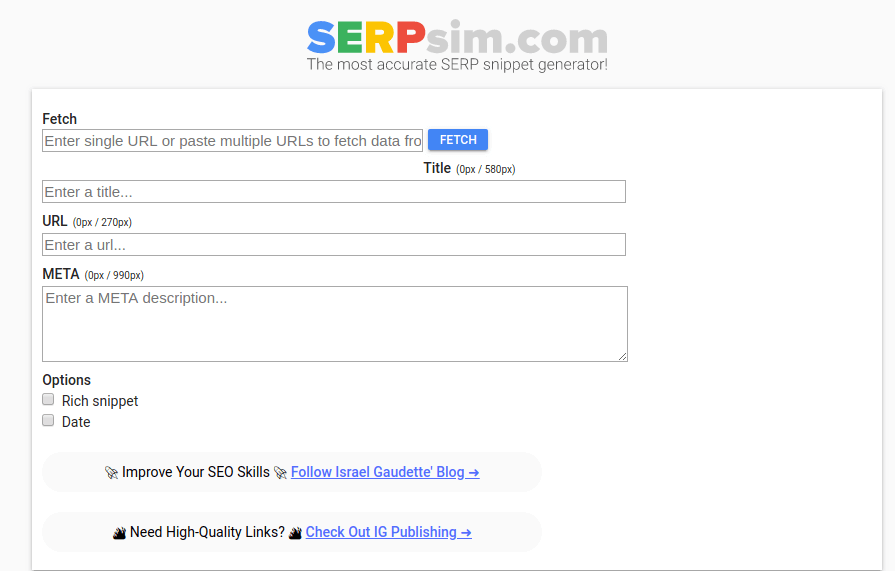 14. Beam Us Up
Beam Us Up is a free SEO crawling software that lets you find errors on your website easily and efficiently. It also helps you quickly identify duplicate pages so that you can fix them up. With this SEO tool, you can crawl with no limits, and that too for free.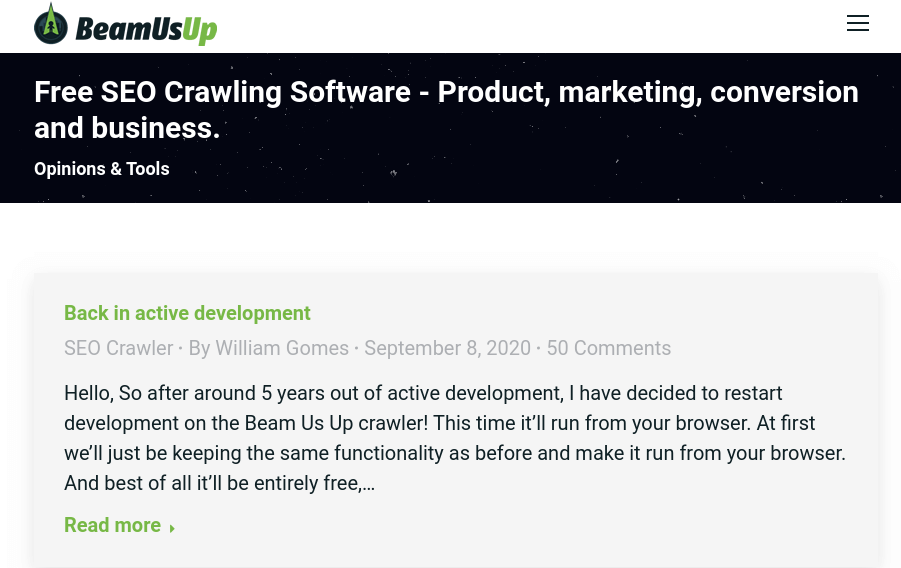 15. Bing Webmaster Tool
Comes with a host of features, Bing Webmaster is a must mention. Some of its features include site explorer, URL inspection, SEO reports, site scans, Robots.txt tester, and so on.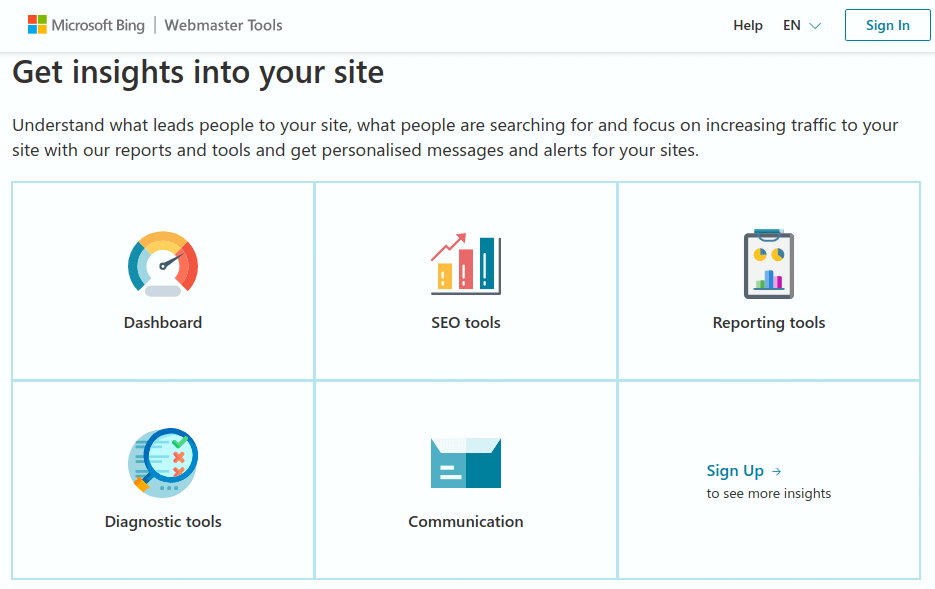 16. Yoast SEO
SEO for everyone – that's Yoast SEO's mission. It is one of the most used WordPress SEO plugins that comes with a host of features like Advanced XML sitemaps, Automated technical SEO improvements, in-depth Schema.org integration, and so on.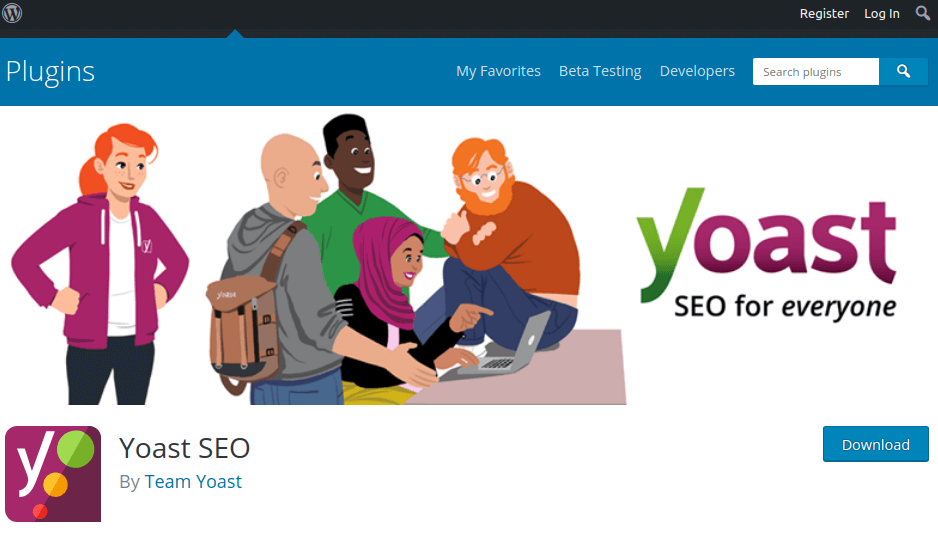 17. Cloudflare
Cloudflare is one of the SEO tools to help you speed up your site so that you get more visitor engagements and rank higher. With its free version, you get fast and easy-to-use DNS, Global CDN, and Unmetered mitigation of DDoS attacks.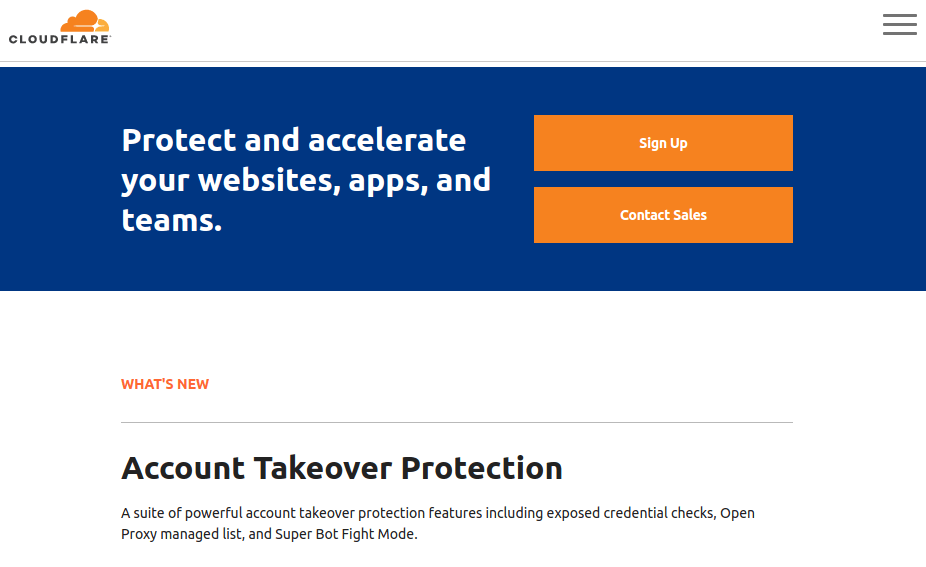 18. Mobile-Friendly Test
With the web being accessed more on mobile devices, businesses need to ensure that their page performs well on mobile devices. A Mobile-Friendly Test is an SEO tool by Google that lets you test how friendly your page is to a visitor when accessed through a mobile device.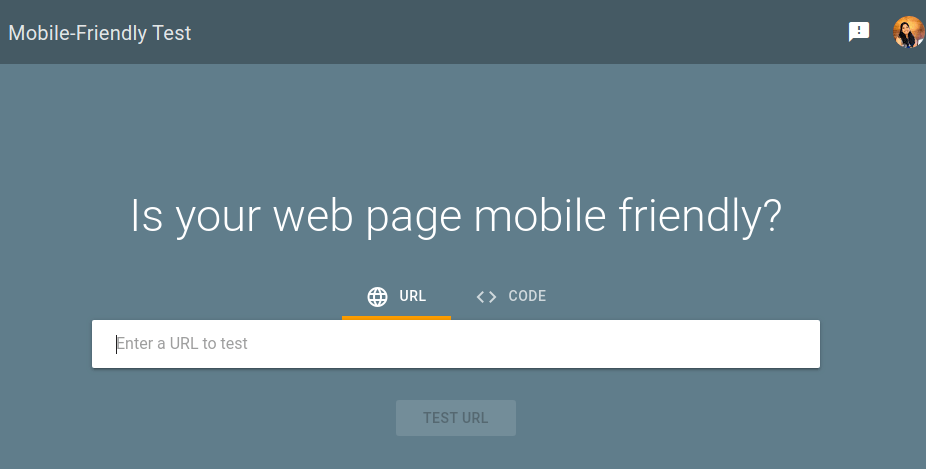 19. LinkMiner
LinkMiner is a chrome extension that lets you check web pages for any broken links. For any link on a page, you can get links and social data and can export all links from a page. With LinkMiner you can also find out the number of external links associated with a page.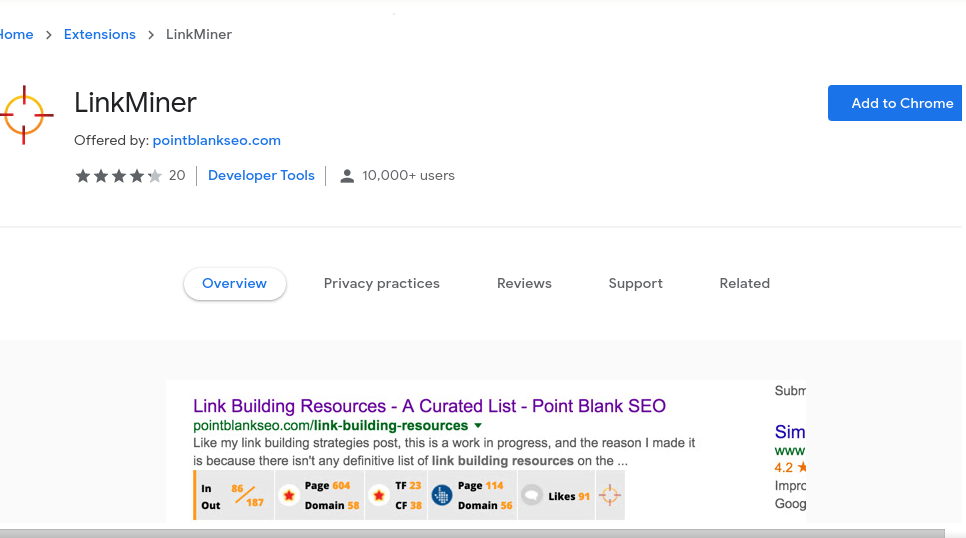 20. Keyword Generator by Ahrefs
One of the free tools offered by Ahrefs is the Keyword Generator. Enter your keyword and you will get the most searched keyword ideas that you can use on your site. You can either search by phrases or by questions asked around that keyword.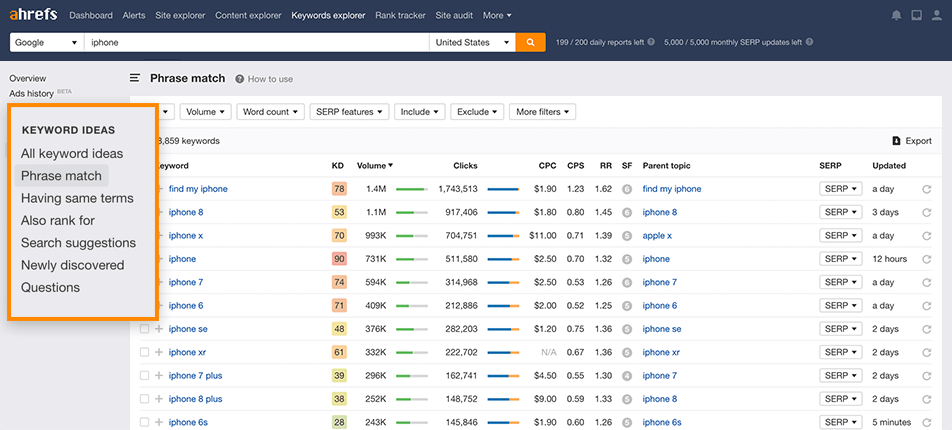 21. UberSuggest
Ubersuggest is a free keyword finder tool created by Neil Patel that helps you identify the best keywords basis the top ranking SERPs. Along with keyword suggestions, UberSuggest also offers basic link metrics and competitor analysis.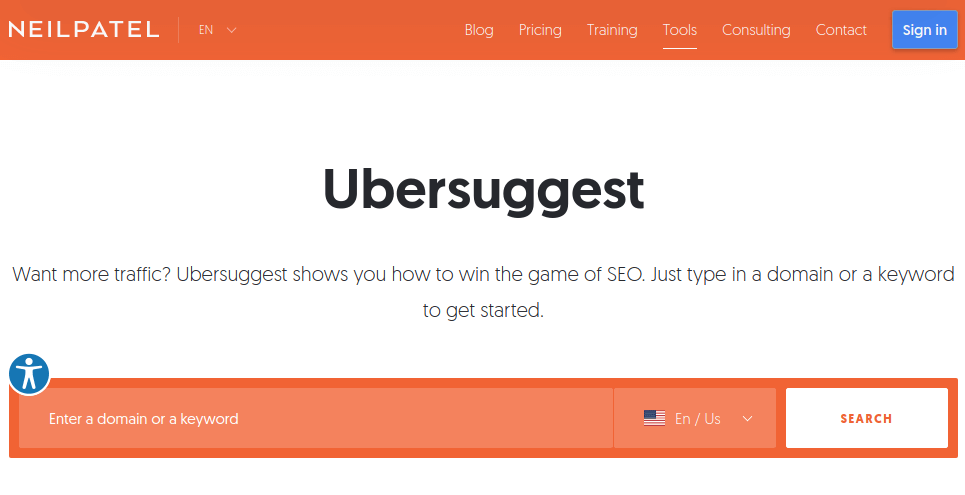 22. Copyscape
Many a time there are duplicate content on our website and identifying its path can be strenuous. With Copyscape, all you need to do is, copy-paste the content you want to search and Copyscape will give you the link where the duplicate content exists.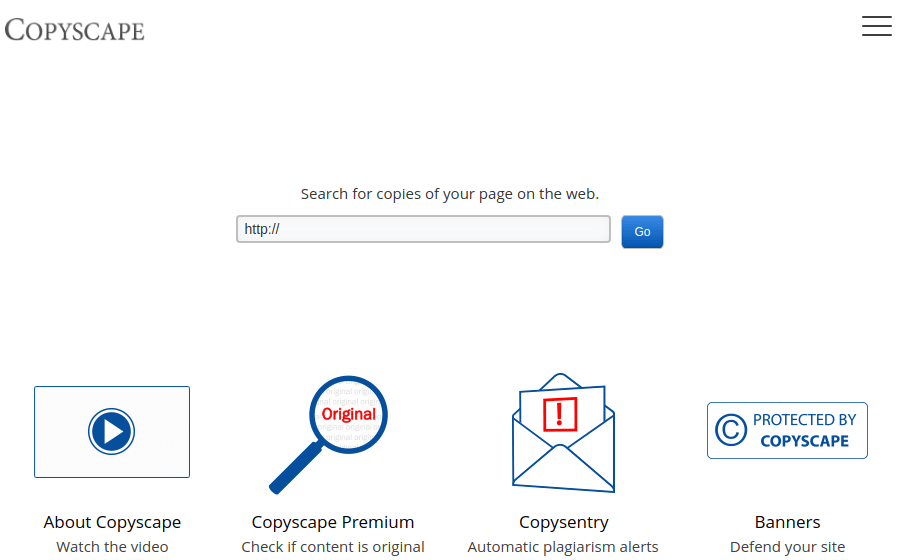 23. XML Sitemaps
To build a sitemap, one SEO tool that I would recommend is the XML Sitemap. You simply need to enter your website's URL and a few optional parameters, and a sitemap will be created for you to upload to the Bing Webmaster Tool or Search Console by Google.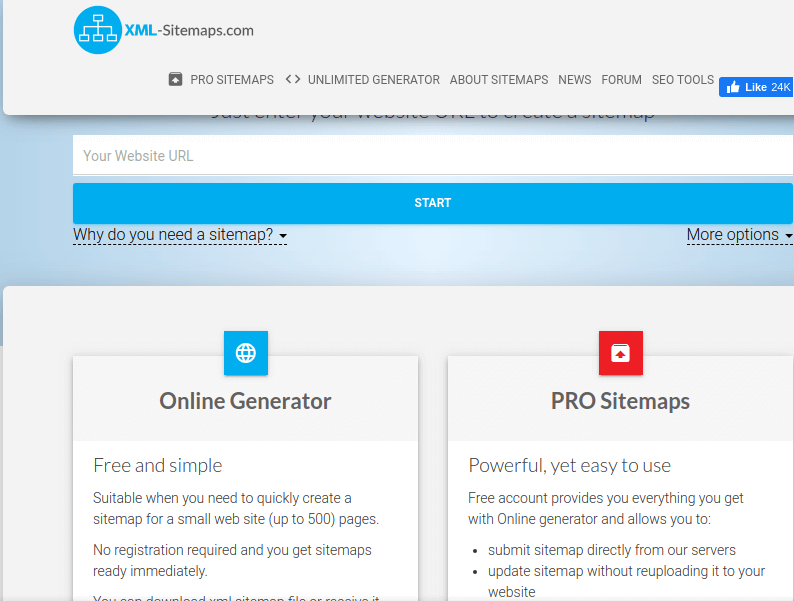 24. Redirect Path
Redirect path is a free chrome extension developed by ayima. It flags up redirects and errors and can also display HTTP headers (like caching headers and server types) and the IP address of the server at the click of a button.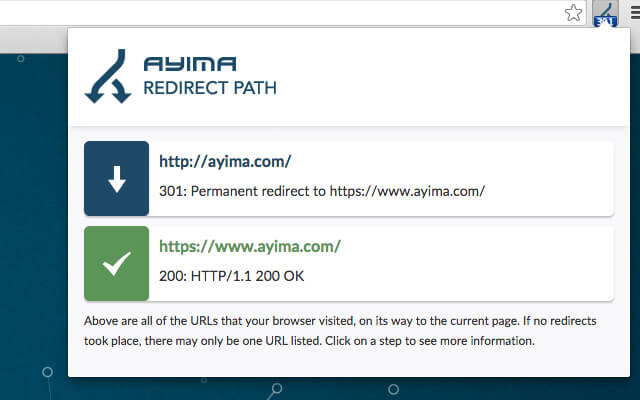 25. Pingdom Tools: Website Speed Test
Analyze your website load speed with Website Speed test by Pingdom. It is an easy-to-use tool, no matter what your SEO experience level is. You can also do a waterfall analysis with the speed test tool and improve the overall performance of your website.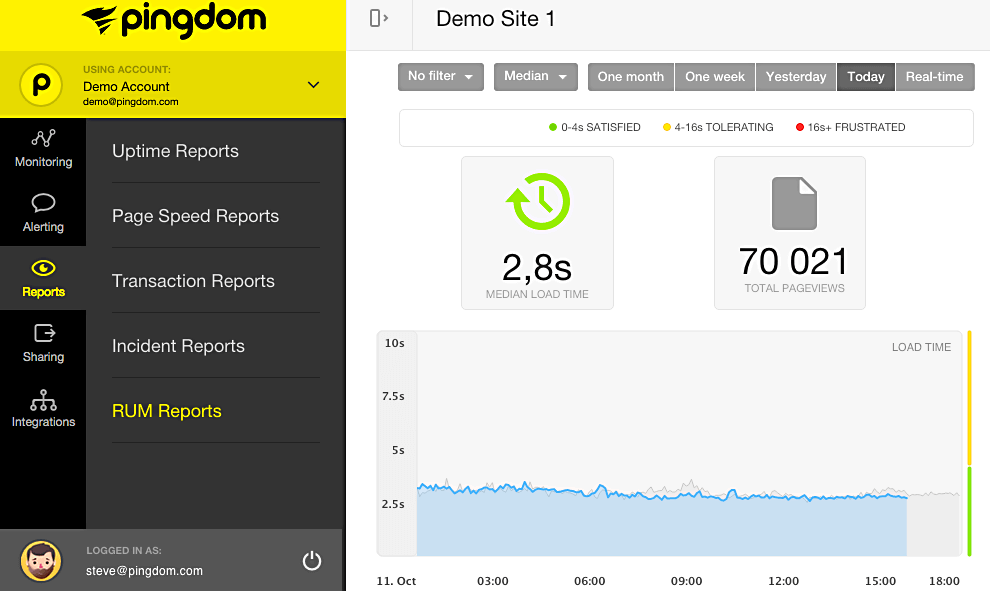 26. Google Keyword Planner
If you are searching for new keyword ideas, Google Keyword planner has it for you. Simply enter the keyword into the tool and Google will suggest keywords that can't be found anywhere else. You can also filter the results basis categories, location, date range, seasonal trends, and many more.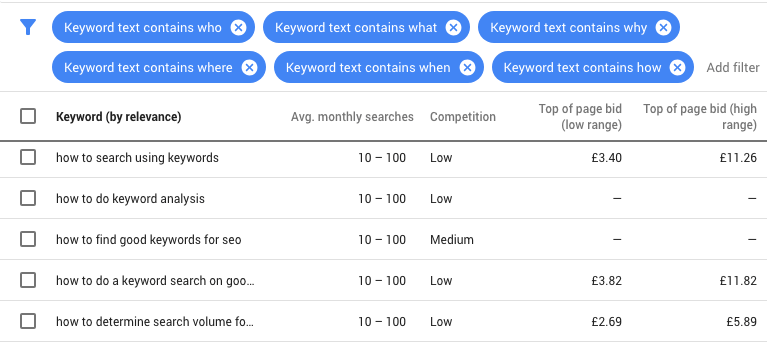 27. Ahrefs SEO toolbar
Get useful SEO data about the pages and websites you visit through the Ahrefs SEO toolbar. Its features include a link highlighter which lets you find out all the outbound links on a page. This tool also shows the HTTP headers of any URL you want and for redirecting URLs it displays you the full redirect chain leading to the destination page.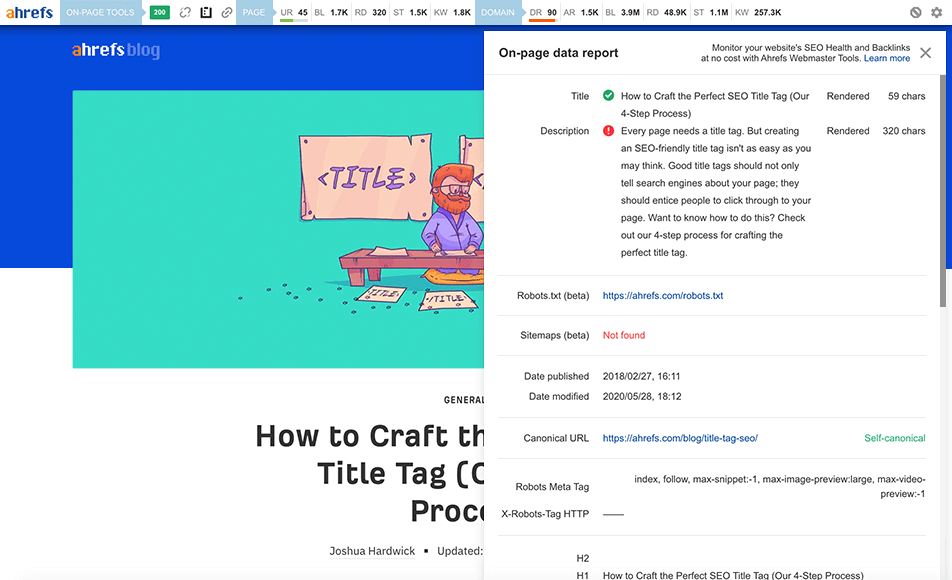 28. Ahrefs Backlink Checker
Worried about what your competitors are doing? Paste your competitor's website on this SEO tool and find link opportunities instantly! The free version of Ahref's backlink checker provides the 100 top backlinks to any URL or website and their referring domains.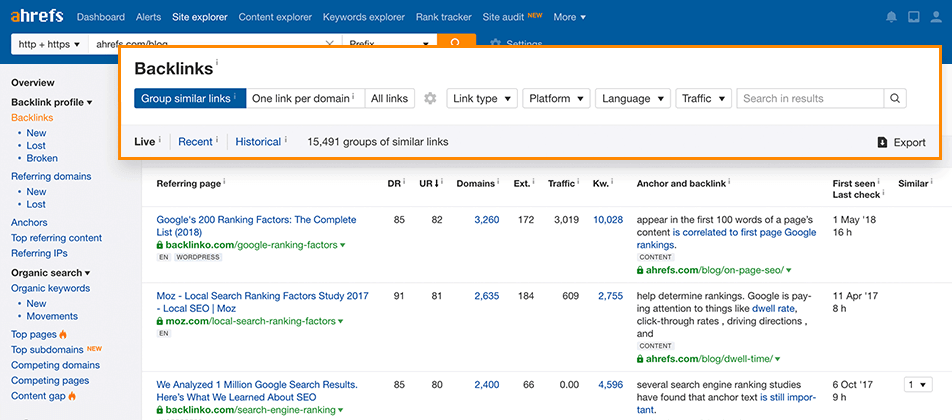 29. Robots.txt Generator
With the Robots.txt generator, you can create a new robots.txt file for your website. This robots.txt file guides the search engines like Google on whether to crawl or skip the page. In case there's any page on your website that you would not want to appear on the search result, you can use the robots.txt file and forget your worries.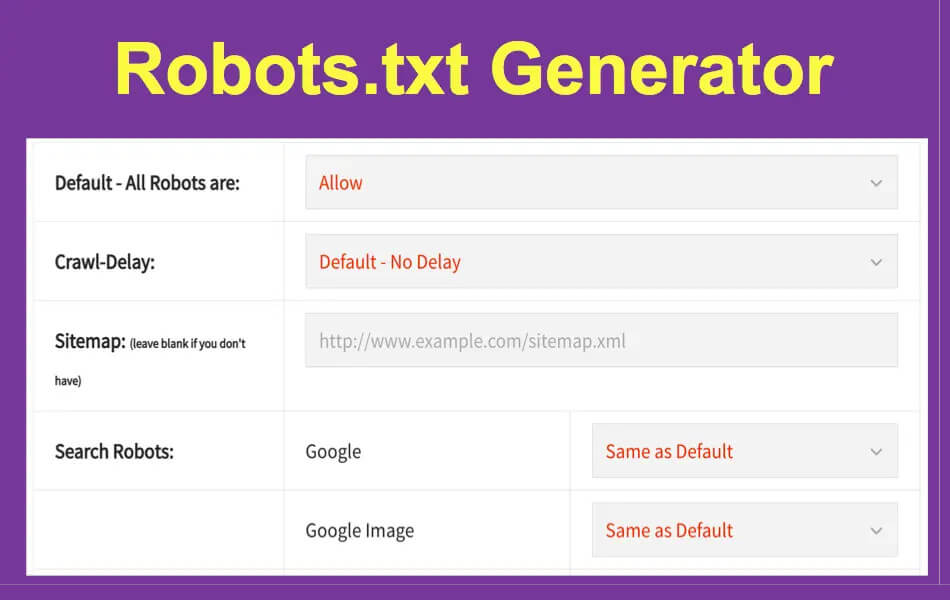 30. Structured Data Testing Tool
Another SEO tool from Google, the Structured Data Testing tool troubleshoots your structured data so that you can edit the same and help the search engines understand the content of your page. You can also use this tool to compare the structured data of your competitor vis-à-vis your own.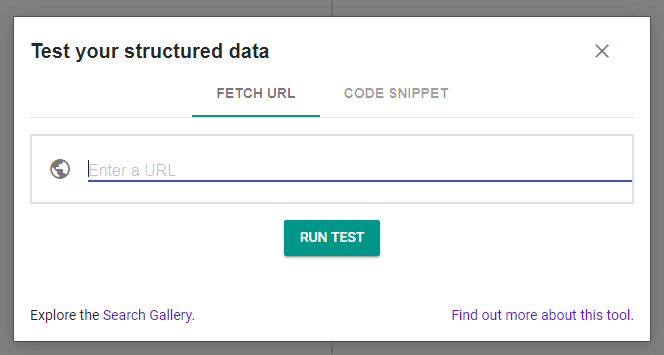 31. Mobile SERP Test
Different mobile devices display different search results. Mobile SERP test by Mobile Moxie lets you compare two mobile devices side-by-side for any address around the world in seconds. You can use the tool thrice a month without even signing in.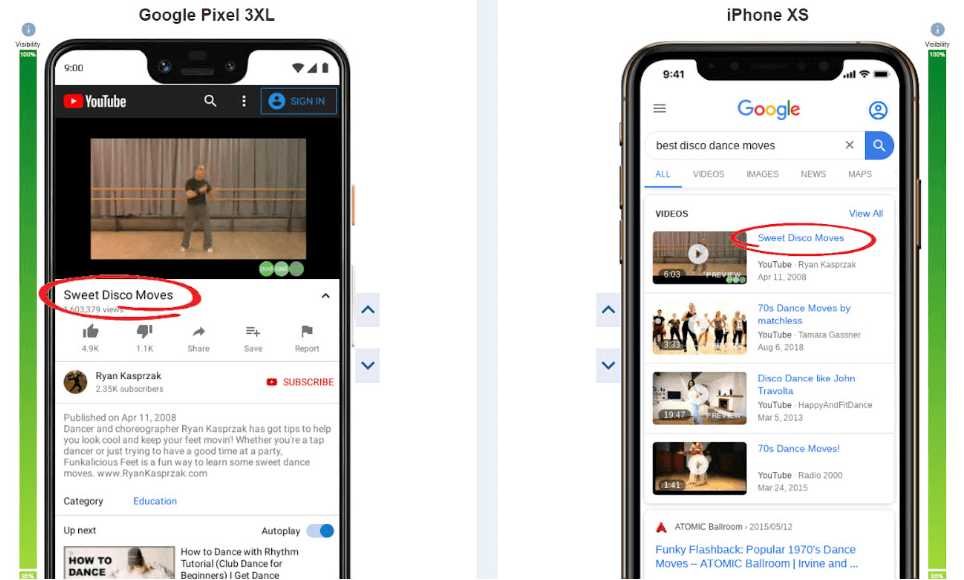 32. MozBar
MozBar is another all-in-one SEO tool with features like link metrics, page analysis, page optimization, and many more. The highlight link feature lets you highlight keywords on a page and also provides different link types – External, Internal, Followed, No-Followed – in different colour codes.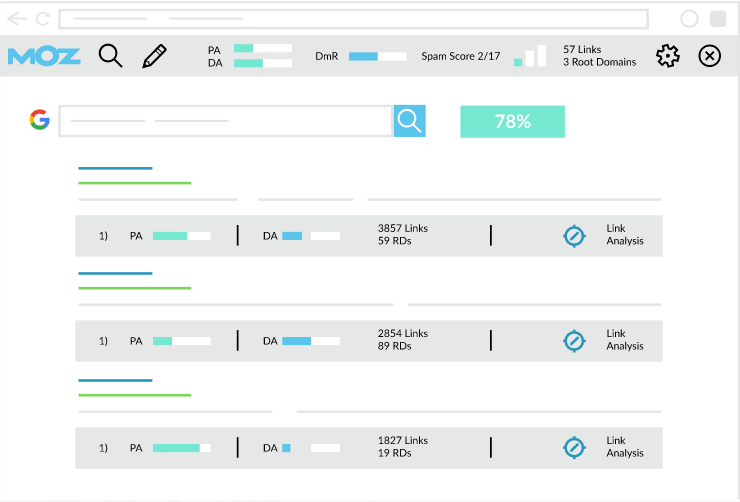 33. SEMrush
If you are somebody focused on just one website, then SEMrush can save you a lot of money. This is yet another all-in-one marketing tool that lets you do competitor research, PPC, Social media marketing, content marketing, and SEO from just one platform.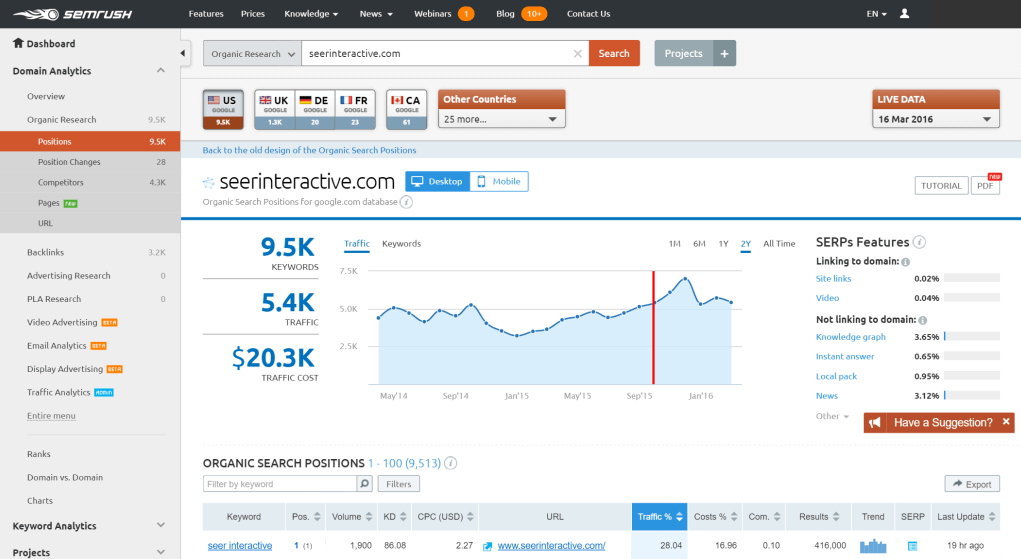 34. SEOquake
You name it and you have it! SEOquake performs a thorough SEO analysis of any webpage in just a click. It is one of the easiest SEO browser extensions that I have come across. The best part about SEOquake is its dynamic and fully adjustable report that lets you only display what you need.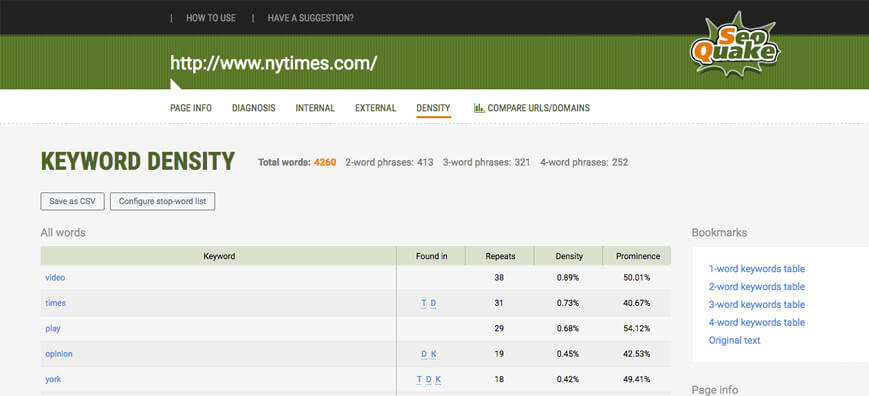 35. BuzzSumo
If you are a content writer or a blogger who always wants to keep up with the current trend, BuzzSumo is highly recommended for you. It is one SEO tool that I am in love with for it saves me a lot of time that otherwise, I would have spent searching for the content trending on social media.
Apart from helping you with the trending topics, this SEO tool also lets you find the most popular questions being asked for any topic.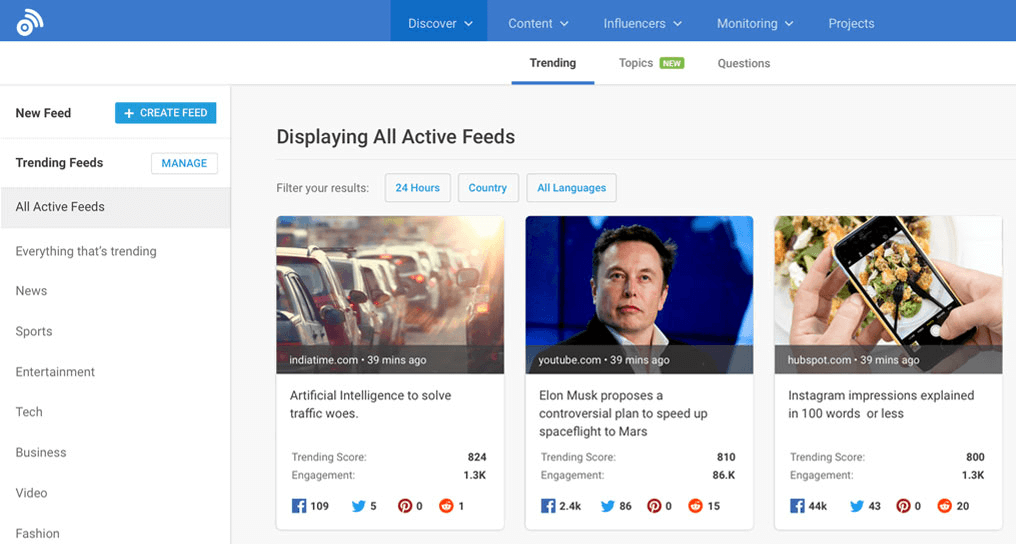 36. Wappalyzer
Want to know what technology stack your competitor is using? Use Wappalyzer. This SEO tool helps you identify details like the content management system or marketing automation tools for any website. Through Wappalyzer you can also create and export a list of websites based on particular technologies used by them.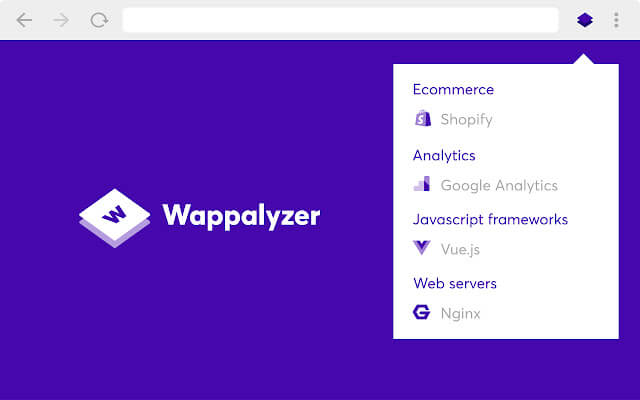 37. GTmetrix
If you are looking for an SEO tool to check for your site speed, you can try GTMetrix. Enter your URL and the free version of GTmetrix will provide you with performance metrics of your site, structure audit, waterfall chart, and a summary report.
If your budget permits, you can also sign-up for their additional features that let you monitor your pages daily or weekly and set alerts for various conditions like page timings, web vitals, total page size, and so on.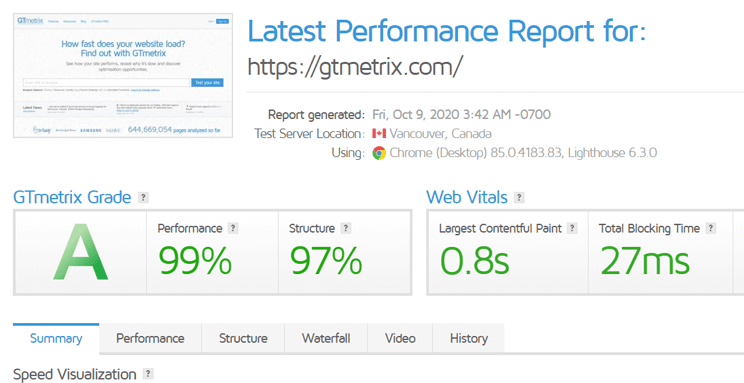 38. Page Speed Insights
Yet another tool by Google – Page Speed Insights (PSI) reports on the performance of your page and provides you with suggestions to improve. It assigns your page a score: A score between 50 – 90 needs improvement and a score above 90 implies you are doing great. PSI also provides both Lab and field data about a page that helps you in debugging performance issues.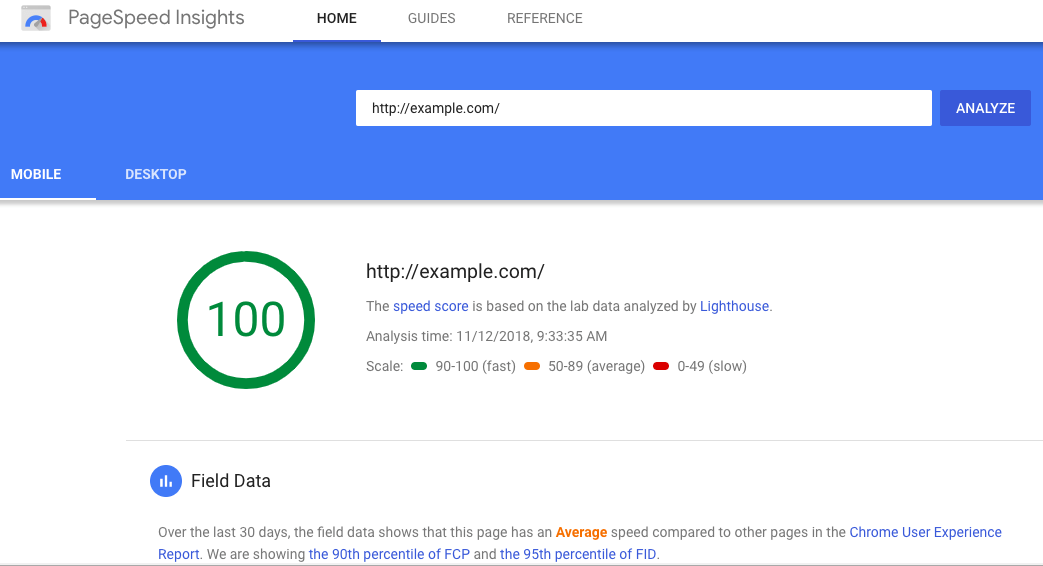 39. SpeedMonitor.io
For all you lazy people, if logging in to a speed test SEO tool every day is not your thing, you can check out SpeedMonitor.io. It tracks your page performance over time and stores all your results. Along with lighthouse audits, they also offer real user monitoring.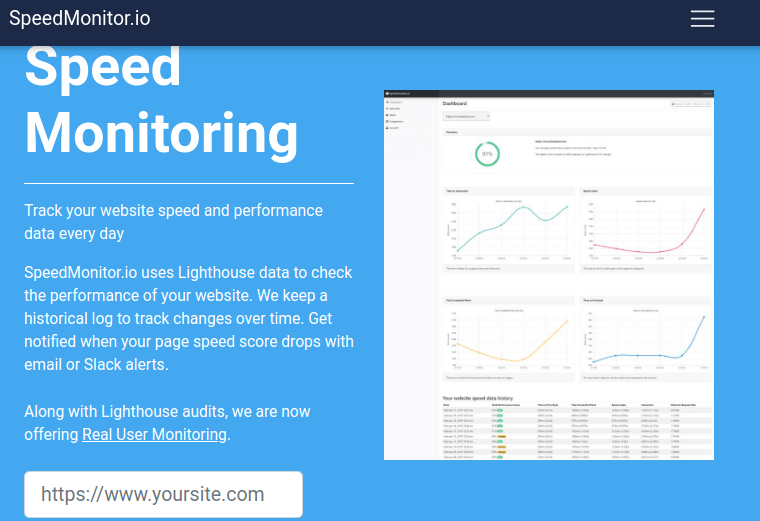 40. RankMath
An easy-to-use SEO tool, RankMath deserves every bit to be a part of this list. It offers everything related to on-page SEO, be it creating sitemaps, adding meta information, adding schema, or adding redirections. Its auto-configuration feature suggests the best SEO settings basis your website time.
41. Google Trends
With Google Trends, my article ends (what a rhyme!). More than an SEO tool, Google Trends lets you keep up with the trend, and honestly, I can spend hours on this website.
It shows you the popular search items around the world and also specific to countries. You can even compare multiple terms to check out their relative popularity.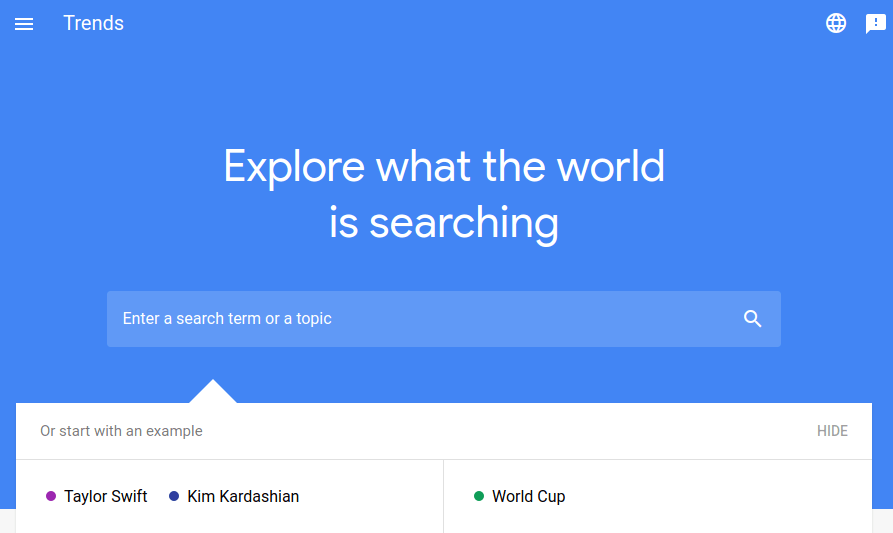 Ta-Da! That brings you and me to the conclusion of a pretty lengthy but worth list of the best free SEO tools. My suggestion would be to first pick up the SEO tool specific to your requirement and then gradually explore other SEO tools that offer multiple features.
Remember that the list is to choose and not to confuse. Hope you enjoyed reading our article, but in case you did not, please do tell us how we can improve.
Also, if you have already found your favourite SEO tool, do drop its name in the comment section below for others to refer to.
SE-O soon!