A Resume (also résumé) is a document created with the intention of presenting a person's skills and accomplishments for several reasons most often to secure new employment.
Resumes are divided into sections typically containing a summary of one's education and relevant job experiences in a succinct manner.
Read Also: 10 Best Job Search Engines to Find Your Dream Job
Given the typical structure used to create resumes, there are a ton of online platforms that enable users to create beautiful resumes easily and free of charge.
Here are the 10 best options available for reliably creating resumes online.
ResumeCoach
ResumeCoach is an online resume builder that enables users to build professional resumes through a large library of pre-designed templates. The editor helps applicants to create a resume that instantly grabs an employer's attention while being highly readable.
All templates have been designed to be easy to complete, and each step of the process features expert guidance to ensure professional guidelines are followed. The website's resume builder consists of a quick 3 step process: select a template, enter relevant information and download the resume.
New sections can be easily dragged and dropped in any design, and texts can be quickly edited. Resumecoach also features the option to write and save cover letters. Whether the user is studying, entry-level, or senior-level, different specialized layouts are available for each specific situation.
Feature Highlights
Professional ready-made templates
Expert tips and guidance at every stage
Modern and sleek resume designer
Easy-to-fill forms
Information bank
Supports both PDF and text file download
Simple adjustments and editing
Photo recommendations powered by artificial intelligence (new)
Free version
1. Resume Build
Resume Build is an online website that enables users to build professional out-of-the-box resumes using an instantly-generating resume-building technology in a single click. Its resume builder features templates for building professional, entry-level, and student-type resumes.
Feature Highlights
Real-time resume preview
Pre-written resume examples
20+ tailored templates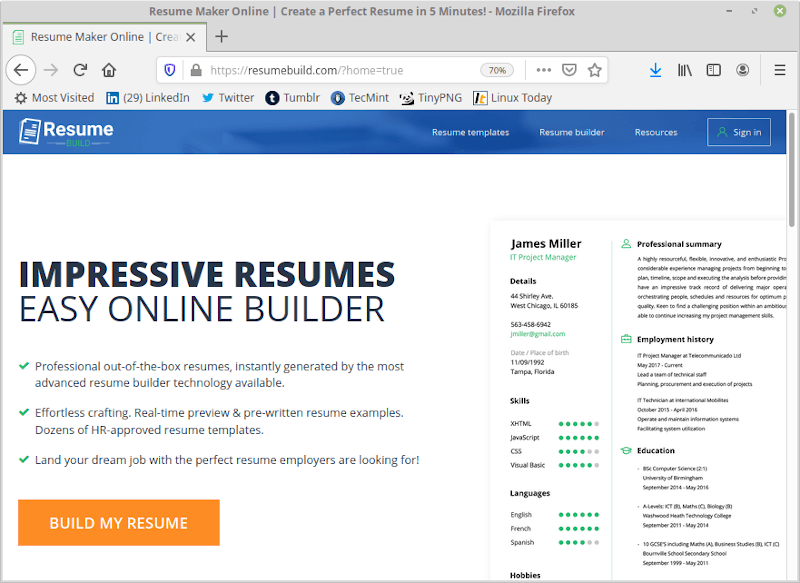 2. NovoResume
NovoResume aims to enable users with 0 – 5 years of experience land a dream job by using a resume template that represents their skills and work experience. It uses an ATS-friendly format to create resumes for student/intermediate users, CVs for senior-class users, and cover letters for applications with all levels of experience.
Feature Highlights
A creative professional layout
Live feedback to improve resume content
Free cover letters and resume samples
Tailored templates for different job types
Export resumes to PDF and Word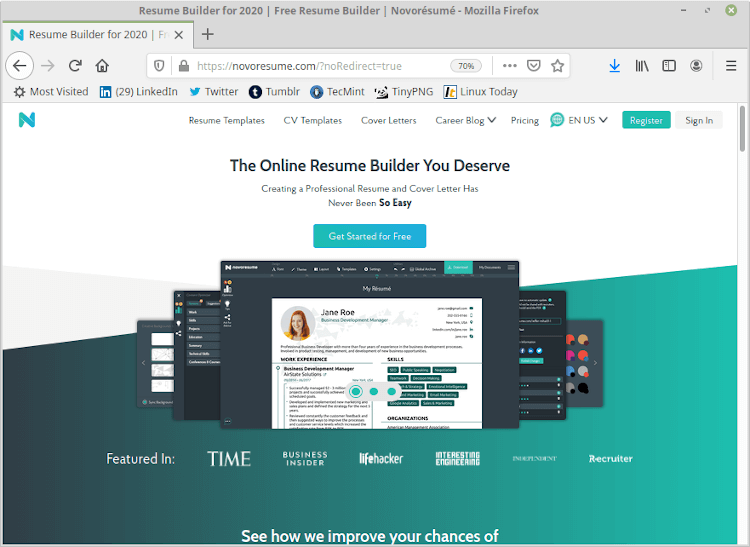 3. Resume Genius
Resume Genius enables users to build professional resumes by choosing from a library of classic templates that have reportedly help other users to land new jobs. Users can search for templates by titles, select responsibilities and job descriptions with tips and tricks that follow professional guidelines coupled with a free critique from a resume expert.
Feature Highlights
A free critique from a resume expert
Basic, modern, and creative resume styles
Thousands of job descriptions to choose from
Pre-written job responsibilities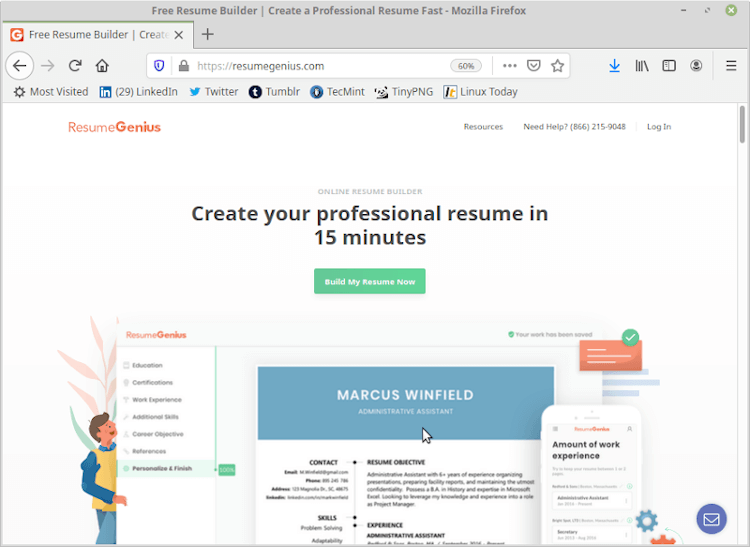 4. Resume.com
Resume.com is a straightforward resume building website for building artistic, professional resumes that highlight applicants' qualities using guidelines backed by data. It features tons of sample cover letters that complement the resumes and several resources that aid in career advice and career development.
Feature Highlights
Minimalist-style resumes
Clutter-free user interface
Easily build and share resumes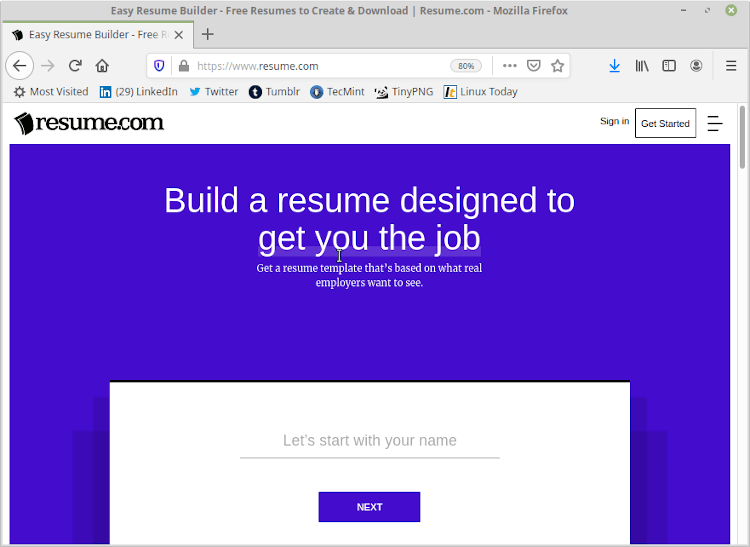 5. Resume.io
Resume.io enables users to build the exact resume rules that employers look for using professional field-test resume templates. Recording that only 2% of resumes make it past the first round of job applications, Resume.io aims to help job seekers be in the top 2% by creating resumes in minutes alongside cover letters.
Feature Highlights
Professional field-test templates
Pre-written phrases
Drag-and-drop
Automatic spell checker
Share resumes via links
Automatic summary generator
Cover letters
Download resumes as PDF or export to Word or TXT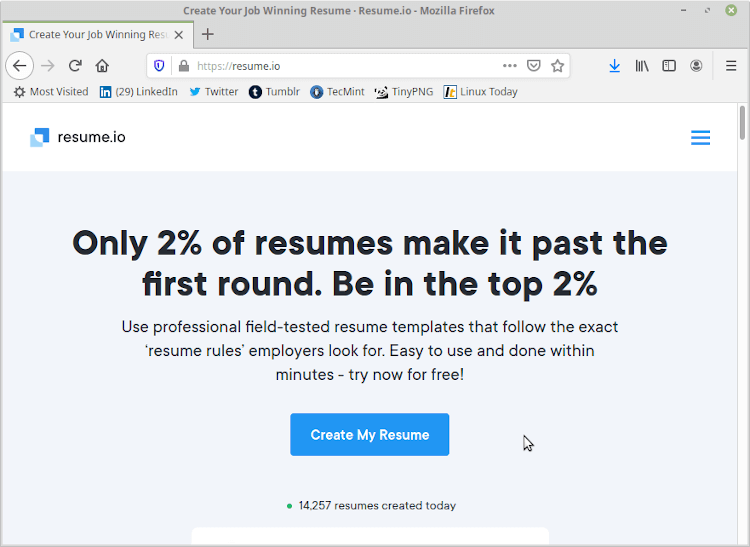 6. LiveCareer
LiveCareer enables job seekers to build personalized resumes in minutes using expert recommendations based on their desired job search. It features a large library of professionally written templates designed to grab an employer's attention as well as a step by step guide for each section and pre-written bullet points for content.
Feature Highlights
Step by step writing guide for each section
Different template styles for several job types
Expert advice on resumes in 1 or 2 business days
1000+ resume samples
Option to have a professional create templates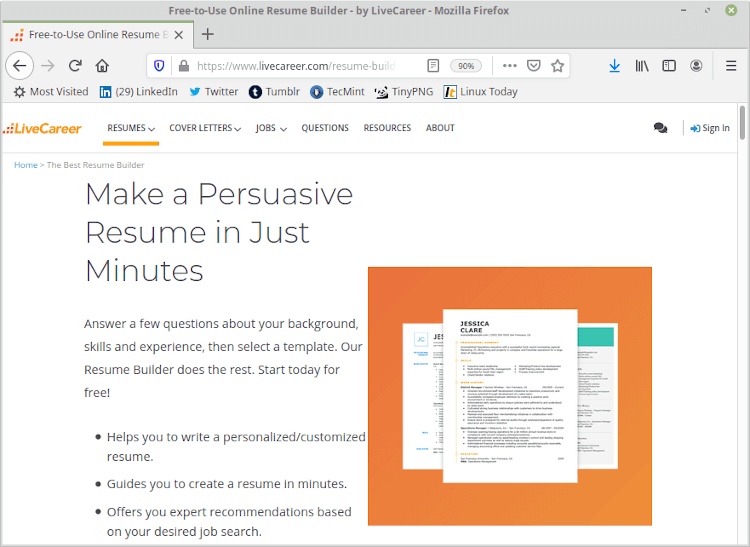 7. My Perfect Resume
My Perfect Resume aims to take the hassle out of resume writing by allowing users to choose several templates and follow easy prompts to effortlessly create the perfect job-ready resume. It also allows users to automatically create a cover letter that complements their resume and stand out from other job seekers.
Feature Highlights
Free online resume builder with 30+ templates
Recruiter-approved phrases
Fast and easy formating for customizing each section
Pro account to get a resume written by a professional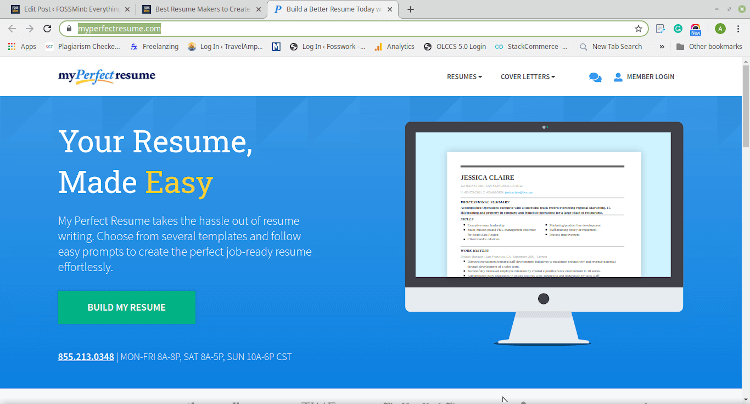 8. ResumeMaker Online
ResumeMaker Online is a straightforward platform for quickly building resumes in real-time no registration required. The editor has options to edit sections for customizable user data and 3 types of document layouts, A4, legal, and letter. It also has quick options for customizing font, brand colour, and text size.
Feature Highlights
Modern, minimalist-style editor
Preview mode in a 3D environment
Build print-ready resumes in real-time
Quick edit options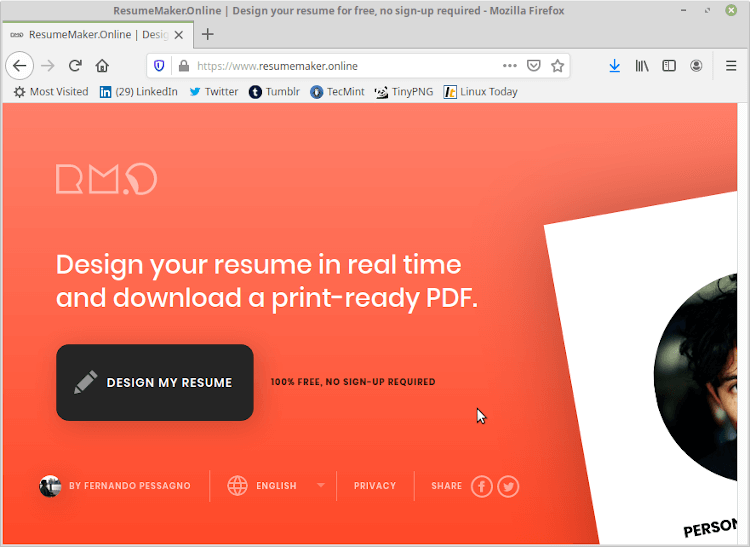 9. Zety
Zety is a quick and easy online resume and cover letter builder for professional applications. It features 20+ resume and cover templates built using best practices, a resume checker, and a flexible text editor.
Feature Highlights
Tons of resume and cover letter templates
Flexible text editor
Spell checker
Resume quality checker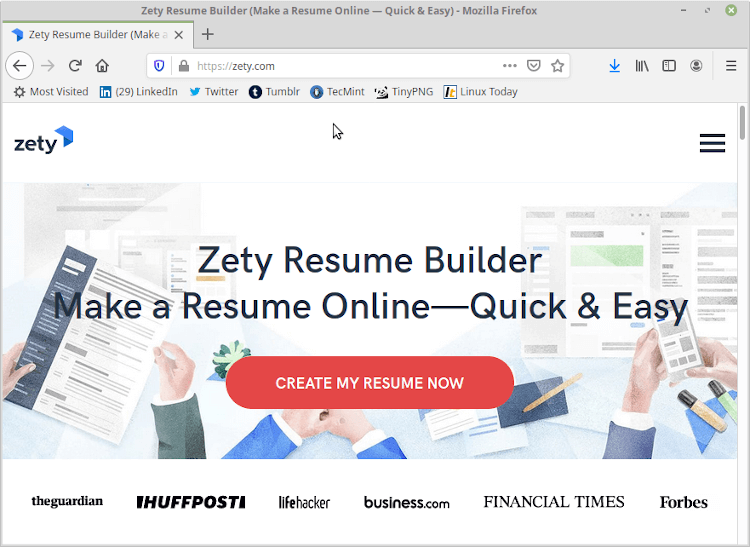 10. VisualCV
VisualCV prides itself to be the most powerful CV and resume builder that enables applicants to land their dream job by creating resumes tailored for different jobs using a rich visual editor. Users can manage multiple resumes as well as different versions of the same documents, track analytics to be informed of when applications are viewed,
Feature Highlights
Resume analytics
Data and privacy control
Free reviews from partners
Share via links or export to PDF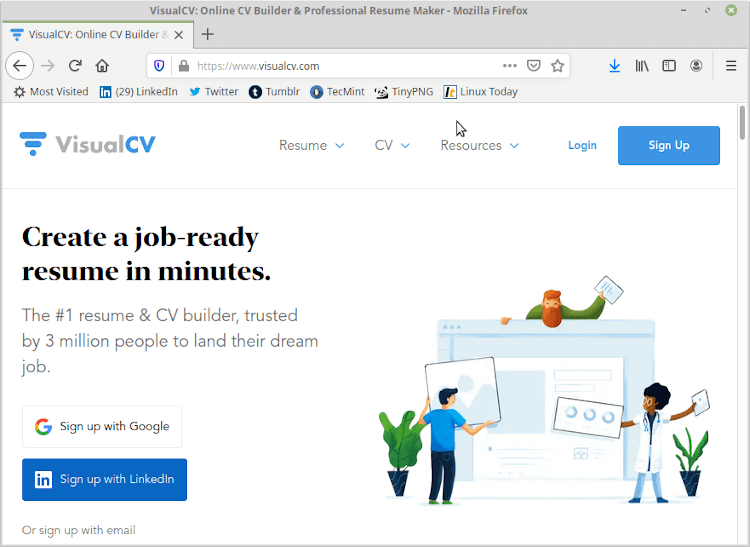 Notable mentions
There are other platforms that do a good job of enabling users to create resumes and CVs by choosing from tons of templates designed for quick editing.
They include Canva, CV Maker, Venngage, and Enhancv.
These online resume builders offer thousands of pre-written industry-guided resumes with the aim of helping users win their next job. Go ahead to try out any one of them to build a document that meets the requirements of your application and I wish you all the best.