CopyQ is an advanced clipboard manager with editing and scripting features, that lets you intelligently manipulate your system's clipboard content and use it within a wide range of applications. It monitors your system's clipboard and saves its content in a way you can later paste it directly into another application.
CopyQ's copied content can be:
marked using tags and notes
passed to or changed by custom commands
moved to other tabs
drag'n'dropped to applications
deleted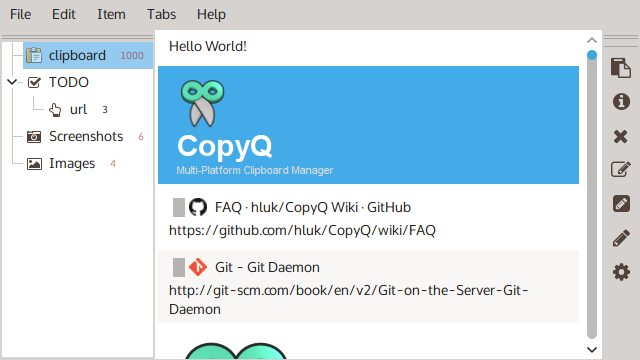 Features in CopyQ
Nice and completely customizable UI
Lets you add notes or tags to items
Cross-platform – runs on Linux, Windows and OS X 10.9+
Stores text, HTML, images and several other formats
Search filters to use on items in clipboard history
Sort, create, edit, remove, copy/paste, drag'n'drop items in tabs
Support for advanced command-line interface and scripting
Native support for customizable keyboard shortcuts
You will just have to use the app yourself to know about its other features.
Install and Run CopyQ
Installation is easy via the terminal:
$ sudo add-apt-repository ppa:hluk/copyq
$ sudo apt update
$ sudo apt install copyq

Start the application by double-click CopyQ's or by running copyq.
Access the list with clipboard history running copyq toggle or clicking on CopyQ's icon in the system tray. Newly copied texts and images are automatically added to the list.
Any items you select can be:
edited: F2
removed: Delete
sorted: Ctrl+Shift+S,Ctrl+Shift+R
moved around: with mouse or Ctrl+Up/Down
copied back to clipboard: Enter, Ctrl+V
CopyQ also has a powerful command line and scripting interface among other features you can use to your advantage and you can read about them on its GitHub page.
It's quite more advanced than Indicator Bulletin, if you ask me.
But anyway, what is your take on CopyQ? Is it going to be your default clipboard manager now or do you have alternative apps to suggest? Share your thoughts in the comments section below.